The MGA With An Attitude
TWIN CAMS from the Production List - TC-107-929

YDH5.929 - YRX 310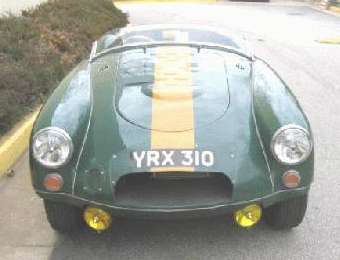 Bob Olthoff's raced car, evolved into a quasi-works car.

Was owned by
Ron and Jim Eaton
in Virginia, USA (June 2009).

Changed hands again in 2015 (see below).

---
As seen at MG2006 in Gatlinburg, TN, in June 2006
Photos compliments of Matt Kemper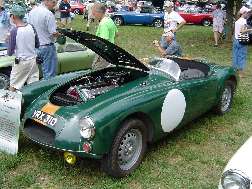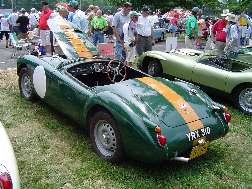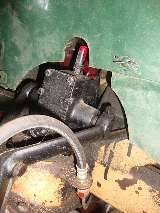 This is a photograph of the front Armstrong shock absorber on YDH5 929. Bod Olthoff says he fitted "special competition valves and extra fluid canisters". In another article he talks about "special breathers and stiffer settings".

I'm not quite sure what's in this picture, but it may be a breather/filter installed in place of the original solid filler plug. With vigorous damping action the fluid will heat up and expand, which could push fluid past the shaft seals. A top vent may prevent pressure changes inside, which could reduce the tendency to leak.

---
New Magazine article:
Bob Olthoff and His MGA Twin Cam Revisited - Safety Fast, Feb-Mar-Apr 2015 -(3.6-MB pdf) - posted here by permission of the author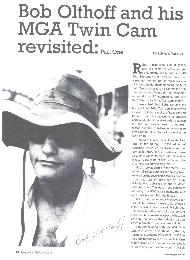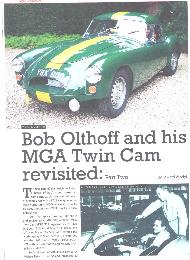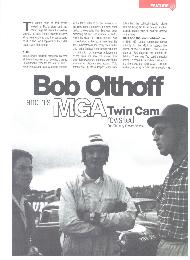 ---
Addendum June 2015:
This car now owned by Edward Vandyk <!-Edward at vandyk.co.uk=>in the UK (June 2015). Here it is at Silverstone on 19-JUN-2015 in the set up for the Competitions Department display.


It will be restored to 1962 Nurburging spec with a 1762cc engine over the winter. It has Olthoff's dual circuit brakes using an MGA Brake/Clutch Master Cylinder operating the two circuits. In period he had a prototype dual master cylinder which could not be repaired when it failed (source 3rd owner) and the standard dual fitted so he used that.