The MGA With An Attitude
TWIN CAMS from the Production List - TC-107-SP1
MGA Twin Cam Special, sectioned Coupe

On display at the Earls Court Motor Show, 22nd Oct - 1st Nov 1958.
Sectioned Coupe (unknown chassis number).
This was the only Twin Cam at the Earls Court show.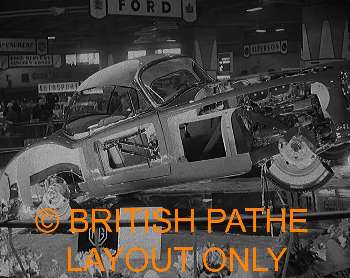 Photo excerpt from British Pathe video which can be seen at
www.britishpathe.com/video/motor-show-10/query/Earls+Court+Motor+Show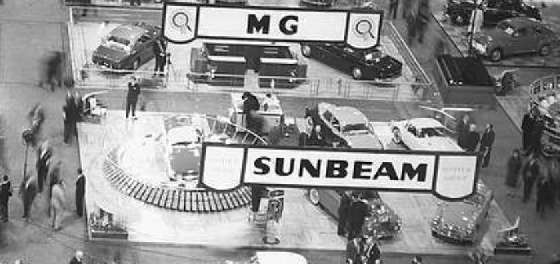 It was thought for some time that YM1.551 (Reg.No. 9915NO) and YM1.552 were at the 1958 Earls Court Motor Show, but current information contradicts that.

From Autocar 24 Oct 58 (p 559):
M.G. -- 154

A white fixed-head coupe with wire wheels, and a red [Pushrod # 56686] open two-seater with a number of accessories are the two models of the M.G. MGA on open display on the stand. There is also a partially sectioned model of the MGA Twin Cam Coupe. It is finished in sandy gold with the roof in powder blue (still visible on the BMIHT car), and a yellow interior. This car is on a revolving turntable, and cunningly arranged mirrors show the chassis details. The standard MGA, powered by the M.G.-tuned B.M.C. B-series engine, is undoubtedly one of Britan's most popular sports cars, and it is not surprising that it is to be continued without change for 1959.


As last year, a Magnette is on show to which Perspex boot lid and bonnet have been fitted, enabling visitors to inspect the engine and luggage compartments without raising the lid. This car is finished in an attractive shade of steel blue. There is another Magnette with optional extra Varitone paintwork, beige over maroon. Both the Magnettes and the left-had drive MGA coupe have whitewall tyres.
M.G. Car Co., Ltd., Cowley, Oxford.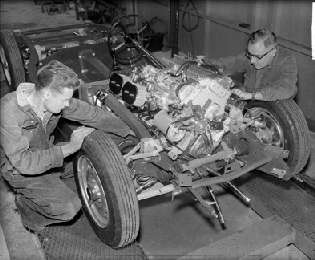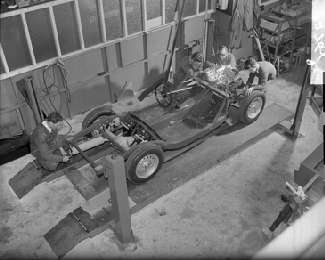 Photos of this car being prepared for the car show, and notes on rear of the photos.
Source of the photos: Anthony Binnington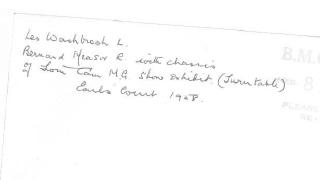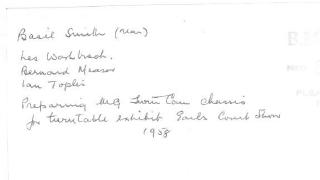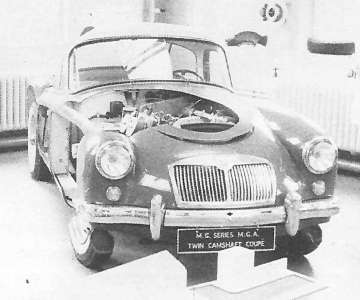 The MGA Twin Cam cutaway display was produced by the M.G. Show Shop at Abingdon for use at the New York Motor Show. It was later lent to the Longsight Police Driving School and remained there until it was taken to the British Motor Industry Heritage Trust Museum at Gaydon, where it is now on display with a larger portion of the body work removed.
(Photo: P. Brady, and note from the "MG's On Patrol" Book).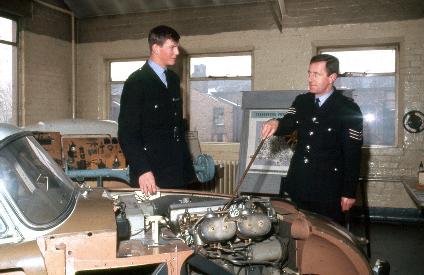 "A newly-recruited officer of Manchester and Salford Police is questioned on the workings of the internal combustion engine during his training back in 1969."

From Flickr. -- This image is taken from a set of slides taken in various stages of the same officers early days with the force. The slides were probably used for recruitment or training purposes.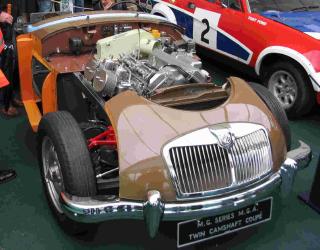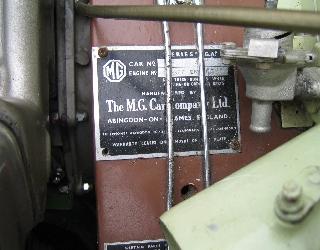 The sectioned MGA YM1.??? Twin Cam Coupe displayed at a recent car show. "Car No." is blank on the ID plate, so all we know for sure is it was very early production Twin Cam, or possibly a model shop fabrication that never had a chassis number. If the opportunity ever arises, someone needs to do a closer inspection of the car to see if it has a chassis number stamped on the frame.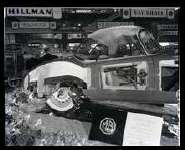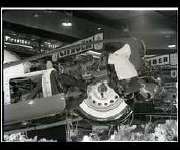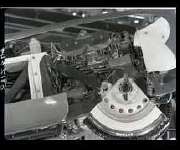 These pictures can be fouind at www.stilltimecollection.co.uk

May 2013: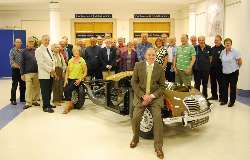 25 Volunteers at Heritage Motor Center finish restoring this 1958 MGA chassis:
http://www.mgcc.co.uk/volunteers-at-hmc-finish-restoring-a-1958-mga-chassis

<!-P align=justify> <!-Volunteers At HMC Finish Restoring a 1958 MGA Chassis <!-BR> <!-a href="http://www.mgcc.co.uk/wp-content/uploads/2013/06/HMC_MGA.jpg" -> <!- img src="http://www.mgcc.co.uk/wp-content/uploads/2013/06/HMC_MGA.jpg" width=1024 height=686 -><!-/a><!-BR> <!-A TEAM of 25 dedicated volunteers at the Heritage Motor Centre have completed the restoration of a 1958 MGA Twin Cam Coupe chassis.  The work began in November 2012 and the restoration was completed in May 2013.  The MGA will go on display in the Museum on Tuesday 25 June. <!-BR> <!-The MGA dates from 1958 and has been part of the Museum's reserve collection for a number of years. Originally a complete car, it was one of only 300 or so Twin Cam coupés made by MG and is thought to have been shown either on the Earl's Court Motor Show stand or at the New York Motor Show. <!-BR> <!-Subsequently sectioned and painted in an array of colours as a technical demonstration for apprentices and students alike, it eventually became a museum piece.  Over the past seven months, the volunteers have painstakingly stripped down, cleaned, restored and repainted the MGA, retaining some of the unusual livery that the car has acquired over its lifetime. <!-BR> <!-Sonja Dosanjh, Volunteer Co-Ordinator at the HMC said: "The team has thoroughly enjoyed working on this fascinating project. They have worked incredibly hard restoring the MGA to its former glory and the results have been worth the many months of dedication and commitment that the team has put in and we now look forward to our next few projects". <!-BR> Addendum Mar 17, 2016:
The following pictures are compliments of Mark Vine <!-ruth521 at btinternet.com-> in Essex, England: