The MGA With An Attitude
MGA DELUXE from the Production List - TC-109-104428

GHD2/104428 -- YRX986
Alexandra (Sandra) Holt's 1961 MGA 1600 MK-II Deluxe
GHD2/104428 - 16GCU3724 - YRX986



Christabel Carlisle competing at Oulton park in June 62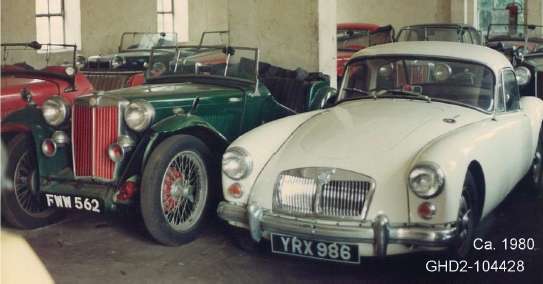 Being stored in B&G workshop in the late 1980's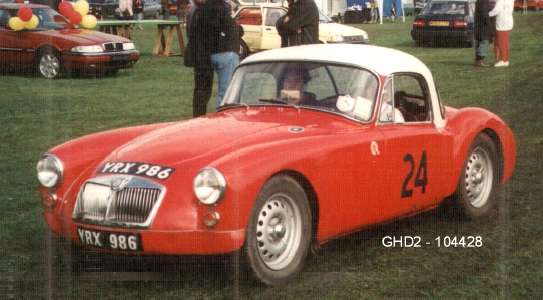 On a Targa Rusticana rally in 1992/3


At 06:20 PM 11/9/05, Alexandra Holt <!-asholt1 at tiscali.co.uk-> wrote:
"I have used this car for historic rallying since purchasing it from Phillip Young in 1993. It is currently looking a bit tired and I am about to start a major smartening up campaign."


Addendum December 2, 2016:
YRX986 - Dispatched 31.10.1961 - 1st Registered 19 October 1961
Monte Carlo Rally - 20-25 Jan 1962
Tulip Rally - 7-11 May 1962


Currently there is ZERO evidence this car was formally entered in either rally, so the statement "Race or Pace or Mobile Spares car" seems more appropriate (as this was customary at the time). See 3 December 2016 below.



At 04:07 PM 11/1/2011, Alexandra Holt wrote:
"The photo when the car was white is in Brown & Gammons workshop around the late 80's but B&G did not do any work on it, they just stored it for Phillip Young. Whoever restored it did not do a good job so when I bought it I caught a cold as I thought it had been done by B&G who do a first class job. The second photo is when I owned the car and I think it is on a Targa Rusticana rally in 1992/3. If you need the actual rally and the result I can look it up. I have some good photos from historic Monte Carlo Challenges if you would like them".


Regards,


Alexandra

On 1/26/2014, Graham Reeves <!-reeves.family at tesco.net-> in the UK wrote:
"That's one of my old mgs. It's an ex-works car with a metric speedo and a long range tank. Red/white roof is the correct color. but it should have a front bumper on fitted with matching fog/spot lamps and a rear luggage grid. I think I remember the pedals were slightly different too".

On 3 December 2016, Bill Price <!-billprice1935 at gmail.com-> wrote: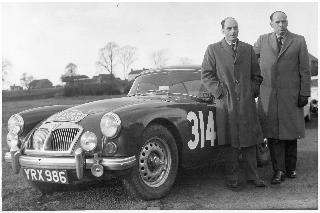 The Morley brothers (twins) with the car fitted up with Monte plates etc. The car was used by them to do a recce of the Monte, and the plates would have been put on for publicity shots. The device on the n/s front bumper is an Icelert which detected when ambient below 0 degrees. It was sent to us by the manufacturer to try but we did not use it on the rally car 151 ABL".


Bill Price is author of: B.M.C./B.L. Competitions Department: 25 Years in Motorsport - The Cars, the People, the Events – 15 Jun 1989.