The MGA With An Attitude
The First MGA "DELUXE" Produced - TC-109-91240

GHD2/91240 -- 16GAUxxxx -- AM9716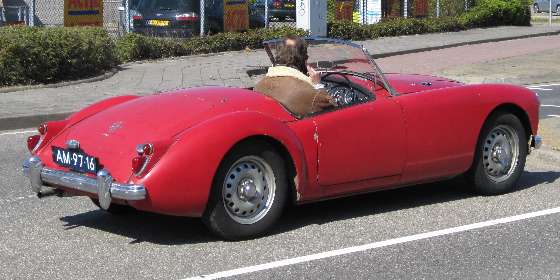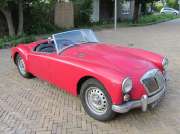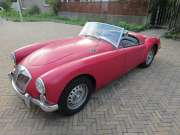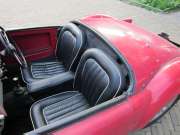 After several months development, this car was produced about one month before the last Twin Cam, starting in April 1960 and finished on June 9, 1960.

New features or changes for this car included:
Center-lock pin-drive Dunlop steel wheels.
Four-wheel Dunlop disc brakes.
Separate clutch and brake master cylinders (like Twin Cam).
Different clutch pedal and slave cylinder and related fittings.
Different accellerator pedal and cross shaft assembly for LHD cars.
Mounting ignition coil on top of generator (like the 1500 cars).
Different steering rack (slightly farther forward).
Different steering arms, hub assemblies, front wheel bearings.
Front sway bar became standard for all MGA (previously optional).
In June 2013 this car is for sale by Arno Feenstra <!-Feenstra2001 at Yahoo.com-> in the Netherlands, (feenstra2001 with the MGA Twin Cam Enthusiasts Group on the Yahoo Groups server). It is technicaly "okay" drives very well. A lot of new spares are included, such as grey softtop, tonneau, new interior, wiring loom, rear panels, front grill surround panel, bumper, and lots more. Also available an original VDP aluminum hardtop. The car is rough looking on the outside, but the question is to restore it to concours or to keep it like it is as a timewarp.

On 6/12/2013, Arno Feenstra wrote:
"Mechanical it has been brought into our time by the MG Workshop. So mechanical it is fine. Drives very well, corners tight, brakes well etc etc. We had a discussion whether or not to keep it in this condition or to restore it. I never could decide properly. So it looks still the same from the outside. I have a new interior and carpet, grey hood, grey tonneau and grey sidescreens, new grille, NOS front bumper, rearwings, wiring loom, special lightend flywheel, special rockers, lots of other items as much NOS as I could find, new nose section, new rechromed windscreen surround etc?.

Find more photos at www.mgaregister.nl.

---
Known Owners History:
12/05/1960 - 17/01/1961 MG Factory Development Car


17/01/1961 - 16/10/1964 Unknown Owner from LCC (London County Council)


16/10/1964 - 12/08/1965 Unknown Owner from Surrey


12/08/1965 - 24/08/1966 Unknown Owner from East Sussex


24/08/1966 - 08/09/1972 Unknown Younng Doctor from Cheshire or Pagham


08/09/1972 - 26/10/1973 Michael Knowlden from Abbeey Wood, London


Sold & Purchased via J H Richardson of Staines


26/10/1973 - 09/2005 Alistair Jarvies, UK
30/09/2005 - 04/2010 David Morgan, Sully, Cardiff
04/2010 - 06/2013 Arno Feenstra, Haag, Netherlands
06/2013 - Present Mark Hester

The registration number all its life (except when in the Netherlands) is VJB112.