The MGA With An Attitude
Original DISTRIBUTOR for MGA Twin Cam - TC-304B

Original ignition distributor for MGA Twin Cam was:
Lucas 23D4 40718.


Specifications were:
Direction of Rotation: Clockwise (viewed from drive end)
Contact Point gap: .014"-.019" (initial), .014"-.016" service)
Condenser Capacity: .18-.23 microfarad
Ignition Setting: T.D.C. 9.9:1 CR or (8.3 CR - 8d BTDC)
Vernier Adjustment: NIL
Fuel Trap: NIL
Automatic Advance Type: "W" mechanism
Automatic Advance Commences At: 500-700 engine RPM
Max. Advance: 14 deg. at 3500 Distributor RPM
Cam Type: Asymmetrical
Vacuum Control: NIL

COIL: Lucas MA.12
Service Number: 450564

NEW DISTRIBUTOR: 8.3 CR - 8 BTDC added
Change Point: 2011 intermittent to 2222 and Service
Reference Notes: TD.MGR.31 TD.MGR.57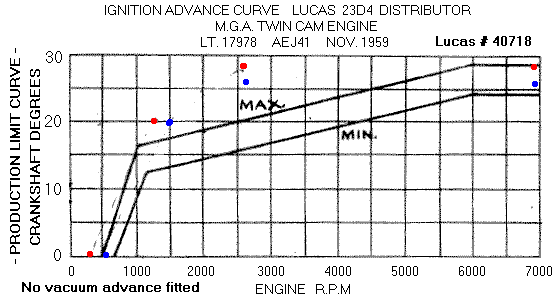 This diagram is taken from the Engineering Technical Data Book for MGA Twin Cam. The red and blue dots indicate breaks in the earlier curve before it was redrawn. Additionally, the earliest distributor fitted to the Twin Cam had a vacuum unit that would give additional advance at light to moderate throttle (but no vacuum advance at full throttle).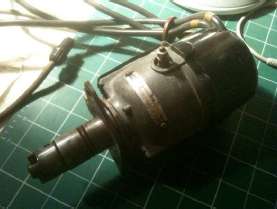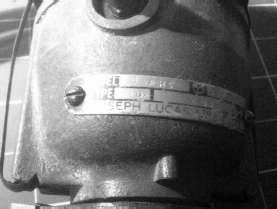 Pictures here show the distributor that came with the engine in YD1 526.
D3AH4 RT 17522 -- LUCAS DISTRIBUTOR

Mark Benson, <!-prototypestudio at mac.com-> owner of YD1 526, would like to know if anyone else has seen a distributor like this one.