The MGA With An Attitude
AIR CLEANER DECAL - Twin Cam - TC-308C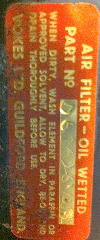 Photo at left from Neil Burnside. - - - Photo above from Mick Anderson. <!- mfanders at ozemail.com.au>


On 11/18/2010, Frank Netterberg wrote:
"I still have my original air cleaners and decal stickers.
"The decal is light reflective red in colour with light reflective gold lettering. It is 2.50" x 0.91" rectangular in shape with rounded edges and is placed vertically midway between the two fixing bolt heads.


"The wording is: >>>>>>
"The first two and last lines are in letters 2.5 mm high and the others are 1.5 mm high. The part no. is very lightly scratched on the gold strip by hand and is almost illegible: D63626 ISS2. Mine are the earlier ones without venturis".



This picture supplied by Neil Burnside. <!- neil1burnside at hotmail.com> (Click for larger image). The material (as original) is thin alloy with metallic red background and light gold color for lettering and the (initially blank) area to be marked with "PART No". The part number "D63626-ISS2" is hand written, either scratched or etched (or maybe both).

Here's a photo of a nice red and white (natural) foil sticker from John Barrett. <!- john.barrett at online.no> This is also claimed to be an original issue part, so it appears these aluminum stickers could be either red/gold or red/natural. Then the challenge is trying to determine WHEN they were which color.

Note: Colors variations from bright or dull white, bright or dull silver, or a dull gold or light tan color can result from differences in aluminum alloy (impurities in the metal) and/or variation of the chemical bath and anodizing process. However, the light metallic gold color seems to me to be sufficient color to believe it was an intentionally produced "color" as opposed to being "natural". -- Barney

On 11/18/2010, Mark Hester wrote:
"Just purchased two of these yesterday from Moss UK but the part number below does not appear on their web site:
2 CRST236 Vokes' decal Air Cleaner Twin Cam 0.85 1.70 1.90

Here's a photo of a current issue CRST236 sticker from Moss Motors UK (photo by Mick Anderson). Should be the same from Moss Motors USA It is alloy foil, red and natural aluminum in color. It looks a lot like the original sticker above (not quite the same font or letter spacing). Mick seems to think it may be thinner than the original parts, but so far no definitive measurements.

The 'Vokes' decal for the Twin Cam Air Cleaner is available from Brown & Gammons, part number BGS1060. This one is red and white, and it is paper rather than foil. The print pattern looks identical to the one above when compared in similar size. Recent report (Feb 2014) is that the stickers from Scarborough Faire and Anglo parts are also paper.

---
On 11/23/2010, Silas Kinsey wrote:
"I have a pair of NOS filters with the air horns that I got from Twin Cam Jim. The labels are as everyone has described but only one is marked C69636 - ISS1 with the other left blank and the labels are placed horizontally above the fitting bolts".

---
Photos below supplied by Mark Hester, current owner of PJB147.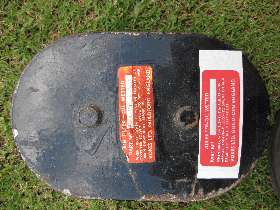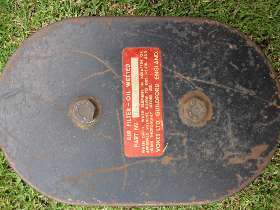 These are the air cleaners from the Twin Cam prototype PJB147, YDL/14/499, as found in March 2006. Some restoration work had been done on the car at the time, but there is no reason to believe these parts were touched. It is interesting to note that one decal has the part number stamped while the other had the part number hand marked. No telling if this is as original or if one of the parts may have been replaced at some time in a past life. Both air cleaners are the earlier type without the venturi (and both are cracked) so it is likely they are both original issue. Also note that these are also "ISS2", so it appears that Issue 1 may have been for some other application.

---
This one came from an eBay seller. It looks okay, and it is definitlly not paper. The edges are peeling away from the wax paper backing after some time in storage. The web site calls it "chrome plastifoil". It doesn't sound like anodized aluminum. Also I think aluminum is stable enough that it wouldn't peel up at the edges in storage.