The MGA With An Attitude
LOCKTAB for CRANK DOG NUT, Twin Cam- TC-309
The dog nut lock tab for the MGA Twin Cam is a different part and works differently than the dog nut locktab on the pushrod engine.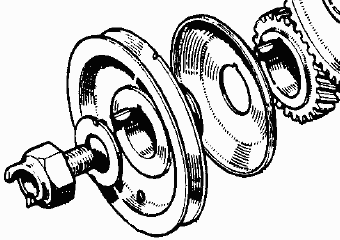 The illustration in the Service Parts List appears to show an external bent tab which might engage the keyway in the pulley, but this is not so. The Twin Cam uses a one piece cast iron pulley. There is a small hole drilled in the face of the pulley near the edge of the locktab. The bent finger of the locktab will engage that hole, and one side of the locktab should be bent up against the dog nut after tightening. BMC part number for the Twin Cam locktab is AEH429. Good luck hunting. It is a simple part that every Twin Cam engine needs, so someone should make it.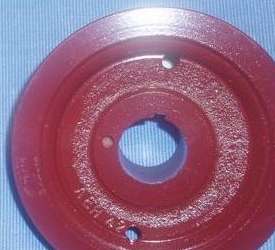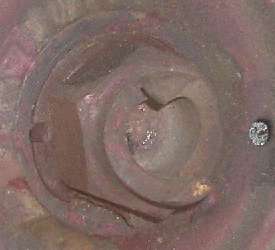 The crank dog nut has a short pilot diameter to center the locktab washer. The same pilot diameter may extend a little way down in the bore of the pulley. It is important that the end of the crankshaft is not flush with the pulley hub when installed, so the crank nut can pull the pulley and timing gear down tight on the crankshaft. (Click for larger picture).

Below is a drawing showing how to modify a standard engine locktab to work with the Twin Cam crank pulley. Click on the image to download a full scale printable copy (115-KB pdf).