The MGA With An Attitude
1762 cc Twin Cam Engine - TC-320
For most people this is simply an historical curiosity, probably not a practical modification. What is the over bore to get to 1762cc?

At 05:48 PM 1/26/06, Tony Simms wrote:
>"The FIA did homolagate the Twin Cam at 1762cc (for Le Mans), and I have a very blurry copy of the form."

At 07:13 PM 1/26/06, Tony Simms wrote:
"3.125, vs std bore of 2.969. Not many stock blocks can tolerate this overbore (needs an ultrasound check). There seemed to have been an MG "Midnight Casting" operation in place. Multi-dealer teams in multi-countries had 1762's. I found a couple of them."

---
At 04:38 PM 1/27/06, Tony Simms wrote:
>"SCCA racing at the time (1960) had switched from the FIA displacement classes to Performance classes, and the Twin Cam in E Production was restricted to 1 3/4 SUs, and a modest overbore above 2.969 inches.
>
>In countries that ran displacement classes, the 1762 engine got you away from the Porsches in the 1301-1600 cc class, and up against Triumph and Bristol powered cars in the under 2 litre class, not easy competition, but in some folks mind better than fighting the Porsches, especially in enduros.
>
>There were some countries that had very liberal modification rules, in the late 50s and 60s, such as Canada. They used displacement classes, (but I never saw a displacement checker). However, the ENTIRE rule book for Improved Production cars was a single sentence " they must retain the original block, transmission and axle housings, and the general outward appearance of the body". As you would expect, a few 1762s came to Canada, and at least one factory backed car (Al Pease) was able to run full 2 litre engines (overbore right into the water, and silver solder in the sleeves).
>
>I turned up 2 Twin Cam engines back in the 80s in Canada. Both well above 1762 (lots of race wear, overbores to clean it up, I assume) and when ultrasound scanned they still had amazingly thick cylinder walls, even though one was well above 1800cc. And they looked dead stock, even to the cast in numbers.
>
>Who knows whats out there in garages and barns. .....still..."

---
At 07:32 PM 1/27/06, Mark Harris wrote:
>"I recall someone saying the Al Pease car was extensively rebodied with alloy and significantly lightened. If raced with the 2L engine it must have been a terror on the tracks. Is this car still extant or do you know its fate? Pease was living in the south--Kentucky perhaps--does anyone know if he is still alive?"

At 09:18 PM 1/27/06, Tony Simms wrote:
>"Al's car had normal bodywork in 1959 and 1960. For 1961, the Steel center section was retained, but alloy fenders, front valence, tranny tunnel etc were fabricated, along with an alloy fuel tank and really lightened doors, trunk lid and bonnet (hood). Frame, suspension etc were not lightened.
>
>The car was very quick, and Al was a very accomplished driver. The prime competition was from Porsche Canada, and was ferocious. Ludwig Heimrath, Ben Pon and Rudy Bartling in the lightest and latest roadsters, running RS60 engines rather than the 4 cam Carrera, and Al beat them all several times that year.
>
>The car still exists. I have owned it since 1982. Some of the lightweight bits are still with it. For modern Vintage, the likely restore plan would be the 1960 spec with steel fenders etc, and engines that vintage organizers would allow, 1762 at the most.
>
>Al is still with us, and lives in Tennessee. I talk to him several times a year, and we usually see each other each at the VARAC Vintage Festival each summer.
>
>After all these years, I have now concluded that I will never be the one to restore that car, and next month it will be for sale in the VARAC web site and newsletter classifieds. Given its history in Canada, that seems the logical place for initial ads. That will then be followed up with ads in SVRA and VSCDA.
>
>Al is available to provide advice, and anecdotes, or, at the buyers option, to do a defined portion of the restore work at his shop in Tennessee.
>
>It's a neat bit of Motorsports history, but I need to find it a good new home."

---
On January 28, 2006, Tony Simms wrote:
"I have seen mention of 1762cc engines in dealer team cars in South Africa."

At 10:15 AM 2/3/06, Bo Giersing wrote:
>"Motor Assemblies in South Africa built the 20 last Twin Cams during 1961, from CKD kits".

Some of these were Coupes, and some had 1762cc engines.
See details under MGA CKD Cars.

At 02:14 PM 2/3/06, Bo Giersing wrote:
>"A total of 88 Twin Cams were built in South Africa from CKD kits. Bob Olthoff's car, YDH5 929, was in the first batch .... in January 1959 .... It was only after Bob had moved his car to the UK, and after 35 000 miles of fast driving and 70 hours of racing, without mechanical failure, that he went to 1762cc, by 'boring out' the original engine, carried out at Abingdon, and with other mods, giving 142 bhp at 7000 rpm.
>
>I don't believe that there were ever any 'large displacement blocks', simply standard blocks bored out, as several of the Twin Cams in South Africa are currently. -- However, engine numbers 2260, 2261 and 2262 left the South African factory as 1762cc 'Le Mans' bored out units, with Abingdon supplied kits. How many other engines were similarly converted elsewhere? There must have been many more in the US."

---
At 08:45 AM 2/4/06, Tony Simms wrote:
>"This operation in our experience, will not work on every block. I took a standard block, had it ultrasound scanned at the local airport and then bored it out to 1762. The scan predicted cylinder wall thickness would be close to .090 after the overbore.
>
>The engine survived its dyno run, and cracked a cylinder wall in practice for its first race. After tear down, the actual wall thickness at the point of the crack, was in the range of .025. We assumed that the ultrasound equipment was off calibration, or the operators technique was flawed. In any event, caution is advised."

---
Ah, this only get better with time.
At 04:06 PM 11/12/2007 +0200, Rod Green wrote:
"I am copying this comment to Ralph Clarke, introduced by his son, Robin, in an earlier thread."

I know for sure of at least 3 x 1762 cc engines/cars that left Motor Assemblies in Durban. These have been dealt with, I believe. They were, Green Mamba, the Chris Hofmeyer car, and a roadster owned by John Sully. John was managing director of Motor Assemblies. I have spoken to John about these cars and he has confirmed their engine size to me. The John Sully car was written off quite early in its life. The other 2 are in good nick.

Maybe Ralph Clarke can tell us of the exact relationship between BMC South Africa, and Motor Assemblies. For a starter, the 2 companies were about 1000 KM's apart, one being in Durban the other in Blackheath near Cape Town. The Twin Cams were assembled in Durban. The management of Motor Assemblies and McCarthy Rodway ( Main dealers of Jag, BMC etc. ) were very close, both being in Durban, and also drank their beer together at the Royal Yacht Club in Durban. The 3 original owners of the 1762cc cars were Noel Horsfield ( ex-Managing Director of the AGENTS McCarthy Rodway ), John Sully, (ex-Managing Director of Motor Assemblies Ltd., the "assemblers " ) and Allan Nuttal, fellow yachtsman in Durban. I believe that the 1762 cc cars were a plot hatched between mates and fellow yachtsmen who were influential in the MG world in SA. These cars were never raced in SA. They were road cars but were widely reported on in contemporary media.

I have a piston from one of these cars. It is an "ex" no. I presume experimental. In discussion with John Sully, he mentioned that the 1762 cc cars were built up in Durban from parts imported from Abingdon. They had 2" SU's, lightened flywheel and other features that I can not remember, other than the larger bore. The management of McCarthy Rodway were enthusiasts, and as a result sold more Twin Cams than most other agents in SA. Maybe because of the success of Black Mamba, the TC coupe which was owned by Noel Horsfield and raced by Rodway McCarthy, his business.

Black Mamba was ALWAYS 1600cc, Bob Oltof's car was ALWAYS 1600 cc ( in SA ), the other ex-works ( Abingdon ) twin cam in SA was also ALWAYS 1600 cc ( this car is now for sale in Switzerland for an enormous amount ).

I had a batch of pistons made by Venolia, copied from my "ex" piston and passed them on to Peter Wood in UK, and other enthusiasts in SA and Europe.

At 08:15 AM 11/13/2007 +0200, Bo Giersing wrote: "I would say that Rodney's dissertation is spot on. Both Rodney and I are previous custodians of Green Mamba (YMH5 2413). The factory aluminum plate fitted to the 3 confirmed 1762cc cars read: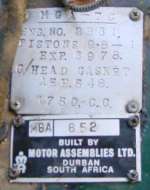 MGA TC
ENG NO 2261
PISTONS 9.8 - 1
EXP 6978
C/HEAD GASKET
AEH 548
1750 CC

A similar plate was fitted to YDH5 2016 and YD2 2598

I have a copy of correspondence from Mike Compton, the competitions manager of McCarthy Rodway, the main MG agents in Durban, which raced prepared both Black Mamba (YM2 554) and later Green Mamba (YMH5 2413), and also prepared Bob Olthoff's YDH5 929 for it's first race in March 1959, saying that: "I really do not think that John Sully is correct in stating that 3 engines were imported, but kits, yes"
Green Mamba replaced Black Mamba, which was never fitted with the larger engine.


Bo (YM2 554, YDH5 928, YDH5 880)

---
On 2/4/2014, Edward Vandyk <!-edward at vandyk.co.uk-> in the UK wrote:


"I have become interested in the 1,762cc variant of the Twin Cam engine and its use in period (say up to end of FIA Period F at 31/12/65) both in competition or otherwise. Bo Giersing, supported by Michael Collins, has documented its use in South Africa where Green Mamba (2413) raced in domestic races in period with a 'Le Mans" engine and where unsold cars were uprated to 1,762cc using kits supplied from the UK, but seemingly not from Abingdon. Ted Lund used 1,762cc at Le Mans in 1960, the first reference to this size I believe, and 1961 and Bob Olthoff used 1,762cc, originated in the UK, in 929. Incidentally Bob Olthoff, who worked at Abingdon, was Ted Lund's co-driver at Le Mans in 1961.


"Apart from that I can find no references to any other use of this capacity in period so any other known or reputed instances would be of interest. The engine was clearly a BMC project as the 1,762cc pistons have part numbers and have MOWOG stamped on them but were nothing to do with Abingdon according to Jim Cox, who ran the development department and built Ted Lund's 1959 1,588cc Le Mans engine, or Don Hayter who designed the closed coupe version of Ted Lund's 1960 Le Mans car. Their belief is that the 1,762cc variation was developed at Morris Engines in Coventry, so if anyone has any views or information on this subject that would be most appreciated".

---
On 10/3/2014, Edward Vandyk <!-edward at vandyk.co.uk-> wrote:


"I came across the attached TIM at Abingdon yesterday. It shows that the 1762cc engine had a part number for the piston and designated by MG although how available it was generally is far less clear. I am trying to find out just who got these TIMs. The TIM is undated but #34, relating to the 1622cc engine, was dated 20 January 1961 so this was way after the Twin Cam had ceased production and 18 months after the piston first appeared in drawing #310 in the EX187 register in June 1959. Again you will notice the typical MG typo of 2 1/8" piston.


If you do the math in metric or imperial using the bore size of 3.1255" in TIM#35 I come to 1,760.1cc. The South African build plates for the 'big' engines always called them 1,760cc and not 1,762cc so maybe they were right all along?


I suspect the Le Mans engine scruitineers specification sheet from the 1960 race is the cause of the 1,762cc number because if you take the numbers of 79.37mm x 88.9mm on that sheet my maths makes that 1,760.1cc as well but they have put 1,762cc on the sheet. To get to 1,762cc you have to go to 3.1265" or 15 thousand over and of course this may have happened but the way MG specified it the engine should be the 1,760cc engine not the 1,762cc engine!

---
When I do the math with 4-cylinders and 3.500" stroke,
3.1250" bore would be 1759.6cc (roundng to 1760cc).
3.1262" bore would be 1760cc.
3.1271" bore would be 1762cc (only 0.0021" above 3.125").

I might guess (speculate) that this last bore size may have been intentional to give slightly more running clearance for the pistons, as the Twin Cam engine was ultimatly found to be happier with greater clearance. Someone may have actually found this bore size by measurement.