The MGA With An Attitude
NON-MG PRODUCTION VARIANTS - VT-103K
Karmann MG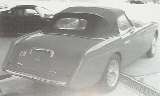 This photo appears in the 2005 book "Call It MGA" by Roger Martin and Piers Hubbard (page 65), published by The MGA Register, The MG Car Club LTD. ISBN 020 8760 9958. One short paragraph with it says, "Few coachbuilders took up the challenge of manufacturing special bodies for the traditionally separate MGA running chassis when they were new, as had been the case for earlier M.G.s, Karmann being one of the few exceptions."

This appears to be wrong, and may not actually be MGA underneath.

At 12:17 PM 4/18/05 +0200, Niek Herwegh wrote:
>....In the chapter about "Variants of MG" .... you have a photo of a so called Karmann MGA. I'm sorry to inform you that the car in question is not a Karmann MGA, but a special bodied MG TD by Swiss coachbuilders GHIA-AIGLE.
>
>There are two clear photo's of the same car in the David Knowles book "MG 1945-1964 a photo archive"(page 30 and 31) published by Iconografix ISBN 1-882256-55-2, and quite a few years ago there was an interesting article written by Dieter Gunther in British "Classics and Sportscar" magazine (April 1989 page 72/73) which featured the history of Ghia-Aigle and also a photo of this car. The car turned up again in the May 2003 issue of the Dutch "British Car Magazine" photographed by a reader in Switzerland, so it's still alive.
>
>The car was designed by Giovanni Michelotti (indeed of Triumph fame) for the 1952 Geneva car show, together with an equally attractive coupe on the same MG TD chassis. It was built by the Swiss coachbuilders Ghia-Aigle (who had nothing to do with Ghia of Turin but was allowed the rights to use their name). On the show it appeared on standard TD steel-wheels and ditto hub-caps, but later in it's life someone added the chrome wire-wheels (very attractive on this car with it's flowing Italian lines). The standard wheels would have given the type of car away but not the chrome wires of course !!!

Indications are that the new book is likely wrong, unless the same body style may have been adapted a few years later to the then new MGA chassis (with a much larger potential market). This appears to be an adaptation of MG TD chassis first displayed at the 1952 Geneva Motor Show. Additional information below.

---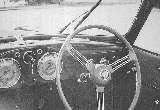 From Cars of Carrosserie Ghia S.A., Aigle & Lugano (CH) by Stefan Dierkes
1952 MG TD Cabriolet
s/n TDC-22878, engine XPAG/TD3/23269,
colour red, interior beige, hood black?; ? 20–30/03/1952
exhibited at 22. Geneva Motor Show in 1952
1. owner N.N.;
2. owner Arno Mark, Gstaad (CH);
3. owner Walter Ryter (Ryter Garage Opel), Gstaad (CH), registration BE 921 U

---
From <!-A href="http://www.salon-auto.ch/en/en_images/zoom.php?idIndex=2197&idContent=12408" target=new->75th Geneva Motor Show (broken link)

---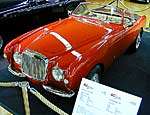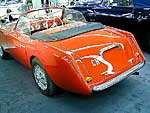 From a French newspaper illustrating the
<!-A href="http://automobile.nouvelobs.com/mag/geneve_2005/centenaire/galerie.asp" target=new->Salon of Genève (broken link)
MG Ghia – Aigle 1952.

---

From Fiches des modèles M.G. anciens by Jean-Paul Donnay