The MGA With An Attitude
Modified MGA Cars - VT-107F3
Drop Head Coupe #3
This one is a bit of a puzzle (so far). It is supposed to be chassis number 10125, the 25th MGA off the assembly line, but the Coupe model didn't exist at that time. At first glance it appears that everything forward of the door latch is Coupe (except the missing top), and everything aft of the door latch is roadster. Closer inspection is pending. Stay tuned. -- The car is currently in Naperville, Illinois, USA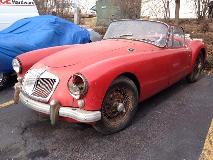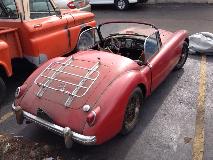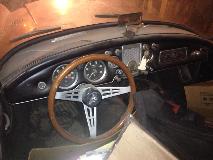 dhc18 = MGA 1500 with drum brakes and wire wheels. Chop top Coupe.
dhc19 = Factory style luggage rack.
dhc20 = Dash covering has been re-done with padding (not originally padded). Two knobs below small instruments should be Starter pull and choke pull, but are not original style knobs. Dash instruments are early face style from first 14 months of production. Turn signal switch at left end of dash was originally a rotating wing knob to work a vacuum time delay switch, now maybe a 3-position toggle switch. I don't recognize the steering wheel, but the center piece looks like MGB or MG Midget style. No bump on right side of tunnel makes it low starter 1500 style.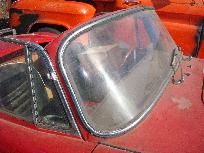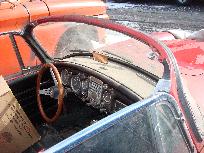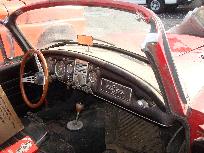 7743 = Windscreen frame appears to be Original style MGA Coupe part (before cutting off the roof). Has accessory screenwasher jets.
7744 = Chrome plated sockets for top attachment are not original to MGA, but appear to be period correct parts from some other car. Tapered socket will accept an alignment pin, while bottom hook will accept a toggle latch.
7745 = Weather seal for door opening is not original style, but is like the stuff Moss Motors has been selling for decades. Chrome caps at top of A-posts may be custom made parts.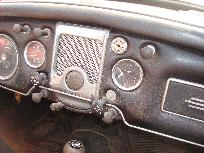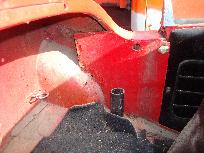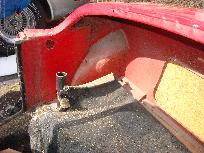 7746 = Centigrade water temperature gauge was original to early MGA. All four dash instruments were originally Jaeger. The Smiths fuel gauge is not original. Ignition switch is probably not original. If it is original,then it is mis-oriented. he Start and Choke knobs look like MGB or MG Midget parts from later issue. Radio blanking plate with wrinkle black paint is MGB style, commonly sold by Moss Motors as replacement for MGA. Original MGA part was vinyl covered for the Coupe.
7747 = Flat red interior panel aft of the door is a modification. Black tube socket is part of a roll bar. Steel body tonneau in back appears to be roadster style, not like the Coupe part.
7748 - Red interior panel aft of door is different on right side. The hole at top may be intended to be anchor point for the removable top. Missing carpet cover where spare tire would originally protrude through the rear bulkhead (closed with plywood). Rear body tonneau still looks like roadster part.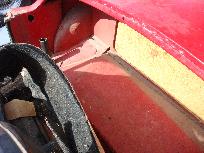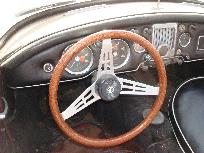 7749 -
7750 - Battery carriers had rust repair welding once.
7751 -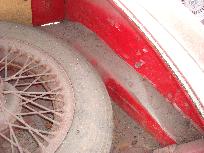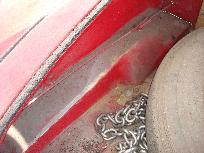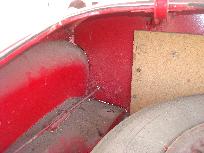 7752 - The boot floor stamping is NOT one of the first 500 cars.
7753 - The boot floor stamping is NOT one of the first 500 cars.
7754 -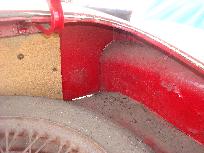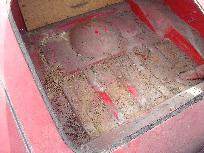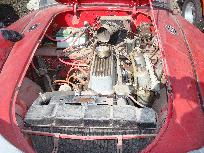 7755 -
7756 - The boot floor stamping is NOT one of the first 500 cars.
7757 - Battery does not belong in the engine bay. Heater box is radically different from original issue. Aftermarket alloy valve cover. Thin pancake air cleaners (restrictive to air flow). Two holes in the fan guard for different location of bonnet prop rod is April 1958 or later issue. Control box (voltage regulator) is in odd location aft of the carburetors. Transverse bracket in front of the radiator is non-standard, likely a modified bonnet latch part. Body inner fender style is "pre Twin Cam" (prior to April 1958).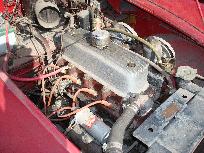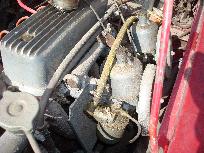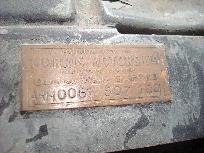 7758 - Odd routing of fuel supply hose and "modern" plastic in-line fuel filter.
7759 -
7760 - ARH0061 is an odd part number for the radiator.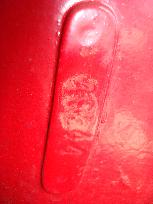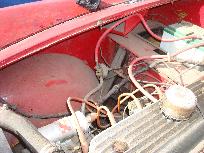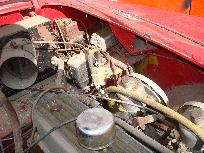 7761 - Inner fenders are pre-Twin Cam style, before April 1958
7762 -
7764 - The body number, but painted over, difficult to read. If you can read it, this will tell us when the body was built. You may have to sand paint off to read it.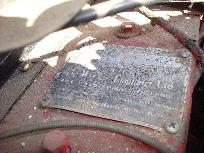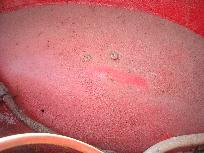 7763 - Original Car No plate, and the early engine number is close enough to match the early chassis number. However, that doesn't mean the body shell is original. I believe the screws were originally brass.
7765 - Bare spot where the engine number plate used to reside?
7766 - Plain inner fender with no impressions, prior to April 1958 production.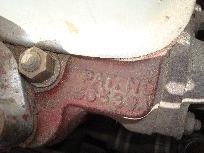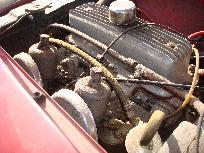 7767 -
7768 - Plastic tube used for vacuum advance pipe, no fuel separator in the pipe.
7770 - Body number 49344.

This looks to me to be an early MGA Coupe body shell (at least the front half), September 1958 to April 1958. The body number will narrow that down to a month or two window.

On 2/10/2016, the current owner wrote:
"I plan scraping the old red paint off the tag under the hood. The VIN on the passenger side floor is impossible to make out. I think its worn away. My friend is going to come by with acid and try to remove some of the minor rust. I plan on taking pictures of the hardtop tomorrow. I spoke with the person that I bought it from, and he said that he knew about the car since 1971, and it was always like this. He also said that the previous owner knew it was like this for many years. I asked him if he had the metal hardtop on the car often. He said that it fits like a glove, and it has been on the highway many times, with no issues".


Well, there it is, body number 49344. This is smack in the middle of 1500 type body production (prior to number sequence change in January 1959). It is also 2,143 higher than my 1500 which was built in August 1957 when they were building 2000 cars per month. That makes this body shell date to September 1957 production. Therefore the body shell and Car No tag do not match, so at least one of them was a transplant.

---
Addendum 3/28/2016:
Today I had a first hand scratch an sniff session with this car. There is a large tray set into the heater shelf to hold the battery. The heater box was then moved to the side and modified to be narrower with the matrix core horizontal below the blower. There is a factory original style radiator blind (but the bead chain and under dash actuator handle are missing). It didn't dawn on me at the time to look for the turn signal relay (1500 type), but it may be hiding behind the relocated heater box (which would be difficult for service).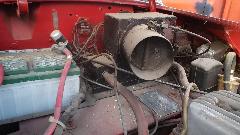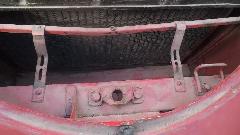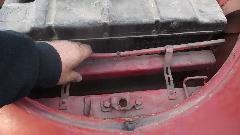 Three dash instruments are Jaeger early 1500 face style, while the fuel gauge is non-standard Smiths. The dash panel with bright trim on lower edge and chrome speaker surround is original Coupe style, but the padding is not original. Starter and choke controls and steering wheel are not original style. The boot floor and bulkhead are commensurate with MGA 1500 Coupe style.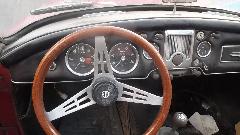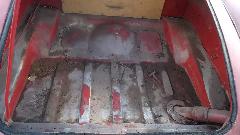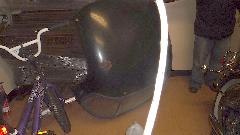 The hardtop is steel, apparently off-cut from the Coupe body with welded closure panels and latches added. It is somewhat tatty, but likely structurally solid. I believe it has hook plates on the rear edge intended to be attached to the rear body tonneau similar to a factory hardtop to a roadster. The rear body tonneau (aft of the seats) was modified to be very much like a roadster, no parcel shelf. No sign that this car ever had a rag top installed after the roof conversion (although it may not be too difficult to do it).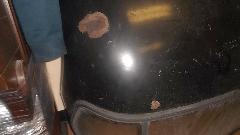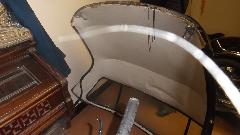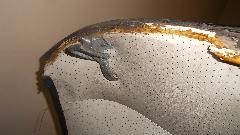 ---
Addendum, Mach 8, 2017:
There is now an a new life for this car. Today I received a note and some pictures from the new owner. He bought the car nearly a year ago, shortly after I took the pictures in Naperville, Illinois, USA and posted this web page.

On 3/8/2017, R.J. van Bruggen <!-roel at vbruggen.net-> in Holland wrote:
"My grandson found on internet an article of you about a modified car MGA 107F3. You should know that about a year ago I bought an MGA in America, and that give me questions, but thanks to your article I found the answer. The car is in Holland and he is sick. Rust fever is his problem. But on the pictures you see his healthiness is coming back on the intensive care. Motor is rebuild and hopefully it will become a nice car with his story".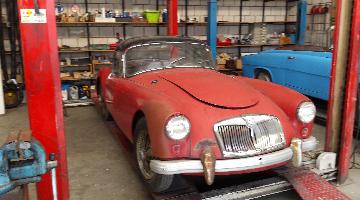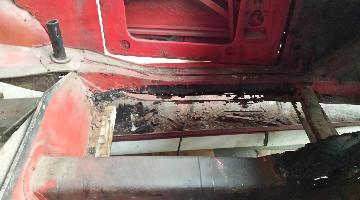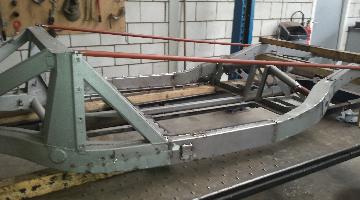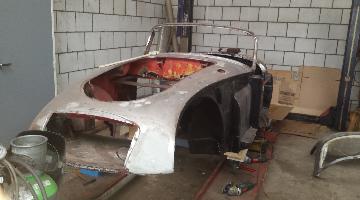 The car is now in Holland being restored. Frame repair is nearly finished with original type battery carriers. So I presume he will also restore the heater shelf to original configuration. Hopefully in the end this may be a very nice MGA 1500 Coupe that just happens to have a removable roof (likely the only one in the world).