The MGA With An Attitude
MODIFIED MGA For Street Use - VT-107
This is a "short" list of some one-of-a-kind modified MGA. As there were over 100,000 MGA produced, there were ultimately thousands of them being modified in various creative ways. I personally find the Street Mods more interesting than the Race Cars, as they are less restrained by the requirements for speed and more likely to be personal statements, works of art, or just plain wierd in some cases. They also commonly retain full street trim, so we can identify with something we might like to take for a spin after dinner.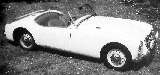 VT-107A - 4-Seater or 2+2
We have a few of these to consider.


VT-107B - "Bizarro"
This is a 1960 MG Savoy roadster on an MGA chassis, a one-off creaton by Michael Pistol in art decco style.



VT-107BA - "Bandito"
This is a 1960 MG Savoy roadster on an MGA chassis, a one-off creaton by Michael Pistol in art decco style.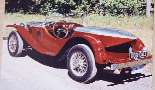 VT-107C - Boat Tail Racer
For those who miss the "classic" MG style.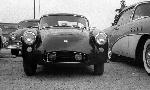 VT-107CC - California Custom
From the family album.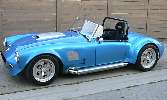 VT-107D - Radical V12
This was an MGA prior to gross modification to rebuild it around Jaguar suspension and V12 engine.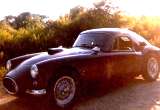 VT-107E - Superamerica
This special bodied MGA Coupe looks a lot like a Ferrari Superamerica.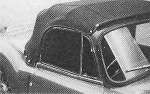 VT-107F - Drop Head Coupe - VT-107F2 - VT-107F3
Prerhaps a good idea, but not so easy.
The second one is even tougher to swallow.



VT-107G - MG Awan - VT-107G2
Beware that MG Awan is an acronym for "MGA Without A Name", as this one is so far unknown. With first glance at the pictures opinions range from "quaint" to "ugly", and then it gets worse, but maybe not so ugly once you consider that form follows function. Anyone with an opinion is welcome to comment.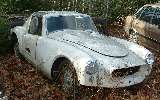 VT-107H - MG Awan 2
Another "MGA Without A Name", this one is (was) an MGA Twin Cam roadster converted to a gull wing coupe.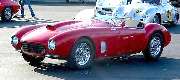 VT-107I - Ferrari MGA
When you always wanted a Ferrari, but you only have a rusty MGA.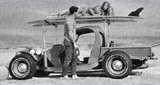 VT107FB - Fun Buggy - Hotrod Surfer
Definitely an MGA chassis and engine in this sixties vintage hot rod. See Literature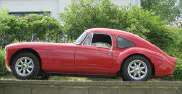 VT107J - Hybrid Coupe Special with Twin Cam
This is an MGA 1600 Coupe modified to fast back roof, and with a Twin Cam engine transplant.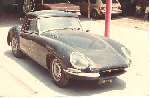 VT107J2 - Jaguar MGA
Some crafty work to graft part of a Jaguar E-Type nose onto an MGA.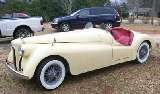 VT-107L - LaSalle style
Stretch the wheelbase 19 inches, install a 6-cylinder engine, and hand tool a whole new body.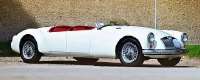 <!A href="vt107l1.htm">VT-107L1<!/a> - Limousine Speedster
No spec's yet just a PhotoShopped picture. It is only here to let you know it is not real.



VT-107P - Peel P.1000
Appearances can be deceptive.



Reno Blower
This one showed up at MG-2011 in Reno Nevada. What you see is what you get. I know nothing!!!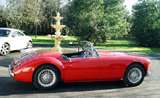 VT-107R - Roll-Up Roadster
This is an MGA roadster with modified Coupe doors installed for the roll up windows and wind wings. This was done for the Managing Director of a major MG Distributor. Since there is no facory project number I would assume that it was done by private party.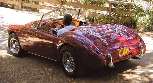 VT-107S - Gyro Gearloose Special
A true example of the Southern California car culture, with a potent American-made V8 engine stuffed into a lightweight British Roadster.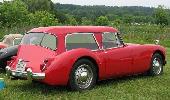 Shooting Brake
Someone's good imagination, and a decent job of Photoshop.




VT-107T - T-Top
T-Top Fastback - made from a Coupe.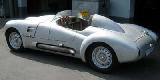 VT-107W - Wagner Special race car
Built on an MGA Twin Cam chassis.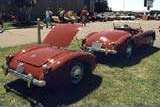 Tandem Trailer
Push me - pull me - three boots to go.



PP-509 - Rotary MGA - (see Performanca and Power)
This 1958 MGA was built up by Randy Brown with a Mazda Rotary engine and matching gearbox.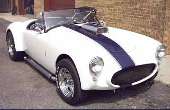 (off site) - Cobra clone
This MGA sure looks familliar. There may be quite a number of similar cars in the world even though they would be created one at at time. This one belongs to Michael Brose in Virginia, and may be more unique than most.



(off site) - Electric MGA 1
converted by Bob Wing, see 27 years with this MGA.


(off site) - Electric MGA 2
converted by students at University of Texas at Arlington. Most of the project information was lost for a time when the project web site was purged from the University computer, but much of it has since been recovered.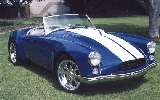 (off site) - Radical V6
Radical restyling and a 3.8 liter Buick V6 engine, converted by Harrison Manell. You can also find a number of V8 conversions, some done well but many badly botched.