The MGA With An Attitude
ROTARY ENGINE MGA - PP-509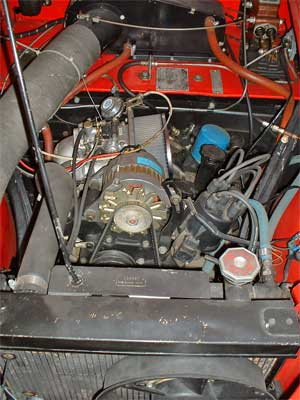 This 1958 MGA with a Mazda Rotary power, was built by Randy Brown. It uses a 1982 RX7 12A engine delivering about 200 HP (maybe), stock MGA motor mounts, a Delorto carburetor, special headers, RX7 gearbox, MGB front suspension and disc brakes, and a special driveshaft with RX7 front u-joint and Datsun 280Z rear u-joint and yoke. The rear transmission mount was cut out and a stock RX7 mount was used. The floorboard on the drivers side was narrowed to clear the starter.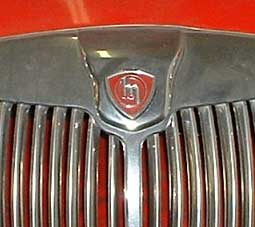 The only change to outward appearance is the grill badge. According to Randy the MGA is very fast feels more like a motorcycle than a car.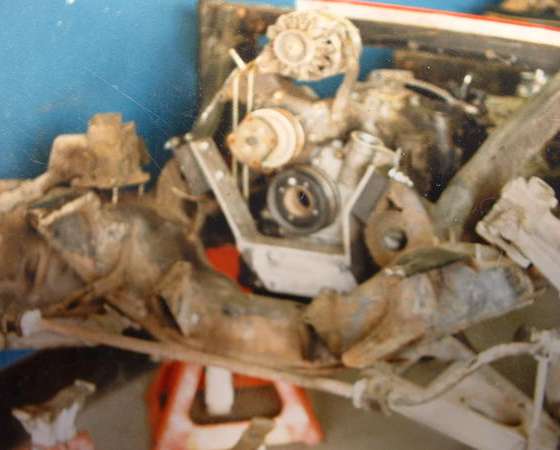 The engine sits on stock MGA front motor mounts. The front motor mount arrangement is shown in the picture. The rear trans mount is stock RX7.

From Randy Brown, May 22, 2012:
"I used Racing Beat parts for the header and the intake.
www.racingbeat.com/RX7-1975-1985/Exhaust-Headers/16211.html.
They no longer supply the Delorto side draft set up I used, Just the manifold.
www.racingbeat.com/RX7-1975-1985/Dellorto-Intake/18111.html
The engine is from an 82 and is a 12A with a mild street port job. The transmission is RX7; I have a 5 speed in it now but had originally used a 4 speed. I used the Mazda slave cylinder fed by the stock master. I machined a block to limit movement of master and reduce clutch sensitivity. A stock Mazda oil cooler sits below the radiator panel and receives cooling air through a hole in the valance. Because the Mazda starter sits backwards I had to narrow the toeboard and change the shape of the tunnel. The driveshaft is custom made and uses the Mazda RX7 slip yoke and U joint at the front and a Datsun 280Z U joint and flange at the back. The Datsun flange bolts directly to the stock rear end. The header pipes goes down on the right then under the oil pan before turning back and joining. I cut the rear crossmember and reinforced it with 1/4" plate and used the stock Mazda rear trans mount. At the same time I added MGB front suspension to get Disc brakes. I had the stock radiator re-cored with high capacity core and used two elecric fans, one front right one rear left. The fan sensor can be overridden by the F (fog light) switch".