The MGA With An Attitude
Modified MGA Cars - VT-107B

MG Savoy "Bizarro" - HNL/74456 - engine no: 5RB-U-H-3978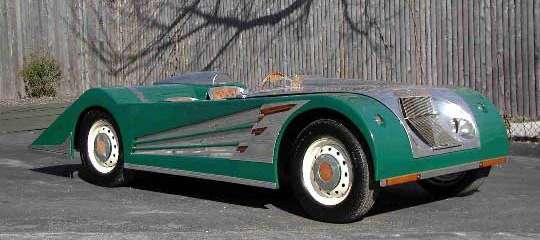 "Bizarro" is a 1960 MG Savoy roadster on a restored MGA 1500 chassis, a one-off creaton in 1997 by Michael Pistol Automobile Studio, Canada. Michael Pistol is an automotive engineer and designer, a graduate from the Polytechnic Institute of Bucharest.

The body, in art decco style, is hand formed 16 gauge aluminum with brass and stainless steel hardware. Trim is in woods such as mahogany, padauk, lacewood, walnut, pine and ash, while the seats, gear box cover and venting on the front grille are finished in specially tooled leather. Overall length is 150-in, width 50-in, 98-in wheelbase (4-in longer than standard MGA), and 5-in ground clearance.

It was sold at the 2002 Barrett Jackson auction in Scottsdale, Arizona for $15,200. It has been listed on eBay a couple of times in 2003-2004, but I don't think it sold. This is a good example of how some very expensive one off modified cars may hold little value for the general public.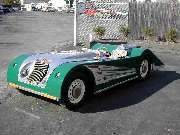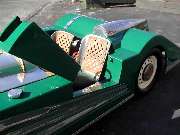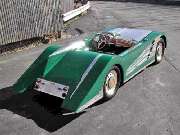 As seen at Pebble Beach Concours 2009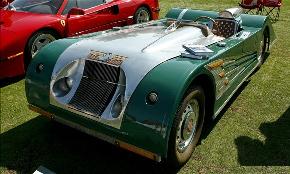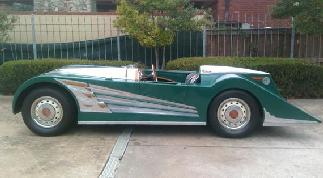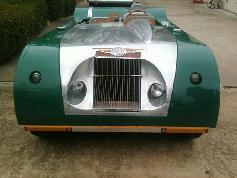 Addendum, June 12, 2015:
On 6/12/2015, Hervé Smagghe <!-hervesmagghe at yahoo.fr-> in France wrote:
"The new owner of The Michael Pistol MGA is Toly Arutunoff. <!-tolyarutunoff at gmail.com-> The # is HNL/74456 and moteur 15RB-U-H-3978".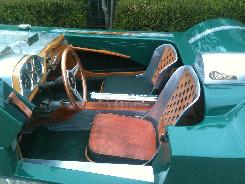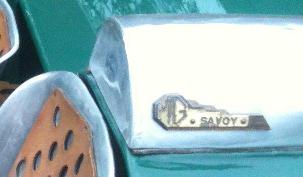 Addendum, June 21, 2015:
Today I have a message direct from the current owner.
At 05:52 PM 6/21/2015 -0500, Toly Arutunoff wrote:
"I own #3, the rebodied mga. I can't tell you much more than the web picture shows, except it rides kinda rough with the oversize tires for esthetic purposes! ....