The MGA With An Attitude
Modified MGA Cars - VT-107C
Boat Tail MGA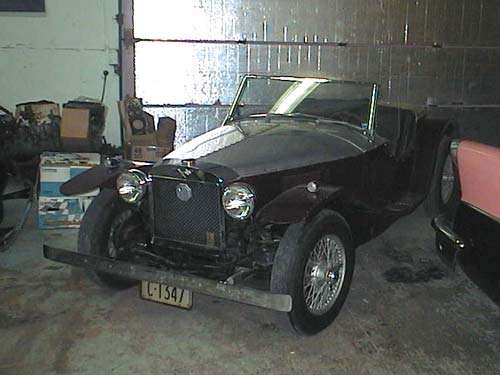 For a couple of years the picture above was the only one I had. I didn't even know it was a boat tail car until the current owner contacted me. Now we have better pictures and more details.

At 12:29 PM 5/4/06, Douglas F Wilson wrote:
>"I see you have an image of my MGA boat-tail racer on your web site. Hope you can open these jpgs for a better view. It was built by a university engineering class in 1972 based on a 60 MGA drive train amd aluminum body. My 87 year old mechanic friend gave it to me after he didn't renew his driver's license. I take it out every summer here in Ottawa Ontario Canada.
>
>Safety Fast,
>Doug Wilson"

At 10:52 AM 5/5/06, Douglas F Wilson wrote:
>"The car is just for looks. It has had no suspension or drive-train upgrades. It has no doors or side windows but does have a tonneau. The most unique thing about it is the all aluminum hand crafted body using vintage aircraft fasteners (rivets). The polished aluminum bonnet and tail are lovely. It is very light and therefore "peppy". Driving it might be safer than an old motorcycle but not by much. The simple mechanics of the car are a delight to work on - she runs great. It is real "head turner". Though most MG lover types turn their noses up at it as it is not original. Lighten up boys!"
>
>Doug"

At 04:58 PM 4/16/2008 -0400, Andy Bounsall wrote:
"Here's a couple of higher res photos I took of the car last summer."