The MGA With An Attitude
Modified MGA for street use - VT-107P
Peel P.1000 - Porsche 356 wanna be?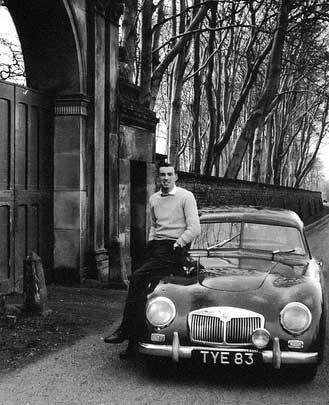 I'm quite sure this car does not qualify as an MGA variant, but I post it here because people keep asking "What kind of an MGA is this"? At first glance the most significant feature may be the real MGA grille, which may be the only thing that rouses the question. The rest of the car (in this first picture) looks a bit like a Porsche 356 speedster Coupe, but an early one with the flat glass windscreen. The Porsche front bumper seems to enhance that impression. But then the front parking lights appear to be Wipac reversing lights (backup lights to us Yanks). The TYE plate is originally a London, England, registration, but there is no longer any record of this registration number. Someone said the picture was taken around Christmas to New Years, 1956/1957 (but I have no idea why they think so). After several months of speculation in 2010, we finally have a proper answer.

The person whose uncle it was (in the picture) has found out from another relative. Thank goodness someone from that era was still alive. The car is a 1939 MGTA with a Peel fiberglass body. Only 3 of those where ever built! These pictures show one coupe and two roadsters, which (assuming they are different cars) may be all that ever existed. And yes, it was a kit car body intended to be installed on a pre-existing chassis. The target 90-inch wheelbase is 4-inches too short for MGA.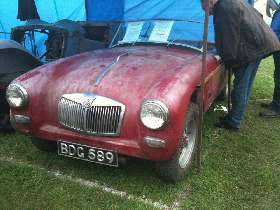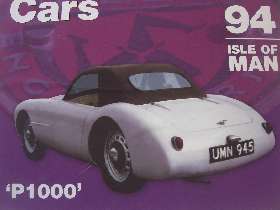 The red car was spotted by Simon Ambrose at the Beaulieu Autojumble in September 2010. The chassis (he thinks) is a regular old MG chassis e.g. TA or similar. The P1000 looks good, if rather confusing, with the MGA grille and windscreen. Photo by Simon Ambrose (of bucklercars.com). The vintage magazine ad below gives a little more information.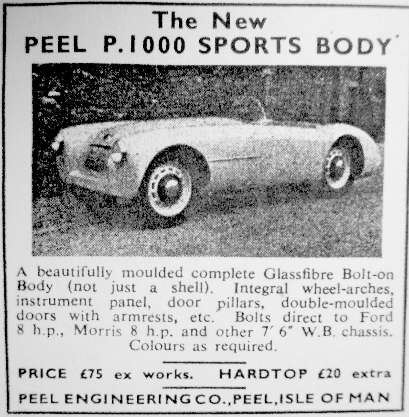 Advert for the later Peel 1000 body shell for Ford-based and other home constructed specials of the mid 1950's. This advert is from Motor Racing magazine, November 1956.