The MGA With An Attitude
Modified MGA Cars - VT-107D

V12 Jaguar Masquerading as an MGA
This was once an MGA prior to gross modification to rebuild it around Jaguar suspension and V12 engine. This information and the pictures were copied from an eBay ad for historical record. In essence it appears to be a street rod version of a Jaguar E-type V12, reworked as a sort of Cobra clone, roughly based on an MGA shell. As near as I can tell, the unmolested MGA content might be the boot lid, windscreen side posts, door hinges and latches (maybe). As is quite common with radically modified one of a kind cars, the resale value seems to be far less than a nicely restored original MGA.

---
1956 MG : MGA

Item number: 130233683071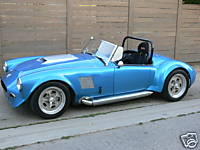 Current bid: US $10,355.00 (as of 01 Jul 08)


Reserve not met

Item location: Venice, CA, United States

DESCRIPTION

Item Specifics - Cars & Trucks
1956 MG  :  MGA
V-12 One of a kind Custom

Miles: 		3333			Body type: Other	
Transmission: 	Manual
Engine: 	12			Interior: Black
					Year: 1956
Condition: 	Used			Exterior: Blue
Fuel type: 	Gasoline
For sale by: 	Private seller
The "FLLMNTY"

Outstanding, unique, 1956 MGA V12, five year project. One of a kind custom has been featured in Retro cars (UK) Magazine Dec. 2006, Best Sports Car Award winner at Concorso Venesia 2005, Award winner special Interest vehicle 2007 Huntington Beach Concours. Exhibited at Concours on Rodeo Dr. June 2008. Literally, "be the only one anywhere".

Features of car

2500 lbs., 52/48 wt. bias, estimated 325 HP @ flywheel (carburation,ignition,exhaust factors) Crate engine with stock injection specs: 284 hp @ 5750 RPM, 294 lb/ft torque @ 4500 RPM

Drivetrain

* Jaguar V-12, 5-3 litre (326ci) 1976 Crate engine
* Six 40mm., twin IDF Weber Carbs
* 3 inch side pipes
* Griffin oversize aluminum radiator, electric fan
* Jaguar close ratio 4 -speed transmission
* B & B clutch
* Corvette 2.73 Positraction Rear End, 1986

Suspension and Steering

* Jaguar XJS front suspension, adjustable Koni Shocks
* Adjustable Rear coilover suspension
* 1956 MGA steering rack
* Custom Fabricated,articulated Rack and Pinion steering set-up
* Custom fabricated control arms

Frame and Brake

* Lengthened and reinforced frame
* Front: 69' Camaro rotors, Wilwood Calipers
* Rear: Corvette rotors and calipers
* Wilwood Master cylinders and Clutch reservoir
* Vacumn Brake Booster
* Brake bias adjuster

Ignition and Fuel

* Pertronix coil and ignition system
* MSD 6AL spark enhancement
* Mallory fuel delivery system, electric fuel pump
* Dual fuel pressure regulators-4.5 psi
* 16 gallon fuel tank
* Battery cut-off
* Engine compartment remote starter button
* Battery mounted behind passenger seat

Bodywork and Paint

* Custom widened body-all metal (1 foot front, 1.5 feet rear)
* Aluminum sheet metal (hood,doors trunk)
* Aluminum cowl panels, rear body panels
* Aluminum rear section of front fenders
* Lengthened driver's platform
* Knurled aluminum dashboard
* Jaguar XKE instrumentation
* Fiberglass hood scoop
* "Marina Blue" Paint (1966 Corvette)-Body
* GM code 13 Silver paint ( hood scoop)

Interior and Safety

* Kirkey Rarcing seats, Simpson 5-point harnesses
* Fixed roll bar
* Floor mounted fire extinguisher
* Blaupunkt CD player/stereo

Wheels and Tires

* Front 16 x 8 Vintage correct Aluminum "Kidney Bean" wheels
* Rear 17 x 10 "Kidney bean" wheels
* Kumho Ecsta 712 tires: F 245-45-16 R 275-40-17

This Unique automobile runs as beautifully as it looks, needs nothing and is ready for your driving enjoyment. Included with vehicle are: car cover, hard top, album of build photos, story board, magazine article and service records. Do not hesitate to e-mail questions, Good luck on your bidding.

---