The MGA With An Attitude
Modified MGA Race Cars - VT-108A

1960 MGA-Judson
September 1959 production MGA 1600 - GHNL/76841
This MGA appears to be a serious early effort to race with a Judson supercharger. So far the history is unknown, so it might be a more modern conversion, but we will seek for more information.. Without a roll bar it certainly looks vintage, but the supercharger might be a more recent installation.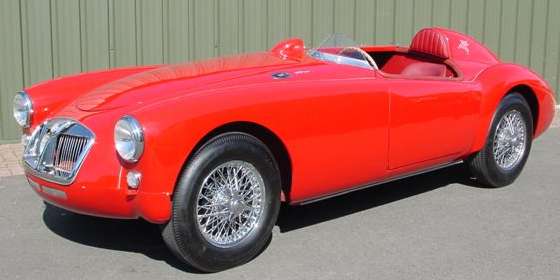 The front end is sporting the racing style smooth valence panel with vents for under deck oil cooler. It also has a MK II style recessed grill, 1500 style front parking lamps, and MK II style tail lights. I'm mot sure if the new owner intends to keep this configuraton of odd paarts. I believe I see 60 spoke wire wheels and three-eared knock-offs. The interior panel behind the seat looks suspiciously like a side curtain stowage pouch.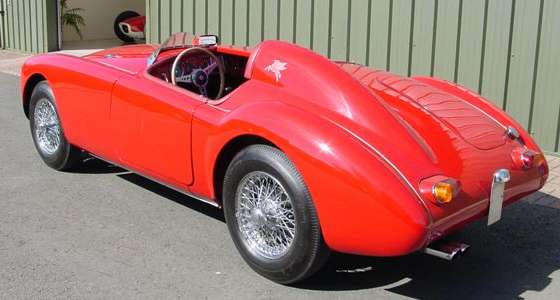 There is the headrest pod built up on the rear body tonneau. There appears to be a narrow deck lid positioned to the right side of the headrest pod.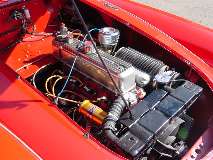 Under the bonnet, notice the correct vintage style valve cover (for the supercharger) with the intake oiler built into the back end. The chrome covered air cleaner looks a bit small for racing, but apparently this was original issue from Judson with the installation kit. The unusual double belt drive pulley is a curiosity. It appears to have the original vacuum type distributor, but hard to tell if vacuum is connected. It has a 1500 type coil mount on top of the generator. The electric fan may be late 1980's or early 1990's style. Last curiosity is the 1500 style master cylinder with the flat reservoir cover, being a bit odd for a 1600 model, but this car has been converted from disc to drum brakes. The new owner would like to convert it back to correct disc brakes if parts can be found.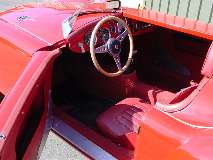 Around the cockpit there is nice attention to aerodynamics with the small racing windscreen, aero racing mirror, and half tonneau cover. Defroster vent openings and original windscreen post cut-outs have been permanently closed, so obviously there is no intention of returning to a full windscreen for street use. There is a quasi-racing seat (suspiciously "big Healey" style). If my eyes do not deceive me the steering wheel appears to be fairly modern, possibly MotoLita brand if I recognize the center piece. All four dash instruments have switched position in a "traditional" racing manner to put the tachometer next to the safety gauge (in the left hand drive car).

Other cockpit appointments appear to be standard issue and factory complete, even having all original cockpit trim rails, kick panels, door liners, door weather seal, full carpeting, inner door scuff plates and threshold scuff plates. Retention of the side curtain pin socket at the back of the door top rail is another curiosity, probably never to be used, as there is no clamp plate at the front. As the car has a completely finished interior, it may have been intended to be a stylish street cruiser rather than a fully competitive race car. Or the complete interior may have been installed in more recent times, after a racing history.

This car was brought to my attention by Jonny Arreskopulos in Greece who ran across this web site while seeking information on Judson superchargers possibly used on MGA for racing. The car belongs to his friend Arnaldo Rizzi Nuvolari in Italy. Small world. If anyone has any information about MGA with Judson supercharger which may have been used for competition, please write.

---
At 09:26 AM 10/24/05 -0600, Stanley Reid in Sweden wrote:
"I was born in Florida, but I've been living in Sweden since a long time. I'm a big fan of MG, I have owned quite a few in the last forty years. My son has an MK2 of 1961, and we often look on the web for MGA reviews. I know the "MGA – Judson" was racing in the period 1960/1970 in Virginia (VIR) and in Pittsburgh because I was having a deal for a MGA with a Judson supercharger that was running really great. The car was the exact copy of the one you are presenting on your web site, but instead of the two original tail lights, it had a couple of little round lights. In the engine the Judson supercharger was the same, but it didn't have an air cleaner. The body didn't have any plastic or aluminium part, I think that an original racing body wouldn't have any plastic or aluminium part, the original owner might have exceed in customizing the car for personal preference. I hope this information can help you for the history of the car you are presenting, it looks really nice and well restored, it doesn't really look a cheap job!!! Stanley"

---
At 09:23 PM 10/26/05 -0400, Mark Sherman wrote:
"I saw this car in London in December [2004]. It was for sale at the Coys auction. The sales are listed at http://www.coys.co.uk but it is not listed there. (I dont think it sold.) ..... A photo I took is attached."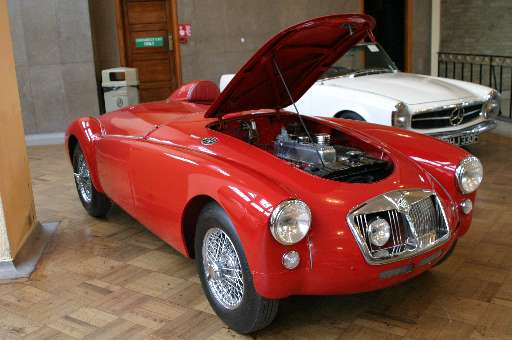 ---
On 25 October 2005 at 17:04:21 UK time Gil in Beaver, PA, wrote:
"I wonder if Arnaldo Rizzi Nuvolari is any relation to Tazio Nuvolari ????
Pretty famous name !!"

At 03:06 PM 10/26/05 +0200, Arnaldo wrote:
"My grandfather was cousins of Tazio".

See The Official Site - Tazio Nuvolari.

---
At 01:22 PM 10/28/05 +0000, Bruno Cardi Geneve wrote:
"I have seventy years appassionate for MG are Swiss and compliments for situated mgaguru the truly complete one and rich of pasion.Se it serves a testimony, this is mine: I have seen a MGA with Judson in Florida years +- 68/72 in garage that for sale.As the description of mister Stanley Reid and still carried the numbers of racing,en pessim conditions had the same aspect of that one in the photographies (lacked the front template, had posterior small lights, it was all in steel are sure why the rust......)Il Judson was looked at was like that one of the fotograf.Esperantia this can be useful to mister Arnaldo Rizzi Nuvolari for passion and compliments for its beautiful car and Tazio relative!!
A revoire
Bruno Cardi Geneve

---
A personal profile from Arnaldo Rizzi Nuvolari
At 05:33 PM 10/28/05 +0200, Arnaldo Rizzi Nuvolari wrote: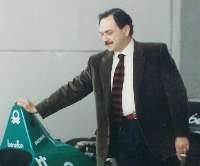 After numerous contacts task it can makes it appeal to a my personal profile you. They are been born in 1947 given a degree to in agrarian. Hour they are manager of chemical industry. Appssionato of automobiles from cors like all in house mine also for the relationship with Tazio Nuvolari. I have begun to compete in speed with the historical cars in 1980 with a Abarth Zagato, then I have continued with Fiat 1100 Pininfarina, Alfa Romeo Giulietta SS,Giulietta Spyder Veloce,Giulietta SZ, Gliula GTA, Osca Zagato 1600,Porsche 356, Porsche 911,Lancia Fulvia, Ford Mustang and others.The last competitions from 1994 to 2000 with beautiful Sport 2 liters March 73S,Dallara Sport, Osella Pa7. Then I have stopped for problems of content health of avre which could run in all the beautiful circuits like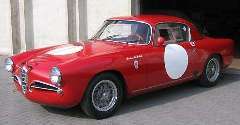 Monza, Mugello, the Targa Florio, the Coppa Italia, Nurburgring and many others...... have been much beautiful one and have made friendship with tantissimi get passionate to you with which I have They are fortunate why I have possessed "nearly all" the beautifulr cars is Italians who foreign. Hour I have only held a Jaguar and of the a Jaguar 1962 from competition and a Rome Alpha 1900 SS from competition.Ultimamente I have acquired the MGA that it has hit to me for its rare beauty and why me it is always piaciuta when I was young. They are content of to have been able to put to me in contact with you why six truly to admire for the passion that you express in your situated one. Excuse the English bad one and thanks del' attention, but was duty gives my information to you. -- -- Saluti Arnaldo

---
A follow up note from Arnaldo
At 01:49 PM 11/11/05, A.R.N. wrote:
I received some good news from other people that have seen some MGA looking like mine running in Virginia in the 60's. Somebody also wrote me that the "MGA Judson" were excluded from the competitions by the regulation, I knew this, but I think somebody competed anyway as it is confirmed by many people who wrote saying they saw the car competing. I would also like to specify for all the readers of MGAguru that it's not my intention to confirm that my MGA is an original race car, but I'll be glad anyway if other news about the car will come in the future".

Right now the car is at the body shop to have the radiator grille, the rear lights and the gear lever changed. The "1600" labels are going to be reapplied near to the vent-holes on the front hood. The tires are also going to be changed and the engine (mechanics) is going to have a check up. I'll be glad to send you the pictures of the car once the work is finished.

Regards, - Arnaldo
---
At 09:22 AM 12/15/05, A.R.N. wrote:
I have nearly finished the jobs to the MGA, they are arrives all pieces to you to replace and I have found the Disc brakes finally. I have made to apply to lights posterior, new scrittr, new template etc. - - - Ho noticed that it has doors and cowling and head rest in alluminio!! Quando possible. I send the photographies.

Arnaldo
---
At 08:03 AM 1/14/06, Arnaldo wrote: >"Finally the completed modifications..... "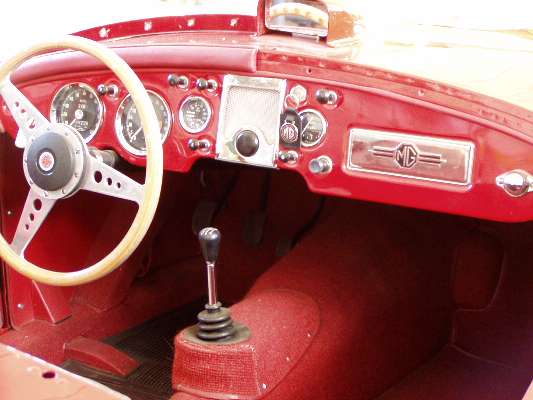 Inside view, dash, racing screen, aero mirror, MotoLita steering wheel but original shift knob, full carpet and panels. Half of cockpit front trim rail is removed to allow fitting of the aluminium half toneau cover for racing. Accessory cigar lighter, but no heater fitted.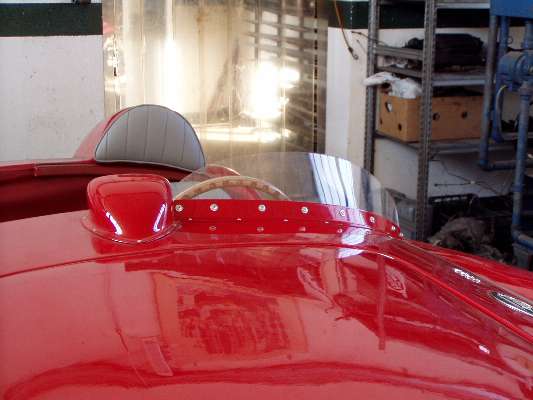 Front view of aero mirror, racing screen, and headrest cowling. The car looks truly slippery in this configuration, and more so with the metal half tonneau cover installed.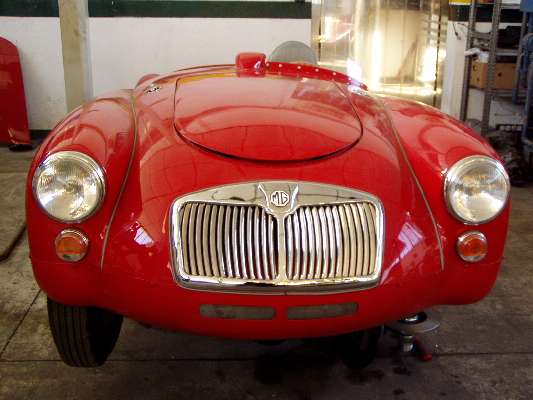 Face view, Sebring style valence panel with air cutouts for oil cooler, and original MGA 1600 style corner lamps installed matching the correct 1600 style grille. Wheel off in process of fitting original 1600 type front disc brakes.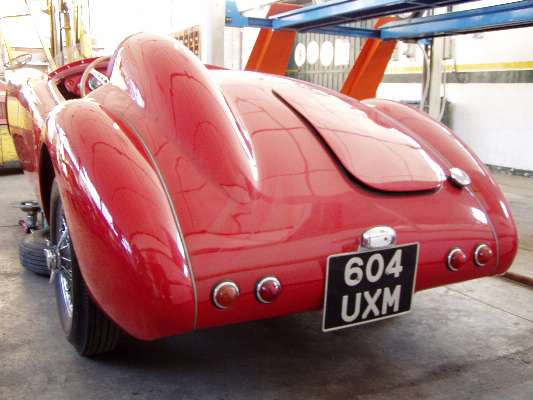 Tail view with aluminium headrest cowling and small boot lid. Small rear lamps installed as used for period racing. Vintage style 60 spoke wire wheels.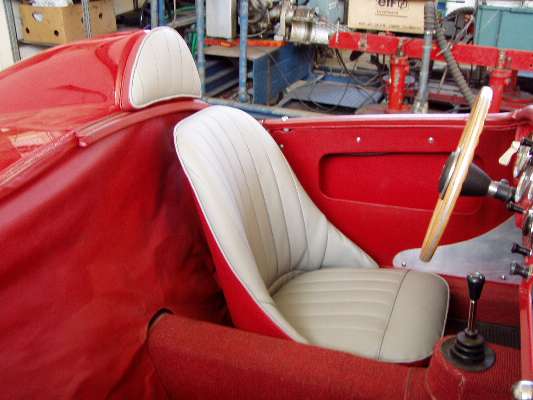 Interior with single vintage type gray leather racing seat and matching headrest padding on aluminium cowling, aluminum scuff panel on lower door. Here again, half of the rear cockpit trim rail is removed for fitting of the aluminium half tonneau cover for racing. The fabric curtain behind the seat appears to be for aerodynamic closure of the rear cockpit area as there is no rag top frame or side curtains to carry.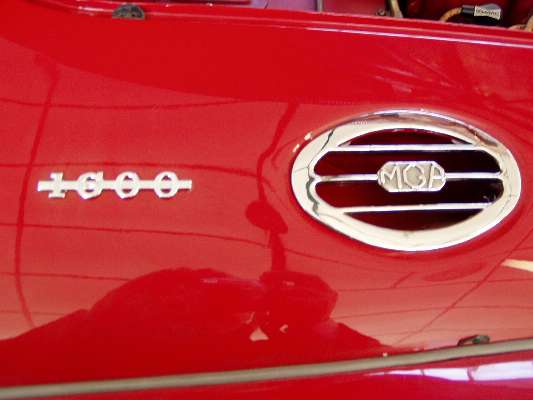 MGA 1600 model insignia installed on front cowling as original. It is believed to now be restored to the configuration used for racing the the 1960's.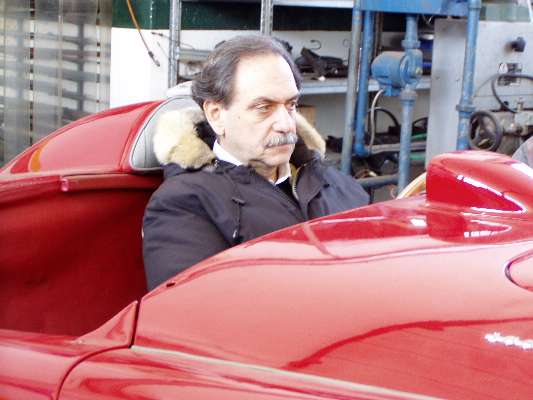 Arnaldo enjoying the finished car. With engine and brakes checked out it is now ready for some spirited driving. Go Arnaldo!