The MGA With An Attitude
MODIFIED MGA For Racing - VT-108
Here we have another "short" list of some one of a kind modified MGA. These have been specially prepared for racing, although there is often some crossover to street use. The determining factor here is that the car was known to be raced, or was obviously prepared for racing with the primary objective of maximizing performance, often within restraints of a certain competiton class.

1960 MGA-Judson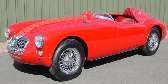 This MGA appears to be a serious early effort to race with a Judson supercharger. More information.

1MTW Twin Cam replica

- VT-108G . More information.

Bonneville Salt Flats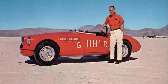 record setting attempts with MGA cars. See COMP-160.

Bonneville "A"

C/BMS class 243.970 MPH in 1998 - 1957 MGA with a blown fuel injected Chevy V6 engine running on gasoline, dynoed at over 900HP! - http://www.mgcars.org.uk/mgcc/sf/990801.htm
Or in the Wayback Machine archives at: https://web.archive.org/web/20130126095905/http://www.mgcars.org.uk/mgcc/sf/990801.htm
Note that this did not beat the fastest MG set in 1959 by Phill Hill in a 300+HP supercharged MGA Twin Cam.

Bonneville 2016

D/BFMS class, 187.961 and 195.679 mph, not a class record (which is currently 222.9 mph). FORD Coyote quad cam V8 five liter engine, superchared, 675 bhp and 540 lbs/ft torque. YouTube 1 - YouTube 2 - Try again next year.

Center Steering

Uniquely modified race car with center steering and center seating position. more information

Coupe on steroids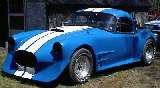 This 1959 MGA coupe was for sale on ebay in 2012. Now being reworked by Ron Hein. more information

Dragsters, vintage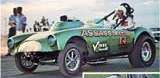 We have a number of MGA dragsters, built and played with since the begining of the model and continuing today. more information

Dragster, "'Rotten' Robert"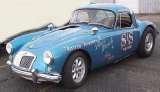 Bob Samyn's 1959 MGA with Chevy 355 V8. Same owner since 1965, now street legal. more information.

Ferrari MGA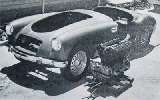 For a brief moment in history there was an MGA with a 2 liter Ferrari engine, built up for speed trials at the Bonneville Salt Flats in the 1960's. more information

Hawk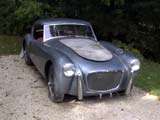 This fastback MGA was raced by Bob Lester. It has a Marshall blower and a lot of period competition parts on it. Note a resemblance to the Studebaker Hawk. More information.

Kent Prather Racing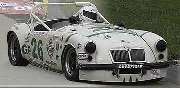 - Sixth national championship in G Production. 2005 - www.pratherracing.com

Nedelko MG Special

open wheel single seat special purpose race car, built in 1956 to run in Group Lb in Australia, and still racing in 2012. More information.

Wagner Special MGA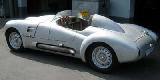 MGA Wagner Special race car. More information.

Wide MGA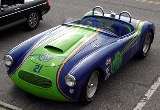 Most race cars are more than just a fancy paint job, and they tend to be put together fairly well. This one has the entire chassis and body widened enough to carry a V8 engine in style, and wide tires which fit nicely within the stock profile fenders. For photos in process se Metalshapers Association photos by Jim Bailie.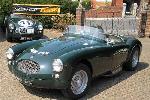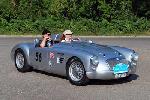 An assortment of MGA race cars, just a collection of pictures. More information.

---
MG Record Breakers
| | | | | | |
| --- | --- | --- | --- | --- | --- |
| Car | Year | Drag (Cd) | cc | BHP | MPH |
| EX120 | 1930 | | 750 | | 103.13 |
| EX127 | | | | | |
| EX135 | 1939 | | | | 204.3 |
| EX179 | 1956 | | 1500 | | 170.15 |
| EX181 | 1959 | 0.12 | 1506 | 300 | 254.91 |
| MGA Bob Sutton (Ferrari) | 1964 | | 1983? | | 140.14 |
| EX253 | 1997 | 0.24 | 1433 | 328 | 215.4 |
| MGA Bob Waddill | 1998 | <0.4 | | 900 | 243.97 |
| EX255 | Never | | 4800 | 900 | |
| X15 - ZT-T | 2002 | | 6000 | 765 | 190.69 |
| MGA Quad Cam | 2016 | <0.4 | 5014 | 675 | 195.679 |