The MGA With An Attitude
Modified MGA Cars - VT-108F
Nedelko Special, Open Wheel MGA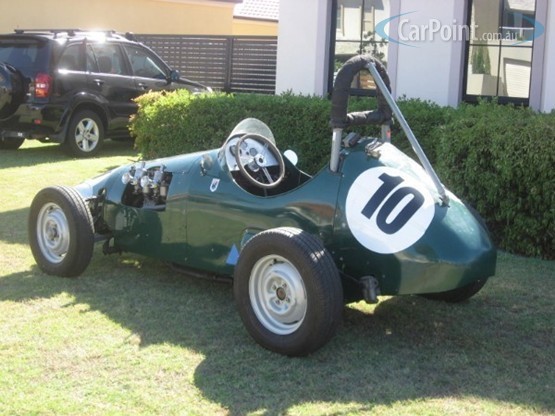 Nedelko Special open wheel single seat special purpose race car, built in 1956 to run in CAMS Group Lb in Australia, and still racing in 2012. I'm pretty sure it was not called MGA when first built with an Austin A40 engine and VIN number NS01. But when it later adopted the MGA engine and gearbox, it might properly be called Nedelko MG (after the man who built it). If anyone is interested in buying this car, perhaps this web page may help it to sell. Most of the information here is unabashedly pirated from the sellers web page at http://www.carpoint.com.au/all-cars/private/details.aspx?Cr=9&R=11763984
The sale ad calls it "1958 M.G. A MK 1 Convertible" (which is quite misleading without pictures and the rest of the information). Information between the horizontal lines is directly from the sale page.

---
---
Vehicle		 1958 M.G. A MK 1
Colour		 British Racing Green
Interior Colour	 Green / Aluminium
Transmission	 4 speed Manual
Body		 2 door 2 seat ROADSTER
Drive Type	 Rear
Engine		 4 cylinder Petrol Aspirated 1500 L (1489cc)
VIN		 NS01
Brief Comments	 1958 Nedelko MG single seater race car. 
		 CAMS Group Lb. Great condition & ready to race.

Wonderful Australian single seater MGA-based race car built in 1956 by well-known racer Mike Nedelko. The 3rd car built by Nedelko, originally painted blue with silver wheels & had an Austin A40 engine & gear box. The body was steel, aluminium being too expensive, & the frame was built from steel tubing.


After only about 6-8 months the engine & gearbox were deemed uncompetitive & upgraded with an MGA engine & gear box.


The car competed successfully in this configuration for a number of years. Nedelko competed in the car at the legendary 6km Gnoo Blas circuit in the South Pacific Series in 1958 & 1959 alongside such greats as Brabham, Davidson, Myers, Parkinson, Flockhart. The car also competed in the Newcastle hillclimb, Silverdale Hillclimb, Castlereagh & Dungog Airstrip.


Nedelko acquired a Prad Holden in 1960 & sold the Nedelko to Apex Autos in Newcastle. They entered the car in a number of events from 1960 including the Tasman series support races at Warwick Farm engaging Mike as the driver.


The car was not seen for a number of years, resurfacing in Newcastle in the late 1980's when Jack Davies, an old friend of Nedelko's restored the car for then owner Malcolm Bailey.


Subsequently the car was acquired by Terry Hanly, who restored it, obtained a CAMS log book & Certificate of Description & competed at numerous events including the Noosa Hillclimb, Leyburn Sprints & Guyra GP.


We acquired the car from Terry in 2006 & rebuilt her, upgrading the engine to its previous MGA racing specs & completely rebuilding the gearbox, suspension, brakes & steering. She continues to compete at all major Qld events. She is in great condition & ready to race. Car comes with a fully enclosed trailer but may seperate. With a better and braver driver she could be a very competitive little car. Very rarely do Group Lb cars come on the market. This car represents an amazing opportunity to own a genuine piece of Australian motorsport history that won't break the bank.

---
---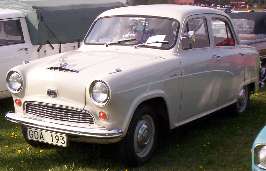 1956 Austin A40


Right off the concept of "2 door 2 seat ROADSTER" is interesting, to say the least, since this race car is "none of the above". In 1956 I believe the Austin A40 (original engine donor) used the smaller A-series rear axle and 13 inch wheels. If those suspension parts were also used to build this race car, then the chassis would be more closely related to the A40, or similar to the more modern AH Sprite and MG Midget (not much to do with MGA). Shortly thereafter it received and MGA engine and gearbox transplant, at which time it could be called Nedelko MG.