The MGA With An Attitude
Modified MGA Cars - VT-108E
Ferrari MGA

Ferrari MGA For a brief moment in history there was an MGA with a 2 liter Ferrari engine, 121 cubic inch, dual overhead cam. (Photo from Rod & Custom, August 1966). The engine originated with the very last production four cylinder Ferrari s/n 0708 MDTR. In 1959 the engine was for a time transferred into a racing Lotus 15 named "Ferrotus". Then it was transferred into the MGA for speed trials at Bonneville Salt Flats. The car was built by Bob Sutton from Redondo Beach, California. It ran in G/Modified Sports and held records at both Bonneville and El Mirage.

From a note on HotRodHotLine.com, for the 1963 run the Ferrari engine toasted the main bearings. To avoid a six month wait for new parts from Italy, the crakshaft was reground and Volvo bearings were installed (immediately for about 1/4 the cost).

The record, secured in 1964 at Bonneville, clocked the 2000 pound speedster at 140.14 miles per hour.

After that the MGA languished in storage until 1988. It was then sold to England (just to get the engine). Shortly thereafter the owner of the original Ferrari (then in Australia) arranged a creative engine swap deal to get the engine back to restore it into the original car. The Ferrari (after changing owners and countries a few times) is now owned by Chantal Chamandy of Montreal, Quebec, Canada, and is expected to be active in vintage racing. Find the story of that Ferrari at: www.cavallino.com/articles/finalfour.html.



Photo from Hot Rod Magazine, November 1963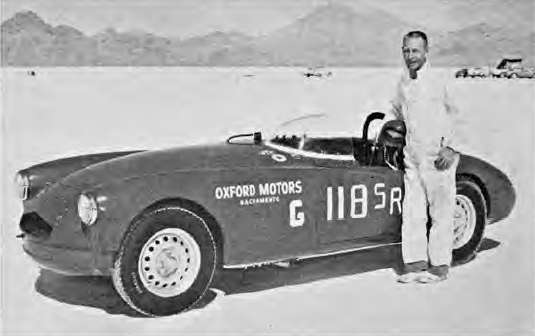 Ferrari engined MGA pictured here at Bonneville in 1963 when it set a new record in G/SR class at 137.261 mph. (Top qualifying speed 143.76). (Photo and details from Hot Rod magazine, November 1963). It returned to Bonneville again in 1964 to bump the record up to 140.14 mph.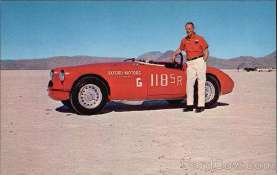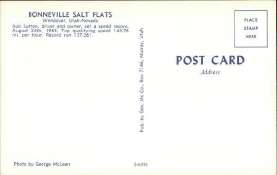 Period postcard from Wendover, Utah


You can buy this one from www.cardcow.com

The MGA is now found in England, chassis number HDR43/68744, 1959, Red (originally white). Owner James Cottingham hopes to put his spare Ferrari engine back in it and take it to goodwood one day. Since there were no MGA 1500 "Deluxe" cars, it may remain a mystery where this very late model MGA 1500 got its Twin Cam chasiss parts.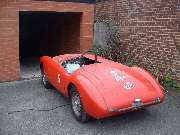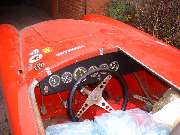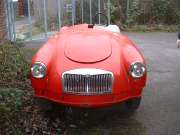 Current photos of the MGA without engine, 4 Jan 2012.