The MGA With An Attitude
Modified MGA Cars - VT-108D
Dragsters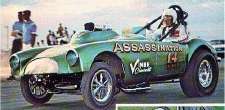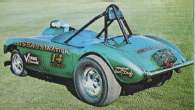 Dragster, vintage - This MGA dragster from Denver, Colorado, was built by Guzman and Ward in 1966. It started life as a '58 MGA, but was converted to a big block Chevy with a 6-71 GMC blower. (first photo from Hot Rod Magazine, April 1968).
Dragster, "'Rotten' Robert"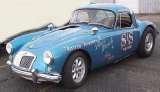 Bob Samyn's 1959 MGA with Chevy 355 V8. Same owner since 1965, now street legal. See more photos and long article at www.BritishV8.org. See following page for more information.

The Ultimate four-banger, by Stuart Bloom in Eugene, Oregon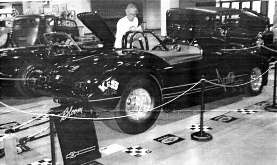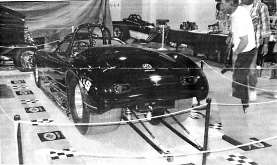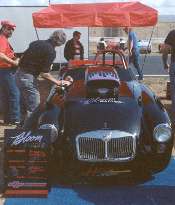 I had a short visit with this one in Oregon while it was still under construction in June 1989. No V8 here, just a fuel guzzling 4-cylinder that goes like scat in Super Comp. As I recall, it had a 16 inch stretch of the wheelbase, lowered in front, raised slightly in the rear, a very narrow rear axle to accommodate the huge drag tires, and minimum weight of 1000 pounds. Photos later are from the Eugene Autorama. Above left, Stuart polishing the Maroon roll cage. At right, a later upgrade from Stuart Bloom. How about a blown 427 Chevy NHRA nitro Funny Car. (Terrible fuel mileage). A competitor in S/Comp in the background. If you think they look fast standing still, you should see them do a quarter mine in under 9 seconds (yes on 4 cylinders).

Dragster, modern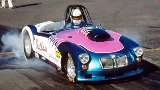 This highly modified MGA dragster took the German championship series top honors in 2002 and 2003, then had engine problems in 2004. It is back for on-track testing in 2005 with an eye on a repeat championship in 2006. Booked as the world's fastest MGA, it is (maybe) quickest in the drag strip run, but not fastest for unlimited top speed. See more photos and long article at Drag Rod & Classic Review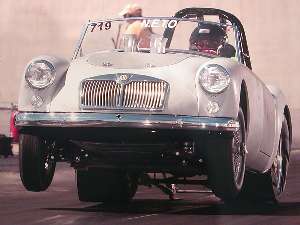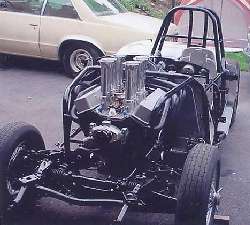 Bob English built this car during the winter of 2005 and installed a 406cid Small Block Chevy V8. It was raced during the 2006 season. More photos and notes at BritshV8.org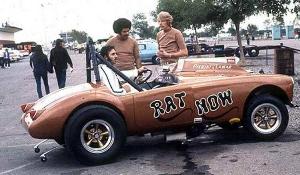 Another vintage MGA dragster "Rat Now". Love the team colors and the hairstyles from the 70's.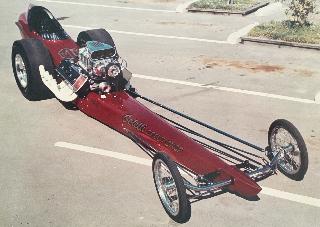 I'm not sure if this one should qualify, as it likely does not have a single MG part in it. But it does say "MG" on it, and it does have a very significant racing history from 1962. (A little like the MG Liquid Suspension Specials that ran at Indianapolis from 1964 to 1969, but those did have some MG parts). For as long as the link may last, see Hemnings Daily.

---
On 10/7/2017 -0700, Junji Nakamura <!-jnaki at cox.net-> wrote:
I have taken some films at Lions Drag Strip in Long Beach, CA from 1958-60 and then again in 64. .... Our friend built a fiberglass sports car with a huge motor in it and raced in the sports car class at Lions.
https://www.youtube.com/watch?v=YEzV-iiBGT8
We lost contact with most of our friends that were involved in the racing aspect of car building. But, recently, I had some movies that I took from back then, digitally converted and saw this old, black primered, fiberglass sports car. I thought belonged to one of our old friends. Thus, starting the search for some answers. If you have any information, photos, owner/builders name, motor/trans, etc, that would be great information for my files". -- Thank you, - Junji Nakamura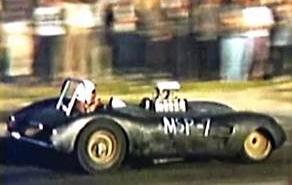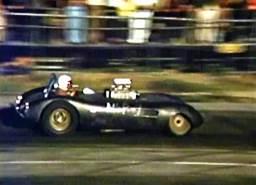 This certainly appears to be a Mistral body with lengthened wheel base and modified wheel arches.