The MGA With An Attitude
ALTERNATE WHEELS - WL-201C
Shelby Ronal wheels from SAAB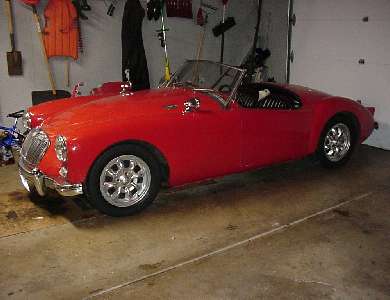 Saab aluminum wheels

Some Saab cars had a 15" aluminum wheel with the correct offset and bolt pattern, and they have a design and appearance similar to Minilite 8-spoke aluminum wheels. These are (Carroll) Shelby-Ronal wheels from a '86 Saab 900 Turbo. The Minilite replica wheels are nearly $200 each new. The Saab wheels used might be less than $50 each at a bone yard (but getting more scarce with time). Then you figure out how to fit an MG emblem to the center hub. The Saab center caps that came with the wheels are octagon shaped, same as the center caps on the Saab Inca wheels. The adhesive MG logo for the stock MGB RO-Style wheels fits perfectly in the center of the Saab cap.

Look here for an article on these Saab aluminum wheels:
www.chicagolandmgclub.com
Article on procurement and fitting of the Saab wheels to an MGA. They are 15x5-1/2", with appearance similar to Minilite aluminum wheels. See photo above.

Addendum April 2011: - - Dennis White <!-d.white11 at verizon.net-> reports:
- " I found a set of Saab/Shelbys, and as you said, the offset on these looks perfect. I'm sure now that these wheels need the "cylindrical pilot" style lug nuts.
- These particular wheels have "Carrol Shelby" embossed on the rims, small, maybe 1-1/2 inches long. Some might find that tacky, but I like it.
- By my math, these wheels add ~ 0.6" outboard and ~ 0.9" inboard of rim width (5 1/2" wide, 40 mm offset). By inspection, mounting just a wheel w/o tire, it looks like everything should clear OK.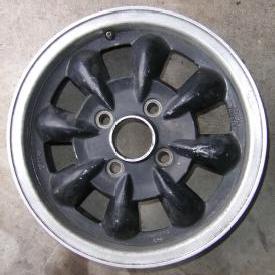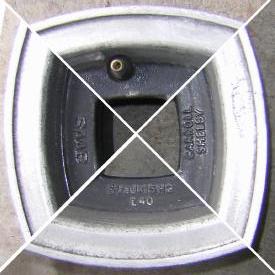 SAAB -- CARROLL SHELBY -- 5½Jx15H2 E40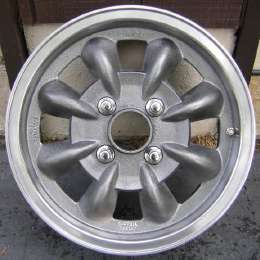 This makes these wheels 38mm wider than the original 4" wide wheels, and also 5mm more offset (centerline closer to center of car). That adds 16.5mm (5/8 inch) on the outboard side, and 21.5mm (7/8 inch) on the inboard side. That's sweet, allowing up to 185 wide tires (maybe even 195) without putting the wider tires too close to the fenders, and retaining appearance close to original on the outboard side. If you wanted to retain exactly the original track width you could slip in a 3/16 inch wheel spacer. Wider tires (185-195) would add only about 1/2 to 3/4 inch on each side of the tire.

This last photo is the same wheel after clean and polished bare alloy, and the spoke area is painted with Duplicolor's "graphite" color of wheel paint. (They claim their wheel paint is tougher and more heat tolerant than their normal touch up paint).

Addendum June 2011: - (click for larger picture)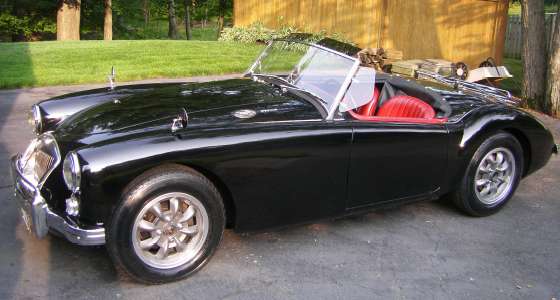 And there they are on the car with 185-70-15 tires, 20mm wider than the 165's. The 40mm offset (vs. original 35mm offset) puts 5mm extra (0.2") rubber on the outside closer to the fender, and 15mm (0.6") extra rubber on the inside where you don't notice it so much. The wider wheel (5.5" vs. original 4") is 1/2" more outboard and 1" more inboard. Measured tire circumference (new 185-70 tire) is 80-1/2" compared to 80-1/4 inches for the somewhat worn 165s. Perfect!