The MGA With An Attitude
ALTERNATE WHEELS - WL-201E
Maxxim 10-spoke alloy -- 15x6
On January 15, 2011, Chris Spence from Austin, TX, USA, wrote:
"I found these 15x6 with 38 mm offset. They're made by Maxxim (a division of Konig) and this style is called "Verse". Yes, they're made in China. After finding them online at a couple of sites, I Googled "Maxxim Verse" and found them (of all places) at JC Whitney for $75 each with free delivery. I also got a set of Dunlop 195/65 tires for $52 each from Tire Rack, so ended up with only about $550 in the full set. It appears that there is plenty of clearance".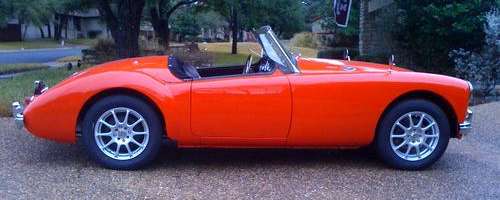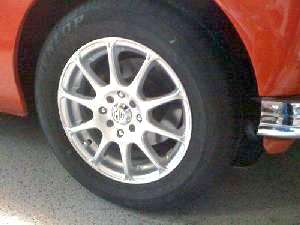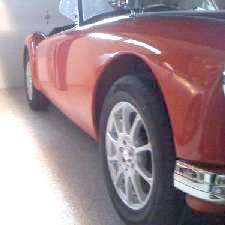 "Here is a closeup picture of the wheel. I bought the MG RO-Style center cap emblems off eBay and then used my bench grinder to make them small enough to fit the center caps that came with the wheels".

FINALLY, an alloy wheel with the correct offset to fit the MGA. This is a Honda front wheel drive specification. Of course being 6-inches wide they will only work with wide tires. I knew from my autocross experience that 195 tires would fit the MGA with correct offset wheels. I presume the four extra holes in the center will be for a slightly different bolt pattern for some other application. These 10-spoke wheels are not "period correct", but they don't look bad on the MGA (just a little odd on first glance).