The MGA With An Attitude
ALTERNATE WHEELS - WL-201G
Minilite Style machined for Peg Drive
For the MGA Twin Cam and "Deluxe" cars you will have a big problem finding alternate wheels. The first picture below is a standard Twin Cam or "Deluxe" wheel. It does have a knockoff center mount, but it is not splined. It has a pin drive configuration, common to some Jaguar cars of the period. Where a bolt-on wheel would have four threaded studs in the axle hub, this one has four holes in the hub, and alignment-drive pins in the wheel (straight pins with tapered nose for quick fitment). Being such a special wheel, and having such limited application, it is VERY hard to find any substitute wheel.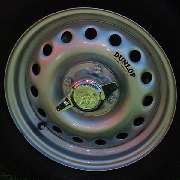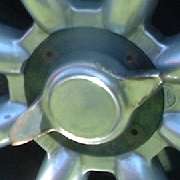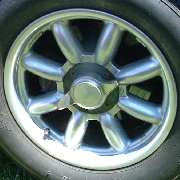 The center picture (from the UML Summer Party Reunion in August 2004) shows a special adaptation of a Compomotive wheel for a Twin Cam hub. The last picture is a close up of the center adapter. Here the wheel was machined in the center to accept a specially machined steel insert which duplicates the mounting configuration of the Twin Cam or "Deluxe" wheel. As far as I know, this is a one of a kind special built set of wheels, and you can't buy them at any price. But it was a jolly good show to make these things for a special need in racing.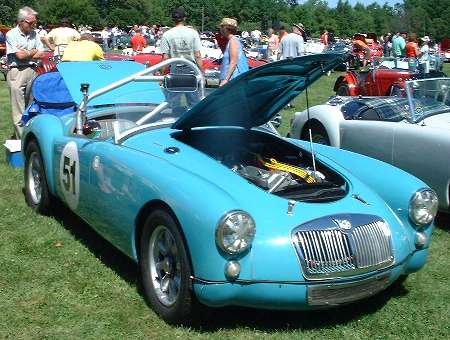 MGA Twin Cam with special wheels, belongs to Jim Holody from Canada.
For more on this car see Twin Cam YD3.964.

Addendum, December 18, 2016:
More photos of the same Compomotive wheels, 15-in x 5-1/2-in wide, up for sale now by Ralph Zbarsky in Vancouver, BC, Canada. For as long as it may last, see http://www.mgexp.com/phorum/read.php?42,2055227,2055227,page=1#msg-2055227