The MGA With An Attitude
ALTERNATE WHEELS - WL-201H
Gordon Keeble pin drive
Ah-ha! Finally I have a picture of the elusive Gordon-Keeble pin drive wheel, photo supplied by Edward Vandyk <!-Edward at vandyk.co.uk-> in the UK. (Click for larger image).


On left is the G.K. wheel 4-1/2x15 with 3/4" offset and 185-80-15 tire.
On right is the Twin Cam wheel 4x15 with 1" offset and 5.00L-15 tire.



With 1/4" less offset than the Twin Cam wheel, the G.K. rim will be 1/2" more outboard and same inboard, and very good fit for the MGA with standard fenders. The 185-80-15 tire, being significantly larger diameter than standard, will touch the front inner fender on full steering lock, but you wouldn't want tires that size (not that tall) on the MGA. The ideal tire size for the G.K. wheel on the MGA would be 185-70-15. This is a nice meaty looking tire without being grossly overweight, and is within 1% of the original tire diameter for MGA. 4-1/2" rim is a bit narrow for the 185 tires, but it works okay.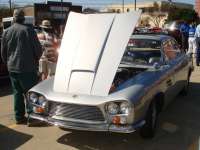 In case you may be thinking about procuring a set of these wheels, only 99 Gordon-Keeble cars were built, and I don't suppose there were ever very many spare parts.

Also these wheels came in two sizes 4.5J and 5J with a production change some time before car 90 (out of 99 or 100 cars produced). Talk about rare!