The MGA With An Attitude
MGA Windscreen Glass - FYI/Fuyao Glass- WT-103FY
April 2010:
FYG (Fuyao Glass) --- NAGS# FW14 --- (for 1955-1962 MGA Roadster)
This one has been on eBay periodically for a while. Seller on eBay is "prosourceglass".
ProSource Glass International, Andover, Massachusetts, USA. --- This is a distributor (retail) for Fuyao Glass, made in China. www.prosourceglassintl.com
Also see the importer www.fuyaona.com and manufacturer www.fuyaogroup.com.
I was at first excited when I saw "Tinted", but lost a lot of enthusiasm when I saw the thickness. These pictures were borrowed from the eBay ad. Click for larger images.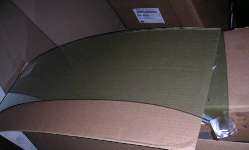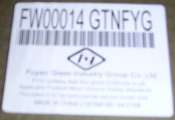 Text from the eBay ad said:
".... brand new green tint windshields made by FYG (Fuyao Glass), [fluff removed]. We have sold more than 60 of these in the past few years. The only difference between these and the originals is thickness and of course price. Ours are 3/16" thick while the original Triplex is 1/4" but ours fit just as well with no returns".

I always have reservations about glass that is just 3/4 the thickness of original laminated safety glass. I might take a wild guess and think these 3/16" thick parts may be single layer tempered glass rather than laminated. Since bending strength (springiness) varies as the square of the thickness, 3/4 thickness means 9/16 of the force needed to bend it some fixed amount. Tempered glass might be stronger than laminated in same thickness, but being this much thinner, I doubt it. There will always be the issue of having to source thicker packing rubber to keep the glass from rattling around in the frame. It is NOT concours correct, but may be okay for a daily driver car (and the price is tempting). So far I have a couple of inquires, but no feedback report from anyone who has actually purchased and installed one of these.

Addendum, December 2010:
I have received a feedback note from the supplier with some follow up information.

On 12/15/2010, Richard Tankel in Andover, MA, wrote:
"We have been selling the FYG Glass for many years. While not the best out there they certainly make a good product (OEM on many vehicles worldwide) Our windshields do fit well and the corners are correct. At this point we have sold somewhere between 75+ of these windshields without one coming back or a call that it cracked after install. .... Our family started Lo-Can Glass in 53, sold it out to a conglomerate in 2002 (the existing inventory went to Pilkington). I started back in 2004". .... Richard Tankel, ProSource Glass International

Addendum, January 6, 2012:
I have received another note from ProSource Glass. They are now selling thicker glass for MGA in both clear and tinted without the logo stamped, just dot# on glass. They are priced at $140 clear or $155 green tint.

Addendum, July 12, 2012:
Now report from an end customer:
On 7/12/2012, Nick Stoydin <!-nstoydin at yahoo.com-> in Belgium wrote:
"The glass has gone in ok - its about 6mm, so with the rubber at 2 x 2 mm and the 9mm space, its squashed nicely. It seems to be a good shape the the corners - not to near the frame. The price of this glass from Anglo Parts in Belgium was somethink like Eur 120, compared to perhaps twice from Moss. In the rebuild I have tended to pay more for hopefully quality parts but perhaps here the cheaper option will be ok".

Addendum, May 18, 2016:
Alan Wiedie <!-awiedie at yahoo.com-> in Bolton, CT, USA wrote:
"My Glass is a piece of Fuyao, .223"-.225" thick as close as I can measure. It is relieved at the top two corners but not at the bottom, so bottom setting blocks are probably required to avoid the bottom corner angle screws".