The MGA With An Attitude
MGA Windscreen Glass - Südglas - WT-103SV
On 1/24/2018, Rob Zucca <!cavaddict AT hotmail.com-> wrote:
"Looks like the glass was replaced a long time ago using aftermarket glass.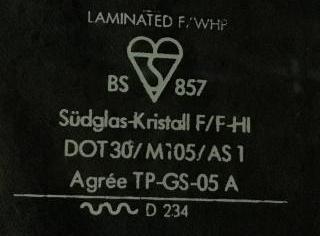 Whoever did it re used what I think is the original seal with some vinyl added to take up extra space. Almost like a wide electrical tape. It measures 0.213 or so. A quick internet search came up with this quote from a foreign car site 'Südglas in Bietigheim Germany. I believe this company merged with another in 1989 and essentially disappeared'. Photo attached".

If the company does still exist, they would making glass bottles for wine, olive oil, vinegar. There are a few on-line comments about delamination and bubbles between the glass layers, but these are likely to be at least 30 year old parts. Likely to be about 1/32-inch thinner than original glass, that would account for the use of thick tape for mounting.