The MGA With An Attitude
MGA Windscreen Glass - SAFEVUE - WT-103SV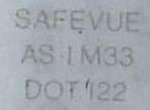 At 02:24 PM 1/23/05 -0500, Jim Ferguson wrote:
"I bought a Windshield glass in 1994 from Scarborough Faire and it has been in the box since then. .... The new glass has a measured thickness of .217" and is etched with: [shown at left]. The glass does have relieved corners."

At 03:55 PM 8/27/05 -0400, Jim Ferguson wrote:
"I finally fitted the windshield. The thin glass was very loose with the standard packing. It just flopped around in the frame. I tried some thicker foam that is to be the convertible top bow padding/seal to the windshield. It worked very well in a trial of one side.

"I got the foam from Todd Clarke so I contacted him and found he sells the thicker foam in lengths for the windshield. It is specifically for the now common thin windshield glass. The thicker packing is about 1/8" thick or about twice the standard packing thickness.

"I have assembled the windshield and the fit is very good. The glass is very tight and the foam is estimated at 30-40% compressed."