The MGA With An Attitude
MGA Windscreen Glass - TRIPLEX/PLINKINGTON - WT-103TP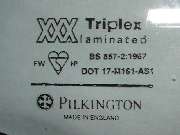 To the right is a picture of the Triplex/Pilkington logo taken from the glass in my car (click for larger image), purchased from Moss Motors in January 1998. This glass is 0.220-0.240-inch thick. Libby Owens Ford (LOF) are the agents for Pilkington (glass worldwide). Pilkington have bought the brand name "Triplex". They have the right to put "Triplex" on any glass they want. The logo is different than the old 50s'-60's Triplex logo some remember, generally described as a heart with three X's inside arranged in a triangle. Any new Pilkington glass will likely bear the new Triplex logo seen here.

Pilkington has manufacturing plants worldwide, so the Pilkington/Triplex glass may or may not be made in England. Look for the country of manufacture on the part itself. "AGR North America" is Pilkington's North American distribution network with distribution center in Columbus, Ohio. See "Pilkington Classics" Automotive Glass or call 1-800-848-1351. You can order your classic car glass complete with the original LOF sandblasted logo and date coding.

Pilkington is now a member of NSG Group. The acquisition of Pilkington by NSG was completed on 16 June 2006. Pilkington was previously larger than NSG. The existing management team will continue to run Pilkington.

As of March 2007, Prosource Glass in Maine 877-345-2800 carries the Triplex windshield for $235 plus $15 boxing plus shipping (approx $40), $290-USD in all.



September 2008 report from Bob Stevens in Pennsylvania:
>Triplex brand glass purchased from Moss Motors. Photo of the label attached. The windshield is relieved about 2" on each of the 2 bottom corners, both horizontally & vertically. The top is not relieved. The glass is 0.255-inch thick.
>
>I am having a devil of a time getting the glass with glazing to go into the frame, used the soap solution and bar clamps, rubber mallet, etc. and cannot get it to go. Called Moss & Brian said it is a tough job, like I don't already know that. He said most glass shops use black silicone & I am thinking I may have to go that route. Any suggestions?"

Barney's comment: Some time earlier Moss was selling thinner glass and was providing thicker glazing rubber to match. This substitute glazing strip was about 1/8-inch thick softer foam rubber. It may work with a range of thinner glass, but apparently does not fit with original thickness glass. You may have received the wrong glazing strip for full thickness glass.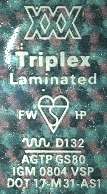 Addendum May 20, 2013:
On 5/20/2013, Stephen Miller <!-smillersc5 at aol.com-> wrote:
"XXX with a dot in the top of the first X. Triplex with two dots above the T. Laminated with a dot below the "mi". Then the FW hart. Then sqiggle D132. Then AGTP GS80. Then TGM 0804 VSP. It is 0.274-inch thickness".

The dots are obviously data code, but I don't know how the modern date marking works. This is the first time I have seen Triplex glass more than a few thousandths of an inch greater than 1/4-inch.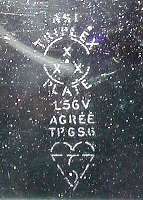 On left, the vintage Triplex logo used in the 1950's.