The MGA With An Attitude
MGA Windscreen Glass - UNKNOWN #2 - WT-103X2
On October 25, 2012, Mike Dianna <!- joandmk at comcast.net-> in Spring City, PA, USA wrote: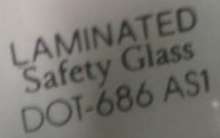 "There is no brand name on my Victoria British windshield glass. Check out the photo".

Note that there have been other glass from V.B. that do have a brand name, and at least one of those is significantly sub-standard. See prior tech articles.
"I'll give you a positive endorsement for the Victoria British windshield [the unidentified no-brand glass]. Yes, it is slightly thinner than the original windshield but, it fits just fine and I am very pleased with it. I just bought a second one for my 58. The price is much less than Moss Motors and the shipping is just $20 or $30. Packed well and very nice product. If you don't mind not having a "Triplex" name on it -- and I don't, why spend the extra cash? I have the other one on my 57 for four years and no problems"

"To deal with the thinner windshield glass I 'injected' a small bead of clear silicone sealant into the bare frame of the the windshield, also placed four 2" sections of U-Shaped cork packing material in the frame across the top and bottom and three 2"sections in each side of the frame. Assembled the frame and glass. The next day I trimmed off the gasket material even with the frame and also trimmed what little silicone sealant oozed out from the frame".