The MGA With An Attitude
WINDSCREEN FASTENERS - WT-104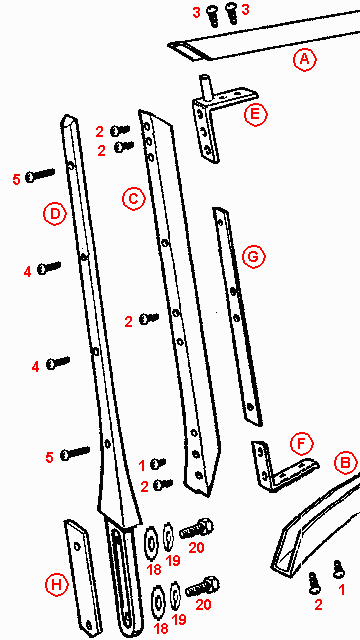 To save you time and avoid confusion during windscreen assembly, this is a diagram and list of all fasteners.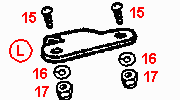 Top catch (1600 part)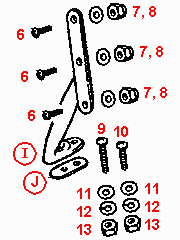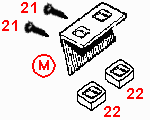 Reinforcement


	
Item  Quan  Moss no's  Description                            
 A     1               Frame, top
 B     1               Frame, bottom
 C     1               Frame, right
 CC    1               Frame, left
 D     1    451-300    Post, right
 DD    1    451-310    Post, left
 E     1    470-780    Bracket, top right
 EE    1    470-770    Bracket, top left
 F     2    470-790    Bracket, bottom
 G     2    408-880    Tapping plate
 H     A/R  472-450    Packing, windscreen post (pair)
 I     1    472-070    Grab handle, right
 II    1    472-080    Grab handle, left
 J     2    472-090    Packing, grab handle
 K     1    408-790    Nameplate, "Auster"
 L     1    240-520    Catch, Hood latch (1600 & MK-II part)
 M     2 *             Reinforcement assembly - grab handle (AFH1787)

 1     4               Screw, 2BA x 1/4  Flat head, brass
 2    10               Screw, 2BA x 5/16 Flat head, brass
 3     4               Screw, 2BA x 5/16 Oval head, chrome
 4     4               Screw, 2BA x 5/8  Oval head, chrome
 5     4               Screw, 2BA x 3/4  Oval head, chrome
 6     6               Screw, #10-32 x 7/16 Small flat head, chrome
 7     6               Washer, flat, #10 chrome
 8     6               Nut, dome, #10-32 chrome
 9     2               Screw, #10-32 x 1   Oval head, chrome
10     2               Screw, #10-32 x 3/4 Oval head, chrome
11     4 *             Washer, flat, #10 zinc
12     4 *             Washer, lock, #10 zinc
13     4 *             Nut, hex,  #10-32 zinc
14     2 *  325-210    Drive rivet, nameplate
15     2               Screw, #4-40 x 3/8 Flat head, nickel
16     2               Washer, flat, #4 nickel
17     2               Nut, #4-40 self locking, nickel
18     4               Washer, flat, 3/8 zinc
19     4               Washer, lock, 3/8 zinc
20     4               Screw, hex head, 3/8-24 x 1-1/4 zinc
21     4 *             Screw, flat head sheet metal, #5 x 1/4 zinc
22     4 *             Nut, cage, snap-in, #10-32 zinc
---
---

Moss Motors windscreen screw set
Addendum 1 Jan 08:
* The reinforcement assembly (item M) for grab handle attachment may not have been used on some early cars. It is known to be used as early as April 1956 production. It is held in place using two small sheet metal screws passing through the body cowling flange above the dash, so it must be installed before the cockpit front trim rail. It includes (2) snap-in cage nuts (item 22). The sheet metal screws (item 21) may also have been included under the same assembly number, as they are not listed separately in the Service Parts List. The original screws may have been self drilling tapping screws, because the holes in the brackets are in irregular positions and the brackets are not interchangeable after installation (except to drill a couple more holes).

When the reinforcement brackets are used, fastener items 11,12, 13 are deleted. When the reinforcement brackets are not used, items M, 21, 22 are deleted.

Todd Clarke (Clarke Spares and Restorations) windscreen fastener kit includes items 11, 12, 13, 14, but not items 21, 22. Moss Motors #323-958 windscreen fastener kit includes item 22, but not items 21, 11, 12, 13, 14 (no drive rivets). Neither kit includes bracket M. That bracket is often lost during body restoration work, and seems to be unavailable as a replacement part. The bracket should be easy to make from sheet metal if you can make square holes to hold the snap-in cage nuts.

Purpose of this bracket is simply to hold the cage nuts to make it easier to R&R the windscreen without fiddling with small washers and nuts behind the dash. I had these pieces left over as mystery parts after my first restoration, and it was years later before someone could identify the parts and purpose. More years later during a fresh repaint I tried to install these brackets but could not get them to fit. The holes for the tapping screws are in irregular locations, and none of them would line up with any holes in the body cowling on my car. So I got lazy and left them off again, and my car has now done 230,000 miles without them and with no ill effects.

Addendum April 2010: It has been brought to my attention that Item M (AFH1787) is now listed in the Clarke Spares catalog as part no. M103 priced at $3 each. I have not verified if they are actually available.

At time of this writing (1 Jan 08), the Moss Motors fastener kit was missing 4 pieces of item 1, but included 4 screws that appear to be #10-32-UNF x 5/16 grommet head chrome plated (item "?" in the picture above). The #10-32 thread is very close to 2BA but slightly different pitch. The #10 grommet head is larger than the 2BA oval head. These #10-32 x 5/16 screws are not part of the MGA windscreen assembly. Additionally the Moss kit includes two wood screws (item 23 in the picture above) to attach the 1600 type center latch to the rag top. It's nice to have the screws, but the top part of that latch is not part of the windscreen assembly.

---
Addendum 7 Apr 08:
It has come to my attention (via a relayed note from Todd Clarke of Clarke Spares and Restorations) that the Clarke Spares windscreen hardware and fastener kit now uses non-original threads.

From: Clarke Spares & Restorations [ClarkeSpares@worldnet.att.net]
Sent: Friday, April 04, 2008 2:11 PM

.... All of the fittings I produce for the windscreen are 10-32 threads... so the fasteners (which feature the correct size head and material) will also match the brackets I make. 2BA - approx. 33 threads per inch. I don't offer but you will have no problems with 10-32 threads, etc. ....

Regards, Todd Clarke

Well that's a bitch (to put it bluntly). This is the first time I have heard of Todd Clarke producing or selling anything that is not original design. It effectively cancels my prior faith that everything he sells is correct and puts him in the same basket with other suppliers. Now we have to assume that anything can be incorrect, and we have to go back to questioning and checking every part.

If that means exactly what it says, then you can only use his parts in complete matched sets, including four corner brackets, two tapping strips, and all of the screws. That makes the parts not interchangeable with originals (except as a complete set). Additionally, if anyone should happen to get it all correct in future production (with the right 2BA threads), you would have to throw out all of the parts and procure a whole new set again.

The worst of it is, these would be bastardized screws with the smaller 2BA style heads but #10-32 threads, which will likely not be available anywhere else in the world, and likely also not available from Clarke Spares once he is gone (no one lives forever). Cross your fingers in hope that you never lose or damage one screw, in which case you may have to procure all new hardware and rebuild the entire assembly again, just because the odd screw may not be available as a replacement part. It is unconscionable to me why anyone would go to the trouble and expense of producing the screw blanks with the correct 2BA style heads, and then cut #10-32 threads on them. If you do use these parts, then you should carefully document the irregularities and arrange to keep this documentation forever with the car for future service.