The MGA With An Attitude
SPORTS WINDSCREEN, Factory Issue - WT-201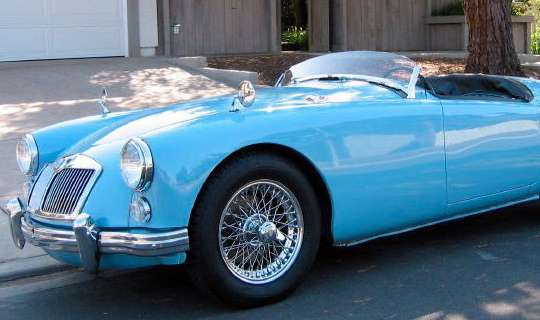 The Competition Sports Screen windshield made by Auster was a factory option for MGA roadster models. The key word here is "Sports", as in competition or racing. Notice how low the glass is, only about 6-inches tall. Purpose of this screen is for aerodynamics, to direct air flow over the top of the cockpit. To drive with this setup you will need (minimally) goggles to keep the bugs out of your eyes. Factory part number for this option is AFH 2591, which was priced at $65-USD in 1960.



This is a factory NOS all alloy framed screen which has never been installed (photo compliments of Frank Graham<!-frankgraham at msn.com->). The side pieces are only 6.5" tall and are not drilled for the stock screen support pieces since the increased rake will not allow them to be used. The Perspex panel measures 14" at center. In various vintage photos you may see different height for the competition windscreen, but I believe they all originate from the same factory part number, cut down to the desired height for individual application. With increased rake angle the bottom rail will be slightly different shape. Notice what appears to be a slight dip in the center of the bottom rail.

On 1/8/2013, John Hill <!-JPHCAH at AOL.com-> wrote:
"Photos of the other parts, they are all aluminum except the hardware. There are markings,hand stamped into the outside area of the stanchion, driver's side(US) is 'x 1848' and passenger's side is 'x 1847'. No marking on the screen".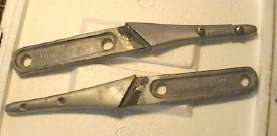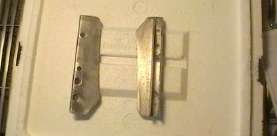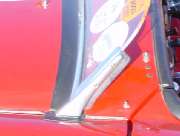 The following pictures are from David Lake in Gold Coast, Queensland, Australia.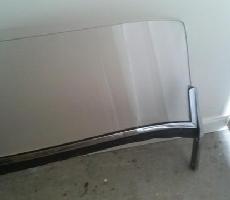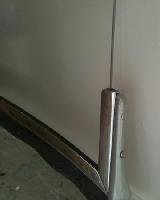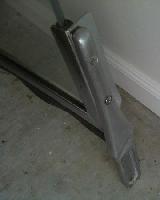 Above, original factory kit as received.
Below, comparison of original windscreen with Competition Sports Screen.
The Competition Screen is installed full height here, not cut down.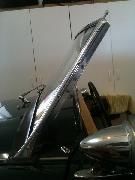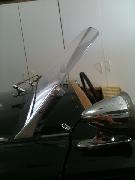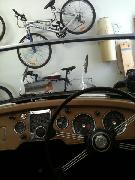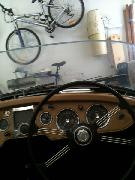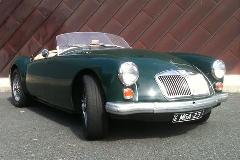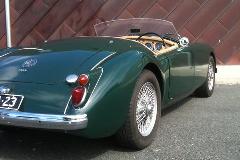 For more information about Plastics used in MGA
see article UT-111 in Universal Tech.