The MGA With An Attitude


MGA Guru Is GOING MOBILE - (September 11-12, 2015)
Brits In The Ozarks, Fayetteville, Arkansas
FOURTEENTH ANNUAL CAR & CYCLE SHOW
Hosted by British Iron Touring Club of NW Arkansas
Benefitting the ALS Association of Northwest Arkansas


Friday September 11, 2015
Today we arrived in Springdale, Arkansas to meet British Iron Touring Club of NW Arkansas in preparation for Brits In The Ozarks car show tomorrow. This was going to be fun. First to the registration table to check in and collect the goodies packet. Then the first step outside I bumped into Bob Nogueira from Dallas, Texas, long time no see. This fellow was traveling with us for the Alaska trip in 1997. He said when he heard I would be here he had to come. This is very good, because I could not find his contact information when I was in Texas in March.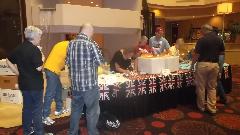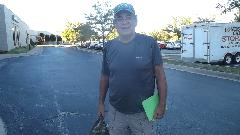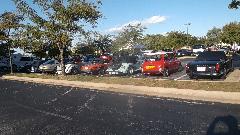 Then a quick walk around the car park at 5:30-pm with nice British cars all over the place. I think they are expecting at least 160 entries for tomorrow's car show.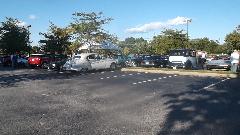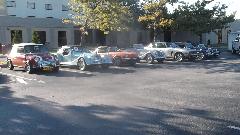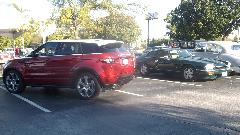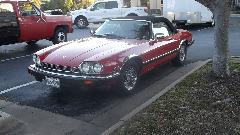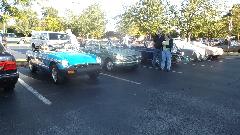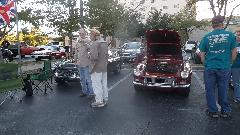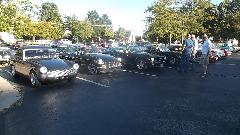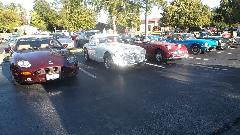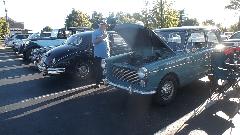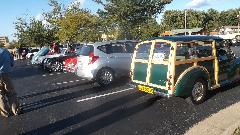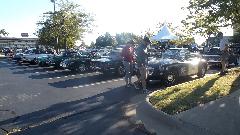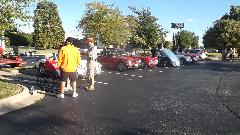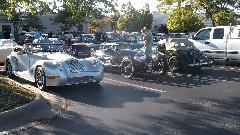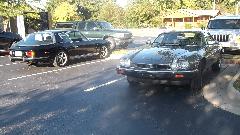 For the tail gate party there was lots of barbecue chicken, baked beans, potato salad and other sides, a table full of deserts, a table full of wine, and coolers full of beer and soft drinks. During and after stuffing ourselves there were a few tire kicking tech sessions. This one "cheater" MG Midget with turbocharged twin cam engine looks like fun, until it was reported to have been ticketed for doing 130-mph. Oops.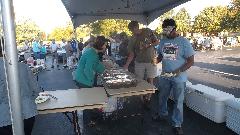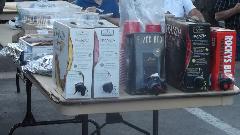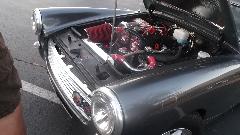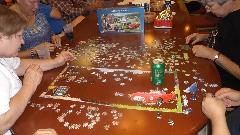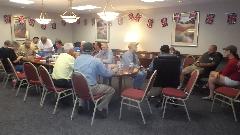 As darkness fell some of the gang left for nearby homes while most of the rest retired to the hospitality suite. One by one people were discovering who was driving the MGA with the trailer with the Alaska sign on the back. By 10-pm most were retiring in preparation for a long day in the morning, while I of course get to post photos and notes past midnight.

Saturday September 12, 2015
Brits In The Ozarks car show. I am told there were 170 registered cars today. Since I parked here, I will start with the MGAs, followed by other MGs.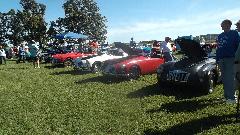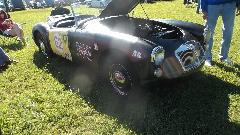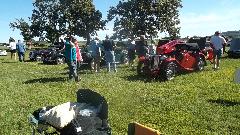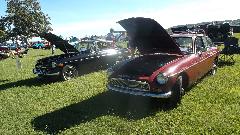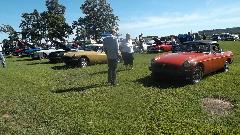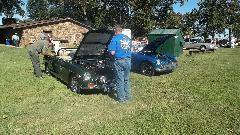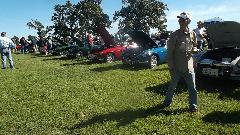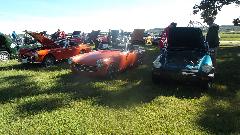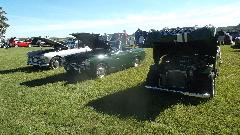 Then lots of Triumphs.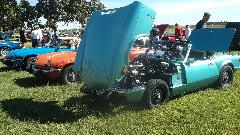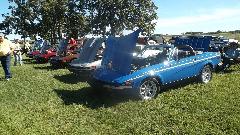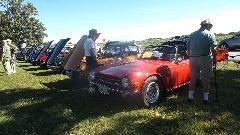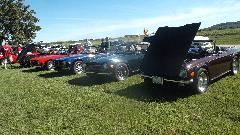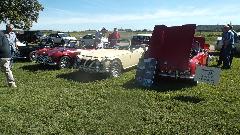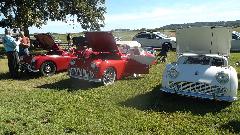 Followed by Morgans. The center picture is a new Morgan 3, ordered in 2012, delivered in December 2014, registered as a 2012 model even though it is now less than a year old. Car on right is an original 1935 Morgan Super Sport.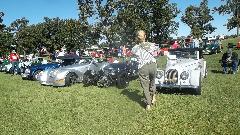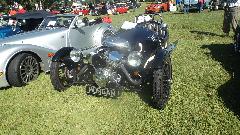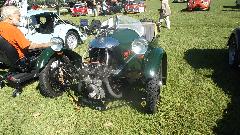 First below, left to right Morgan Aero 8, Plus 4, and Plus 8 (I think). Center, right to left Morris Minor Travler, Austin A40, and a "new" Mini. On the right three vintage Minis.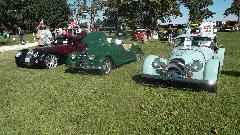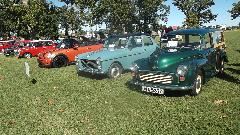 Modified MGs here, an MGB V6, couple of V8s. Car on right is a 1975 MG Midget with 1995 Dodge Avenger engine, 2-liter DOHC Turbo charged plus nitrous oxide, said to dyno 395 HP. Once ticketed for doing 130 mph, and pretty sure he was not using NOX at the time. Very light steering at speed, needs a front air dam. The Triumph motorcycle was being towed behind the modified Midget.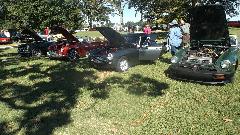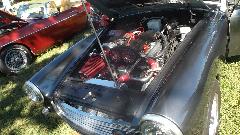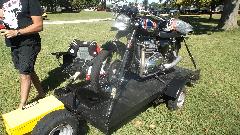 Then there is the Sunbeam Alpine Sports convertible, famous for being driven by Grace Kelley in the movie To Catch A Thief. Last on second line below is the more familiar Sunbeam Aline sports car.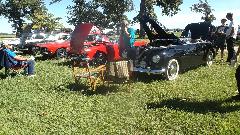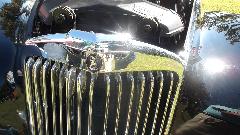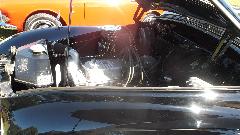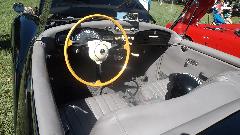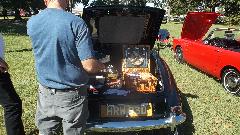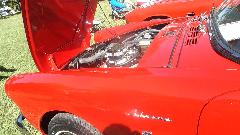 We have a few Jensen Interceptor III and one Jensen Healey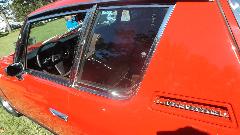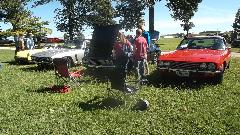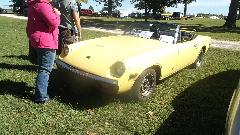 This 1959 MGA Twin Cam is a one-owner car bought new in Germany in 1959 by Frank McElroy. He still has his original wife too. The MG TD is also mostly original repainted once in 1969 with new leather in 2013.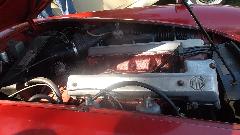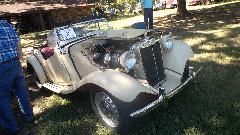 One new Land Rover, more Jaguar XJ than I care to count, at least four E-Type, and a few Lotus.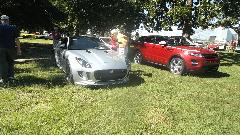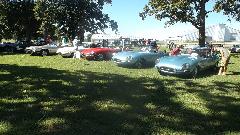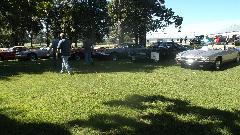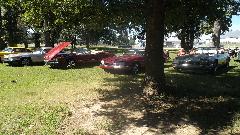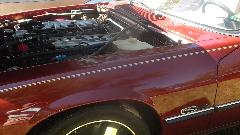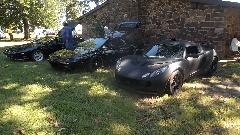 Half a dozen Healey 3000, but just one AH 100, and half a dozen bug eye Sprite one that will be particularly fast.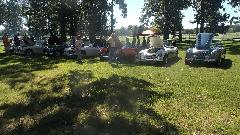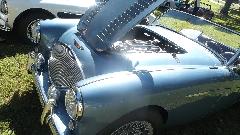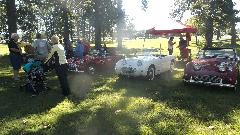 Two more British motorcycles (don't know who let the Yamaha in).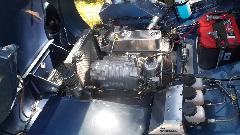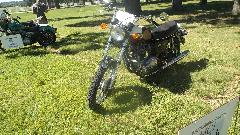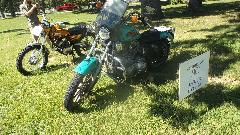 A pair of Aston Martin, a late arrival Midget and the barbecue cooker going steady most of the day.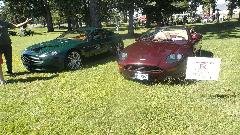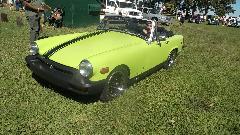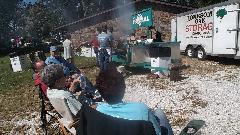 The Model A Ford truck is definitely American, just visiting. The red MGB was one I had tuned up a bit in Kansas City on the 5th of June. At the time it was running hot, bit of a mystery, later turned out to have a bad case of valve recession needing a head job, but all is well now. The Triumph Spitfire is "Ginger" for Drive Away Cancer, kind of a sister car to "Grace" the AH 100.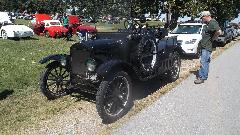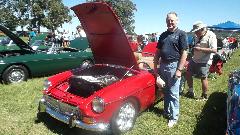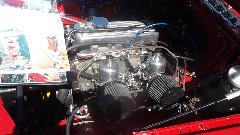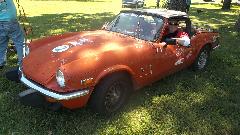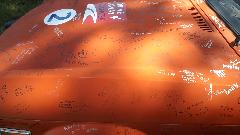 For the evening awards banquet there was a sold out room seating 200 people. After a short intro and dinner served for everyone, I got to do a 20-minute song and dance as the guest speaker for the night.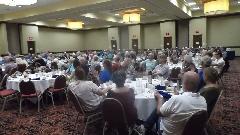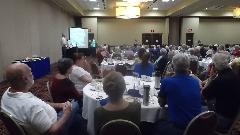 Kind of short but fun, and well received, I suppose it helped that I had been hobnobbing about with folks for the past two days. All said and done, this Brits In The Ozarks car show has raised nearly $20,000 for ALS treatment charity. After the festivities some of us retired to he hospitality suite for a couple more hours. Then in the small hours of the morning, .... well, you know, photos and notes here.