The MGA With An Attitude


MGA Guru Is GOING MOBILE - (June 15-19, 2015)
NAMGAR GT-40, Frankenmuth Michigan


Monday June 15, 2015:
Some cars had arrived Sunday evening, many more arriving today for the first official day of activities. Out to the car park for some pictures, then inside for the light welcome dinner.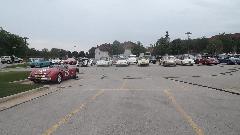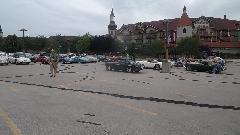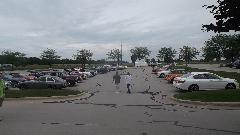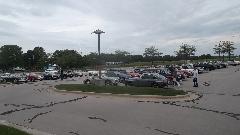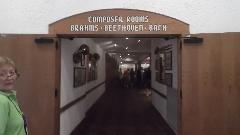 This was followed by an orientation meeting (introduction to the week's activities) including a bit of live entertainment. Shortly later we were off to the hospitality suite for the most important socializing with other MGA enthusiasts, some old friends and some new friends. One bit of disappointing news was that Scott and Mary Davidson from Ensinitas CA had flown in after their MGA had left them stranded and was towed twice only a short distance into their trip (first the SU fuel pump, then perhaps a failed Pertronics ignition module). Looking forward to midnight tire kicking tech sessions in the car park, but not to be as it was raining again, so just turn in for the night.

Tuesday June 16, 2015:
Early morning breakfast time, I bumped into "'Rotten' Robert". This car has been on my web site for years, so it's nice to see it first hand and chat with the owner. Click for more information.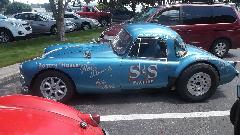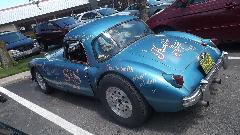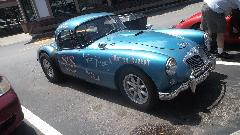 Since this web site has loads of pictures of MGA, I tend to pay more attention to the odd or lesser seen stuff. Here is an MG 1100 (similar to the Austin America I used to own), a couple of MG "Z" Magnettes (variants of MGA), and the 1954 Morris Minor Traveller woody "estate car".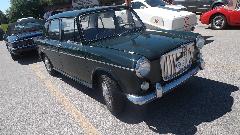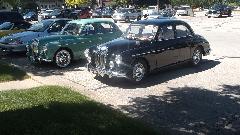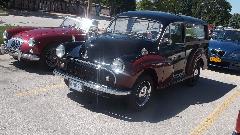 Here we have Gerard Geraci's MGA Twin Cam (first in class winner and a member of Chicagoland MG Club), the "Chickens 'R' Us" special (which took 3rd place in the MGA 1500 Wire Wheel class). and the seldom seen MGA in Alamo Beige paint (odd factory color).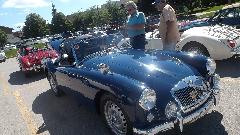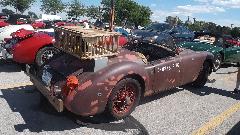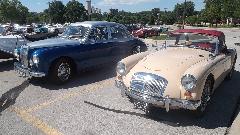 The classy MG TC (ladies first please), more Magnettes, an a street legal MGA race car.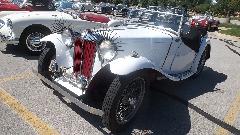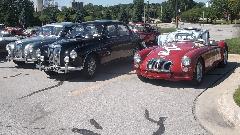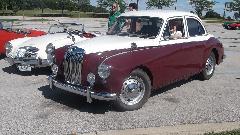 In the Paint Tech section there are pages on two-tone paint and stripes.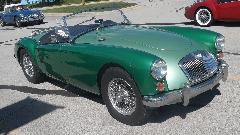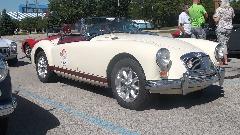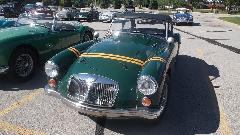 At these long distance get togethers you can always find a host of small luggage trailers (in addition to mine).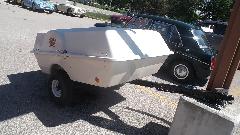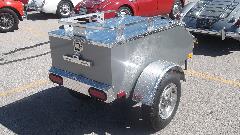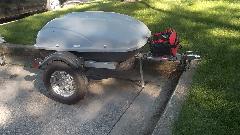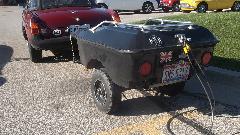 I believe the MG VA Tickford took first in class in the "Other MG" group. The purple MGA is sporting a very slick 2.8-liter V6 engine transplant with 5-speed (first in class in the "Modified MG" group). There was this very well executed MG Midget with a 327-cid V8 (yikes!), but you have to avoid speed bumps.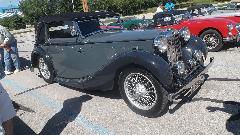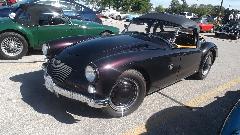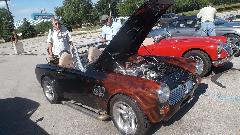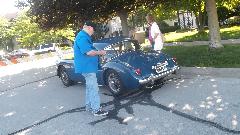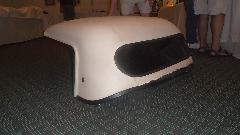 The Mineral Blue MGA Coupe was fortunate enough to find the only shade in the car park. The Parish Plastics hardtop for MGA was part of the event long Rowdies Raffle.

Somewhere inside, some of the ladies were enjoying classes in Pretzel Cooking and Strudel Cooking (a couple of times daily), parts vendors were hawking their wares and offering helpful advice, and a few times daily the Bavarian Belle would set sail. None of that for me, as I was busy with other things. There were two tech sessions on Electrical issues for MGA, and Tires (presented by a very knowledgeable career tire designer). Enjoy valve cover racing or a sail on the Bavarian Belle or pretzel and strudel cooking classes. The late evening Hospitality Suite is always a favorite.

Wednesday June 17, 2015:
Car show is the main event today, more MGA than you can shake a stick at about 150 of those I suppose.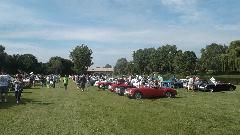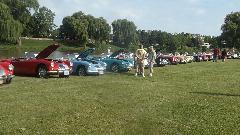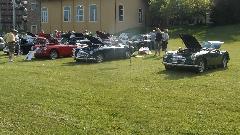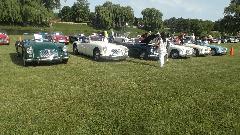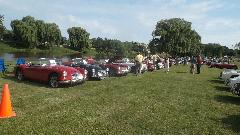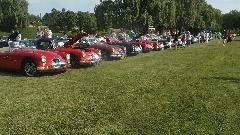 There was a large "Other British" class (other than MGA), some of which was entertaining.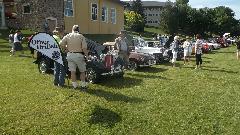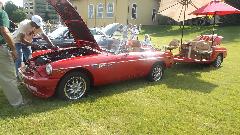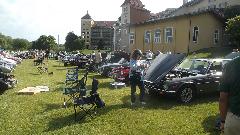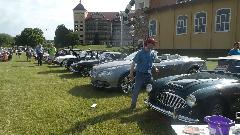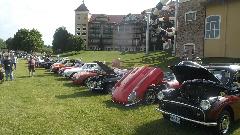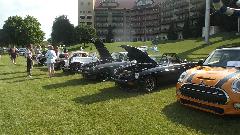 There was the Altered MGA class. I was particularly interested in the V6 engine transplant as it is a lot more sensible than a V8, not having to hack up the frame and still capable of 200+ HP if you like. I am always curious how they run the exhaust around the frame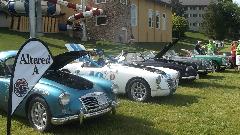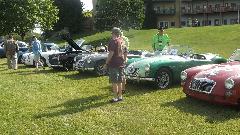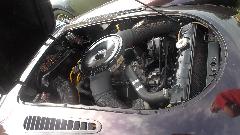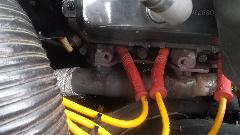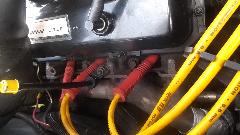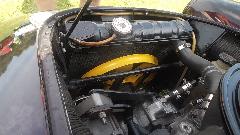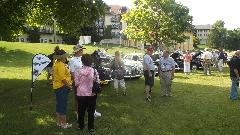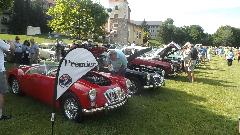 There was the Magnette class, several of those in good form, and the Premier class, always eye candy.
On the side you could enjoy Arts and Crafts display and valve cover racing (enter your own if you have one).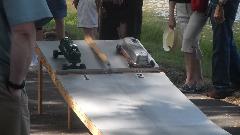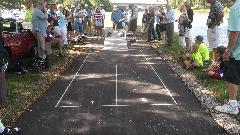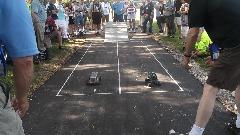 If you can't beat 'em, wreck 'em (it happens occasionally).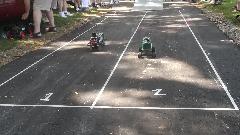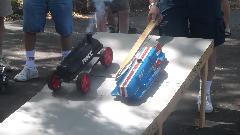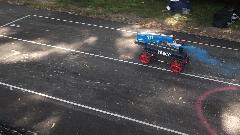 Later in the day we had tech sessions, one being a 1955 MGA 1500 Walk Around Tour. In the hotel lobby was a 1955 MGA on display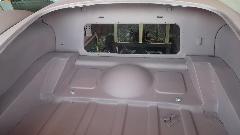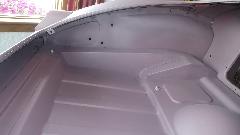 to show some unique features of the very early cars. Most notable was a proliferation of flat surfaces and sharp corners in the boot floor where some early production parts were hand made before the entire boot floor stamping was available.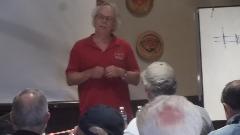 Then another session on shock absorbers presented by Peter Caldwell from Worldwide Auto Parts in Madison, Wisconsin. Sorry, Peter, but my pocket camera doesn't take very good pictures indoors from 50 feet away.

There was a Frankenmuth Brewery Dinner that I missed, but I enjoyed a quicker dinner with friends at the Chicken boufet across the street.

After dinner, in the cool of the evening, I had a surprise visitor. Brock Dittrick noticed I was in town and drove about an hour to see me (and check out the other rolling stock of course). He brought his family along in his 1963 Austin Cambridge Countryman. It has an Austin B-series 1622cc engine (another varient of MGA?). It may be the only one in North America with an automatic transmission (and it still works).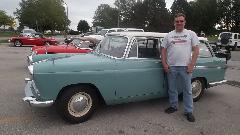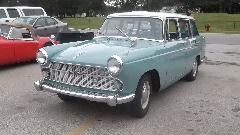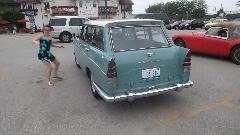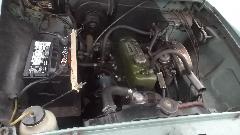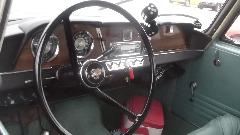 Brock had seen my pictures of another Austin Cambridge I had visited a few weeks earlier in Fresno, California. Apparently he uses my web site quite a lot, as his car shares a lot in common with MGA.

Thursday June 18, 2015:
Off to an early start with a driving rally. I got to be navigator for a change, hopping into an MGC with a GPS. I don't suppose the GPS made any difference in the outcome of the rally, but as long as we didn't let it know where we were going, it remained quiet and just displayed the road map as we drove. That make it easy to know where the upcoming turns woud be, as it displayed the street names on the moving map. I can see why the device would be prohibited in a TSD rally. Not convinced yet that I need one; still considering if it may be an attractive nuisance likely to cause an accident, or if the benefits might outweigh the problems. I think we answered all of the rally questins correvtly, although it would be subject to interpretation by the rallymaster. We likely blew some of the "trick" extra credit trick questions at the end. With 60 or more cars in the rally we got no trophy and not even honorable mention (pretty much as expected).

In early afternoon I attended the NAMGAR chapter contact meeting. Not my job, but our CMGC coordinator wasn't there, so I was sitting in for him. There was a special presentation by a representative from Hagerty Insurance. Much of that centered around youth initiative, trying to get the younger generation involved in the classic car hobby. This was followed by some discussion of how NAMGAR is trying to get the local chapters more involved in the national organization, and what benefit the club can offer to the members.

Then I stuck my nose into the Rolling Tech Session where John Twist works his magic to fix problems on the cars. I couldn't count the number of times John was crawling under the front of an MGA to check and set ignition timing with a strobe light. I managed to be a little helpful a few times (more than I interfered, I hope). When John broke a screw while adjusting a carburetor, I magically pulled a #4-BA screw out of my pocket to fix it. I don't profess to work miracles, but occasionally I can take advantage of the odd coincidence.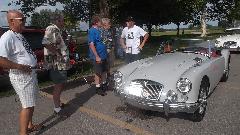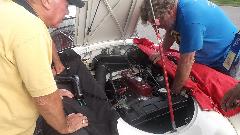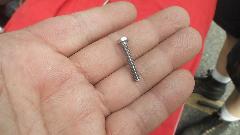 The evening Awards banquet was entertaining, lots of awards to go around, some door prizes, the 50/50 raffle, and the Hard Luck Award. Late night brought the Hospitality Suite, and when that closed the party continued past midnight on the patio. Then places to go and things to do, so we headed southwet after midnight to put down some miles while the adrenalyn was still flowing.