The MGA With An Attitude


MGA Guru Is GOING MOBILE - (May 14 - May 31, 2014)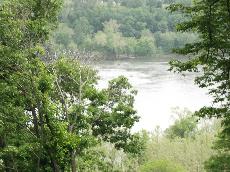 River view at the hostel,
but no camping due to lightning.


May 18, 2014:
Five days later, a lot more has happened. After Tuesday night Natter 'n' Noggin, a late night visit with daughter at her new temporary digs in Lisle, IL. Wednesday and Thursday 5/14-5/15 travel east (rain, rain, rain) to Arlington, Virginia area, but missed a visit with an MG friend (not available at last minute). We were going to camp at a hostel Thursday night, but a lightning storm would not allow us to camp (last minute issue), So we took the opportunity to visit a laundromat. Impossible to drive in torrential rain, ended up sleeping in the car, discovering it leaks badly where rag top meets windscreen at top of side curtains. Also some leak under the dash that might be from the wiper spindles (maybe). Early Friday found us at McDonalds taking advantage of their WiFi link for internet access (getting to be a habit) while we tried to dry out some. Then take care of some personal business, miss a visit with another MG friend (also not available at last minute), but have a pleasant and (finally) dry night camping in Burke Lake Park, VA.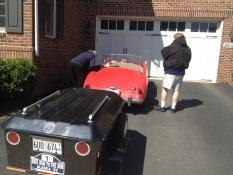 Saturday 5/17 more leisure less travel, culminating in a nice visit and stay over with MGA enthusiast Geoff Howard in Ashburn, VA, discussing his valve recession problem (among other things). Took advantage of the opportunity to do an oil change for my MGA.

---
Sunday 5/18 begins a casual drive down Skyline Drive. We run south from Front Royal, VA, a very pleasant drive in Shenandoah National Park (as long as you are not in a hurry to get anywhere). 35 mph speed limit, lots of tight curves and hills that often need 3rd gear to pull the trailer up (but are free going down). Not too much traffic on Sunday, as school is not out yet. Due diligence not to hit the deer, get a picture of the black bears, shoo an owl in flight away from the windscreen, wait for turkeys to clear the road, lots of breathtaking overlooks. No cell phone or hot spots in the hills (3000-ft altitude mountains), so near day's end we turn west down the hill to find a McDonalds in Elkton with a hot spot, and spend the night a little farther west in Harrisonburg.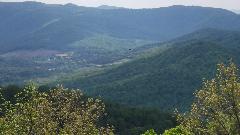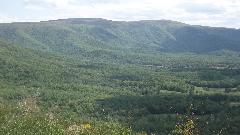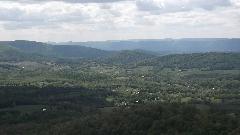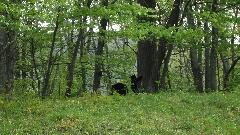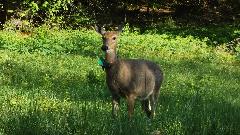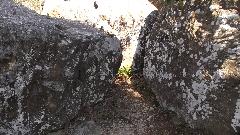 Monday 5/19, back up the hill to continue down Skyline Drive, more of the slow and enjoyable driving in the forest. At mid day and south end of Skyline Drive, we drop down out of the hills again to find another hot spot in Waynesboro and restock the cooler. Then late afternoon back up the hill to continue South, then on the Blue Ridge Parkway. Somewhat different here with 45 mph speed limits and easier curves that go mostly at the speed limit when we're a little frisky, maybe half the hills requiring 3rd gear. Almost no traffic on a weekday in May, wave at a bunch of Harley folks, dodge more deer. 60 miles down BRPW we stop for the night at Otter Creek Campground with a quite camp sight next to the creek, and almost the entire campground to ourselves. No cell phone or WiFi here, so we have time to build a campfire and enjoy the forest at night.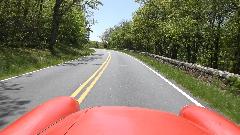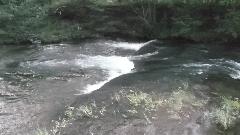 ---
Tuesday 5/20, sleep late in the very pleasant forest environment, then continue south on the Blue Ridge Parkway. Bail out momentarily at Vinton for a hot spot fix, bag of ice and refueling. Now we have an invite for an overnight in Weaverville, NC, which is about the right distance farther down the Parkway in a couple of days, so off we go again. Getting late evening by the time we get back on the Parkway, and campgrounds are hard to find this time. So we decide to drive some after dark to see what wildlife we might rustle up. Sure enough, just after dark we find a bobcat crossing the road, then a few racoons, and more deer than you can shake a stick at. One stare from the dark and their eyes light up like lanterns, all over the forest. Oddly, no deer in the roadway at night (maybe just lucky), but they seem to cross the road in the most casual way during daylight (go figure).

About 9-pm something in the car goes tickety tick, squeak, squeak, squeak and doesn't want to quit. It is from the right front wheel, but after kicking a few parts in the dark I decide it is not a wheel bearing, and nothing is falling off the car. All the same, when the car talks we listen, so we take the first available exit and drive several miles to Floyd, NC. This is just a dot on the map, but it has a gas station (closing at 10) and a Hardey's (closing at 11). We park near a good light in the Hardey's lot, and proceed to jack up, remove RF wheel and brake drum. One brake shoe drops loose, and a long tension spring falls on the ground. The spring has been folded in the middle and is stretched almost 1/2-inch too long. After a bit of head scratching and some creative tool wielding I manage to shorten one end of the spring about 5 turns and form a new hook. In about a half hour it's back together and road ready again, being the first road side repair required in several years. I have a few brake parts in the trailer, perhaps could look there, or should think about picking up a spare spring (just in case).

| | | |
| --- | --- | --- |
| The good ends. | The reformed end. | The repaired spring. |
No convenient place to camp or park in Floyd so Back to the Parkway at 11-pm continuing south, still not finding a camp ground. We cross into North Carolina about 1-am, tired enough and having no N.C. road map, so we park in an overlook, grab the pillows and snooze in the car.

Wednesday 5/21, 9-am wake up to some tire screeching and engine revving, and a new Miata pulls up along side. The driver with a big smile wants a picture of the MGA, even offers to trade keys on the spot, having previously owned an MGA, very appreciative. Nice wake up call, time to hit the road again. Another 50 miles or so, old routine, down the hill for a hot spot to check email. One phone call later we have arrangements to meet Eric Taylor from Charlotte, NC, at his family's "summer home" in Weaverville. So back on the Parkway for a couple more hours, finally climbing up 3rd gear hills for a long time, passing an altitude sign at 5180-ft. Immediately following is the entrance to Mount Michell State Park, and we can't pass that without a good run up the hill. A few miles in we stop momentarily at the visitor center, collecting an info brochure (and a North Carolina map), then continue a couple more miles up the hill to a car park at the summit, 6578-ft, highest point east of the Mississippi. So we just climbed 1400-ft in 5-miles, no wonder some of that was in 2nd gear.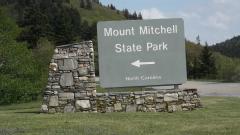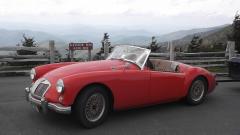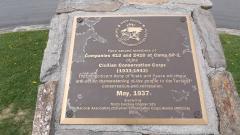 Lots of hiking trails here, but no time today, so back down to the Parkway to continue south. Bail out at the Weaverville exit onto Ox Creek Road, which was beat to pieces by recent construction truck traffic. Picking our way gently around potholes, about 5 miles down we turn up hill on a narrow gravel road. This soon turns into 1st gear at 10-mph, being careful not to spin the tires too much over the washboard gravel surface to maintain upward progress. Then a right fork, and even steeper upward for a few blocks. The Mapquest instruction says, "If you reach the end of the road you went too far". We made one wrong turn and ran out of road, fun turning the car and trailer around up there, back down to try the other fork which was even steeper up hill. Our arrival about 5-pm was a bit early, cell call finding Eric still 10 minutes away on the Parkway. So we had a nice chat with his neighbor over a Datsun 280Z, a vintage Jeep, and a classic Mustang (too many toys there).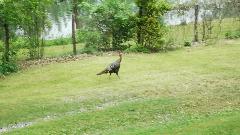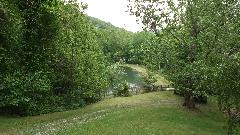 Eric arrived shortly, followed by his wife and a fiend and friend's wife. After a bit of chat it was off to Ashville via the Parkway for some really good pizza and more chat, after which the party split company, and we are back to the "summer house" in Weaverville to spend the night.

Thursday 5/22:, A quick sprint on the expressway to Charlotte then Concord, NC, to visit Eric Taylor's MGA under restoration (two cars nearing the "go kart" stage). Had a chance to fire one up and tune the carburetors before late lunch.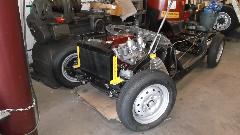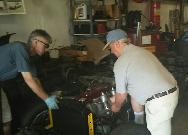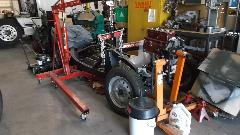 The head for the second engine has some fancy rework with larger valves, and a bit of a shrouding problem with the intake valves (too close to the chamber walls).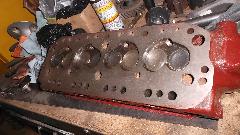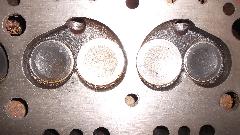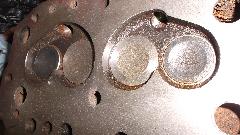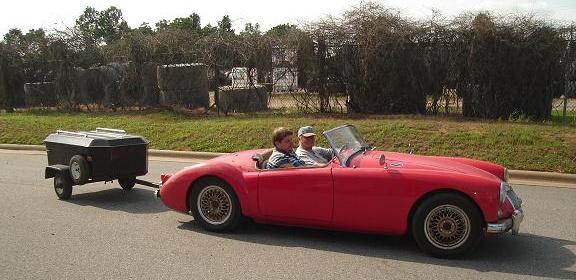 Putting on some real miles today, also going south to Monks Corner, SC, to meet Francis Neal and check out his MGA under restoration. This was also the shipping address for the repair part for my laptop computer. Haul ass down the expressway, arrival time 11-pm, thanks to a gracious host, we had a little chat and managed to hit the sack before midnight.

Friday 5/23: Up early and take the opportunity to replace the screen on the laptop computer. Damn, those screws are small, fat fingers and eyes not what they used to be, but got it done anyway. More chat time and lunch from Subway before we depart. More time on the local McD's WiFi catching up some old business before deciding which way to go. We managed to just miss a serious rain storm at dusk. Camped at Honey Hill in the Francis Marion National Forest after encountering a large tree down blocking SC-45 just north of US-17 while we were southbound late night. Have to back track in the morning.

Saturday 5/24: Morning going north to Kingstree, SC. Sitting on WiFi for a while (as usual), then going east to just shy of Myrtle Beach. Made some phone calls, talked to Carol Shamonsky from NAMGAR (now in Pennsylvania). Then late night heading south into Myrtle Beach. That was a mistake. Traffic on US-17-Bus near the ocean was a nightmare, even between 11-pm and 1-am. Stop and creep, stop and creep. Took an hour to go a few miles south from US-501 just to find the Myrtle Beach State Park campground was full (which we rather expected), then similar delays going back north. We finally turned up SC-9 and SC-905 to get away from the traffic and camped on the Waccama River near Pireway, NC.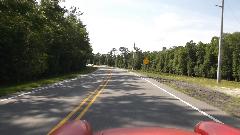 Sunday 5/25: Finds us back down on US-17 near Grissettown, NC. We were contemplating a slow crawl back north up the coast, but having other thoughts now. Got a call back from Bruce Woodson of NAMGAR. Now intending to do some foot dragging, arrived in Goldsboro, NC tonight. Wanting to be in Richmond, NC on Wednesday for a small car show and club meeting. May visit Bruce Woodson's shop in Richmond and Moss Motors east coast facility in Petersburg, VA, and. Anyone have other suggestions?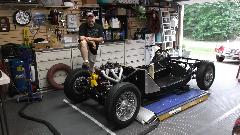 Monday 5/26: Change of plans (as usual). Morning message re-routes us to see Dave Mars in Raleigh, NC, where we had a nice five hour chat about his rolling chassis stage restoration project. We had a little cry over new leaf springs being too tall, and new rebound straps being too stretchy, and having to re-do the whole rear suspension again to fix it. He has in mind to either have the new springs de-arched,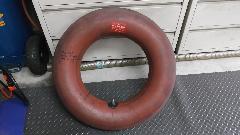 or rebuild the original ones (which were sagging only about a quarter inch after 53 years).

He also pulled out a vintage inner tube removed from one of his vintage wire wheels. No date on it, but it's RED, and they haven't made red rubber inner tubes since maybe the 70's or so.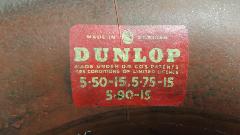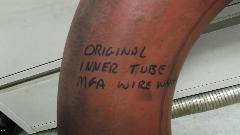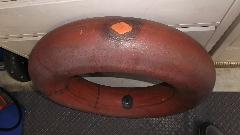 Late evening heading northeast, finding haven near 11-pm in a Huddle House near Petersburg, VA, with WiFi while we sort out problems with cell phone service and catch up with these notes. Anyone want to guess what we're doing on Tuesday?
---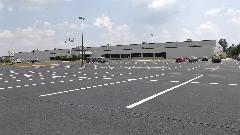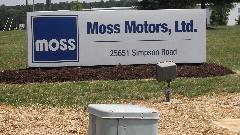 Tuesday 5/27: Yup, sure enough, a visit to Moss Motors east warehouse. Find lots of pictures on the following page.

Find more pictures of the gold 100,000th MGA at mgtech/RT-503.
Find more pictures of the #38 Sebring MGA at mgtech/VT-104E..
Find more pictures of the #52 Sebring MGA at mgtech/VT-104H.

Another short connection to WiFi, one phone call, and we head northwest to Amelia, VA, to visit Jim Cheatham and his rolling chassis restoration project.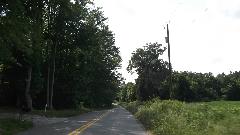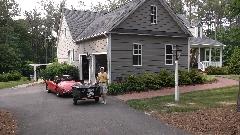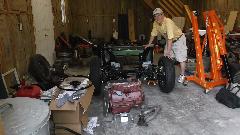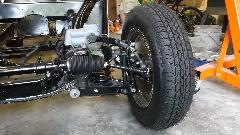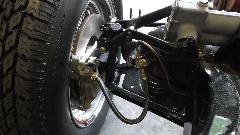 He has an interesting installation of MGB disc brake calipers with adapter mounting brackets. Then we cry a little over his too-tall leaf springs and rebound straps that stretch and break (second case of both this week).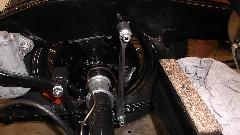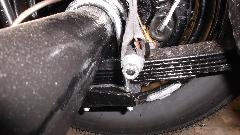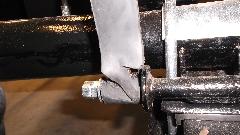 We play with some small parts (which are in very good condition for vintage), and manage to get the time delay sorted out on his turn signal switch. Jolly good chat lasting late, so we do a late night check in at Amelia Family Campground, a very nice place indeed.

Wednesday 5/28: Nice warm sunny morning, quiet in the campground and the WiFi works here. After a few hours we decide this place is a keeper, so we register for another night. I sit for hours working on photos and the web page, email and BBS, (never enough time to get this stuff done). We then hustle down the road 16 miles to Bandermill Country Club in Midlothian, VA, where Central Virginia British Car Club is doing a small car show (6-pm) before their monthly club meeting (8-pm). Oddly, not all cars are British (have to figure that out later). There is a ticket for dog and chips and complimentary beer on tap.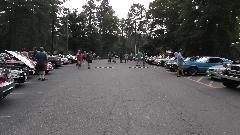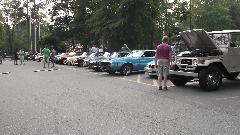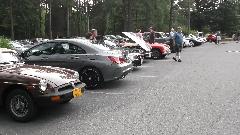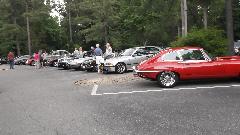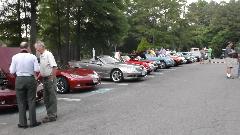 The following club meeting is jolly good fun, a few old friends and lots of new faces, all friendly of course. I am informed that I will be the stand-in for the tech session, so I get to introduce myself and my web site, followed by a few minutes of "Stump the Guru" if you can. When the meeting breaks up it's raining, and folks go scrambling with tops and tonneau covers (including yours truly). No rush here, so we tap the local McDonalds WiFi until they toss us out at closing time then back to the cozy tent, and fortunately it's not raining the next morning.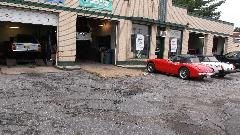 Thursday 5/29: After some more time on WiFi we split the campground and wander on to Bruce Woodson's shop on the north side of Richmond. Obviously another case of too many toys in one place.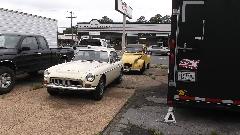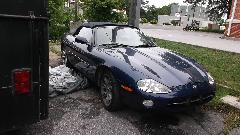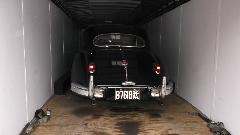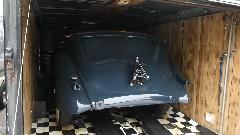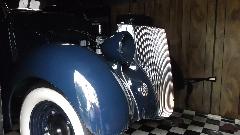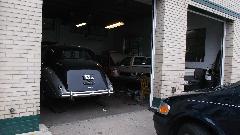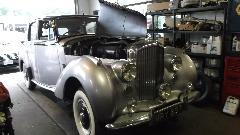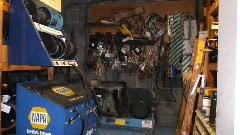 Then there's the constant struggle to find space to store more toys.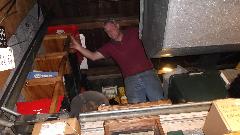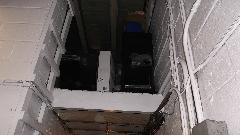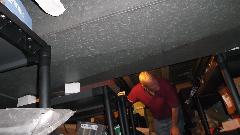 After bugging Bruce long enough, we left him alone for a while, then met him later for a beer.

Friday May 30, 2014: Early check on WiFi, couple of phone calls, and new plans. We head a little west to meet Bruce's father-in-law Wally Groom in Powhatan, VA, and check out his shop.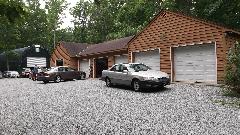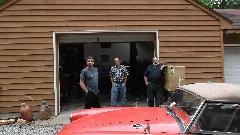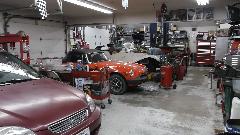 Another case of too many toys, but this time not so much British. Find lots more pictures on the following page.

Then mid afternoon head north to Palmyra to meet Paul Crowther. We arrived a bit early, or he was a bit late, so we re-route a little to Lake Monticello to meet with another group of car guys around 5-pm, and Paul catches up with us there.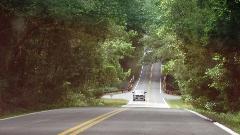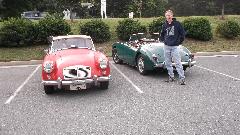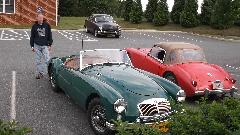 When we were about to leave, someone dropped by to mention a Brit car tour the next morning. Change of plans? What else is new.

Saturday 5/31: Up early, check mail, buy ice, and meet the Shenandoah Valley British Car Club (from Waynesboro, VA) and Richmond Triumph Register (Richmond, VA) at Zion X-Roads (near Gordonsville, VA). 'Tis a beautiful Sunny morning with more than two dozen British cars gathered for a tour.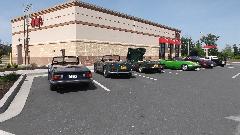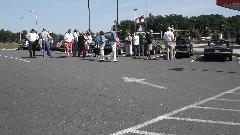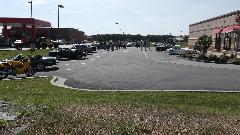 We drive lots of memorable tarmac local roads through the rolling hills and forests of central Virginia for about 70 miles. It was a little slow until the Corvette leading the pack missed a turn. We were second in line, and we made the turn, then waited to watch while several more cars followed the Corvette. Never trust the car in front to be on course. In a few minutes they all came back (with the Vette in middle of the pack), and our MGA with trailer in tow got to lead the pack (briskly) for the rest of the run. Good thing the route instructions were all correct.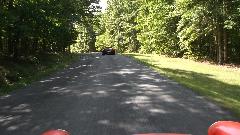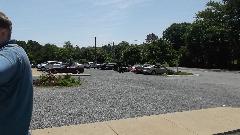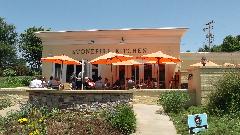 There followed a nice lunch at the Stonefire Kitchen in Barboursville, VA (with chilled sandwiches, soup, delicious lemonade, fudge brownies and cookies for desert). Then we bid farewell and high-tail it back to Richmond where Elliot has an afternoon appointment for a card tournament (right across the street from Bruce Woodson's shop).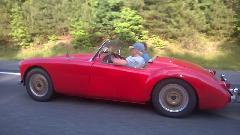 In early evening we point it north up the expressway heading for Herndon, VA, on the east side of Dullus airport for an appointment with Amin Swisse. [Months later, December 14, we received the photo at right taken by Mike Silvernail <!-mikenail41 at live.com-> 6:19 pm, while we were cruising up I-95]. Amin's MGA was resurrected from a 30 year old barn find and reformed into race car style in the process. A few weeks ago he changed the distributor, and it hasn't run since. Turned out the distributor drive dog was installed backward, so the rotor was 180 degrees out of position. That was an easy fix, and we had it running in short order. Too late for a test drive, so we retire for the evening. See photos and notes from the restoration work on Amin's Facebook page.