The MGA With An Attitude
WORKS COMPETITION CARS - VT-104E
Race
Number
Ficticious
Number Plates
#28
MJB-167
#29
PRX-707
#30
OMO-700 ?
#P28
RMO-101
1959 Sebring MGA - These were 1500 style Twin Cam cars, originally roadsters but converted to coupes by the factory. Of four cars built (YD2 931-934), only one is known to survive.

See TC107-932 (Twin Cam section) for the only known surviving car from this set.

From the 1959 Sebring Entry List, the three competing cars were:
28 M.G. Twin Cam, 1586cc, Class-E, 6, Hambro Auto Corp., New York NY,


driven by Gus Ehrman, Ray Saidel, Sherman Decker - YD2.932
29 M.G. Twin Cam, 1586cc, Class-E, 6, Hambro Auto Corp., New York NY,


driven by Jim Parkinson, John Dalton, *(to be announced)
30 M.G. Twin Cam, 1586cc, Class-E, 6, Hambro Auto Corp., New York NY,


driven by Ray Pickering, Jack Flaherty, *(to be announced)
P- M.G. - There was a 4th car #P that was shared for practice (photo below).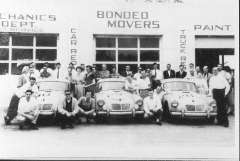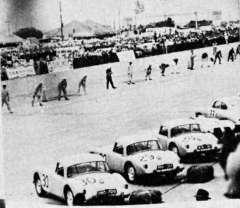 Team at the garage in Sebring in 1959 - Team at the start of the 1959 Sebring race.


| | | |
| --- | --- | --- |
| | | For photos at left, visit Racing Sports Cars web site. Externally visible modifications include a single leather bonnet strap, driving lights, an odd appendage on end of front bumper looking like a miniature overrider, lamp over the numbers on the front fender, large fuel filler cap in center of boot lid for the long distance fuel tank. Also an air scoop on center of bonnet, and all of the 1959 Sebring MGA had these features. |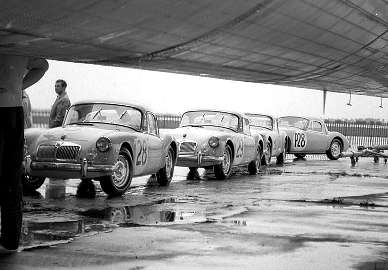 1959 Sebring MGA line-up, from the BARC Boys.
For larger picture and more pictures see:
http://barcboys.com/MGA%20home.htm
http://barcboys.com/MGASebringHome.htm
http://barcboys.com/MGASebring59.htm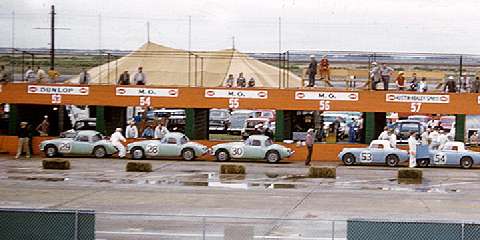 Car #28: -- Gossip from the past:
From the MGA Twin Cam Enthusiasts Group (on the Yahoo groups server) dated November 13, 1999, Robin Barker wrote:
".... Sports Cars Illustrated .... In the July [1959] issue there is an article about the same car as it was driven from Florida to California along with one of the Twin Cam coupes".

To which Jonathan Stein replied (on November 13, 1999):
"Where are the 1959 Twin Cam Coupes? They'd be very easy to spot because they're the only coupes with YD2 prefixes. .... someone--or four someones could easily have sent a Sebring car to the scrap yard. -- You mentioned the Sebring T/C Coupe that was driven in tandem with one of the Sprites. That T/C coupe was driven back west by its new owner, current AutoWeek Publisher Leon Mandel. It still sported its Sebring numbers. He was also ticketed - I think in Arizona - for a speed which just wouldn't have been possible in a pushrod car, even with a tail wind and a good downhill stretch. He was actually pretty proud of that. -- He raced the coupe once - and that was enough. He never really enjoyed the car that much. At the time he was a salesman for a West Coast dealer. It was either Jack Flahrety or Jim Parkinson - I forget which. I once spoke to Leon's late wife about the car. She and Leon both thought that the light green - was it Ash Green - was pretty hideous".

Leon Mandel passed away in 2002 (note from Autoweek March 5, 2002).
His son Dutch Mandel might be contacted via this event in 2010:
<!-A href="http://www.sempca.org/p4/2010/P4_Aug10.pdf" target=pdf->http://www.sempca.org/p4/2010/P4_Aug10.pdf - (Broken link)
It is hard to trace Leon's racing history beyond 1958.

On 2/9/2012, Michael Eaton <!-dohc59 at hotmail.com-> wrote:


"From what I've determined, the 3 CA cars were not raced much because according to Gordon Whitby, they were not as competitive as the ones that they had already perpared at the dealership. Gordon beleived that this was likely as they were built for distance and not sprint".


#28 - Leon Mandel Car - I've got a relatively good scan of the Mandel picture and you can just barely see the bottom edge of the hood number, so you can tell that it was the flat edge of the bottom of the 2 and then a rounded edge which has to be an 8 since the 29 car was in the LA area with Parkinson and was driven out separately as mentioned in the acticle by OCee (no spelling typo it is OCee) Ritch in SCI. According to Jonathan's interview of Leon, Leon raced it once at Tracey Airport and I have that program and confirmed it. This was his only race in the car he called the A-bone".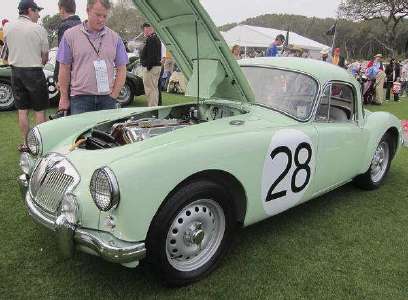 As seen at Amelia Island Concouts, March 2012


Photo above from Paul M in New Jersey, USA, via the MG Experience BBS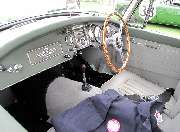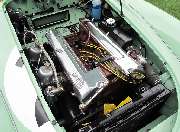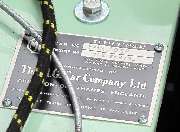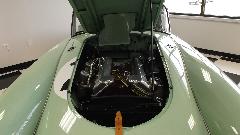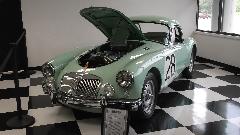 The only known survivor from the 1959 Sebring MGAs. Currently belonging to Michael Eaton in Vienna, Virginia. These photos from the showroom of Moss Motors east facility on May 27, 2014.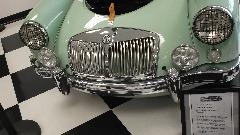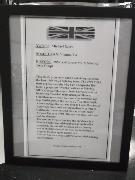 Car #29:
On 2/9/2012, Michael Eaton wrote:
"#29 - Went to Gough Industries in LA for Parkinson to drive ... not too successful and assume sold off by dealership. Per Gordon Whitby".

Car #30:
The 1959 Sebring MGA car #30 was driven by Ray Pickering and Jack Flaherty. He later went on to drive the #60 car in 1960, 61, 62, then on to MGB's,
http://www.racingsportscars.com/driver/archive/Jack-Flaherty-USA.html.

On 2/9/2012, Michael Eaton wrote:
"#30 is a mystery - But, I beleive it went to CA as well. Jonathan Stein's interview with Mandel mentioned that Flaherty brought out one of the cars as well, which would have to be the #30 car since Leon had #28, and #29 was in LA".

On 2/9/2012, Michael Eaton wrote:
"#P28 [the practice car] Went to a dealer in MN. Former owner contacted me when he saw my discovery article on my car in Sports and Classics a few years back. He did race the car a few times and I found some entries for it in SCCA mags. It later sat in his yard until 65-67 and he had it towed off. I think this is the car that must have been in Wacky Arnolt's dealership at some time. Steve Johnson bought the service manual that came from the dealership that had all the notes of which twin cams had been in for repair and one of them was a Sebring VIN. So, I think that was likely the P28 car that went to MN. So it may be still languishing somewhere in the Chicago area".

See YouTube video Road America 1958. This is erroneously named, actually being 1959. Some of the 1959 Sebring MGA Twin Cam Coupes can be seen in this film at the following times:
14:11 next to the red Healy
14:12 next to the red Healy
15:50 Start of Race
17:41 passing in front of the camera
19:40 exiting the pits in front of chequered flag

Road America 1959 June Sprints Entry List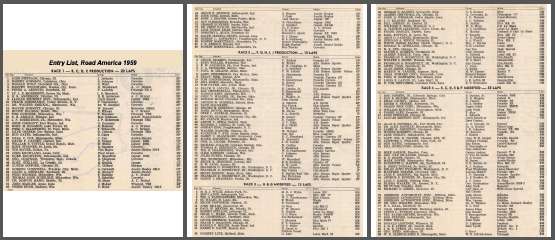 ---
An excerpt from MGA newsletter of the MGCC, December 1999, written by Piers Hubbard:

There was no entry in 1958 but 1959 saw the first entry from the factory and B.M.C. did it in a big way. The entries were not only for MGAs but a team of Austin Healey Sprites were sent as well. The M.G. entry was for three Twin Cams, which had been announced in the July of the previous year, and four cars were sent to Sebring, one being for practice. John Thornley, Geoffrey Healey and Marcus Chambers were to run the teams. Dougie Watts was the mechanic in charge of the MGAs. The drivers were drawn from North America in order to attract the best publicity possible for these cars. The Twin Cams, YD2. 931 to 934 had been constructed as roadsters but were converted to Coupe form by the Competitions Department. They were started in November, transferred to Competitions and left Abingdon on 9th February. The cars ran with the numbers 28 (Gus Ehrman and Ray Saidel), 29 (Jim Parkinson and John Dalton) and 30 ( Jack Flaherty, Ray Pickering with Sherman Decker as reserve). All these drivers were American and came from areas picked to give a spread of dealers within the regions. It was perhaps unfortunate that Sherm Decker was consistently faster than the others. This was the year that Gus Ehrman and Hal Wallace came up with a pressure refueling device that proceeded to pump fuel all over the pit floor during practice. The problems had been sorted before the race and much time was saved using the rig.

The race started at 10 am in clear weather and the cars were running within their capability in order to see how the race panned out. The weather deteriorated badly and the rain came down in torrents when they were expecting to cut lap times, instead it reduced their average speed by 5 mph. Car 29 had an hour out while its starter motor was fixed, Car 28 rammed a straw bale but was able to continue without much damage. Sherm Decker was sent out in the dark and the heavy rain, spun it and continued until the tenth hour. Then the engine let go just after the start of a lap. He pushed the car for a mile and a half in the rain until he ran out of steam. When he tried to start the car ( with some unacknowledged outside assistance) it was plain that a piston had gone but he managed to drive round to the finish line in short bursts until it seized. As the engine cooled after each seizure so he drove another few yards. The car was pushed over the line to qualify as a finisher in 45th place. The other two cars came 2nd (No 28) and 3rd (No 29) in class and 27th and 34th overall. In passing it should be added that the registration numbers on the cars were in use elsewhere at the time and are rather obviously not "Made in England"!