The MGA With An Attitude
BOOKS FOR YOUR MGA - page 5
TECH-REF & COFFEE TABLE BOOKS:


"Original MGA: The Restorer's Guide"
by Anders Ditlev Clausager
(0760314500) - paperback, 128 pgs, 250 glossy color pictures. Reissue of original 1993 hardcover book. Previous ISBN 1-870979-31-1. May be available either hard cover or softbound.


Highly recommended reference book.
The definitive guide to one of Britain's best-loved sports cars. Indispensable for owners, restorers, buyers and enthusiasts. Drawing from factory records, parts lists and catalogs, as well as the accumulated knowledge of respected restorers and dedicated enthusiasts, this book provides the most comprehensive survey of the MGA ever published. Guide to maintaining 100% originality. Superb color photographs show body, interior, and mechanical details in factory-original condition. Includes serial and engine numbers, paint, trim, options, technical features, and production changes by car number and date. Not only solid information, but also a great coffee table book for when friends drop in. Available in multiple languages, including German with "Das Original MGA".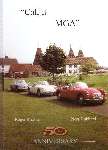 "Call It MGA" by Roger Martin and Piers Hubbard, 2004
Published by The MGA Register, The M.G. Car Club Limited
Hardbound, 8-1/4" x 11-3/4", 112 pgs, 250+ ill.


A comprehensive following of 50 years of the history and character of the model from pre-production concepts and prototypes through modern day activities. This includes many stories of special cars and special people and the way the cars have been used (and abused) over the decades. At times the cars were near orphans with low value, so it is a wonder how so many of them have survived and are still with us today. The book pays tribute to the unique character of this particular model and the reasons why people find them so endearing. It covers variants and modified cars, the motor sport efforts of works cars and privateers, a myriad of speed records and competition titles, and distribution of the cars around the world.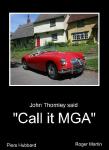 Second edition, on sale June 15, 2015, for the 60th anniverary of the model. Many newly discovered facts together with the evolving stories from the past 10 years. Now in a larger full colour format, three new chapters. 297 x 240mm. A limited run of 251 to be numbered and signed by the authors
www.mgcc.co.uk/mga-register/merchandise-shop


"D.O.H.C., Test Run at Lime Rock." by David Ash - Safety Fast Editions, Inc, CD 14:48 Minutes


A great period marketing film transferred to DVD. David "Mr. MG" Ash puts a brand new MGA Twin Cam (the first from the factory) through its paces at the famous Lime Rock race track in Spring 1959. Competition driving tips and a neat little piece of history. One of 150 copies made (and this one is signed by David Ash).


30 copies left, as of 26-Jul-05. Contact: Michael Eaton
Also see article TC-107-505 about the car that was used for this filimg exercise.


"Earning the American Dream" by Gordon Whitby
Hardbound 8.5" x 10.75", 340 pages, color/B&W, pub Apr 2009 (first 100 copies were softbound no longer available).


A 16-year employee of the Los Angeles BMC distributorship as well as only American race mechanic for BMC's 1950s record speed runs at Bonneville Salt Flats, Gordon Whitby gives an overview of the motor industry of that era with loads of pictures. The book contains copies of letters and technical information between Syd Enever and the author not found elsewhere.


See full page review from "North American Classic MG magazine". The books can be personally autographed by the author. Available at classicmgmagazine.com. Shipping usually within 24 hours. All profits donated to cancer research. For any queries e-mail the author at gordonwhitby@yahoo.com


"Essential MG" by Graham Robson. (All MG, not just MGA)
Hard cover, 160 pgs, 10-3/4" x 11-3/4", 180 color and 45 b/w photos - Motorbooks International - ISBN: 0760320039.


Covering the complete history of the MG marque – from its formation in 1922 to present day. Includes developments in style, increases in power, and its history in racing and speed trials. Full engineering and performance specifications - Competition success and production statistics.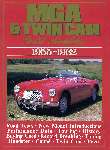 "Gold Portfolio MGA & Twin Cam 1955-62" by R.M. Clarke.
Published by Brooklands. Softbound, 8-1/2" x 11", 180 pgs, 300 ill.


Road tests, performance, technical data, racing, historical profiles, and more. Over 50 articles reprinted from several leading automotive journals.


"Me and My MG: Stories from MG Owners Around the World" by Gordon Thorburn - (all MG, not just MGA)
Published by Remember When (21 July 2011), Hardcover, 224 pages.


Each of these, has a story. All the stories are different, but the story tellers have something in common. They would all rather love - and sometimes despair of - a wonderful vehicle with faults in its character, than have no feelings about one that has no character at all.


"MG MGA 1955-1962" by R. M. Clarke
(ISBN: 0-906589-97-5 / 0906589975)
Published by Brooklands. Softbound, 8" x 10 3/4", 102 pages. B&W.


This book covers MGA's from 1955 to 1962. There are Reprints of articles and road tests from The Motor, Autocar, Sports Cars Illustrated, Sports Car World, and more. There are cutaway drawings and illustrations.


"MG Past & Present" by A.F. Rivers Fletcher
First Edition: ISBN-13: 9780856140747 ISBN: 0856140740
7"x10" Hardcover, 240 pp, 200+ B&W photos
Published by Gentry Book, England, 1981.
2nd Edition: ISBN: 0854294252 9780854294251 - OCLC: 15221791 Publisher: Sparkford, Nr Yeovil, Somerset; Newbury Park, Calif., USA : Haynes, 1985.


Not specifically about MGA but written by the man who owned and drove the car on the cover. This book is an impression of MG personalities and MG cars by an MG enthusiast par excellence who has known them all and driven most of them. Read about early MG development and racing from the beginning up to the early 80's. It includes over 200 black and white photographs most of which have never been published before.


The book is posted here because the cover car is a notable works development car. It was recently offered for sale at a rather high asking price, but the author of this book seems to have a different opinion about the value of the car (at time of writing).