The MGA With An Attitude
WORKS COMPETITION CARS - VT-104A

PRX 14 - HMD 13/53352 - Works Development MGA Coupe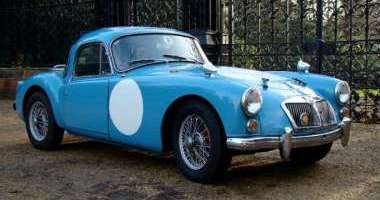 There car was built for long term development work on the MGA Coupe, but competition work was a big part of the development effort. The car was built in June 1958, nine months after the first MGA Coupe. PRX 14, an Abingdon works registration, was affixed to a 1958 MGA Coupe as a "demonstration car". When the need to improve the performance of the MGA became apparent PRX 14 became the test vehicle, and the first 1600 engine and uprated disc brakes together with various under bonnet mods were installed. The car has had engines fitted 1500, 1600, 1622, and finally 1800 over-bored to 1844cc.

This car has been featured in numerous articles and books and was a regular competitor at Prescott Hill Climb. It owes much of its prominence to A.F Rivers Fletcher, the car's former long term owner. Other previous drivers include Jack Sears and Nancy Mitchell. It is most recently fitted with many of Fletcher's individual touches such as MK2 Grille, Mota Lita steering wheel, boot rack, a number of badges, and his special "throttle stick".

The car is (or was) offer for sale in January 2009 at the astounding asking price of £84,000 (approx. €89,679 or $116,663). It is listed again in July 2009 as "Offers Considered". For as long as the links work, see here: http://www.carandclassic.co.uk/car/C89859
and here: http://www.ashridgeautomobiles.co.uk



There is a book "MG Past & Present" (not specifically about MGA) written by long term prior owner (and competition driver) of the car, A.F. Rivers Fletcher. He was of the opinion that there was nothing particularly grandeur about the history of this car. It is what it is, a factory development car sold off at end of the production period with only minimal competition history prior to his ownership. It does have a unique niche in MGA history, but perhaps not so prevalent as to demand such a high place in market pricing.

Addendum: September 7, 2009:
The car has now changed hands, and the new owner wants to say hello to the MG world. Mike Peters in Lancashire, England, will be putting the car back into service as a vintage racer, continuing the car's long history of competition use. With Mike's feedback I intend to post more about this car soon.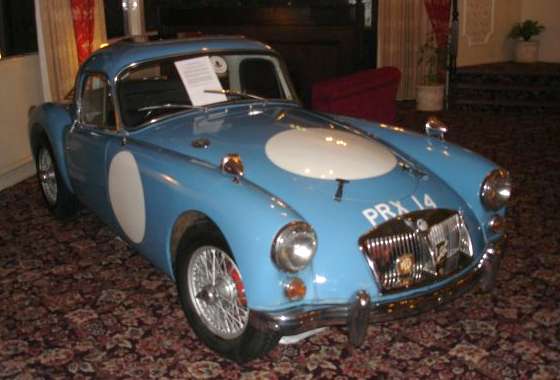 ---
On 8/18/2010, Mike Peters wrote:
"PRX 14 has been regularly used and is a pleasure to drive. She's off the road for a couple of weeks while I rebuild the front suspension and brakes and generally clean up everything under the front wheel arches".

---
On 1/4/2011, Mike Peters wrote:
"The front suspension is completed and she is still regularly driven. I will be taking her back to Abingdon on 18th January and meeting up with some of the works mechanics. Really looking forward to it".

---
On 2/11/2011, Mike Peters wrote:
"A fascinating day spent with the brilliant and inspiring Jim Cox and Brian Moylan. Photos attached of Jim and Brian reminiscing at Abingdon. (Jim on the left). A wonderful experience and a privilege to meet men who made MG history, and built the car all those years ago".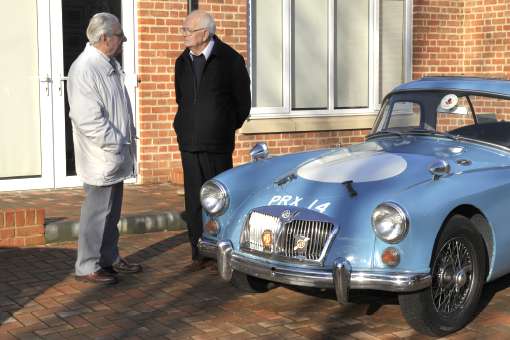 Jim Cox and Brian Moylan with PRX14, 18 January 2011

---
On 8/26/2016, Mike Peters wrote:
"It's some time since I updated you on PRX 14. She was getting a bit tired, and there was no longer the option to do bits or small jobs. So the decision was made to take her apart and put her in first class condition. A major restoration is under way and she will emerge in January perhaps better than when she rolled off the Abingdon production line and into the hands of Jack Sears and Nancy Mitchell. Don't be concerned though, she will still be used regularly and in competition again".

---
On 3/5/2017, Mike Peters wrote:
"All steel is now repaired. As you say, it will last for another 60 years now".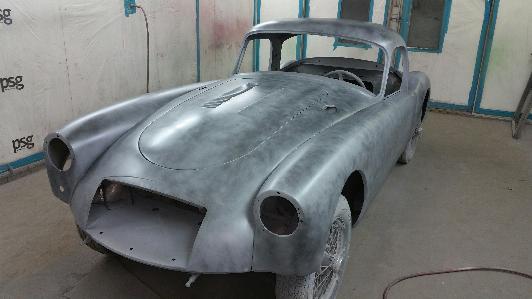 ---
On 5/20/2017, Mike Peters wrote:
"She is on the road and beautiful"!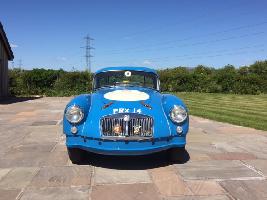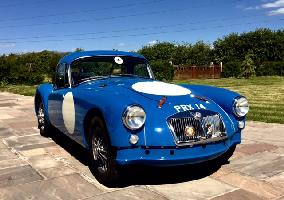 On 9/18/2017, Mike Peters wrote:
"1,000 miles in the MGA this month, and here she is in the MG Car Club North West stand at the Footman James classic car show in Manchester this past weekend. She is running like dream". -- Mike