The MGA With An Attitude
WORKS COMPETITION CARS - VT-104B

UPO 929 - HDE 13/10708 - Fitzwilliam Race Car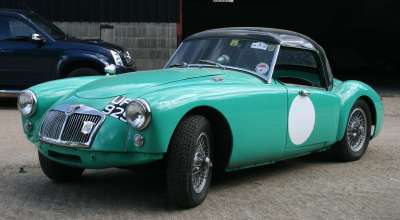 Early December 1955 build with long racing history, still unrestored original car.
On 5/21/2013, Steve Dixon in England wrote:
"I have now acquired UPO 929, the real Fitzwilliam car that was the core of Fitz's Racing Team in 1957. Built in 1955, it was Fitzwilliam's car from new. It was campaigned with substantial Works support in 1956 when it won the season-long handicap Autosport Trophy series driven variously by Fitz and Robin Carnegie. A staggering achievement. It was also successful at the Rheims 12 hrs in France. For 1957 as the core of the Team and with heavy Works support it ran Goodwood and all the other British circuits as well as the Nurburgring 1000km, Rheims 12hrs and the Mille Miglia. It was joined by three Works cars on loan including two development cars registered LBL 301 and LBL 303. For 1958/9 Fitz continued to race the car occasionally before it was sold.


"The car is totally provenanced post-Fitz and has been with the same family in England between 1960 and 2012 (who continued to race it throughout the 60's and kept it unrestored and in the public eye ever since) when I got hold of it. There are some amazing developments and improvements all fitted in period. The engine has an HRG Derrington alloy cross flow head with Weber 42DCOE carbs. There is a panhard rod, Andrex front shocks, large tank, original Dunlop alloy wire wheels, VdP hardtop and the top of the rear shroud behind the seats is cut-back almost to the tear-drops allowing better access behind the seats. Also, there are disc front brakes and telescopic rear shocks (which will not be used of course). Amazingly, the 1957 Mille Miglia seal is still wired to the steering column!


"It is being refreshed and will reappear in 2014 in original Tyrolite Green with the blue nose as it had with Fitz in 1957. Anyway, I thought you should know this astonishing car is alive and well and soon to be seen on the road and at the circuit. No doubt it will get back to the Mille Miglia along the way".

On 5/22/2013, Steve Dixon wrote:
"I think this particular car is more fascinating than even I thought, so unique, yet purposeful, are its eccentricities, all of which will be retained. And to still have the actual 1957 Mille Miglia seal! Attached a picture of the car now, with hardtop, as I acquired it. Note the unique front valance that streamlines as an under-tray back to the engine-bay underneath. Chassis, frame and body numbers all match. Body number ties in to chassis number".