The MGA With An Attitude
WORKS COMPETITION CARS - VT-104D



1957 Sebring MGA - These were 1500 cars entered in Sebring's 7th year.. The cars were prepared by local B.M.C.agents for the United States, Hambro Corp. Three cars were built. Two are known to survive today (so far).

This is the 1957 car #51, see here at MG2006 in Gatlinburg, TN, in June 2006
Photos compliments of Matt Kemper - click for larger pictures.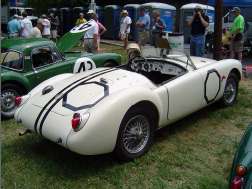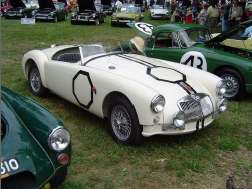 Below, the #50 Manhattan car from 1957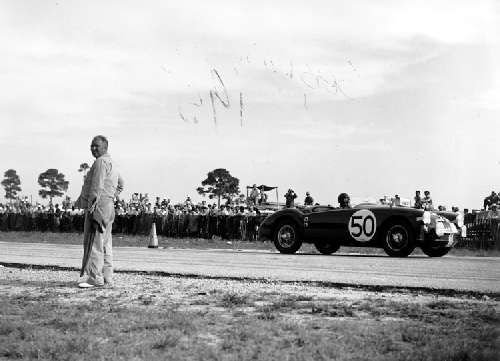 os 1957 Sebring MGA #51 Restoration by Vintage Restorations Limited
(If these links don't work, try the WayBack Machine)
os History of the car - Photos as found and in process
os 1957 David Ash interview at Sebring
os 1957 Sebring MGA EX178/49
os 1957 Sebring MGA EX178/49 page 2

os 1957 Sebring Race Video part 1
os 1957 Sebring Race Video part 2
os 1957 Sebring Race Video part 3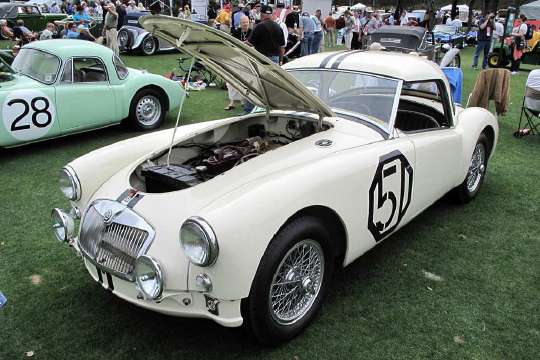 As seen at Amelia Island Concours d'Elegance 2012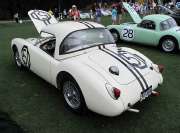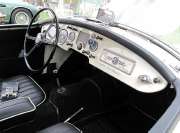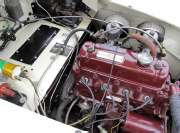 Addendum November 2013:
On 26 November 2013. G T Foster in New York, USA forwards this information which he received from Ted Rounds:


"It is a 1957 and ran Sebring that year either as a team car or a private entry by David Ashe, the sales manager for the importer J.S. Inskip. The car was modified for endurance racing, 9 to 1 pistons, a close ratio gear box, a large fuel tank with a large fill pipe that projected through the trunk lid (the tank left no room for any thing else in the trunk) and Borrani wheels. I believe they were 72 spoke. The brake drums and backing plates were drilled for cooling. I covered the holes to avoid complaints from competitors. I don't know what tires were used at Sebring but I ran Goodyear Blue Streaks, stock size. The car today has been restored to as new by Mike Eaton.


"Morris Garage purchased the car from Inskip in late 1957 or early 1958, and I bought it in 1959. I entered SCCA regional races in 1959. At the regionals 15-25 A's would be entered and we would have an all MG race. I entered 8 races and had 4 firsts, 3 seconds and 1 third. I drove the car to and from all the races. Mike Eaton has all the trophies I could find. He should have the serial number". -- Ted Rounds

---
An excerpt from MGA newsletter of the MGCC, December 1999, written by Piers Hubbard:

The MGAs were back in 1957, again there were three cars and again they were not entered by the M.G. Car Co. The same entrants as in 1956 were behind the entry for the race in March and they ran with the same numbers. As before the cars came from the stock of the dealers by whom they were entered and no records are available. This time the drivers for Car 49 were Alan Miller (U.S.A.), Ed Leavens (Canada) and Rowland Keith (U.S.A.). Johnny van Driel joined Ash and Erhman in Car 51 while the Kinchloe/Spitler duo took Car 50. Car 51 ran with cut down windscreens, no bumpers and with recognition lights on its door racing number. There were also extra external fuel filler caps visible. The cars ran without trouble and again won the Team Prize.. They were again supposed to finish line abreast but the driver of Car 49 must have had a twitch in his accelerator foot as he nosed ahead to grab the class win ahead of Car 51. These two finished 23rd and 27th overall while the other car was 36th. It seems that Hambro's had some silver bowls engraved which they presented to the drivers to commemorate the Team Prize.

---
Addendum December 7/ 2016:
Today I received this picture along with the following note. This will raise a few eyebrows while we try to verify the car. If it is a real 1957 Sebring MGA, it will be a "found" member of the shrinking list of missing Sebring cars. Note the names stenciled on the wing (after repaint): "E Leavens, A Miller, R Keith"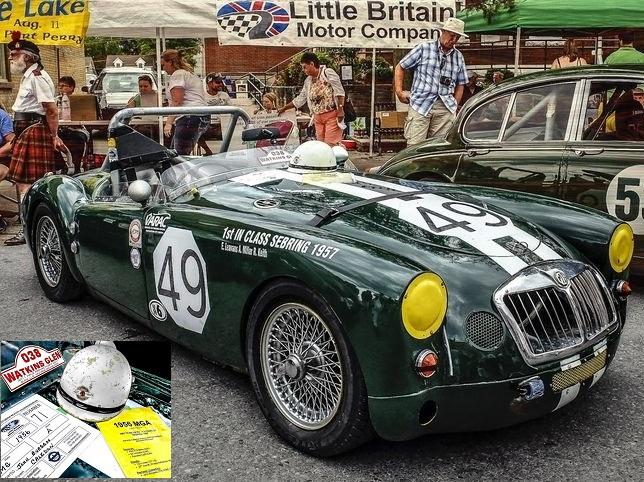 On 12/7/2016, "Charlene" <!-ccorrea4023 at rogers.com-> wrote:
"Hello, do you have any old photos on this car (or know whom I may contact for such). My uncle owns it, restored it, and still enters it in races? Thank you - Charlene



---I've attached a pic *1956 MGA *car #49 *BMC Team entry 12 hours of Sebring 1957 (1st in class CT 1.6 23rd overall, 43 laps behind the winner)".

We will be checking the chassis number. The drivers' names are shown on the papers retained from 1957 Sebring race.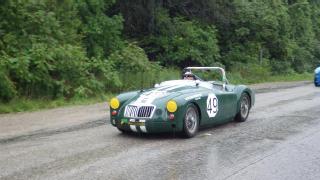 On 12/8/2016, Rob Mackenzie <!-robster1234 at hotmail.com-> wrote:
"Here is the MGA that John 'The Chief' Burgess claims is a former Sebring car. It well may be. Ed Leavens still lives here in London [Ontario, Canada]".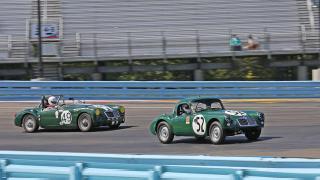 On Dec 8, 2016, Larry Smith <!-lrsmg at aol.com-> in Richmond, Virginia, USA rote:
"That is John Burgess's car. It is in Ontario and is raced regularly by Lino Braggio at Watkins Glen, Mosport, and a few other Canadian venues. Here I am with one of the 1962 Sebring cars and the #49 car. Yes, it did race at Sebring in 1957 and it has never been missing".

On Dec 9 2014, Ralph Zbarsky <!-zedeng at shaw.ca-> in Vancouver, BC, Canada wrote:
"Here are two photos of this car from the race at Watkins Glen in 2014, in the line-up of the Sebring cars we posed at the track. It is at the end of the line up in one shot, at the front in the other. As Larry says, it is a known car, owned by a good Canadian boy". ..... RZ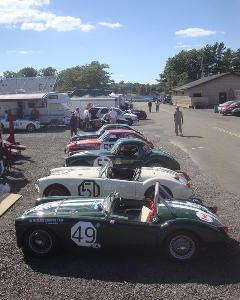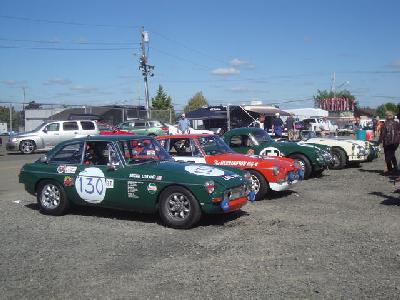 On 09 Dec 2016, Daniel Burgess <!-danandlynnb at gmail.com-> wrote:
"Here it is the day we picked it up. You can still see the white stripes".

"The car was raced by one of the Sebring Team mechanics for a few years and then stored on a front porch in Toronto for several years before being sold. The new owner planned to restore it as a street (not race) car but never did. My Father was looking for a Canadian race car to restore. After many years of research by many people, the car turned out to be a Sebring Class winning car. In the photo you can still see the white stripes on the back of the body".

---
On Jan 9, 2017, Lino Baggio in Guelph, Ontario, Canada wrote:


"I'm the current keeper of #49 Sebring winning MGA. John Burgess graciously gifted me the car a few years ago. You will not find a nicer, more knowledgeable MG ambassador than John. Many MG owners throughout Southern Ontario and at many vintage race events owe John a debt of gratitude as he is often the brains and hands behind keeping these finicky machines moving under their own power.


I've been campaigning #49 for the last 4 years, mostly at Mosport (can't bring myself to calling it Canadian Tire Motorsport Park) I do about 3 events a year. I've also had it to the Glen a couple of times. I've attached a few pics .... the car is alive and well, again many thanks to John". -- Lino