The MGA With An Attitude
WORKS COMPETITION CARS - VT-104F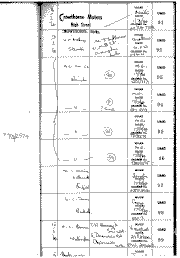 Kithead listing of 1960
Sebring Twin Cams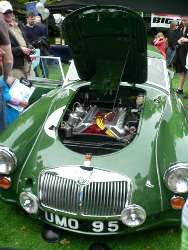 1960 Sebring MGA - These were 1600 style Twin Cam cars. The cars were roadsters fitted with bolt-on alloy hardtops. The body tonneau aft of the seats was slightly modified to allow stowage of a specified size piece of luggage as required by newly revised rules pertaining to production based sports cars. The folding convertible top was also deleted for the same reason. These five cars were ultimately to be the only Twin Cam roadsters on record with hardtop installed by the factory.


Find more information about these cars in the MGA Twin Cam tech section.

---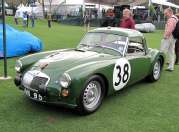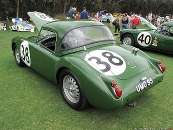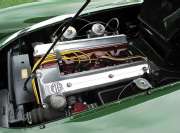 As see at Amelia Island Concours d'Elegance 2012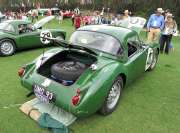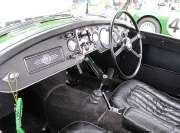 ---
On 12/18/2012, Ian Prior <!-ianrobertprior at gmail.com-> in Melbourne Australia, wrote:
"The Sebrings, well at least the 1960 and 1961 cars were painted what I believe is called Brooklands Green. It is the Prewar MG Factory Racing colour as per K3 etc and has a a lot of yellow in it. i matched the colour to the remains of the green on the underside of my front mudguards and interior".

---
An excerpt from MGA newsletter of the MGCC, December 1999, written by Piers Hubbard:

M.G.s were back for the 1960 race, held on 26th March, but again entered by the Hambro Corporation. There were also three Austin Healey 3000's and two Sprites: one of these was entered in the four hour race which was held on the previous day. This year there were five MGAs specially built at Abingdon, YD2. 2571 to 2575. These roadsters with alloy hard tops to add lightness were finished in British Racing Green with 4.55 ratio rear axles and close ratio gears. They had black competition seats, wire wheels [correction: knock-of pin drive steel wheels] and oil coolers. YD2. 2574 never reached Sebring although it now lives in Canada. Their engine numbers, in chassis order were 2231, 2039, 2011, unknown, and 2233. Three of these cars started the race, YD2. 2575 (registered UMO 96 and numbered 39) was driven by Fred Hayes and Ed Leavens from Canada, 2571 (UMO 93, No 40) by Jim Parkinson and Jack Flaherty (California, U.S. A.) and 2573 (UMO 95, No 38) by Ted Lund and Colin Escott from the North of England. The cars ran without bumpers but with additional driving lights and small signal lights on the roof. There were many interior and mechanical changes including two speed windscreen wipers after the 1959 experience. One of the internal changes was the inclusion of a hump in the decking behind the seats in order to incorporate the obligatory F.I.A. suitcase.

The 10 am start was taken by 65 cars and still employed the Le Mans style start. It was only 2-1/2 laps into the race that No 38 pulled up with a broken valve spring. The rough track seemed to be causing problems to the other two as they had to have their fractured brake pipes renewed during pit stops. The class was being dominated by the usual Porsches and the M.G.s had to settle 3rd (No 39) and 4th (No 40): they completed 160 and 148 laps respectively. The leading M.G. in 1959 had completed 155 laps.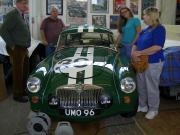 24 May 2014: Photo compliments of Giovanni Delicio <!-Giovanni.Delicio at sidel.com-> in Germany. In the photo, Ron Neal <!-frneal at homesc.com-> and his family. Current owner of the car is Wolf Pröbsting, on the left in the picture.