The MGA With An Attitude
THE 1960 MGA TWIN CAM SEBRING CARS - TC-105
These were Twin Cam roadsters with bolt on aluminum hardtops for lightness. Five of these cars were built. Four went to Sebring, three to race and one as a practice car. The fifth car when to Canada, never raced at Sebring.

From the beginning of the M.G. Car Company in the late 1920's through the early 1960's the MG factory was regularly in the habit of building and sponsoring production based cars for competition as a way of demonstrating the strength and durability of the cars. 1960 was the only year that the factory built Twin Cam MGA roadsters for the Sebring race in Florida. Five virtually identical Twin Cam competition cars were prepared at that time, four of which went to Sebring for the endurance race on March 26, 1960, and one to an importer in Canada (never to be raced at Sebring). One of the Florida cars was to be a practice car, being substantially flogged by all of the team drivers in the days prior to start of the Sebring endurance race. Only three of the cars were run in the official competition. All of these cars were to be painted green with black interior and were fitted with hardtop, 4.55:1 final drive ratio and close ratio gearbox. The engines were close to stock except for being fitted with 2 inch carburetors in place of otherwise standard 1-3/4 inch carbs.

---
The five specially prepared 1960 MGA Twin Cam "Sebring" cars:
YD2/2571 - UMO93 - Sebring car #40 - Finished 4th in class and 29th overall, driven by Americans Jim Parkinson and Jack Flaherty (more on following page).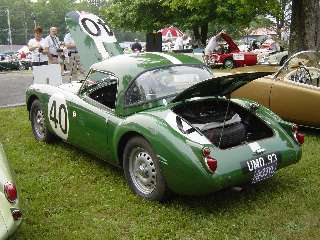 Photo compliments of Rick Brown

YD2/2572 - UMO94 - Sebring car # P - The practice car - Initially sold to Bob Deull, later transferred to Bob Moran, ultimately ending up at the bottom of the Atlantic Ocean near Cuba (more on following page).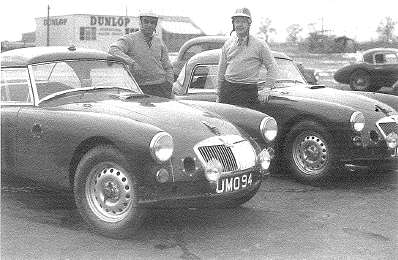 Photo from ENJOYING MG, July 2008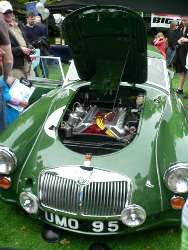 YD2/2573 - UMO95 - Sebring car #38 - Broken valve spring after 2-1/2 laps, driven by Englishmen Ted Lund and Collin Escott (more on following page).

YD2/2574 - The Canadian car - Long time owner Robin Barker, Ontario, Canada (more on following page)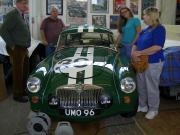 YD2/2575 - UMO96 - Sebring car #39 - Finished 3rd in class and 24th overall with average speed average of 68.5 mph, driven by Canadians Fred Hayes and O.D. Leavens (more on following page).