The MGA With An Attitude
1960 MGA TWIN CAM SEBRING CAR #P - TC-105-2572
YD2/2572 - UMO94 - Sebring car # P - The practice car - Initially sold to Bob Deull.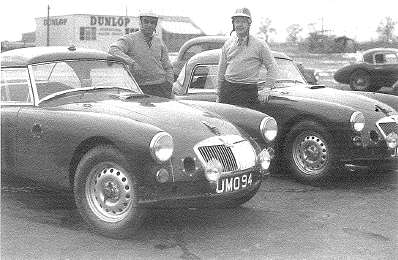 Ted Lund and Colin Escott testing at Silverstone the Twin Cam roadsters entered for the 1960 Sebring race in Florida. - (photo from ENJOYING MG, July 2008)

ADDENDUM: January 8, 2005
From a note in the new MGA 50th anniversary book "Call It MGA", final destiny of the 1960 Sebring MGA practice car is resolved, as follows:

"The 1960 Sebring MGA Twin Cam practice car UMO94 (YD2-2572) was originally purchased by Bob Deull. However, a subsequent owner was Bob Moran, who was a Florida based treasure hunter who had the habit of taking his MGA with him on-board ship whilst treasure-diving around the Caribbean.

"Unfortunately he was caught in a storm off Cuba whilst heading for the Dominican Republic. The ship was lost, taking Bob's Twin Cam with it when it went to the bottom. Bob subsequently confirmed that it still had the original Abingdon prepared Sebring engine fitted at the time. He also said that he had a pretty good idea where it went down, but he didn't think there would be much left of the car after all these years in the warm salt water. So, it has to be considered a total loss."