The MGA With An Attitude


MGA Guru Is GOING MOBILE - (June 1, 2015 - June 15, 2015)


Monday June 1, 2015:
From Manteca CA, due east away from the cities of the west coast, we headed due east on CA-120 into the mountains. Well, it was as near due east as twisty mountain roads will allow. Passing through Oakdale we followed CA-120 and CA-108. A few miles north of Keystone CA-120 joins CA-49 East. Several miles farther on CS 120 parts company from CA-49, and the real fun begins. For several miles from Moccasin to Priest we were up and down 3rd gear hills and using 2nd gear through the switch backs. We made a fuel stop in Groveland CA (before fuel got too expensive), figuring to have enough fuel for the rest of the day as planned. Pushing right along for the next 32 miles took one hour (giving some idea of the state of the twisty roads and hills).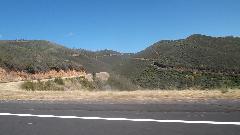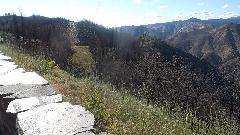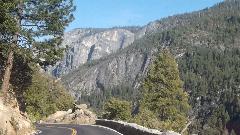 We then parted company with CA-120, taking the right fork onto Big Oak Flat Road (which is definitely not big or flat), more twisty hills Ten miles on this joins CA-140. A mile later we take the right fork onto South Side Drive, already well into Yosemite National Park.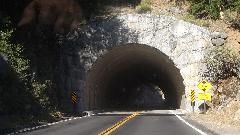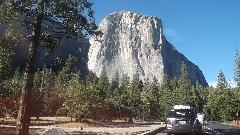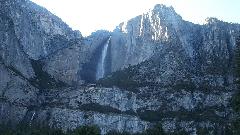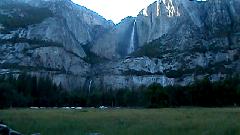 12 second video of Yosemite Falls (NOTICE: 15.6-MB avi file).


I don't recall the exact point where we passed the entrance gate, but the entrance fee was interesting. $30 for one day, or $80 for a seasons pass for all National Parks. Or my favorite, $10 for a lifetime pass for all National Parks for seniors over age of 62 (including everyone in the car with you). Bingo, we have a winner. As for many National Parks, vehicle traffic is dense and often slow going. Yosemite is a nice place, although the great falls was just a bit disappointing due to limited water flow (lack of winter snow) and evening shadows. We gave the Yosemite Valley loop road a slow and thoughtful sight seeing tour before we headed out.


Half an hour to make our way back to CA-120, then east again on Tioga Pass Road (CA-120). This ran 60 miles in 80 minutes (45 mph average) until joining US-395. Several miles south CA-120 splits off again heading east another 51 miles in 51 minutes (cooking the curves a bit) until it terminates at US-6. With nightfall it nice driving into the full moon. At least one of the mountain passes was just shy of 10,000 feet (but we weren't keeping track of them all). US-6 East is mostly flat for 80 miles in 78 minutes (if you believe Mapquest) which put us into Tonopah, Nevada for the night (seeing the city lights from 20 miles out). You may notice no mention of interstate highways.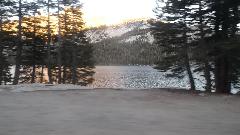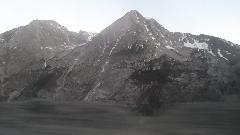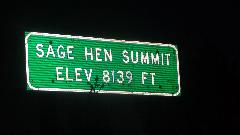 I can now report first impressions on the air intake stub stacks installed a couple days earlier.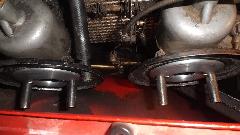 They do seem to live up to expectations, and I suppose the reported 4-hp improvement may be real. The engine seems to pull a bit better towing the trailer in the hills. This is not a radical change, but another nice incremental improvement. It takes maybe one day to get used to it, after which the new performance becomes the norm. Looking back over decades of similar minor changes the accumulated overall affect is quite notable. Think change of 1500 to 1600 block, now 0.060" overbore, early 1800 cylinder head, stub stacks, 3.90:1 differential, slightly lighter flywheel, MGB clutch. I would not change it all back to OEM specifications.

Tuesday June 2, 2015:
Tonopah was not much to look at in the morning, so we pressed on. We found a few historical markers in Nevada, and the mountains were nice, in between the long flat valley stretches.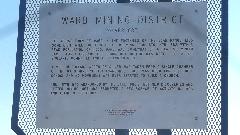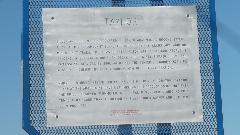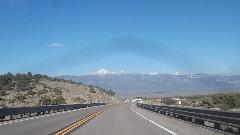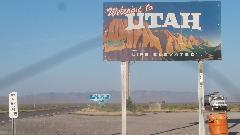 Then goodbye Nevada, and hello Utah (next services 83 miles). Also change to Mountain time and add an hour to the clock. By this time we were following US-50, "the loneliest road in America", and we like it that way. Mountain passes here were mostly in the 6000 to 8000 foot range, so I suppose the valleys were close to a mile high. With nightfall came some problems with headlights again, so cut and crimp to replace a few loose snap connectors with gas tight butt connectors.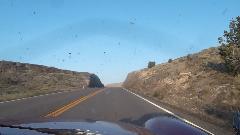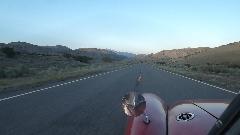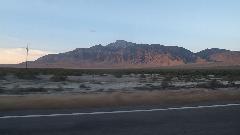 Oh, by the way, the Harley Davidson brake light switch crapped out today after 9 weeks and 8274 miles, right on schedule along with the "Made in Mexico" switches. Look for an auto part store in the morning. Settled in Salina, Utah for tonight.

Wednesday June 3, 2015: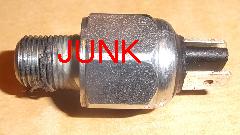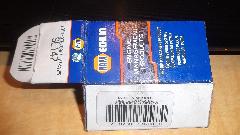 Replaced the failed Harley Davidson brake light switch today. Will have to cut it open later for inspection. Replacement was NAPA Echlin SL147. This one has spade terminals, just so I didn't have to change the wire terminals again.

Today we would make some time and miles through Utah and Colorado. We followed this truck at 75 mph for a long time, often using the close in draft to help us up a few steep hills in the mountains.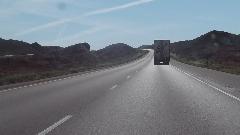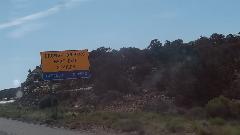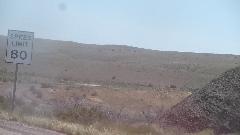 When the road got flatter in the valleys, boredom could begin to set in, and we certainly understand the road signs. But we have a solution for boredom, just kick it up a little faster, and the MG will keep you awake. Apparently the new plastic cooling fan works pretty well, as the temperature gauge never went anywhere near end of scale, even in the hot desert flats between the mountain ranges. And there were some lovely mountains here.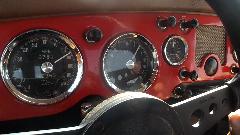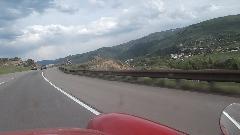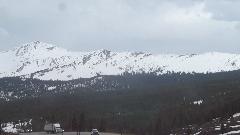 Approaching Denver we took a shortcut on US-6 for 15 miles followed by the CO-58 expressway through Arvada to get back onto I-70. This short stretch of US 6 is mostly 45-mph speed limits, and it is very delightful at that speed. It winds through a mountain valley commonly running beside a large creek with vertical rock walls on the opposite side, at least once through a tunnel. We had just missed a rain storm, wet roads and misty. Such a wonderful reprieve from a long day on high speed expressways. Tonight we stopped in Limon CO, an hour east of Denver. That decision was intended to avoid driving into a severe lightening and hail storm..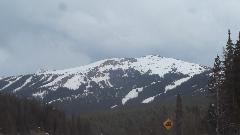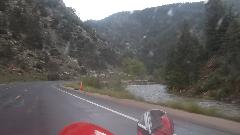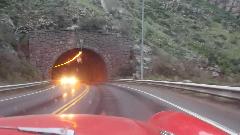 Thursday June 4, 2015:
Spent some time on WiFi today doing planning (too much time on WiFi). But we did manage to help a couple of disabled cars. First was a modern sedan that would not start. Jumper cables got it going. Voltage test found a very dead battery that would not take a charge. Advice was to not shut it off until they found a new battery for replacement.

Next was a phone call from Columbus, Georgia. A fellow with an MGB traveling from Oregon to Florida had electrical problems, stopped at side of road, found by Keith Farley in his MGB (recall early December and late January for that fellow). Story was the car ran and drove okay but had no electrical function for anything powered by the top fuse (white wire in and green wires out). A return text message a few hours later confirmed that a fairly new replacement fuse block had failed with a bad connection, and a good used part had him back on the road in short order

Only 163 miles today, mostly after dark, stopping near Oakley, Kansas. Kind of boring, no photos.

Friday June 5, 2015:
Hauling tail today, 360 miles running mostly 75-80 mph on I-70 into Kansas City, Missouri by 5:30 pm. Did I say it was hot on the Kansas plains? We had an appointment for a BBQ social with Kansas City MG Car Club.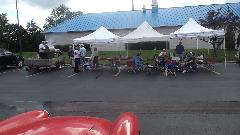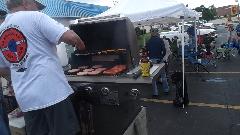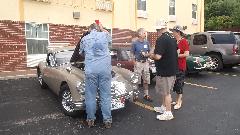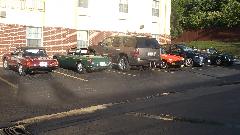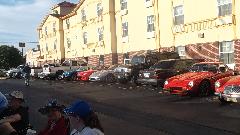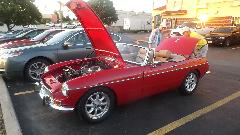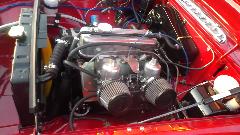 Then there was a call for help for a '72 MGB, mostly original equipment with HIF carburetors. It had been running well for quite some time, until today when it began backfiring (presumably through the carburetors) occasionally at road speed. Owner had adjusted the front carb (easier to reach) very rich, and the backfiring stopped, but it then had bad idle. First business was to reset the carbs back to correct mixture to restore good idle.

There was also a complaint that the temperature gauge had run up to the "H" mark, which it had never done before. Likely the backfiring issue was a result of running hotter than normal. It had clean coolant, had not lost any fluid, and the fan belt was tight. Bit of a mystery, but possibly a bad thermostat not opening far enough in hot weather. It was running normal temperature tonight. Owner will replace the thermostat in the morning to see if it helps.

Saturday June 6, 2015:
Heartland MG Regional Car Show in Parkville, MO today, presented by Kansas City MG Car Club.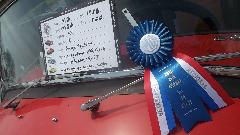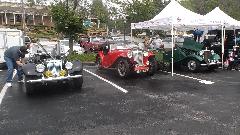 First in class today. I suppose it helps to be the only car in the class. Nearby the MG TF, TC, TD, and 1930 M-Type Midget. Other end of the line had a Lotus Elise and Austin Healey 3000. Rainy day in the morning.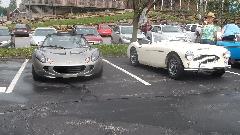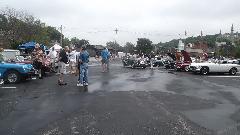 Enough MGB for multiple classes. Several Midgets, including one with a transplant Japanese twin cam engine. And a few modified MGB V8.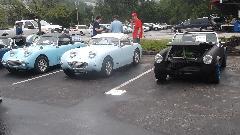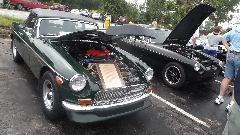 Triumphs, TR3, TR4 TR6, TR GT6+, Spitfire, and a Morgan Plus4. About 50 British cars in all.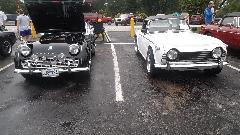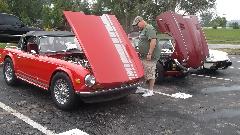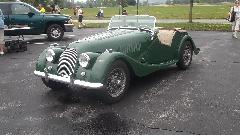 Click for more car show photos and notes.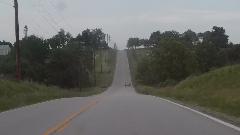 Spent a little time on WiFi after the show, then took an evening/night drive on minimally traveled state highways (no interstates) MO-45, US-59S (into Kansas), US-73N, KS-20, US-75N (into Nebraska), then NE-2, 194 miles in 3-1/2 hours. Spotted a couple classics in a Ford dealer in Falls City, Nebraska. Sitting in Lincoln, Nebraska tonight, ready for morning appointment.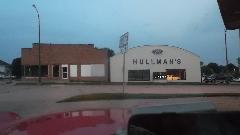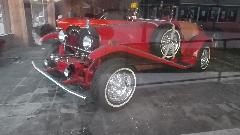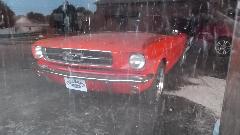 Sunday June 7, 2015:
Flatwater Austin Healey Club - Autocross at Southwest High School, Lincoln, Nebraska. Web site said 9:00 am. Apparently that was for set up time, so we had some time to spare. Quick trip to nearby gas station to add a bit of air pressure to front tires. Check and add a quart of oil. Needing to disconnect the trailer, this was a good opportunity to replace the trailer connector. With the car emptied, registered and tech'd, and a couple of walks around the course, borrow a helmet, and it was time to rumble.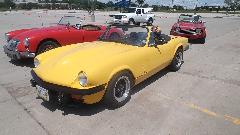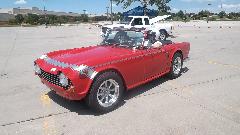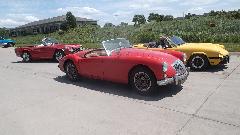 Say hello to several fellow Brits. I know the Flatwater Austin Healey Club has more MG's than AH's, but on this day I think there were no Austin Healeys present.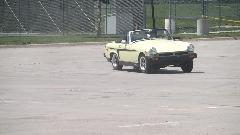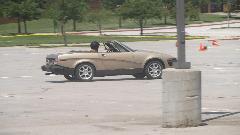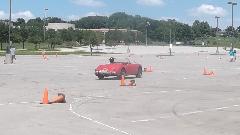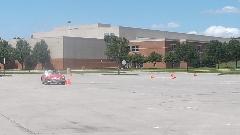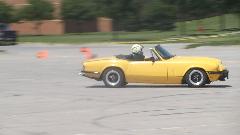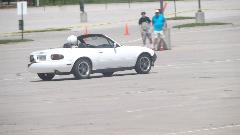 Well the Brits had plenty of fun, interspersed between a bunch of Miatas and a few others, 20 drivers I think. Four runs in the first group, four runs in the second group, lunch break on a hot day, then back to do it all over again.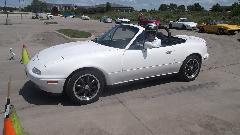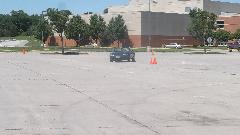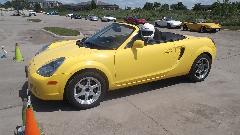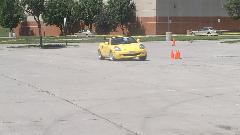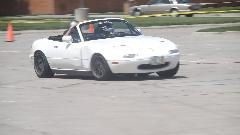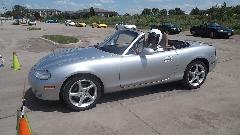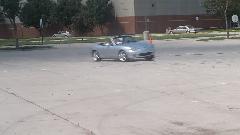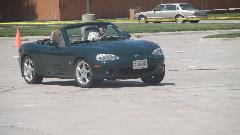 And then there was this little incident during fun runs after competition was over. The TR250 lost a wheel due to (1) thick aluminum wheel, (2) wheel spacer plate, (3) lug bolts too short, (4) insufficient length of engagement of the lug nut threads, (5) striping of the threads causing loss of all four lug nuts.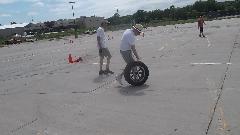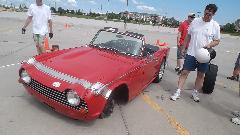 Get new lug nuts, omit spacer plate, reattach wheel, and take it very easy going home. Replace studs later.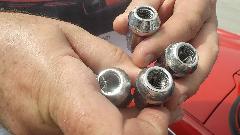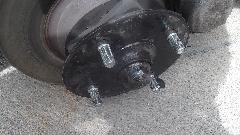 After the entertainment, a short time in air conditioning for photo processing, and a Walmart visit for a load of engine oil (upcoming oil change) and a DC to AC adapter (so we can get back to charging the computers in the car). Then down the road a few hours to Independence MO, east side of Kansas City), ready to run to St Louis next day. Then back on WiFi again to post the photos and notes on line, and send some photos back to the Healey club for their use.

Monday June 8, 2015: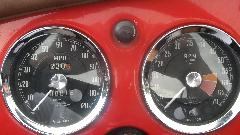 First minor report for the day, the main odometer rolled over all zeros again today. Make that 300,000 miles since restoration in late 1986, 450,000 miles since new (46,000+ on this road trip).

We had a hot afternoon run across Missouri west to east, landing in St Louis for an evening meeting with MG Club of St Louis (25 people present). Good meeting, and some new friends.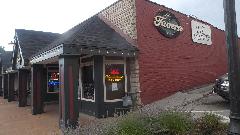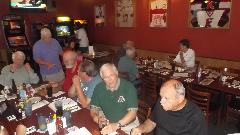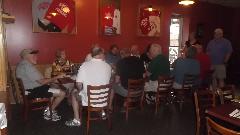 After the meeting, a little tire kicking in the car park, after which we follow this other MGA 56 miles (mostly north) to Elsberry MO, destined to spend the night with Robert Guinness. En route we notice jiggly front suspension (needs oil in the shocks), no brake lights (needs a new pressure switch), and a pair of bright spots above the license plate (misaligned lamp bracket and missing some parts in the license plate bracket mounting).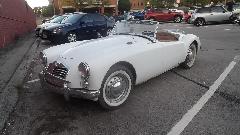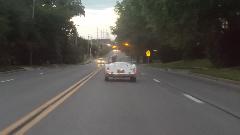 Tuesday June 9, 2015:
Next morning, say hello to Robert (on his way to work). That gravel road is "Long Boulevard", the street that he lives on. Then nearly 30 miles of MO-79 heading south, which is quite pleasant where sparsely populated.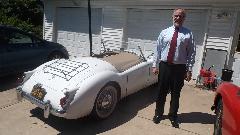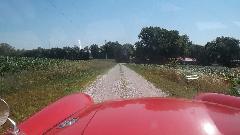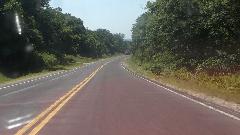 We were off to visit British 4X4 (Land Rover) in St Louis. The BGT and TR250 belong to employees. The rest are corporate or customer cars. The Austin America caught my eye, because I used to own one (45 years earlier).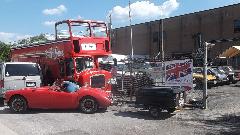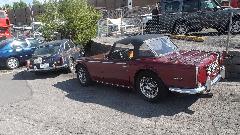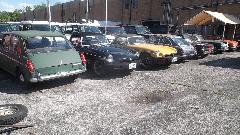 Lots of Land Rovers here (the corporate namesake), and a few vintage taxi cabs.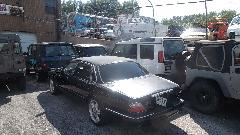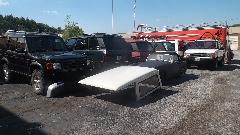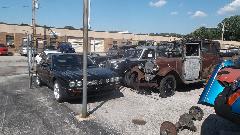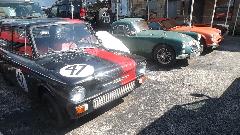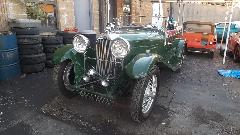 Sunbeam, MGA, TVR, MG Midget, and a customer's Lagonda in for some streetable upgrades.

Indoors more toys, MGB and MGA.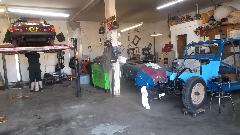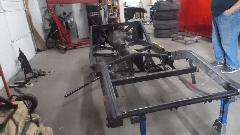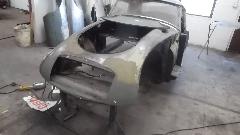 Morris Minor, AH 3000, and an interesting MG TD going street rod with V8 and air suspension.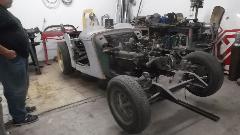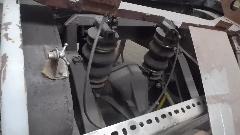 Then we were off to visit Dennis Scanlan in nearby Manchester, MO. He has (currently) five MGAs in show condition, four Twin Cams, one race car, two Coupes. I like MGAs, but I can only handle one at a time.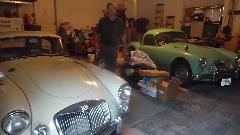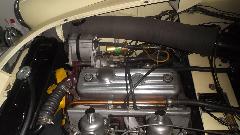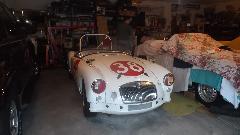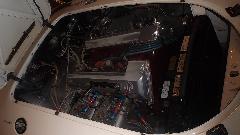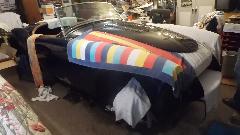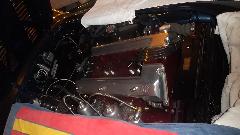 In the evening we head north on US-67,out of Missouri, and spend the night in Beardstown, Illinois.

Wednesday June 10, 2015:
A long stationary work day, mostly spent posting the June newsletter on the CMGC website. By late night we opt to stay put in Beardstown to avoid a nasty storm rushing west to east through central Illinois. Good move apparently, as there were reports of up to six inches of rain right where we would have been traveling.

Thursday June 11, 2015:
Heading due north today, 35 miles more up US-67, 6 miles east in US-136, then 35 miles north on IL-41, a smattering of trees, mostly flat farm land with lots of corn and soy beans, some historical markers and vintage landmarks. Most of these Dutch stye windmills were grain mills about a hundred years ago.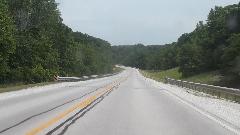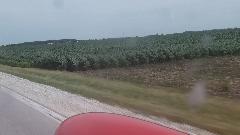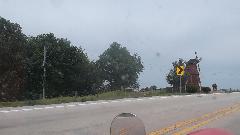 Passing through Abingdon, Illinois (founded by people from Abingdon, England), an amazing collection of welcome signs for a town of 3300 people. Some small business on the main highway, and a two block detour to the older business district.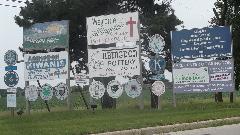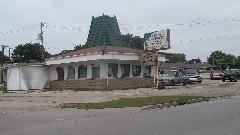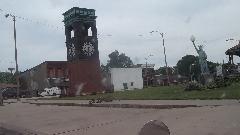 This is the place where Chicagoland MGB Club (later renamed Chicagoland MG Club) used to celebrate in early fall with a week end trip for a car show, road rally and autocross in the street. This may be the only place in America with a main street three blocks long and eight lanes wide, and they were willing to cordon it off for us to lay down tire rubber for a few hours. The trick there was that they had removed the center grass boulevard for a few blocks to make more parking space in the business district .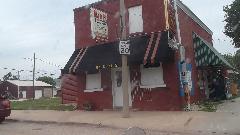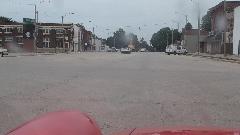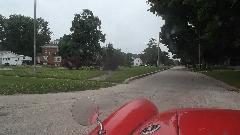 After looping past Galesburg, a bit farther north along US-82 near Cambridge, we passed these large electrical generating windmills, which are becoming more plentiful every year in the mid west. In early afternoon we arrive in Geneseo, Illinois and say hello to Scott Johnson. He has an MG Midget, but it was on the road with his son when we arrived.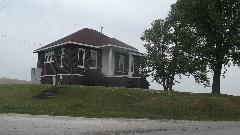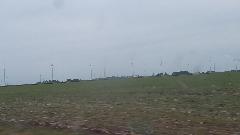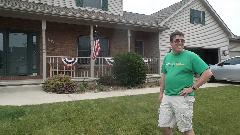 So we decided to take the 1925 Dodge touring car for a little cruise (after priming the vacuum chamber fuel pump to get it going). When touring at about 40-mph, be prepared to wave at everybody.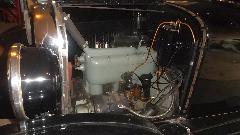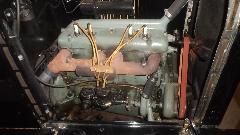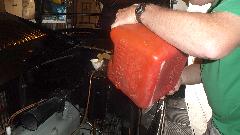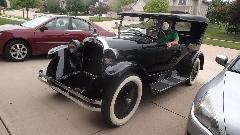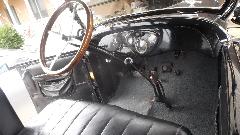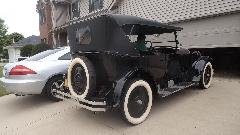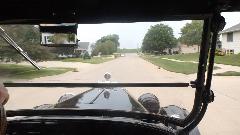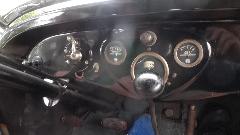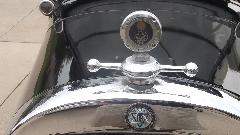 Meanwhile the Midget returned, and it had been running rather rough (very rich), so we took the opportunity to tinker with the carburetor adjustments. That done, it was time for another oil change for the MGA (something like the 11th time in 46,000 miles). Then put away the toys for the evening as it was time for dinner and chat.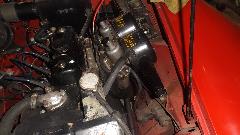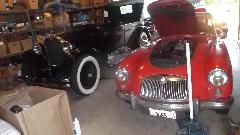 Friday June 12, 2015:
Email is dead since last night. Server company changed the rules for server access, different mail server designation, different input and output ports. A call to tech support sounded promising, but no fix, so still no email access. Bummer. But the world doesn't stop turning.

On the road again,short trip today, a couple of hours to Sandwich, Illinois, to visit older daughter in her new digs. Also needing to renew my driver's license, and Saturday morning seems like a good opportunity (with DMV office few miles away), so we stay over night. Good to be back with family for a moment.

Saturday June 13, 2015:
Technical problems with the DMV, needing a bit more documentation, no renewal today. Bummer. Next stop was the Post Office to attempt to pick up a replacement PO Box key. The key was ordered and paid for in mid March, supposed to be available in two weeks, to be picked up by daughter. When daughter tried to pick it up, it was "not found". Today it is still "not found", follow-up inquiry posted, will look into it Monday, call later for follow-up information. Loosing respect for USPS (as though my respect wasn't low enough already). Bummer #2. Third stop was the bank for official change of address, and request a verification letter for the DMV. This will have a 48 hour wait for a verification letter to be picked up later. Bummer #3. Next issue is change of address for Social Security system, should be an easy phone call, but requires email verification, and email currently doesn't work. Bummer #4. Now high priority to get email working, so find a WiFi station. Call to web server tech assistance results in being put on hold for 15 minutes. Rats. Call back later. Bummer #5. So far not a great day.

A bit of time off to have dinner with younger daughter. Then back to the phone to call tech assist again. This time success, and my email is working again. Three days messages to catch up, about 2/3 through by small hours of the morning. Have to resume later (needing some sleep first).

Sunday June 14, 2015: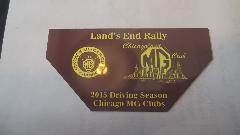 Rain, rain, rain, so the Austin Healey Gymkhana was cancelled for the second week in a row. This leaves the day open for "Lands End Trail and Rally" with Chicagoland MG Club. Drop navigator Elliot off with friends (Glen Ellyn, IL) for the day, and pick up navigator Seth Jones (Glen Ellyn, IL) dropping the trailer at his place, and high tail it up to Wasco, IL with intentions of giving it a jolly good go. Rain mostly ceased by the time we arrived. Count 12 cars for the "competition".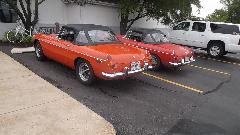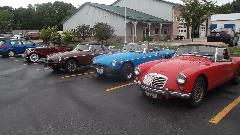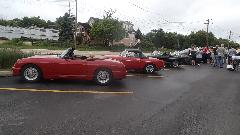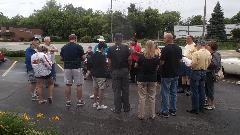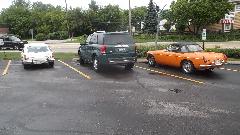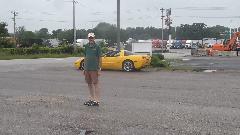 Typical gimmick rally, beginning with a couple of MG related questions and several unrelated questions with no clue what the answers will be used for (keep in mind the rallymaster is god). Route instructions were fairly clear, questions in sequence with very easy answers, so we expect there will be a six way tie for first place (again as usual). Can't wait to see what they invent for a tie breaker after the rally is over, since there was no tie breaker defined in advance, Then there was this "VRY YLO" Corvette laying for us at a mid rally checkpoint, requiring us to do something silly with our MG for a picture to be "judged" by committee later (a primary part of the tie breaker I suspect).

We had accidentally picked up two sets of rally instructions, so I was using one sheet to review route instructions as I drove. Part way through we discover the two instruction sets were different, defining two different routes and a few different questions and answers. This should be taboo, not to treat all contestants equitably and not giving same information to everyone (but nothing new for this club). On the rash assumption that this may have been an oversight or error (not intentional), we didn't know which instructions should be the valid set, so we ran both routes and answered all of the questions and turned in both answer sheets when finished.

At rally's end we crowded into Rosie O'Hare's Public House in Dundee IL for food and libation while awaiting rally results. As far as we know we had a perfect score with all answers correct, but it was no surprise when the first three finishing places went to other teams, no scores announced, no list of correct answers for the questions, no mention of ties, and no explanation of how the winners were determined. Perfectly normal for this club.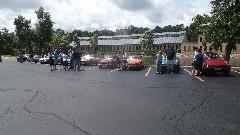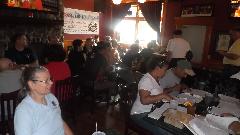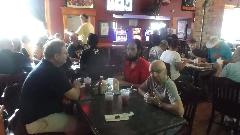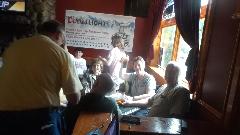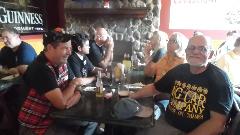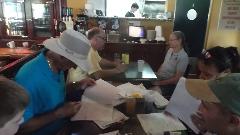 Disappointment aside, it was a reasonable social get together. We then headed back to Seth's place to return him and pick up the trailer. Then I was off to my WiFi connection to catch up with "guru work" while awaiting a call to pick up navigator Elliot. After dark it was pick up time, and we headed east. Another time zone change Central to Eastern time) as we rolled through northwest Indiana and into Michigan, stopping for the night at exit 1 on I-90 (just after midnight local time).

Monday June 15, 2015:
Early afternoon start was followed by a sprint across Michigan on expressways in the rain. We arrived at the Bavarian Inn in Frankenmuth MI at 5:30 pm to sun and humidity, and paid a late fee to register for NAMGAR GT-40. Some cars had arrived Sunday evening, many more arriving today for the first official day of activities. Out to the car park for some pictures, then inside for the light welcome dinner.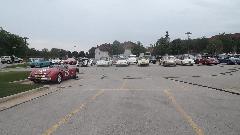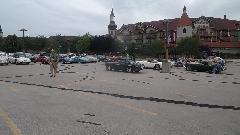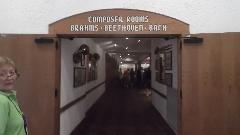 This was followed by an orientation meeting (introduction to the week's activities) including a bit of live entertainment. Shortly later we were off to the hospitality suite for the most important socializing with other MGA enthusiasts, some old friends and some new friends. One bit of disappointing news was that Scott and Mary Davidson from Ensinitas CA had flown in after their MGA had left them stranded and was towed twice only a short distance into their trip (first the SU fuel pump, then perhaps a failed Pertronics ignition module). Looking forward to midnight tire kicking tech sessions in the car park, but not to be as it was raining again, so just turn in for the night.

Find more photos and notes for NAMGAR GT-40 on a following page.