The MGA With An Attitude


MGA Guru Is GOING MOBILE - (September 1, 2015 - September 15, 2015)


Tuesday September 1, 2015
After a few hours sleep, good morning, September. We are in Richfield, MN (Minneapolis) for a lunch meeting with Minnesota MG T Register. Maybe 20 people here today. The gentleman front left in the third picture is Lew Palmer, Registrar for North American MMM Register (more about him later). Most of the people here already know who we are, so no need for extended song and dance, although they are curious about how many miles we have covered in the past 16 months (58,000). Hello everybody, good times all around, and lots of MG chat over lunch.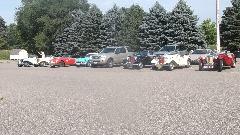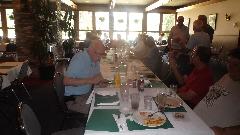 Then back to the car park for some tire kicking tech sessions. One MG TD had a diagnostic challenge. It knocks and rattles like the fan touching something, but only in a hard left turn and/or when on heavy throttle. There was about one minute to discover the cause. Fan was not touching anything, but a hard push on the engine would make it rock some. Problem was faulty bushings on the inboard end of the engine stabilizer link. Fast left turn or hard on the throttle would cause the engine to tilt, and engine vibration would cause rattling against the stabilizer link. Easy enough fix, just a few dollars for bushings and a few skinned knuckles for installation (later, thank you).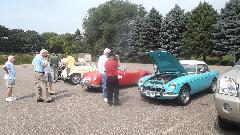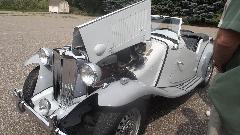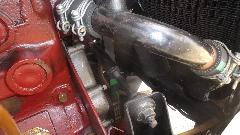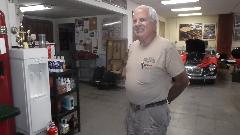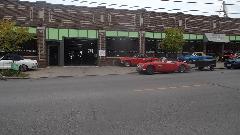 Then we were off to visit Quality Coaches in Minneapolis, and Mark Brandow who has been doing business here for 41 years (since 1974). There is an eclectic bunch of cars here, and an extensive line of satisfied customers.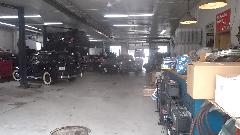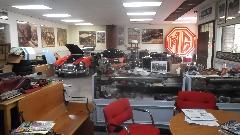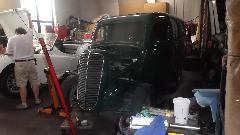 I looked for a long time to find something that wasn't British, finally landing on the DeTomaso Pantera which is American Ford derivative with Italian design input (intended successor to the Ford GT-40).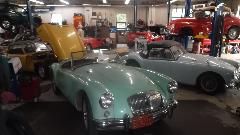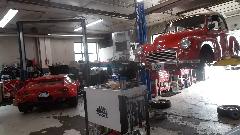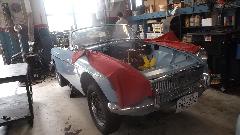 We covered a lot in a 20 minute visit before we had to push on for other appointments.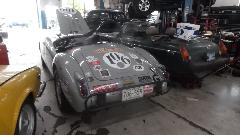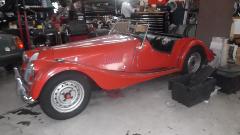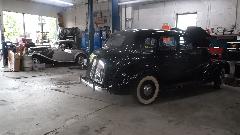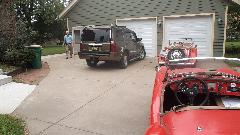 Then we were off to the east end of town (St Mary's Point, MN) to visit Lew Palmer, who is Registrar for North America MMM Register. A most prized possession is his 1936 MG PA Airline Coupe. By comparison, the MG TD parked outside is his "modern" daily driver car. On the side he manufacturers LED tail lights for some of the older vintage cars.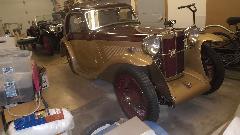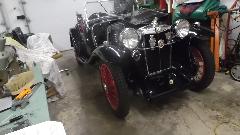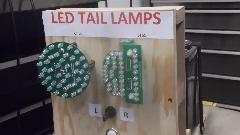 The we were off again post haste heading east on I-94, intending to reach Eau Claire, Wisconsin to visit Eau Claire British Car and the owners Steve and Diana Rindt. An hour on we got a call noting that they were closing shop early, while we were a bit late, and they had another commitment for the evening. So we hit the brakes and pulled into a WiFi spot to consider alternatives. It soon dawned on me that we had overlooked a friend back in the Minneapolis area, just about an hour and a half west of where we were sitting. Made a call; left a voice message. Half hour later received a return call, and the friend is not home, but he is in Delafield, Wisconsin, still ahead of us going east. This worked in with some other plans in the same general direction, so we rearrange the route and schedule (nothing new). Given a bit of breathing time, we can catch up with a bit of WiFi work, then press on eastward at 10-pm. About 1-am we stopped 30 miles short of Madison, Wisconsin for a rest stop. G'night all. Zzzzzzzz.

Wednesday September 2, 2015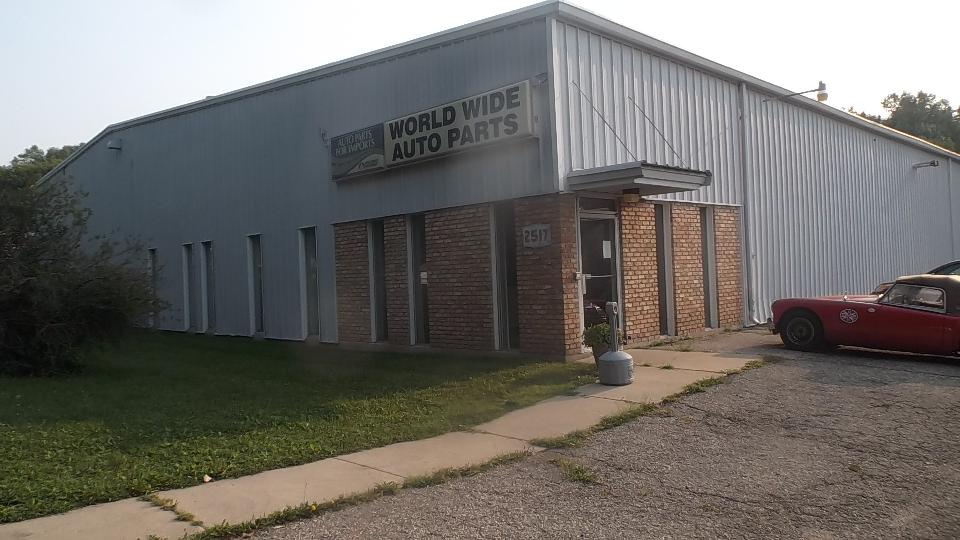 Up and rolling early. By 9-am we were in Madison to visit Peter Caldwell at World Wide Auto Parts. WWAP is a specialist in rebuilding hydraulic shock absorbers, particularly the lever arm type for our vintage cars. It seems like my MGA has become a high mileage rolling test bed for shock absorbers. Today we pulled it into the back shop and took an hour to swap out the front shocks, ready to put a bunch more miles on all of the latest improvements.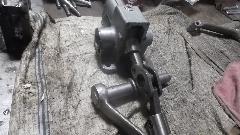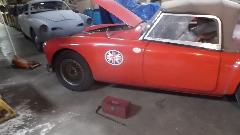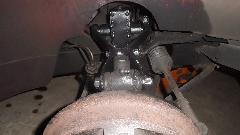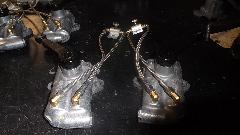 I have a picture of what I think is an MGC rear shock modified to be adjustable. This particular model is not even advertised as being available yet, but he already has 40 orders to fill, mostly for MGC racers in Europe. Word gets around fast when you have something unique and useful.

On a tip from Peter Caldwell, we had another appointment nearby. We made a quick stop to visit Ron Stites at Sports Car Madison, LLC. Here we found a smaller shop, father and son operation,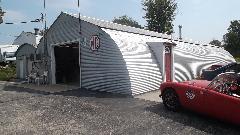 repairing and restoring vintage cars (mostly local cars I think). I must have been in a hurry, as I missed some good pictures here. There was a very nice Lotus Elan in full dress ready to roll the white MGA with rebuilt chassis waiting for engine rebuild. The MGA Coupe shell was stripped bare then left outside to rust for a few years, now destined for media basting before painting. There was a TR4 restored chassis in the shop, and another TR4 out back waiting its turn. Out of time, had to run.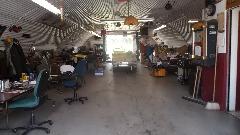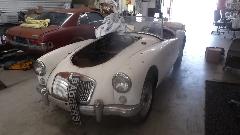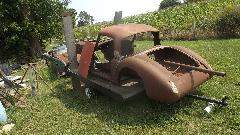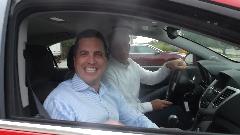 Next up was a quick dash farther east to Delafield, Wisconsin for a lunch appointment with Troy Kopischke from Hamel, Minnesota. Yes, this gets a bit twisted. This is the guy we missed while flying through Minnesota, but we now have a chance to catch up with him while he is on the fly (really). After lunch he had to catch a plane back to Minnesota. But at least we had an hour to chat, and a good time was had by all.

Now we finally have a break to catch up with two day backlog of photos and notes, BBS, email, tech questions, makes for a long evening.

Thursday September 3, 2015
Held over a bit today in Hartland, WI, catching up the data stuff. One appointment in Burlington, WI, dropped out, so we headed due south. Sailed out of Wisconsin and made our way to Crystal Lake, Illinois, to visit our friends Victor & Penny L'Heureux. We were here in March to pull engine and install a rebuilt gearbox. Now we're back same place to pull engine and repair the gearbox (apparently a chipped tooth for first and reverse gears). But that will wait a day. Tonight we spend some time teaching HTML and web page coding.

Friday September 4, 2015
Headed south from Crystal Lake to drop navigator off with friends at College of DuPage in Glen Ellyn, IL. Then continue south to Romeoville, IL, to pick up some tools from storage locker. Also pick up oil for gearbox and engine and an oil filter and other miscellaneous supplies. Then head back north to Crystal Lake with a lunch (and WiFi) stop along the way. Later evening after the engine cooled down some, I was up to a bit of mischief (gearbox maintenance). Drained radiator, engine, gearbox; removed radiator engine, gearbox. Dino and Lisa Perez dropped in just in time for Dino and Victor to lend a hand lifting out the engine, and then the gearbox.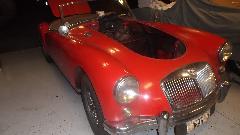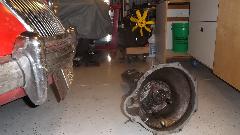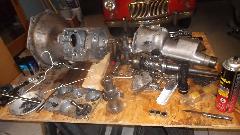 After taking a break for dinner, we disassembled the gearbox for inspection, replaced the laygear, layshaft, layshaft needle bearings, first gear, three synchronizer rings, and began reassembly. Got the laygear, input shaft and mainshaft assembly installed before knocking off around midnight. Reason for doing this job at this time was a ticking noise in first and reverse gears indicating a chipped gear tooth.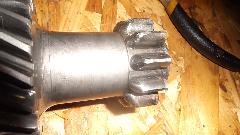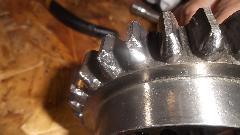 These are the gears that prompted the premature disassembly, straight teeth on the laygear (left) and first gear (right)

In the process of replacing a couple of gears, I was (half way) surprised at the amount of wear accumulated on the layshaft in only 5-1/2 months, 24,500 miles. This was one of the (prior) Moss Motors layshafts with hardness something like 47-49-Rc, and running the 11-roller caged needle bearings (which doubles the spot loading on each roller).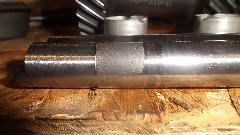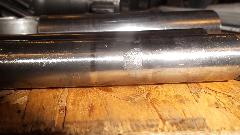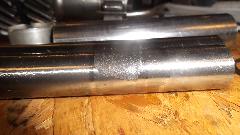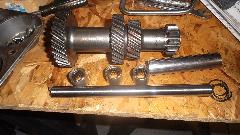 This time the replacement parts are harder layshaft 60-Rc and original type full compliment needle bearings. Also a new laygear, very good used 1st gear, and all new synchro rings. This is about as good as an MGA gearbox rebuild gets, so I am looking forward to seeing how long the original type needle bearings and properly hardened layshaft may last.

Photos a notes carry well into the small hours of the morning.

Saturday September 5, 2015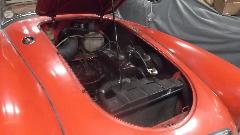 Late start, followed by a full day of grunt work to finish assembling the gearbox put it back in the car, reinstall the engine and radiator, fill coolant, engine oil, gearbox oil. Adjust valves while the rocker cover was open. Had a little problem removing the old seal from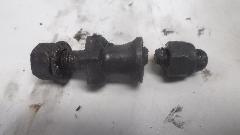 speedometer drive pinion shaft (housing), couple of broken wires and/or wire terminals. Also broke the special pedestal stud that holds the alternator tensioner bracket (frozen nut wouldn't tighten), had to MacGyver a replacement using a long bolt and some spacers. Called it quits at midnight. Tomorrow reconnect the battery cable and drive it away (I hope). Then clean up time.

Sunday September 6, 2015
Thought it would be a casual day (but don't make any rash assumptions). Crank engine 45 seconds to bring up oil pressure before starting, switch on key, crank again and ---- no start. Huh? Crank, crank, choke, crank -- not even one pop. Fiddle, fiddle, check fuel and spark, ignition timing, points, rotor, dizzy cap HT wires, spark plugs, everything looking okay. Crank, crank, -- no start. Connect battery charger. Spent an hour looking for the new set of spark plugs I bought a few weeks ago, couldn't find them. Crank it again, and it finally decided to start. Stupid fickled car. All is well with the world, except this little incident cause me to miss a possible autocross with the Miata club. Oh well, packed away the tools, cleaned up the workshop, got cleaned up, then spent the rest of the casual day with friends Victor and Penny watching NASCAR. Who, me? Yeah, well, if you gotta have the TV on one show is as good a time waster as another.

Monday September 7, 2015
Up early checking email and making appointments, Late breakfast with friends at I-Hop. Route planning and writing down route instructions this is going to be a moderately long travel day with multiple appointments. Start by picking up navigator in Carol Stream. Then a run to my storage locker in Romeoville, which turned out to be a no-go as the storage facility was closed on Labor Day. Bummer. This is what we get for blowing out of town a day earlier than originally planned. After a bit of head scratching we decide it doesn't matter (much). The only thing I took out of the trailer and left in the locker was the ice chest which we can do without for a while. Stuff I wanted to drop off here would be a cylinder head, some gearbox parts, a large tool box, cable jack, power drill, and some other small tools, all of which we will just leave in the trailer (tote the extra load for a while). So forget the locker and get on with life.

Next hop is east a bit to Orland Park to visit George Goeppner, whom we have been trying to track down for more than a year. Again we can't raise him on the phone, but this time we have his street address (not too far away), so we opt to drive in and ring his door bell. No answer up front, but we find him in the back yard pool with family and friends. Well that's George after he found a shirt.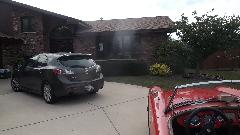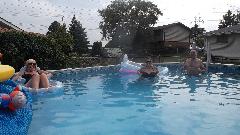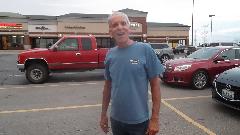 George has a nice MGA Coupe nearing completion of restoration. Original chrome bumpers cleaned up nicely. I like BRG paint. Not sure about the black dash, maybe too dark in a closed car.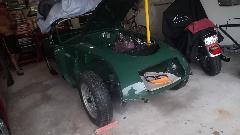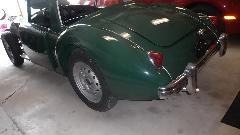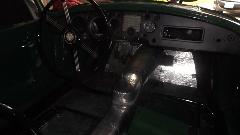 Hondura material spare tire cover, very close to original texture and color, but missing the blue color tracer web in the grain valleys.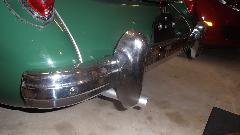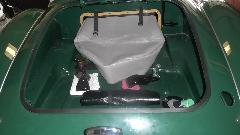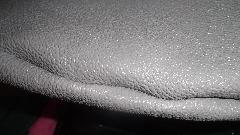 George has procured an original set of trim for front and rear windscreens, find of the century, absolute gold. Wiring harness is a few years old replacement type with bayonet base bub sockets for instrument lights, otherwise quite nice with the proper cloth cover. George was giving a demonstration of how the rear fender piping should wrap upward at front of the door opening on the top (once the piping bead is trimmed back to terminate straight).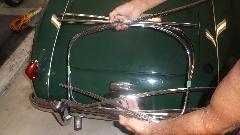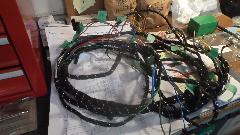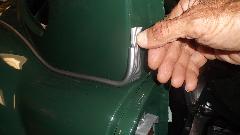 George has the doors closing straight and flush. Big challenge here was incorrect shape of the shutface panels inboard of the latch striker plate. The raised margin of the panel here should be quite narrow, but it is wider on the new panels. The solution is creative and not at all obvious or visible. George managed to chamfer the inboard corner of the striker where it snuggles up to the curve of the panel, so the striker plate can be adjusted more inboard.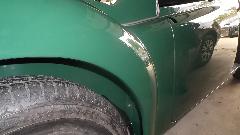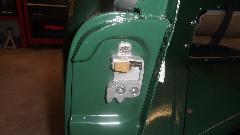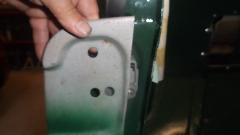 For installation of split rivets securing splash panel seals, George has one of the Dodge rivet crimping pliers tool. Very slick tool that makes a tricky job quick and easy.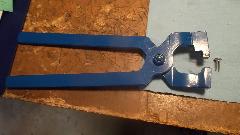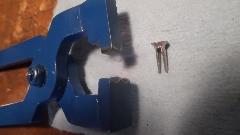 Then we get out of town and take a two hour sprint down I-55 to visit Alan Kleinschmidt in Bloomington, Illinois. Alan has an MGA 1600 (sometimes masquerading as a 1500 via the front lights), a rubber bumper MGB, and (hiding under the cover in back) a 1967 Mustang 289 automatic. By appointment we arrived a bit after 9-pm, and got out of there at 2-am. Man, I dunno how it took us five hours to look over his MGA, but time flies when you're having fun. I seem to recall some chat about the missing web site for Illinois Flat Land British Car Club (among other things).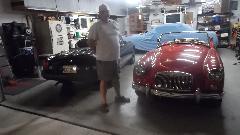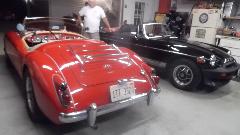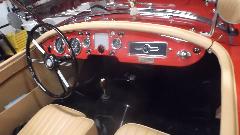 We take notice of the new Pertronics electronic distributor, as the distributor cap can be easily separated from the housing with a gentle push on one side. This looks like a design defect with very loose fit between cap and body,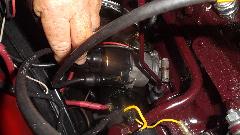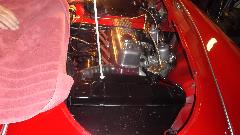 I suppose it may work okay as long as it doesn't get bumped. If it was to get bumped while running the cap internal terminals might interfere with the rotor with catastrophic results.
Then Alan pulled out the drip pan he made which will attach to the two bottom bolts of the engine rear plate to bell housing joint. This may seem very odd if his MGA doesn't drip oil. But I want to know how often you might have to crawl under the car to drain the drip pan. Okay, we're out of here.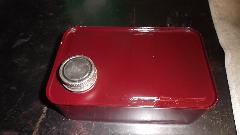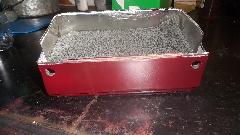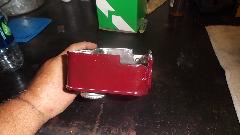 Tuesday September 8, 2015
Somewhat short on sleep, we were up early this morning for a meeting with a few driving members of Illinois Flat Land British Car Club. That would be Alan Kleinschmidt on the right (perhaps a bit more attractive in the light of day). IFLBCC was one of the clubs cooperating to host the NAMGBR national meet at French Lick, Indiana last summer. The previously informal group has since formally incorporated, so there is now lots of discussion about future direction of the club. Before leaving Bloomington we stop for a fill up and find fuel price about 15% lower than we have been used to. This is certainly a pleasant surprise. In mid July we were paying over $4/gal in California, more like $2.50 in recent weeks.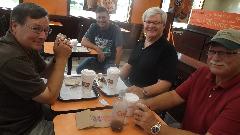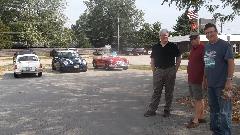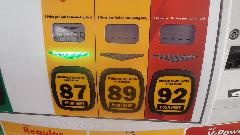 Having been delayed with the unexpected morning meeting, and with a long way to go today, we pointed it south (southwest) down I-55 and follow whatever was moving in the fast lane. Very shortly we got the impression that we are back in the northwest with forest fires, but this turned out to be a grass fire in the median of the interstate, nothing too series I suppose as fire trucks were en route. The we got soused by torrential rains for about 90 miles (so perhaps the fire trucks were not even needed).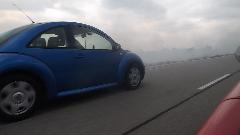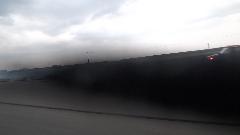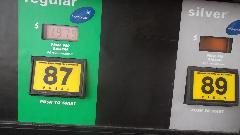 A few hours later just west of St Louis we found fuel price even lower in Missouri. Now I'm hyped. In the past 16 months the only place we saw gas below $2/gal was in Gulfport, Mississippi, and Montgomery, Alabama, and then only for a few days in February before it went back up.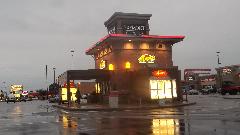 After a very brief late lunch break and six hours of sailing down the interstates, we reached our designated evening appointment in Springfield, Missouri. This was to be "Ice Cream at Andy's" (to be cancelled if it rains). From 385 miles away in Bloomington, Illinois we had no idea if it might rain in Springfield, Missouri, but rain it did. Frozen Custard was good. Too bad the friends were not there. Apparently this gig has been rescheduled for one week later, so we will have to check our plans.

Wednesday September 9, 2015
Sometime in the PM we moved from Springfield, MO to Bentonville, AR. It didn't help, as it still rains in the Ozarks, but we were somewhat closer to our Friday appointment, and pretty much caught up with the trip report and WiFi work. Time to start looking beyond the week end.

Thursday September 10, 2015
Moved down expressway to next exit at Rogers, AR. Short stint on WiFi, followed by laundry day (has to happen occasionally) this time including the car. First car wash was closed for repairs. Second one was automatic only, not for convertibles. Third one was good, so $7 worth of quarters later we had mopped most of the mud and oil and brake dust and bugs off of the car and trailer. Rest of the day was spent looking at surrounding states to see what we haven't done yet. Looks like we haven't done Kansas properly yet, so many hours were spent on WiFi checking Kansas car club web sites for events, logging club event schedules and locations, sending email for contacts, and preparing to invade Kansas next week (after doing what we can in Arkansas).

Friday September 11, 2015
Today we arrived in Springdale, Arkansas to meet British Iron Touring Club of NW Arkansas in preparation for Brits In The Ozarks car show tomorrow. This was going to be fun. First to the registration table to check in and collect the goodies packet. Then the first step outside I bumped into Bob Nogueira from Dallas, Texas, long time no see. This fellow was traveling with us for the Alaska trip in 1997. He said when he heard I would be here he had to come. This is very good, because I could not find his contact information when I was in Texas in March.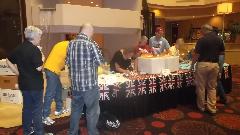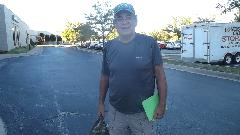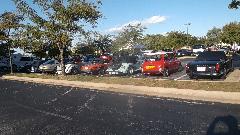 Then a quick walk around the car park at 5:30-pm with nice British cars all over the place. I think they are expecting at least 160 entries for tomorrow's car show. For more photos of the British cars in the car park see a following page. For the tail gate party there was lots of barbecue chicken, baked beans, potato salad and other sides, a table full of deserts, a table full of wine, and coolers full of beer and soft drinks. During and after stuffing ourselves there were a few tire kicking tech sessions. This one "cheater" MG Midget with turbocharged twin cam engine looks like fun, until it was reported to have been ticketed for doing 130-mph. Oops.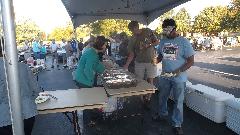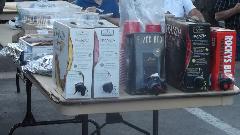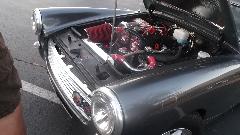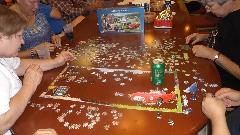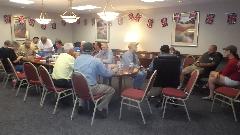 As darkness fell some of the gang left for nearby homes while most of the rest retired to the hospitality suite. One by one people were discovering who was driving the MGA with the trailer with the Alaska sign on the back. By 10-pm most were retiring in preparation for a long day in the morning, while I of course get to post photos and notes past midnight.

Saturday September 12, 2015
Brits In The Ozarks car show. I am told there were 170 registered cars today. Since I parked here, I will start with the MGAs, followed by other MGs.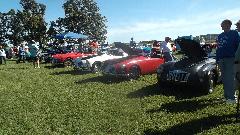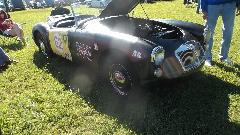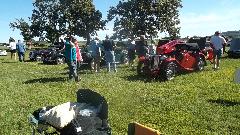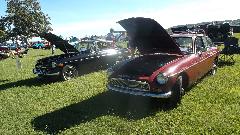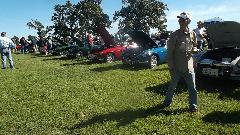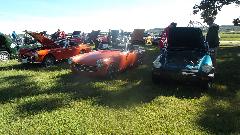 A new Morgan 3. Sunbeam Alpine Sports convertible, famous for being driven by Grace Kelley in the movie To Catch A Thief. 1959 MGA Twin Cam one-owner car bought new in Germany in 1959 by Frank McElroy.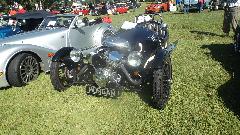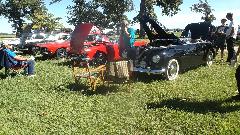 For more photos and notes of the British cars at the car show see a following page.
The all important barbecue cooker, a visiting Ford Model A truck, and the Drive Away Cancer TR Spitfire.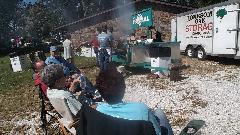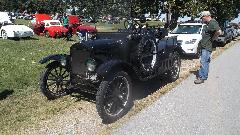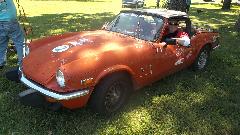 For the evening awards banquet there was a sold out room seating 200 people. After a short intro and dinner served for everyone, I got to do a 20-minute song and dance as the guest speaker for the night.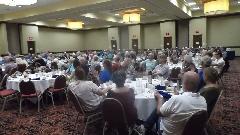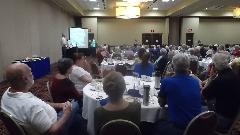 Kind of short but fun, and well received, I suppose it helped that I had been hobnobbing about with folks for the past two days. All said and done, this Brits In The Ozarks car show has raised nearly $20,000 for ALS treatment charity. After the festivities some of us retired to he hospitality suite for a couple more hours. Then in the small hours of the morning, .... well, you know, .... For more photos and notes of this two day event see a following page.

Sunday September 13, 2015
This morning on the way out of the hotel after car show day, we noticed a problem in the car park. An MGB GT which was running had mysteriously died just before departure. The owners had picked up a tow dolly to take the car home. While loading the car onto the dolly they overshot a bit resulting in the car being high centered over the dolly on one side. Oops. By a strange quirk of destiny (remember my storage locker facility was closed on Labor Day) I happen to have a cable jack in my trailer. This served well to pull the car back and relocate it properly on the tow dolly.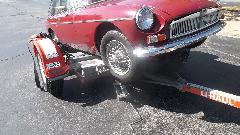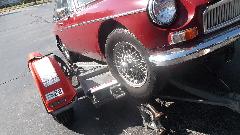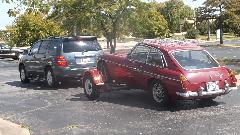 While I was at it, I took a few minutes for diagnostic work to discover the ignition condenser had failed. I might have had it running in ten minutes, but at the time I couldn't find the little baggie of ignition parts in my trailer. Later on I discovered the baggie had been relocated into a tool bag in the boot of my car. Since they had already paid for one-way rental of the tow dolly, it was destined to have a free ride home anyway. I didn't ask why the sport-ute was already at the car show.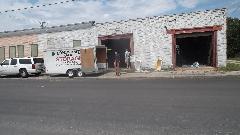 With a little time to spare we drove a bit north to Rogers, Arkansas to visit the workshop of British Iron Touring Club of NW Arkansas. This is an interesting place with a 4-post drive-on lift, lots of tools, kitchen facilities, but no water service. Don't ask where the rest room door goes, but in general, ladies usually do not visit here.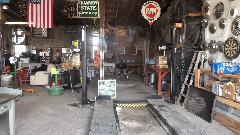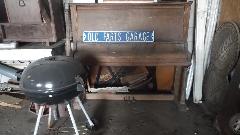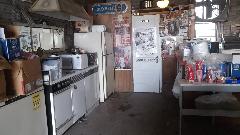 After some time on WiFi we decided to point it west and go see how the BGT as doing. A couple hours later we were in Catoosa, Oklahoma making a phone call. Turned out the GT was resting comfortably at home, but we had a nice dinner with the owners Lann Mauck and his wife at I-Hop.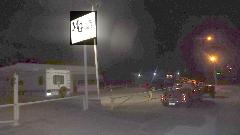 Monday September 14, 2015
Catch up day for WiFi work. Got bored in the evening, pointed it west and north. This picture taken in Wellington, Kansas, 10-pm, had to doctor the picture a bit to be visible. Ended up on WiFi in Wichita late night.

Tuesday September 15, 2015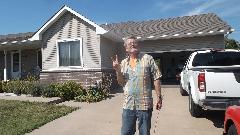 Afternoon appointment today with Harry Price in Rose Hill, Kansas. Peace, friend. In the garage he has a 1984 Jaguar XJSC. This is a gray market European spec XJS with 3.6L DOHC engine and 5-speed gearbox. I like this configuration, giving enough space in the engine bay for relatively easy service.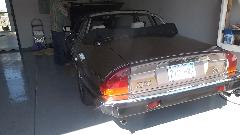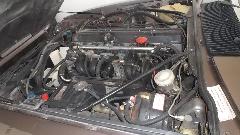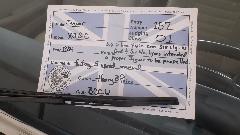 On the lower level Harry keeps his "Lay Leno car collection". He seems to have solved the problem of enough space to store all the cars (just a little disorganized).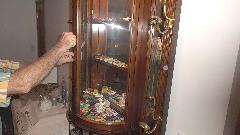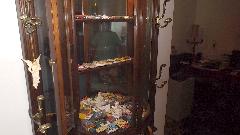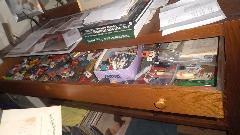 Our back he has some workshop space. This TR3 may be his next project (looks like a big job).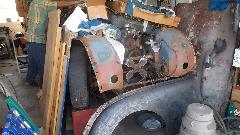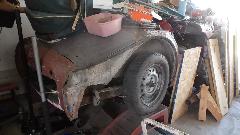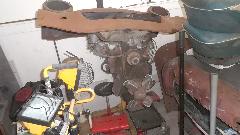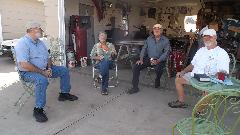 Soon there were a few more friends who all brought their favorite toys. With 85dF and full sun, it was nice to sit in the shade for barbecue and jibes. When we stepped out front to visit the new cars, the first one to catch my attention was the gold MGA with cut down windscreen AND a rag top that works (really?). Over all styling is visually impressive. I'll let you figure out how the top frame was configured.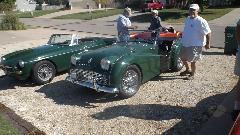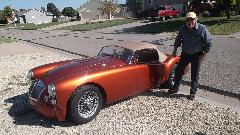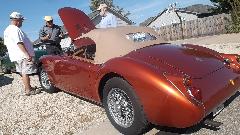 Think 1800, 5-speed, louvered bonnet Sebring nose, deleted bumpers. The small dent in the nose (below right) was a result of a rather hash encounter with a deer. The front valance panel hides a thick aluminum plate with the panel "glassed in" to match the body shape. The deer didn't have a chance.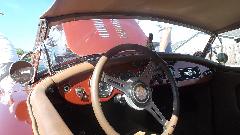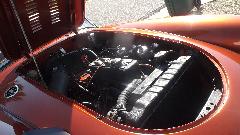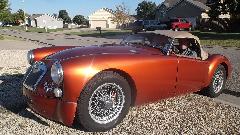 The TR3 has some custom work on the dash while the MGB is sporting a nice little V6 engine.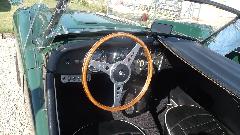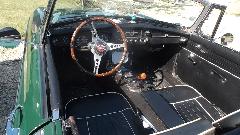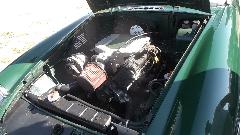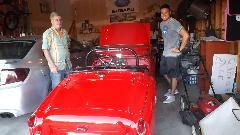 Once the friends trickled away we trucked on up to Anderson, Kansas (not far away) to visit Harry's son in law. This TR3 was one of Harry's prior restoration projects, loaned to the kids just prior to their wedding day. They detailed it nicely, then subsequently claimed ownership, and it may be getting nicer with time. The issue here was poor fuel economy (15 mpg). This was apparently result of a sticky choke. Once the choke was un-stuck and mixture adjusted it seems to be quite happy.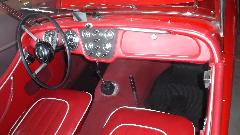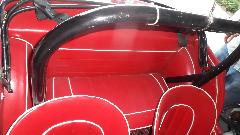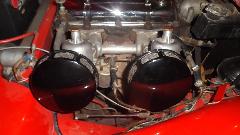 Then back to Harry's place for pizza, and the Brit car chat turned into late night in a flash.