The MGA With An Attitude


MGA Guru Is GOING MOBILE - (January 16 - January 31, 2016)


Saturday January 16, 2016
Good morning world. This is going to be a very busy day. In fact it was a busy weekend, as I am posting these notes three days in arrears.


First stop today was Carraba's in Cape Coral, Florida (west coast) for an early lunch with Triumphs of Southwest Florida and British Car Club of Southwest Florida (a joint event). There were more cars arriving after the photo was taken, and there were about 20 people for lunch.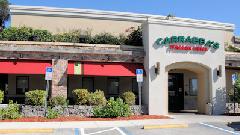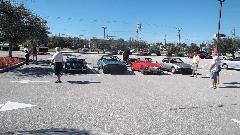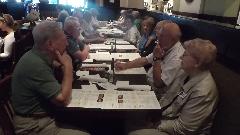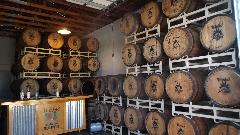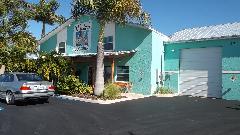 Immediately after lunch there was a short run to the Wicked Dolphin Rum Distillery for a tasting tour. Then a bit after 2-pm we were fueling up and heading east post hast.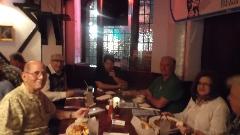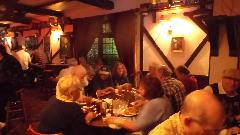 A few hours later we were in Delray Beach, FL (east coast), for a dinner meeting with Gold Coast British Sports Car Club. Too many cars and people, and a severe parking problem here, but we finally found a spot and ambled into the restaurant only a little late. It wasn't my finger on the camera, but I think about 18 people spread around the dining room.

Sunday January 17, 2016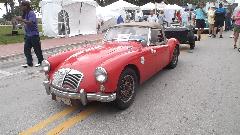 Today we were an hour farther south in South Miami Beach for a AACA (Antique Automobile Club of America) car show in the street. I don't normally attend these things but this was perhaps our only opportunity to meet with a few members of British Car Club of Miami who would be in attendance at this event. Give honorable mention to the British cars first.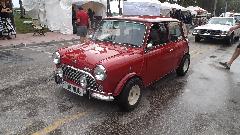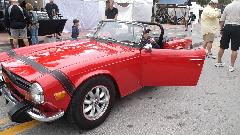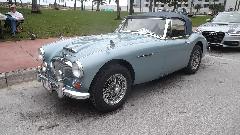 On the east side was the beach with bikini volleyball and about 150 vendor shops selling everything having nothing to do with cars. On the west side was a long string of hotels and restaurants. In the street were thousands of visitors, many taking pictures of the cars. When I sat with my MGA long enough some folks would ask questions and like to talk about the car, so in the end it seemed worth the trip. Since we were mostly sitting there for five hours, I had time to play for a while with a yellow Python, sort of cute and friendly, but not very active.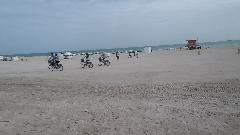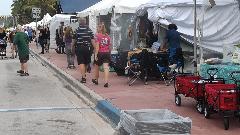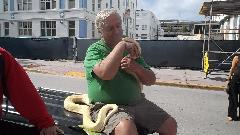 Not as many cars entered as I was expecting, so I took pictures of all of them for future reference. The first "unusual" car I found was a IKA Torino (later to be Renault Torino). This looks like an American Rambler but was made by Kaiser Industries Argentina (IKA) under agreement with American Motors Corp (AMC). This model was produced from 1966 to 1981 in 2-door and 4-door models, using an Argentine built Kaiser-Jeep OHC 6-cylinder engine. The car was sometimes referred to as Argentina's national car.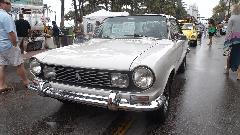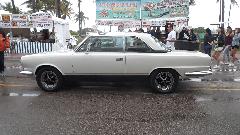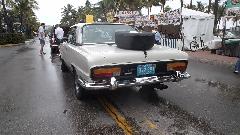 The next "oddity" was a Renault Floride (yes it is spelled right). It is a small rear engined sports car, typical French piece of work, kind of neat actually.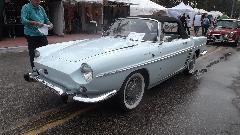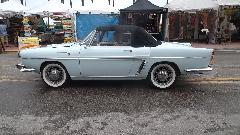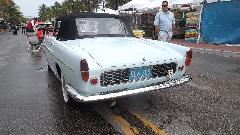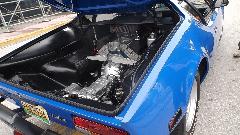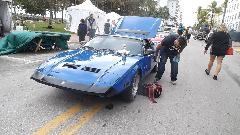 There was also a DeTomaso Pantera, the American (Ford) built Italian styled sports car the was supposed to be the public production follow-on to the Ford GT-40. Not many of these around, and seldom seen on the street.


For the cute factor, there was the Polski Fiat, 650-cc, 23-HP, manufactured in Poland 1973-2000 more than 4.6 million produced. Check out the nick names.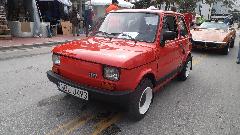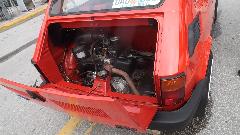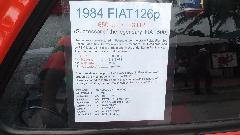 There were at least four Corvettes there, one Mustang, several German cars including a few V-Dub's, at least one Italian car (but that one not 25 years old).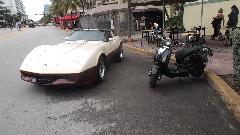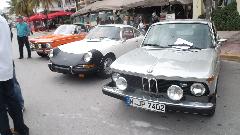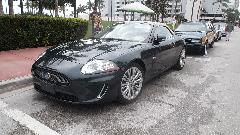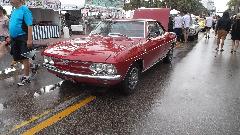 There was a nice late 60's Corvair, and several larger American cars (it was an AACA event after all). Pontiac GTO, Buick Roadmaster, Oldsmobile 88, Chevrolet El Camino (only there to carry the motorcycle), Pontiac 6000 (who let that in?), Chevrolet Impala. This was the day set aside for for stock class cars, not modified, so it was good to see cars that were not hacked up to be street rods.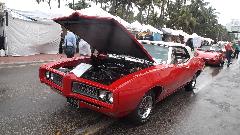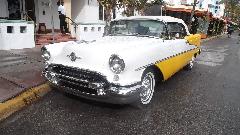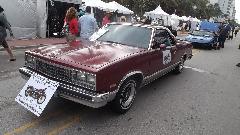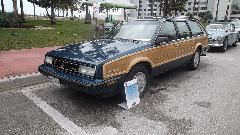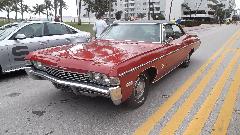 During the show we met a bloke who drives a 1978 Triumph TR6 (with a bit of a problem). This car arrived late and was parked somewhere away from the show. When the gig broke up we met him at a nearby Burger King for a look at his car. It runs well until it drives about 15 miles, after which it runs rough and wants to die, something heat related, possibly a failing coil or Pertronics module. There wasn't much we could do when it was running well in the car park, other than lend some advice on what to do next time it fails.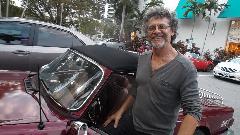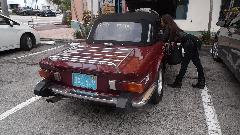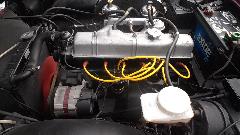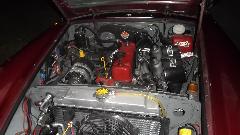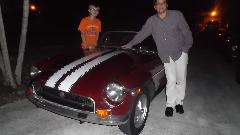 Then closing in on darkness, we had to hustle north an hour for an appointment with another friend with a 1973 MGB. Stop to admire this guy as this car is his year round daily driver, the only car he owns. Its only apparent problem is rising coolant temperature when he runs with the air conditioning on in hot weather. He spent a lot of money on the aluminum radiator, and it didn't seem to help much. Getting late, we dropped into a WiFi spot for a bit of work before knocking off for the night.

Monday January 18, 2016
Up fairly early to jump on WiFi, trying to catch up with a two day backlog of email and BBS (but not quite making it). We have another commitment so by noonish we were off for another 4-hour drive to see George Horton in Fruitland Park, back where we were 10 days earlier to take up where we left off on the MGA Coupe.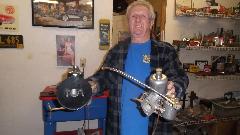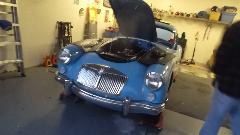 George had cleaned and painted the bows for the headliner (looking forward to that job) and removed the sticky carburetors from the car. In time allowed tonight we rebuilt one carburetor, installing Teflon O-rings in place of the standard jet seals, tweaking a float arm to prevent fuel overflow, and replacing a bent float chamber (so the cover gasket could seal). We will take this up again tomorrow.

Tuesday January 19, 2016
Early business today was to finish the second carburetor with new Teflon O-ring jet seals, install the carbs with new vacuum pipe to distributor, final adjustment of linkages and fuel mixture adjustment to get it running well (so now the choke works without sticking and we hope we stopped the fuel overflow problems).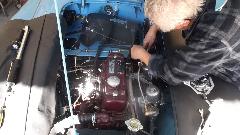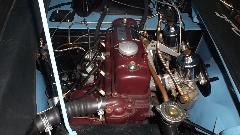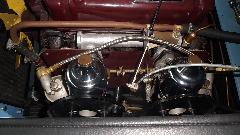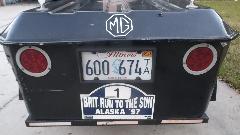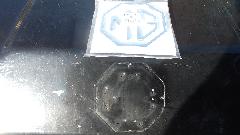 A bit of a side note here. The "Honorary MG" emblem on the back of my trailer (in place since 1989) has been "deteriorating" for the past few months. First it lost the "G", then it lost the octagon, and finally it lost the "M". Having just received a parts shipment, I took this opportunity to replace the missing emblem.

It was a cold night and a chilly morning, but weather warmed up a bit with full sun so we opened the shop door to let the sun in, and it was comfortable working. Fortunately a decent opportunity to install the Coupe headliner. First a test fit of the three steel support bows, then threading the bows through the fabric loops, followed by a good start on stretching the fabric and clipping it into place.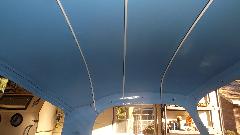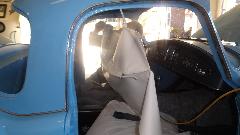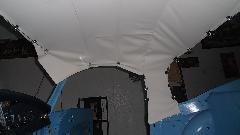 I suppose the pictures make it appear better than it really is so far, and there will be lots more stretching and clipping to do before it will be ready for glue. There were a few delays, and weather turned cooler with sun-down, and we needed a shopping trip for supplies, so this project will wait for another day.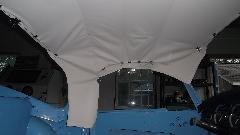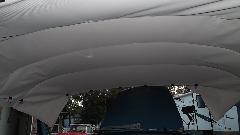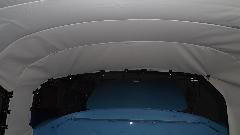 Wednesday January 20, 2016
Got busy with other things, getting hands dirty, so did nothing with the headliner today. While George was installing the steering column and getting ready to bleed the hydraulics, I was taking a lot of pictures of Coupe door latches and window regulators for my tech web pages.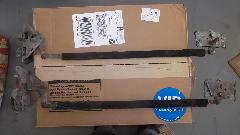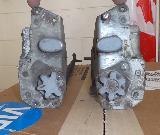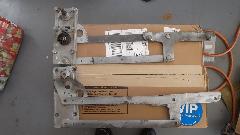 George was also reorienting the muffler to be properly spaced away from the fuel tank and with the tail pipe pointing the right direction.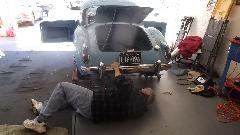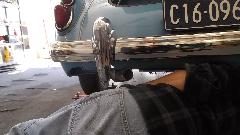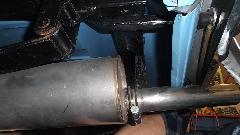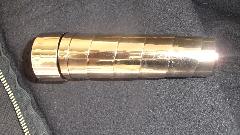 The little jewel at right is the chrome spring cover for the adjustable steering column. We first unbolted the steering U-joint and pulled the inner steering shaft out to apply graphite oil to the felt bushings, and reassemble. Then we had to move the outer tube of the column down (forward) a bit so the adjustment fixing clamp would fit in proper position. Finally a bit of a tussle fitting the spring cover and steering wheel, but it all came out well in the end.


We got the speedometer cable mostly installed with a proper P-clip in middle of the run. Also had to R&R the clutch slave cylinder hose to reconnect it in the correct port of the slave cylinder. Then we spent some time reverse bleeding the brakes and clutch hydraulics (using a trigger pump oil can). It worked quite well except for a serious leak near the 4-way fitting in the engine bay. That later turned out to be a cracked pipe, likely a result of too much bending during a prior realignment of the pipe (to be fixed later). We finally ran out of time and had to call it quits, but may get back to this car again later.

Finally we were off and running, heading for Brooksville, Florida (back to west coast again) for a dinner meeting with Nature Coast English Car Club and Sun Coast Classic Car Club (the club with two names). During a nice Buffet dinner we made a couple more appointments. In the end we followed Steve Grote home to Inverness FL. Steve has a nice MG TF, recently sold an MGB, and his Jaguar XJS V12 is off to a shop for power steering repairs. Seems I lost some photos here, but I suppose you get the picture anyway.

Thursday January 21, 2016
A short hop today to visit Barry & Marilyn Bullington in Lecanto, FL. Barry has a nice MG TC, pretty original except for one repaint, but it has electrical issues like no horn, no brake lights, and the left turn signal blows fuses or burns wiring. This is one of something like 449 MG TC that actually had factory issue turn signals. They work similar to turn signals on the MGA 1500, except two single relays rather than one double relay. Got to learn a few new things about unique features of MG TC wiring. Reconnected power feed wire for horns, shortened pull spring that activates brake light switch, cleaned up some wire routing, and solved a short to ground in left side brake and turn signal lamp. Unique feature of this system is that front and rear turn signal lamps are hard wired together, so stepping on the brake pedal lights the front lamps at the same time as the rear brake lights. With success in hand we were off to the local Deli for a late lunch and more MG chat.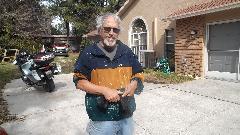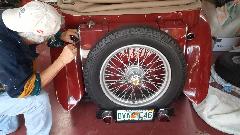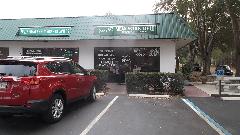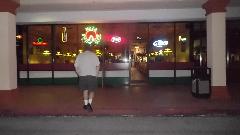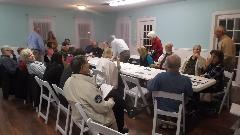 By mid afternoon we were heading east, bound for Maitand, FL (Orlando area) for an evening club meeting with Classic MG Club of Orlando at the Cottage at Lake Lily. In December 2014 we met with this club for Tour Of The Lights (just before Christmas). A few minutes after the photo there were 30 people present for the club meeting. After the formalities we adjourned to a local Italian joint for feed and jollies, and a good time was had by all. Planning for next day appointment(s), we drove 40 miles southwest to stop in Davenport, FL for the night.

Friday January 22, 2016
Day off. Cancelled appointment in Fort Myers, FL due to rain? That means I work harder when we don't have to move, so figure 15 hours or so on WiFi work. After BBS and email and tech questions, I spent significant time on discussion of club policy back home (in Chicago). Second half of the day was spent posting home club newsletter on the club web site (and not finished yet).

Saturday January 23, 2016
Rolling by mid morning, heading 100 miles southwest to Bradenton, FL. Meet François Gay from Saint-Jean-Sur-Richelieu, QC and John Mercier from Napierville, QC. They are a couple of wild and crazy guys from Canada currently vacationing in Florida, but they put a hand up to request a meeting, so we accommodate them. François has a 1959 MGA (photos from his computer) and a 1973 TR6. John has a 1974 MGB with overdrive and a 1969 Lotus Europa. Interesting guys, and a nice chat over lunch.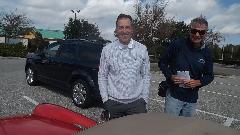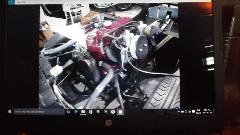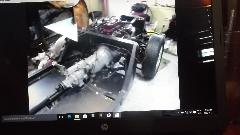 Then we touched a local WiFi spot for a communications hit, followed by 90 minute sprint up I-75, back to Fruitland Park, FL. Yes, that cute blue MGA Coupe still needs some help. With some standing still time available, I finished posting the home club newsletter on line, along with the usual WiFi work, and then crashed in the small hours of the morning.

Sunday January 24, 2016
Contemplating more installation of the headliner, we look to see if the rear parcel shelf needs work first. In the end we figure all it needs here is the vinyl overlay below the window before the window can go in, and the parcel shelf can go in later. The four tabs below the steel shelf will need to bend down to accept screws for the shelf trim board. Set that aside for later (just keep your dirty hands off the headliner material).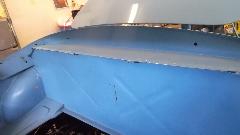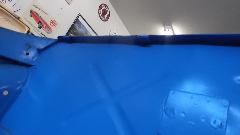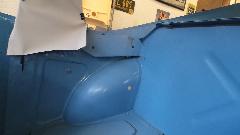 George finally gave in to my unrelenting taunting to clean up routing of the fluid pipes in the engine bay. After a few hours of knuckle busting tube forming and one trip to the store for more P-clips, we finally had them dressed pretty well back where they belong.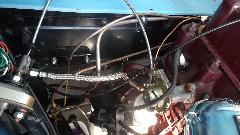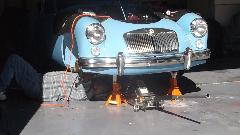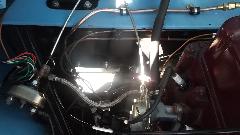 Then while bleeding the brakes, we found fluid dripping out of the right rear brake drum. Rats! Remove the drum, disassemble the brakes, and remove the offending NEW wheel cylinder for inspection.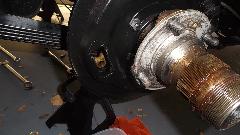 Upon disassembling the wheel cylinder we found a rather large bite out of the working edge of the main seal cup. It didn't take long to figure out how it happened. The bite in the rubber exactly coincides with width of the side slot for passage of the parking brake lever. This slot has a very sharp edge inside at the bottom end (sharp edge all around the slot actually), which obviously cut the rubber part during factory assembly. This is either a bad design, or it was poorly executed in manufacturing. I recon all of the parts from this same source are likely to have the same problem. Oh yeah, this is the aftermarket part that does not have a repacking kit available. Put another new wheel cylinder on the shopping list, and call it clean up time for the day.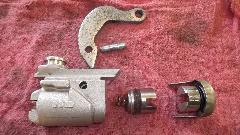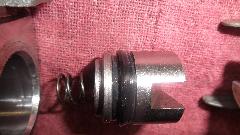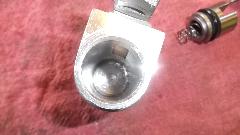 Monday January 25, 2016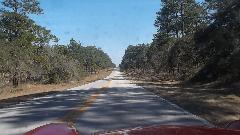 Hey, we found another nice side road in Florida. Plenty of time for travel today, going from Fruitland Park to Jacksonville, so we told Mapquest to plot the shortest distance (which commonly takes a little longer to drive). I think this was County Hwy-314A between Moss Bluff and Electra, running around the west side of Mud Prairie Lake (like that might mean anything to anyone). In the end we arrived in plenty of time for a dinner meeting with MG Classics of Jacksonville. Seemed like a good idea to get pictures of some of the MGs in the car park before it got too dark.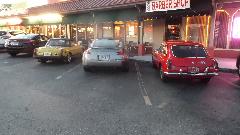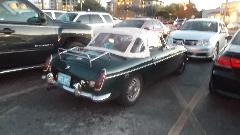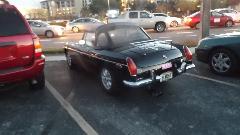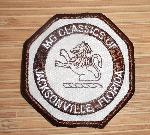 Inside there were about 40 people participating, which is pretty good attendance for a club with about 80 memberships. The guy frantically waving the papers was showing a club newsletter containing my mug shot, so it looks like my reputation precedes me. After dinner and most of the meeting formalities I was given the opportunity for a few words, good for the entertainment value. I think we have one more appointment in Jacksonville as a result, someone needing a bit of assistance with an MG Midget.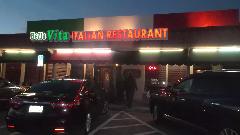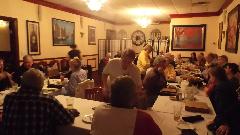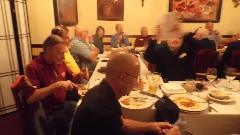 Tuesday January 26, 2016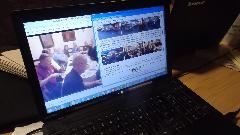 Standard morning email check, and added a couple new tech pages to my web site. Then got involved with an issue with the Chicagoland MG Club web site, and killed the whole afternoon. Looks like the Midget will have to wait another day. Tonight I get to catch up with yesterday's photos and notes.

Wednesday January 27, 2016
One appointment today with Cynthia Jordan in Jacksonville, FL, who is currently serving as vice-president of MG Classics of Jacksonville.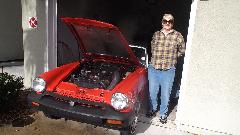 She has this nice 1978 MG Midget with a few minor problems. It has been converted to a Weber downdraft carburetor, which is not bad for this particular model. But the Positive Crankcase Ventilation seems to have been compromised in the process, no more vacuum in the crankcase, so it leaks a bit of oil (get used to it). The heater valve leaks when open, but not when closed, so put a new one on the wish list.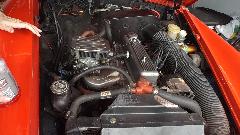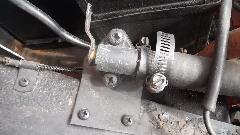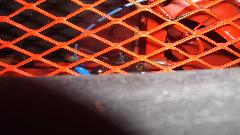 The horn(s) did not work, but that was something I could fix in short order. Removed the grille for access, a little time with test light and jumper wires for diagnostics, removed some DPM wiring from the car. One trip to a parts store for some colored wire and end terminals, and it was soon honking like a Canadian goose. The twin horns were relatively new from Moss motors, one works well, the other works only alone with full voltage. So the Midget now has one horn working while waiting for a replacement for the other one.

Thursday January 28, 2016
Had a four hour drive in rain today from Jacksonville to Safety Harbor, FL for an evening dinner meeting with Tampa Bay British Car Club. I took a few pictures of early arrivals before it got too dark. The new Mini and MGB were soon joined by a Morris Minor and an older Mini. There may have been a few more British cars later, as the small dining room soon filled to capacity with at least 40 people. Good food, good friends, good chat for an hour. Then this club knows how to cram a lot into a one hour meeting, past event, upcoming events, new members, visitors, tech reports. When it was over the rain stopped, so we had some tire kicking in the car park.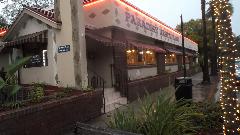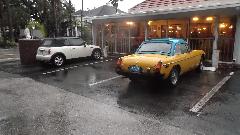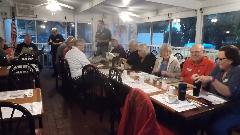 Friday January 29, 2016
Today we had a visit with Burt Golub in New Port Richey, FL. He has a beautiful MGA Coupe which he has owned for decades, and which he has restored.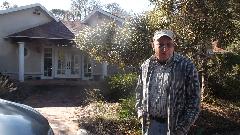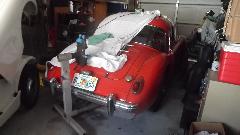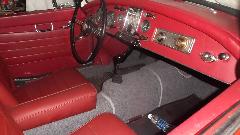 He also has a nice bug-eye Sprite which he recently finished restoring.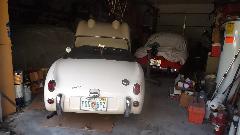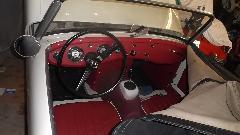 And there is another Sprite undergoing restoration, begging for time when available. We had some time to chat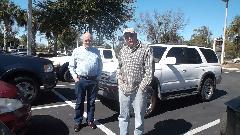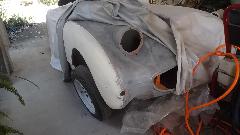 before being joined by Burt's friend Dr. Steve St.John (a veterinarian). We all toddled off to a local diner for lunch and some more chat before they got busy and had to go back to work. Then we were off for a long stretch of Guru duties.

Saturday January 30, 2016
Start the day with breakfast and club meeting with Florida Suncoast MG Car Club at Clearwater Country Club Grill Room (in Clearwater, FL). I counted 32 people present, some nice chat. After the formal club meeting there was a presentation by an art collector about "The Highwaymen" team of painters who "mass produced" and sold thousands of single issue paintings. It was a good story, worth review for the curious, not much to do with MGs. On the way out I spotted this curious vehicle in the car park, apparently a "MG-Mitsubishi".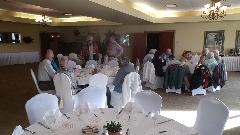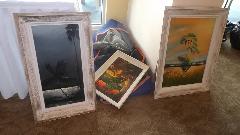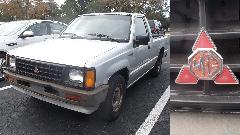 Then a short WiFI stop to check email, followed by early afternoon visit to Glenn's MG Repair in St Petersburg. We were here before in December 2014, just for a short visit (followed by crashing the club Holiday party at Glenn's home). There are always some interesting vehicles here, Austin America and Volvo 1800ES today.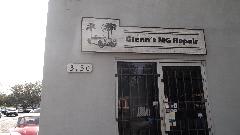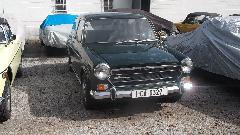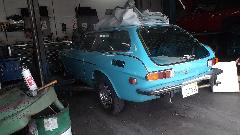 I caught Glenn trying to fit together a body buck for and MG TD. New wood parts from a well known supplier don't fit at all, while wood parts from a lesser known source fit quite well. Last resort is to refit original parts to see how it should fit, then try to make the new parts fit the same way.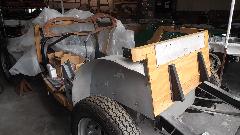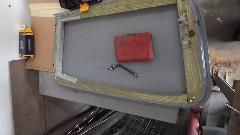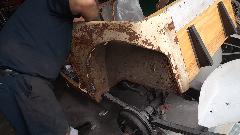 But we were actually here on business today. You might recall a major engine repair way back in August 2014. We have 56,000 miles added to the car since then, in addition to the 100,000 that was on the same engine earlier. The cylinder head that has been getting a bit long in the tooth. It has in recent years been suffering some valve recession, and now it has finally run out of adjustment on the rocker arm for #2 exhaust valve, so it is time to retire the beast (or maybe rebuild it again).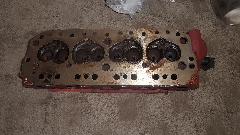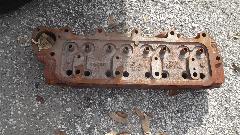 Five months ago someone gave us a used head in "questionable" condition, which we have been hauling around in the trailer. Today it came out for inspection and was pronounced dead on arrival. So Glenn was scouting around a few storage buildings and came up with another one, well pickled, that appears to be rebuildable. So I dropped a work order on him, and in a few weeks I recon we will have the next replacement cylinder head. Looking up the history of the current head, it was on a different engine for 62,000 miles between 2000 and early 2009. It was transferred to this engine in August 2009, and accumulated another 100,000 miles through August 2014, and another 56,000 since then, now at 218,000 miles. So I recon it doesn't owe us anything by now, but it will remain in service until the new head is ready. I may have to touch of the tip of the exhaust valve to get enough rocker clearance to tide us over.


By day's end we had migrated north 90 miles to Homosassa to spend the night.

Sunday January 31, 2016
A quiet way to close out the month. Spent most of the day on WiFi in Homosassa FL. Fencing around some web site server issues for Chicagoland MG Club. The server company discontinued tech support for FormMail (which is currently giving us problems). They also completely shut off service for the statistics program we have been using for many years (with no advance notice), blowing away last years stats and also January stats info. Grrrr. I may do without the FormMail function, but need to find another statics program to keep tabs on the web sites. Also spent a few hours psyching out SpridgetGuru.com web server space and file count issues. That web site is run by another CMGC club member.


We turned north at dusk to land in Perry, FL for a few hours more before midnight. Received the publisher file for February issue of newsletter for Chicagoland MG Club, and got a small start for posting that on the club web site. Goodbye to January.