The MGA With An Attitude


MGA Guru Is GOING MOBILE - (July 1 - July 15, 2016)


Friday, July 1, 2016:
Today we were back at Moss Motors on Petersburg, VA (for maybe the 5th time in two years) to pick up a small assortment of service parts. Cars on display in the showroom change some from time to time, but always something interesting here. First up is Grace, the Austin Healey 100 that spent a few years cruising around the country on a charity drive. Last I saw her was nearly two years ago at Hendrix Wire Wheel in North Carolina. Next in line is MGA 100,000, which has been here before and is well documented elsewhere on this web site. At the far end is the 100,000th MGB produced, now sporting 80 original miles on the odometer, all of the original fluids, and possibly the original English air in the original tires.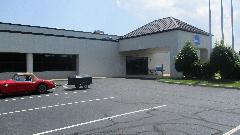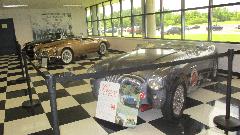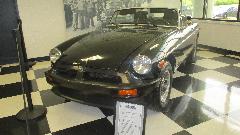 On the left side is the Moss Motors MG TD pickup truck built in 1953, well traveled, and I believe still used occasionally. Next is a 1960 Triumph Italia (later re-badged as the Italia 2000), built on a TR3 chassis. And finally the 1957 MGA ex-Sebring car, the only one (of three entered) known to still exist.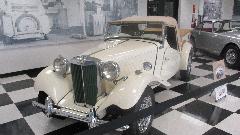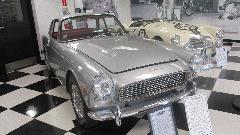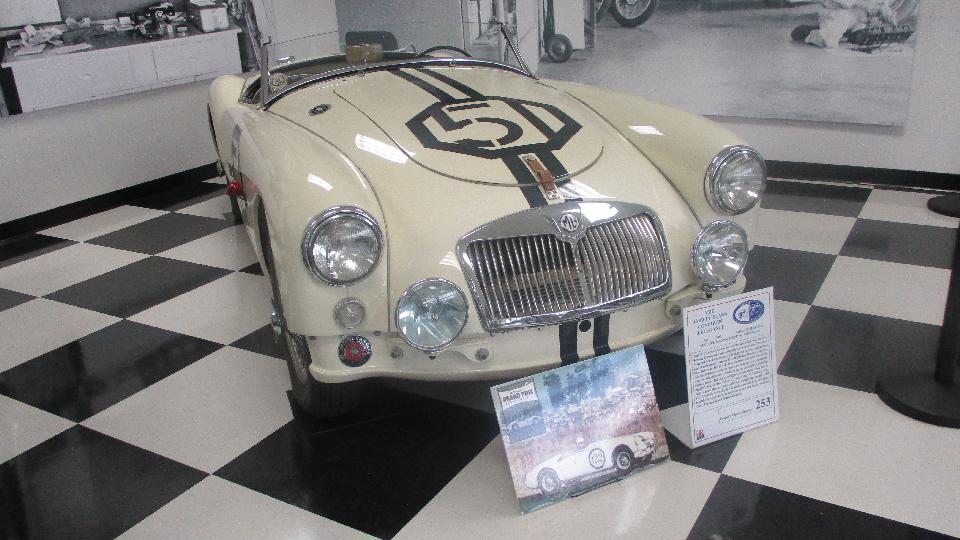 Saturday, July 2, 2016:
I'm not keen on Saturday morning Cars & Coffee, but being a holiday week end there was not much else happening on the car club scene. So we bopped into a rather large C&C in a shopping mall in Richmond, VA. It didn't take long to collect a dozen pictures of British cars.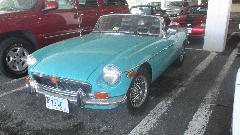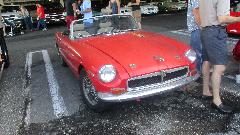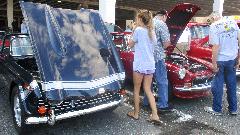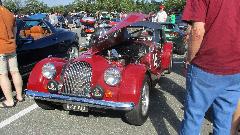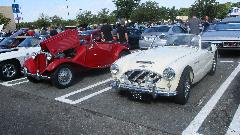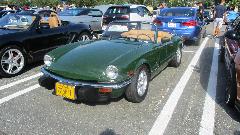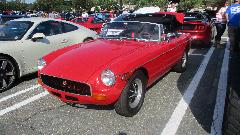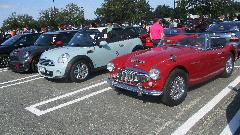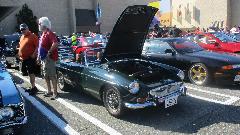 After the bug-eye Sprite I finally found what I was looking for, a contingent from the Central Virginia British Car Club. They have a club meeting near end of each month, but we will likely be out of state by then, so I was interested in meeting these folks now. We may yet get to one of their cub meetings a few months later.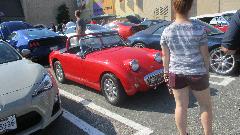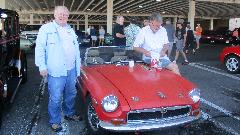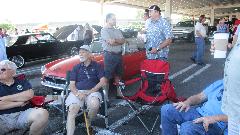 With a free afternoon and evening, I got these photos and notes posted, and several hours of work on on the Shops list (for a change). Something to be said for a slow holiday week end.

Sunday, July 3, 2016: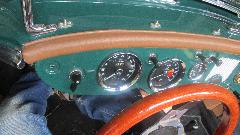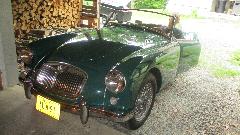 Mission for today was to visit Paul Crowther in Palmyra, VA. We were here momentarily more than two years ago very early in this trip. At the time we had to do a brief re-route to meet Paul at a small car gathering in Lake Monticello, VA. He has a nice 1957 MGA with a 5-main 1800 engine and a problem with non-functional electric tachometer. Being a low priority, we set that aside for now. More important stuff to do, like catching up on MG stories.

Meanwhile, there was some pressing maintenance to do on my car, beginning with installation of the new rebound straps. You may recall two months earlier (May 3) I had installed new rebound straps (purchased October 2014). Then a month later (June 8) I installed new leaf springs. At that time I discovered that the new rebound straps would stretch pretty much without limit until the shock absorbers hit end of travel with axle drop (meaning the new rebound straps were useless). A couple weeks later (June 18) I installed new rear shock absorbers, so now it is urgent to have serviceable rebound straps to protect the new shocks from over-travel damage. So today I installed current issue rebound straps from Moss Motors. In the pictures the tape measure is hooked over top side of the upper strap mounting stud on the frame. With the rear axle supported at the point where the rebound strap is straight but unloaded, the length between studs is 8-3/4 inches (correct length for these MGA straps). When the axle was allowed to drop the straps stretched to 9-5/8 inches with almost 1 inch stretch. This is not even with dynamic bounce conditions, just gentle lowering of the floor jack. While this is not as bad as the prior issue straps, it is still unacceptable amount of stretch (and I suspect they will stretch more with use). So this is not the end of the story, as better parts must be found.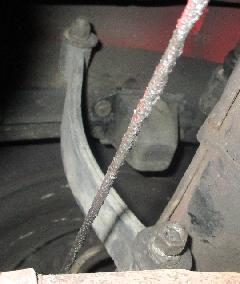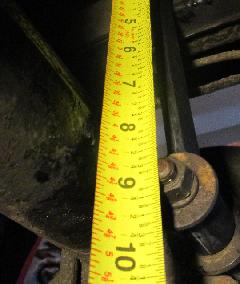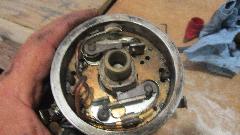 Then a couple routine maintenance chores. First install new contact points in my Mallory Dual Points distributor. Maybe I shouldn't have wasted the time and money, as the old ones only had 90,000 miles on them since December 2012. They really were in pretty good condition.


Next was more important, replacing the perished rubber boots on the rear brake slave cylinder parking brake levers. This is important to keep dirt and water out of the slave cylinder bores and pistons on the MGA. Last time these were changed was July 1996, 254,547 back. I just hope the new ones will hold up as well.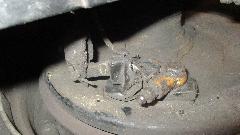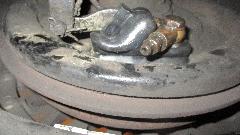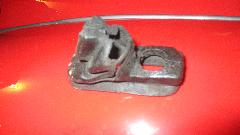 Monday, July 4, 2016:
Today a trip to Manassas, Virginia, to meet with Mid Atlantic Chapter of NAMGAR at the home of Bill Marshall. As the poster says, this is the birthplace of NAMGAR. I didn't count noses, but I recon at least 20 people once we were all gathered. The BBQ was good, and the camaraderie was great. We started in the separate garage with the MGA 1600-MK-II "Deluxe". Then we moved to the back yard for munchies. When it began to dribble a bit we moved under the canopy or on the porch.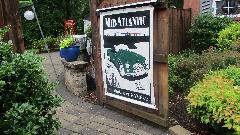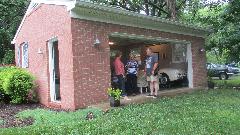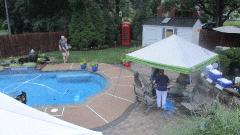 Then the rain stopped, right on que, and at 9-pm sharp lots of noise brought us all around to the front yard to watch the city fireworks. As the party was breaking up we got a peek into the garage under the house to check out the MGA 1500 and the Twin Cam parts car. Then late night we headed back south toward Richmond in preparation for a very busy day tomorrow.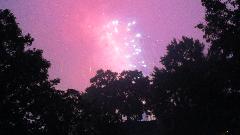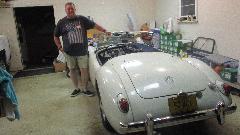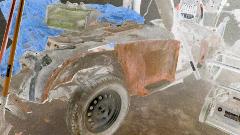 Tuesday, July 5, 2016:
First stop today is at the home and shop of Chip Collingwood with UK Motorsports in Richmond, VA. The shop looks modest at first glance, but there is lots of space inside.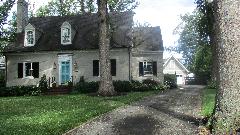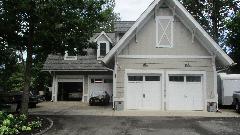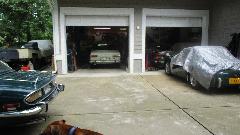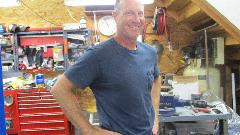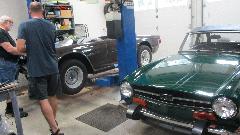 Chip is a specialist in Triumph TR6, but dabbles in some other cars occasionally. The brown one is a full strip-down restoration in process of reassembly. The green one is a fully restored customer car about ready to go home.

A short jaunt down the road we made a brief stop to fix the fuel gauge. Nothing serious, just a broken wire on the fuel lever sender unit. This was a result of the wire being a bit too short and just hanging where it could shake and finally break at the end terminal. Solution was to extend the wire so it could take a bit longer route for proper support and strain relief, and in 20 minutes we were back under way.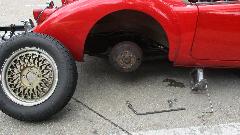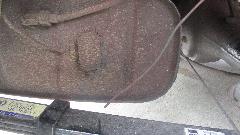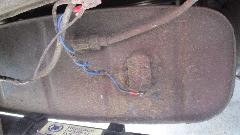 Next was a good run west down the expressway to Roanoke, VA, where we stopped to visit John Eldredge at Union Jack, Ltd. This shop is MGB specialist.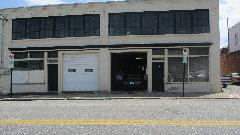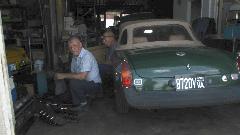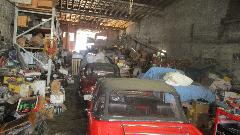 Aside from the cars in the shop here we also took ten mile run to the north to visit his warehouse. Count 34 cars here in various stages of restoration. They range from untouched project cars to fully restored examples.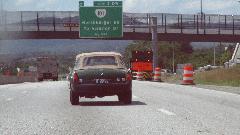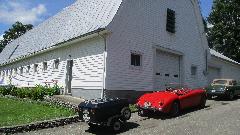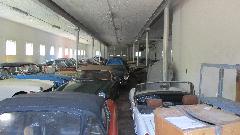 In between you can find cars with body work finished and wanting mechanical work, or mechanical work finished and wanting body work. There are cars for any one's needs.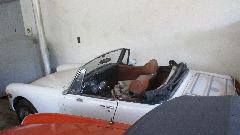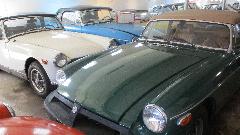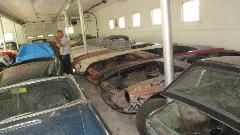 There were a few bug-eye Sprites and a couple Triumph Spitfires in the mix. There are a couple more locations holding more MGs, but time constraints dictate we have to run.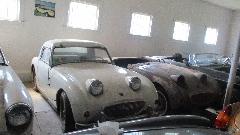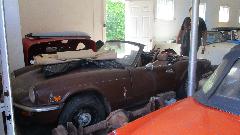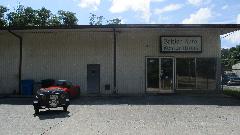 Then a quick run back into Roanoke again to visit Bob Teeter (lead technician) at British Auto Restorations. This place is lined with all things British, but the car that caught my eye today was a Mercedes Benz 190SL. I used to lust after one of these when I was still in high school. It is a very nice car indeed in dress trim. But the more I learn about them over the years the more I figure I really don't want one. Nice touring car with all the whistles and bells (but might run high in maintenance expenses).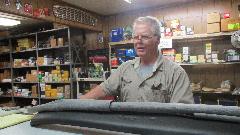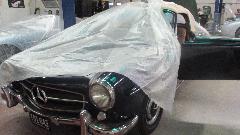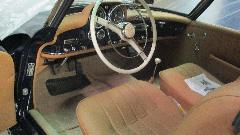 Two more appointments today, but short on time, so we do a quick shuffle and a shortcut in the route. By evening we land in Chatham, VA for a meeting with Old Dominion British Car Club. A few short on normal attendance, we have an intimate group of eight friendly souls for dinner and chat. One notable absence is the President Jim Allen, who is stuck in his shop working on "The MGB From Hell".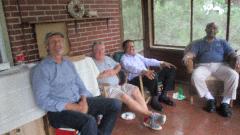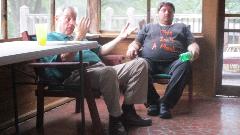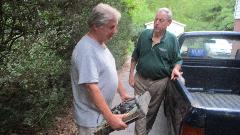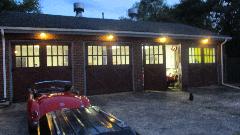 The club meeting didn't run too late, so we made a call and then drove about 20 miles south to Danville, VA to visit Jim's shop, Southside British Cars. An interesting place with a variety of nice British cars outside and inside. And there was the Green GT they had dubbed "The MGB From Hell". Story was, they had seen this car a few years earlier when it had 40 psi oil pressure under all conditions. Now it had come to their shop for service showing 20 PSI oil pressure under all conditions.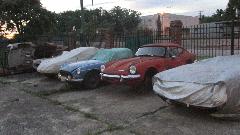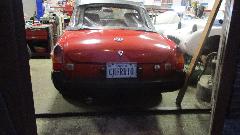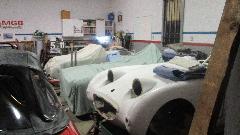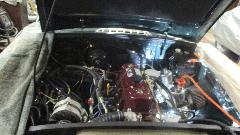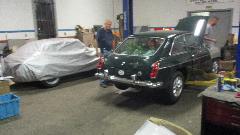 It has all the characteristics of a weak spring on the oil pressure relief valve, so it runs exactly 20-psi oil pressure at idle or an any higher engine speed. New oil pump, new pressure relief poppet and spring with the proper shim button in the poppet. On my recommendation we disconnected the hose going to the pressure gauge, put it in a catch can, and ran the engine. There is plenty of oil flow from the gauge hose, but put a thumb over the hose and find very little effort required to stop the flow (very low oil pressure). There are several things that could cause low oil pressure, but the puzzler is the constant pressure reading regardless of engine speed. My best guess is a missing brass plug in the bottom of the engine block as part of the pressure relief valve drillings. Disassembly for internal inspection will have to wait for another day.

To top it off there is a mystery part that was removed from the oil pan. It is a broken bit of an iron casting or a steel forging, about the size of your thumb nail, nicely machined. The outside radius is a close match to radius of the crankshaft rear flange or crankshaft counterweights. But the crankshaft was not missing any such part, so it may have been left over from a prior repair. Anyone want to make another guess?


Late night we drove another 80 miles east in the general direction of tomorrow's appointments. Chalk up 400 miles, four pro shops and one club meeting. Documentation will have to wait for the morning.

Wednesday, July 6, 2016:
After a few hours driving today we were back to the east cost. With a little time to spare, we stopped momentarily at Wargo Automotive Service in Chesapeake, VA. This is where we had engine machining done nearly two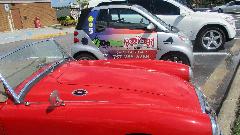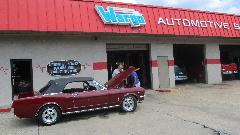 years ago in August, and we just wanted to say thanks for the good service, 70,000 miles later.


When when we stopped for a personal cool-down break we got to park next to something smaller than the MGA, a Smart car.


Then we were off for an evening dinner meeting with Tidewater MG Classics at Great Neck Park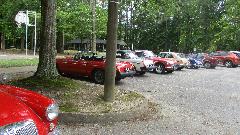 in Virginia Beach, VA. They do this picnic in the park thing occasionally, weather permitting. This time we drove briefly through a rain storm to get there. Weather was dry during the meeting but the storms seem to have scared off some of the club members and a lot of the MGs. There were about 25 people to go with half a dozen MGs, including three BGT's in the car park. Nice BBQ, drinks and deserts, and a good business meeting as well.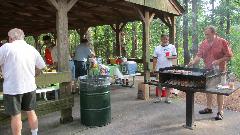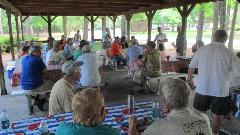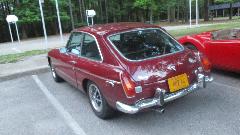 The party broke up as we were running out of daylight, and we headed north a bit. First a fuel stop, then two tries to hit a parts store (one missing and the other closed). We finally landed in Hampton, VA to spend the night with our friends PJ & Faith Peterson. Yes, we were here a week prior, but sometimes repeats can be fun.

Thursday, July 7, 2016: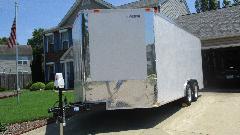 A day without an appointment (happens occasionally), so time to catch up some WiFi work. Well I did spend a little time helping (trying not to get in the way) as PJ was installing a power lift jack on the hitch of his car hauler box trailer. And apparently a few hours chatting about ... (what was that we talked about anyway?). There was a short trip to a parts store for wiring supplies (and the opportunity to pick up that oil filter). Evening email check revealed that Editor had sent along the Publisher file for the CMGC newsletter, which I will be installing on the club web site in HTML format. There went any spare time I might have had for the next couple days. The newsletter was late this month, but better timing for me this time.

Friday, July 8, 2016:
Travel day, mostly. By mid day departure it was HOT and humid. Needing to be a long way away by tomorrow morning, we go anyway. But stay off of the expressway and head for the forest. The tough part was getting out of Hampton, across the James River bridge, and out of the Norfolk (Smithfield) metro area. After that, a nice cruise in the country, about 4-1/2 hours road time. One mid-afternoon cooling break, one fuel stop, and we landed in Salem, VA for the night, 250 miles inland.

Saturday, July 9, 2016:
We couldn't miss this one. It was the once-a-year annual meeting and picnic for British Automobile Club of Southwest Virginia. So we drove the length of Virginia east to west yesterday to be here, and will have to drive back northeast the length of Virginia tonight to be in Gettysburg, PA tomorrow morning. For a while I wasn't sure this club still existed, as their web page is (in places) up to 13 years out of date with a lot of non-functional email addresses and phone numbers. I only received a phone call yesterday morning telling us how to find this group today. Nice bunch of people, about 40 club members on hand, but only a dozen British cars, which seemed odd to most of the Brit car drivers. Perhaps the folks driving the modern family wagons could explain the difference.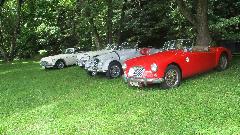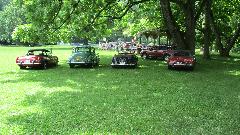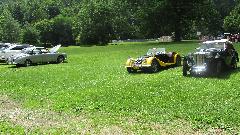 Got busy chatting and missed the people pictures, but did make a bunch of new friends. After the party we hit the expressway heading northeast on I-81, and shortly got stuck standing and creeping in hot weather for at least half an hour due to multiple accidents clogging the roadway. Apparently there was a large 5th wheel travel trailer upset and blocking the right shoulder and one traffic lane (no idea how that happened). Then about a quarter mile back there were at least three vehicles in a chain reaction rear ender. And another quarter mile back at least two more vehicles involved in a rear ender. Some people never learn to drive? While sitting and creeping, mostly stationary, a few police cars and a few tow trucks passed by on the shoulder. I recon no one was going anywhere until they moved a few things from the roadway. By the time we got through it looked like they would need a few more flat bed trucks for the wrecked cars, and a cable wrecker or two to upright the travel trailer. So only 80 miles up we called a cooling stop and waited for the sun to subside some. Doing some WiFi work until late, then another 200 miles to land just just short of Gettysburg, PA.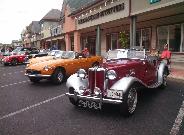 Sunday, July 10, 2016:
British Invade Gettysburg, car show day. Close Main Street and bring in 220 British cars for show and tell. Lots of MGs of course. I'm sure I missed a few, and I deleted several pictures that were bad. Cars were parked at random, not by marque, so the non-MG cars in the pictures are gratuitous (but some are fun anyway).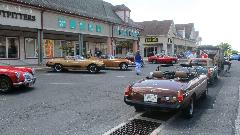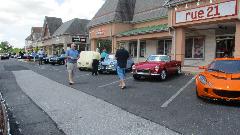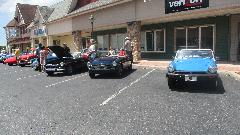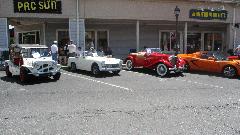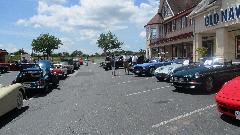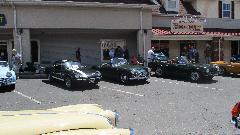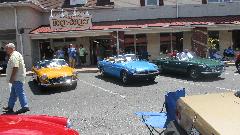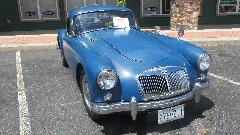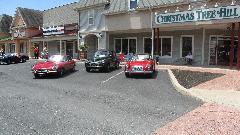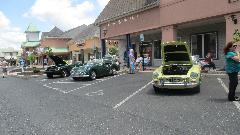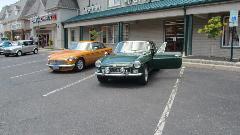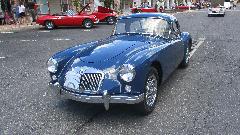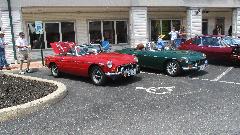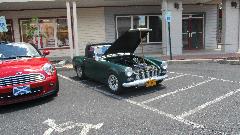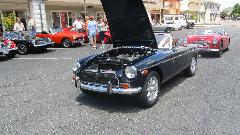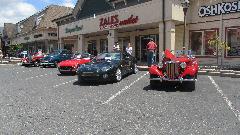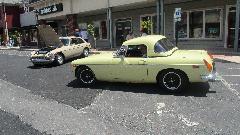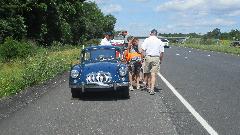 After the street show we were off to Appalachian Brewing Co. for food and spirits with bunch of folks from Clustered Spires British Car Club (but we will get back to them later). A few miles down the road we had a brief stop to offer a hand when the Mineral Blue MGA Coupe suffered a flat tire. Air-in-a-can was not going to help here, as the tire was loose from the rim and the valve stem was torn out of the inner tube.

Monday, July 11, 2016: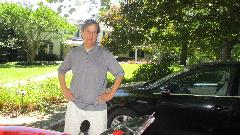 First programmed stop today was Dominion Spares LLC in Reston, VA. Published address turned out to be a UPS store with a drop box number. Duh? One phone call set us on the right path, and ten minutes later we were visiting with Bill Rachal at his home based business in Vienna, VA. Dominion Spares specializes in replacement parts for TVR cars, which in many cases will share engines and some other parts with MGs.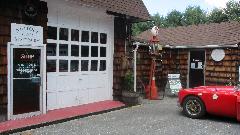 Next stop was at White Post Restorations in White Post, VA. Unfortunately, no one was here. One phone call revealed this is a four day per week business, Tuesday through Friday, closed on Monday. Really? This is a pretty large operation with lots of people, so this idea took us by surprise. Another thorough search of their web site finds nothing about hours or operation or being closed on Monday. Food for thought.

Tuesday, July 12, 2016: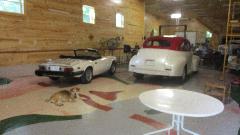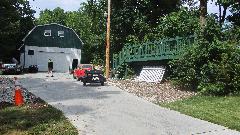 A little over 300 miles to the west we were in Barboursville, West Virginia, at the home of Don Gross. Our first encounter is with his "barn" style workshop, built one step down the hill side from his house. You might notice the building gets wider at the rear, and the rear is a long way back from the front. There is a car lift in the far back corner, and three more cars in the back (mostly hiding in this picture). His Spitfire seems lost on one side of the cavern. This place is kind of new, so I suppose it is only a matter of time before it will fill up with more toys.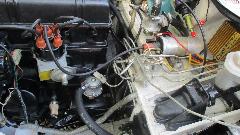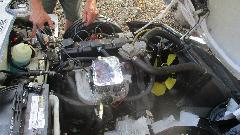 First business is to check out Don's TR Spitfire which was running poorly. It would start and idle okay with ignition timing and fuel mixture in the ballpark, but driving under load it would misfire badly, a classic example of intermittent missing spark. It has a Crane XR700 ignition module on the firewall with optical pickup in the distributor. I suppose someone thought it might be a good replacement when the original electronic ignition failed. Scratch up two failed electronic systems. I wonder if this one can be converted to points and condenser without a complete distributor transplant.


The engine also has a bad problem with scum in the valve cover, another classic example of lack of crankcase ventilation (side effect of installation of the Weber carburetor). It has a vent from air cleaner to valve cover but no other port to allow air circulation. The hose up top serves to duct blow-by gasses into the carburetor intake. It needs a drilled port in the intake manifold with a PVC valve to draw a light vacuum in the crankcase.


Then the gang from West Virginia British Car Club began arriving for an evening meeting (Pistons & Pints). What is this infatuation with Weber carburetors?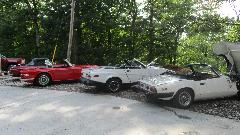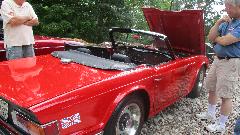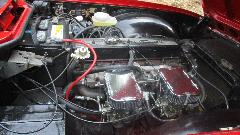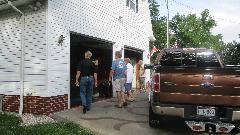 Up the hill we go to check out "the man cave". This the prior 2-1/2 car garage now home to a bunch of non-automotive toys. Up the stairs on the second floor is a taekwuondo training room (sorry no picture there). I believe one lower bay is still used to park the daily transport.


Somewhere beyond this building, on the far side of the hill, there were a few more somewhat elderly vintage American cars awaiting their turn for spiffying up in the barn.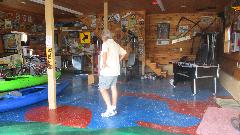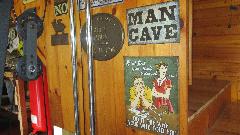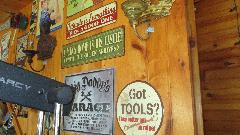 Then back to the barn for an evening of joviality with the club crew. A bit after sun down it was time to put the Spitfire to to bed and haul out to head back east for next day's appointment.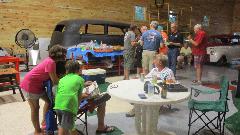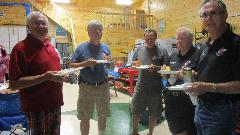 Wednesday, July 13, 2016: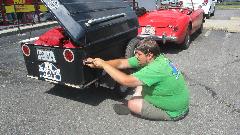 Oh-oh, just caught navigator doing maintenance again. The trailer just hit its 30th anniversary on the road (over 200,000 miles), and wiring for the safety lighting has been "wanting" for some time. It was originally wired up
with lots of pinch-on wire connectors (factory issue), the kind commonly used for temporary trailer hitch harness installations. These connectors have been failing contacts for years past, and getting worse with time, so it is time to re-wire the whole rig. And while I'm at it, I will take the opportunity to install new side marker lamps, as the original ones are somewhat "long in the tooth" with a bit of corrosion and burned out bulbs (not the first time). Maybe get LED lamps for the sides this time (to match the LED tail lights installed in 2008). Morning trip to a parts store to pick up new marker lamps, couple rolls of wire, bunch of wire butt connectors, one new 4-pin harness connector. Toss that stuff in the boot for later reference.


Then we were off for a visit with Bob Stickley in Christiansburg, Virginia. He has a nice MGA 1600 that was hard to start when cold and has a bit of a stutter under load at high speed. Ignition system was in good order. Rear carburetor was running very lean but easily adjusted. With test drive in the hills it seems to run quite well, until running up hill with full throttle around 4500+ rpm it runs out of fuel on one carburetor and goes to running on two cylinders. Rats. Gotta get that fixed fixed sure. Initial check reveals what appears to be adequate fuel flow to the carburetors, but haven't done a dynamic pressure test yet. Also need to check the inlet screens and float valves for clear fuel flow. Something is limiting fuel flow into the float chambers. My gut feling on this one is low fuel pressure. But that will have to wait for later, as a call has brought a nearby friend to visit for dinner hour, and the rest of the day vanishes in a sea of car chat.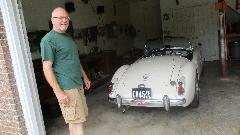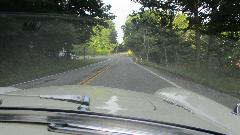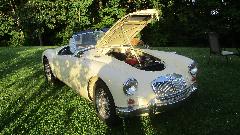 Thursday, July 14, 2016: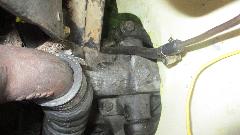 Bob's MGA also had "soft" front suspension doing the rock and roll bouncy with undulations in the road. Easy fix there, just put oil in the front shock absorbers and enjoy the big grin on the driver's face after another test drive. The remaining question is how long the oil might stay in the shocks, and if not long enough then when to call for rebuilding service. I also recommend installation of a 3/4-inch sway bar and would like to see his face after the next test drive.


Mid day had a few hours to spare, so it was a good time to do the trailer side lights and re-wiring. Pretty straight forward, just a couple hours of grunt work, tossed out the old wiring with all of the failing pinch connectors, installed new wire with gas-tight crimp connectors, got it right the first time, and the trailer is happy again.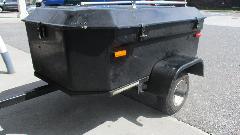 These are surface mounted modular lamps with a plastic base and snap-on lens/bulb assembly. They have two incandescent bulbs each, which will serve well for now. The bulbs are not individually serviceable, so when they burn out the snap-on lens assembly has to be changed. The snap-on lens with bulbs was not available as a replacement part (making me wonder why it was a modular assembly in the first place). A snap-on lens assembly with LEDs is available, which is what I wanted to do in the first place. The LED lens part is about $8, where the whole modular assembly with base mount and incandescent bulb lens was less than $5. I have a sneaking suspicion that these parts may no longer be available when the bulbs burn out and need replacing, so I am thinking if I should buy the replacement LEDs and install them now, or carry them around for some years until needed. Also wondering if the plastic base parts might fatigue and break some years later so the entire effort might be for waste. Gawd I hate plastic parts and custom lamps, but for now they are a nice upgrade.


Bob had an afternoon appointment, and we had to run, so consider returning later to finish the carburetor debugging problem.


Then we were off for a two hour dash down the expressway to Kingsport, Tennessee for another evening meeting with Appalachian British Car Society. Arriving just a bit early, there were only couple little cars present, and leaving late we apparently missed other cars that may have been here in between. The meeting ultimately gathered about 40 people at Rush Street Neighborhood Grill for business and joviality. Guest speaker was something about investment counseling (but at least he drives a Mini and a Lotus Elite).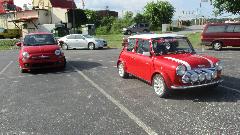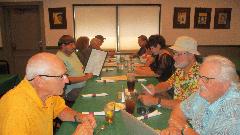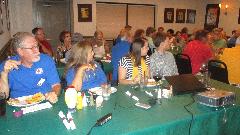 Immediately after the meeting we headed due east (220 miles) into North Carolina for tomorrow's appointment, short on sleep again, but nothing new.

Friday, July 15, 2016:
Today we dropped in to visit Bill Welborn in Burlington, NC, where we were soon joined by his brother Rick (with the blue MGB). Bill's red MGA 1500 (with front disc brake conversion) was laid up for some maintenance. First notice was that it has two 48-spoke wheels and two 60-spoke wheels (just a curiosity). The master cylinder was removed for some attention to copper sealing washers on the pipe fittings, so the car wasn't going anywhere today. Put a few a guys together to talk about cars, and nothing gets done for the rest of the day. At first sign of thunder the blue car disappeared, determined to get home before getting wet. About dark time we had to head out, having a four hour drive north for our next morning's appointment.