The MGA With An Attitude


MGA Guru Is GOING MOBILE - (July 16 - July 31, 2016)


Saturday, July 16, 2016:
Start off the day by meeting Shenandoah Valley British Car Club in Madison, Virginia, in preparation for a day cruise. I counted at least 13 cars on the tour, and at least one more meeting us at the lunch break. We drove some nice back roads through Madison and Rappahannock Counties through Flint Hill and Little Washington.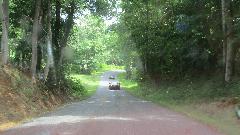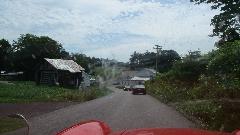 Lots of nice scenery, rolling roads through the mild mountains, shady lanes, stone walls and vineyards along the way. I believe we had 26 people for lunch.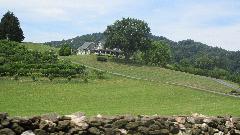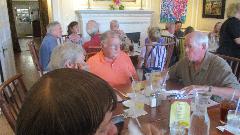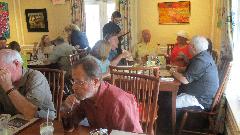 After lunch the parking lot looked like the Jaguar club had invited the lesser cars to tag along, but it was all in the same club. The Subaru was following the parade. Not sure if it was to pick up falling parts, or if they put him back ther to stay out of sight.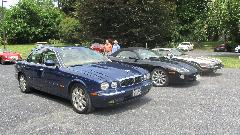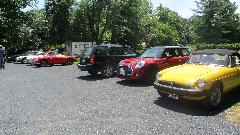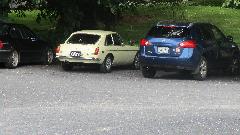 Then we were off and running again. The last stop was for a tour of Cooper Fox Distillery in Sperryville where they are making "whisky". They can't call it "bourbon", because it was being aged in used barrels (second pass) which had been used to produce bourbon on the first pass (learn something new?). I was just boning up on the difference between Bourbon and Whisky and managed to kill a couple hours with interesting reading.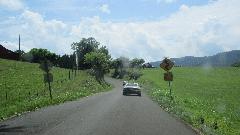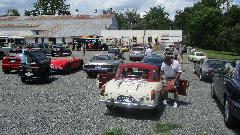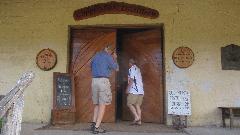 There are a few "tourist trap" type shops in other buildings of the same complex (all of which we skipped because we are not tourists).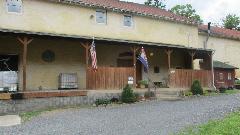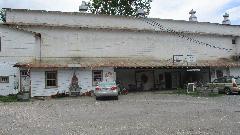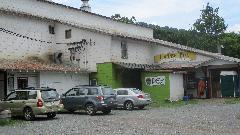 Finally we had upcoming two days with no more firm appointments, so it was time to find a WiFi spot to catch up with the backlog (at least three days) of photos and notes and email and tech questions. Heading northeast, we had to skip a couple places that had no power outlet for the computer chargers, ultimately ending up in Strasburg, VA. Priorities up, first finish posting the CMGC newsletter on line (nearly a week after starting that task),finishing that just in time to quit for the night.

Sunday, July 17, 2016:
Back on WiFi in the morning. In addition to the grunt work we spent more time with planning and email, laying plans for more appointments in Virginia. Still 8 people (some of them hard to contact and/or match schedules), 2 clubs and at least 1 business on the list. Busy, busy, busy. Also making a hard drive data backup, which is properly slow running in the background while my keyboard work has first priority. Navigator is worried that we may run out of time before it finishes (and it doesn't). We have a late night confirmation of next day's appointment, so we do a two hour run south down I-81. By now we have left a lot of tire rubber on this road and not finished yet.

Monday, July 18, 2016:
Today we drop in to visit Mike Ohleger in Buena Vista, VA. Now here is a guy with some definite opinions, and I like the license plate on his truck. Apparently it was transferred from a car he no longer owns, and this is his way of preserving his ownership of the plate number until he can transfer it to his next MG. Restoration of his 1961 MGA 1600 is plodding along on a regular basis when time allows (we all have priorities). We poked around the car some, lending a bit of advice and a few suggestions. Also spent much of the day chatting about cars and clubs.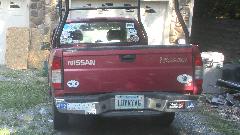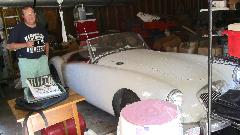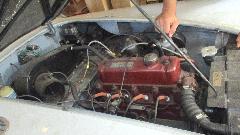 By evening we were headed back up I-81 again. With a little time to spare, we took the opportunity to hit at a rest stop
to fix a wire harness problem, as we had no power for the trailer left side brake light and turn signal. This turned out to be a disconnect in one of those horrid temporary pinch-on wire connectors the trailer dealer installed in the car when we bought the trailer in 1989. I'm surprised it lasted this long. I believe it is the last of them to die, as a few days past we tore all of the similar remaining connectors out of the trailer. So cut the wires, toss out the failed connector, install a gas-tight crimp-on butt connector, and re-tape the harness to be vibration proof.

Tuesday, July 19, 2016:
Morning found us (temporarily) back in Strasburg, VA (because we know this is a good WiFi spot). Good time to catch up with some grunt work, but we had other places to go before day's end. Early afternoon we were off to White Post, VA, to visit White Post Restorations.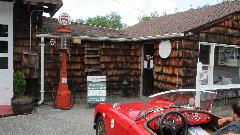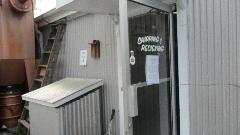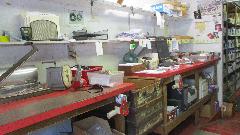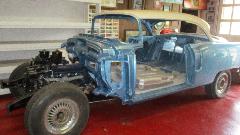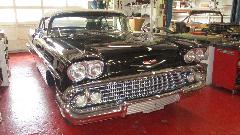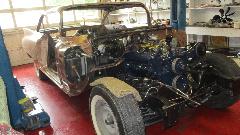 This is just eye candy. People will pay big money to restore vintage American iron. At least three Cadillacs, a Dodge, and a couple Lincolns in process.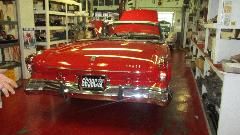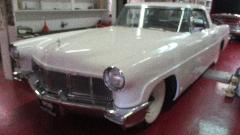 A Jag E-type nearing completion, and a Porsche 356. No British cars today. The paint shop is always busy.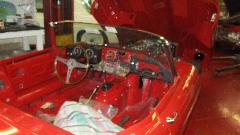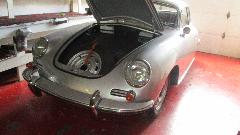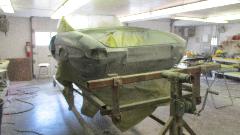 Hydraulic cylinder sleeving is big business here. Plenty of White Post rebuilt brake cylinders on MGs.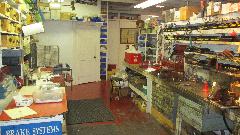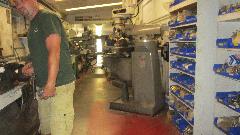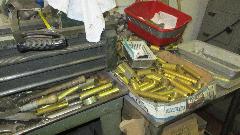 Upholstery shop makes anything and everything needing fabric. Toyota Land Cruiser getting some new sheet metal in the welding shop. A Shelby 350 almost ready to go home.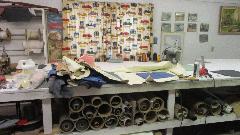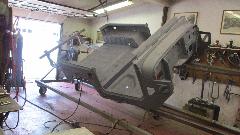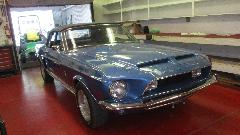 Later evening we had one more stop to visit Clustered Spires British Car Club for a dinner meeting at The Braddock Inn in Braddock Heights, MD. I think 17 people for dinner and a short club meeting, and plenty of car chat. There were at least half a dozen more little British cars here later, but photos were failing at dusk.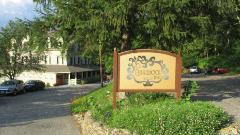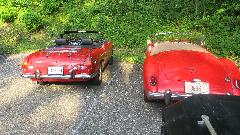 Wednesday, July 20, 2016: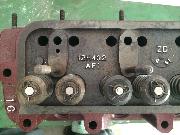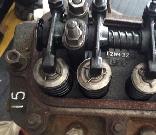 Catching up a backlog of email and BBS. Had an interesting encounter today with two different cylinder head castings with the same casting number (for the MGA 1600-MK-II engine). First time ever for that anomaly, so it is making a new tech page. More on this later.

Thursday, July 21, 2016:
We made our way to Urbanna, VA, today to visit Charlie Adams (at Bobby William's shop). Two guys with MGAs. That would be Charlie on the left and Bobby on the right. I had to get the picture quick when I saw the quaint adaptation of auxiliary cooling radiator under the floor. That looks like a 13-row oil cooler form a Mazda RX7 (my other area of expertise).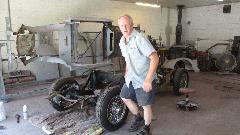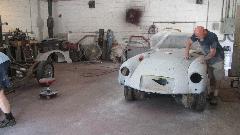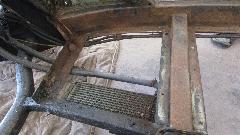 Charlie has a nice low mileage California car with NO RUST (did I say that loud enough?).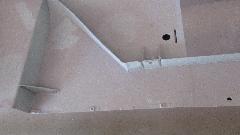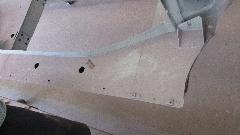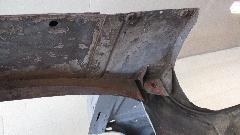 Two photos below right show what is believed to be original factory applied undercoating under the boot floor (for sure) and under the front air pan (maybe).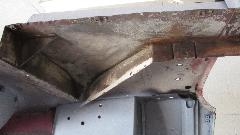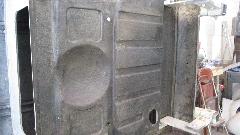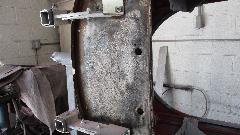 Clean panels all around. The original top weld seam on a front wing. Nice straight front frame extension.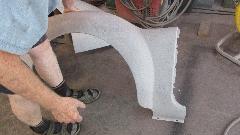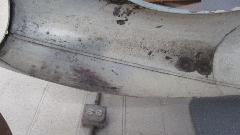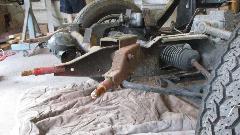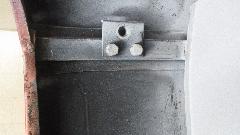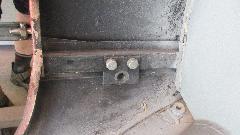 I did a double take on the mounting point for the shoulder harness. I had seen the welded bracket with two threaded holes, but this is the first I have seen real parts of the bolt-on L-bracket. This apparently offsets the shoulder belt slightly outboard.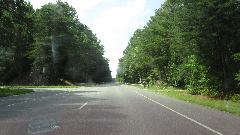 After a short visit we headed back north again, taking some side roads to enjoy the scenery by daylight, and soaking up some of the warm 94dF breeze to go with the bright sun. Nice, but that didn't last long before we ducked into some AC for some WiFi time to post the notes. We will drive a little more after things cool down a bit.

Friday, July 22, 2016:
Back to see Charlie Adams again, but this time at his home on Fairfax Station, VA. He has a second MGA 1600-MK-II here, a very solid car but needing restoration.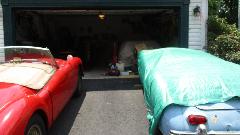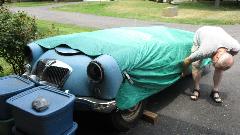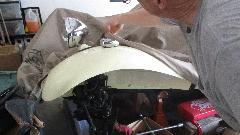 He also has an MG TD here with a fresh engine on the table ready to install, and otherwise very far along in restoration. The engine has a modern rubber seal retrofit to rear end of the crankshaft. This is a Moss Motors supplied kit requiring a little special machining, reportedly in the 3rd or 4th iteration of development, and the machinist believes it will work.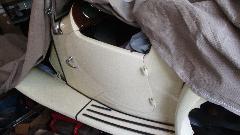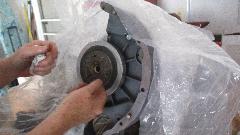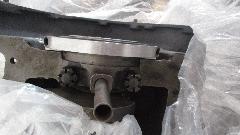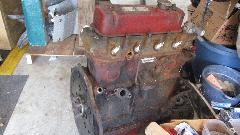 But the primary interest today is two MGA 1600-MK-II 1622cc engines and three early cylinder heads to match. This is a spin-off of a BBS message and a couple pictures from two days earlier. We have known for a long time that there were a few hundred early 1622 engines with machined out "15" heads. Until now I had thought these were standard "15" heads same as used on the 1500/1600 engines, machined out to larger chamber volume and one size larger valves. But now we have examples of the newer casting number with "15" cast on top, followed by another head with the same casting number with "16" cast on top.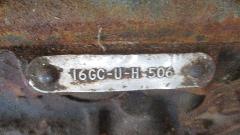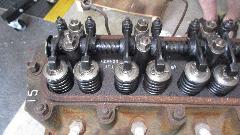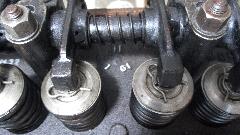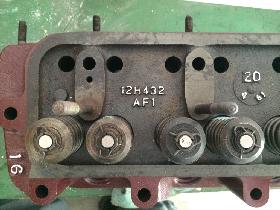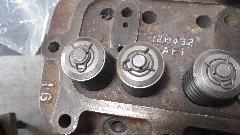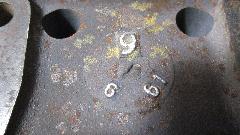 This begs the question, how could this happen? If I may speculate, perhaps a few hundred pieces of the new part were cast before there was a change or finalization of design specification. For reason of cost or time constraints, it may have been prudent to machine the first parts to later spec rather than melting them down. Since no parts were released before the final design change, and the early machined parts would be functionally identical to the later parts, there was no need to change the casting number or final machined part number. It is an odd curiosity that the first parts have the "15" on top while the later parts have "16" on top, and they have the same casting number. Casting dates are 11JAN61, 20APR61, and 9JUN61. The first one is a "15" head, while the others are "16" heads.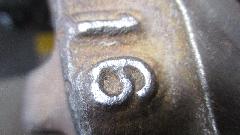 The curious bit here is the same casting number on all. When you look closely at the "16" it is obvious that this is a modification to the "model" (the wood part used to make the cavity in the sand for casting). The individual digits "1" and "6" have been inlaid into the model like offset printing characters, with a protrusion of the base of the character slightly above the surface of the casting. This leads me to believe that the "15" was changed to "16" when the model was changed to enlarge the combustion chamber (so it no longer needed machining after casting). Also notice that the "16" is upside down relative to the "15" (or vice versa). This may be a key to identifying originality of the early "16" heads that were marked "15", as opposed to an earlier "15" head than may have been field machined out to the later 1622cc engine specs.

Saturday, July 23, 2016:
How about something slightly different? Today the MG Car Club, Washington DC Centre, met at Burke Lake Park in Fairfax Station, Virginia. They were here to host the 54th Annual Braille Rallye. This event was first devised to encourage young blind people to learn to read braille. There were at least 10 MGs participating with a sight impaired navigator for each one. We must have come up one car short, because after the competition run, I got to run the course a second time to provide a fun run for one more sight impaired person. A fun time was had by all (but it was getting really hot for the second lap at mid day).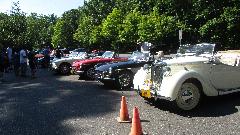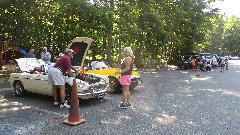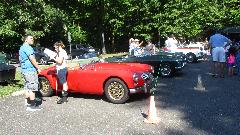 The day began with each navigator checking out the cars to choose which car they wanted to navigate. Navigators were then introduced to the drivers, and the rally cars were departing at two minute intervals. This was a sort of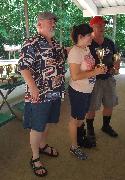 casual Time-Speed-Distance rally based on posted speed limits, traffic conditions, a standard 5-second wait for each stop sign, and whatever pops up with traffic signals. Organizers had predetermined some reasonable standard time to complete the route, and the car finishing closest to the standard time would be the winner. This works quite well, as long as the sighted driver does not question the navigator's interpretation of the route instructions (which were written in Braille). There were competition classes for Junior and Senior, Braille and Large Print. My navigator was very proud to be Senior. I don't know where they draw the line but she looked pretty young to me. We ultimately took 3rd place in the Senior Braille class.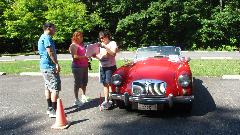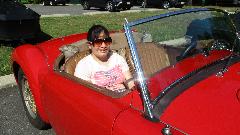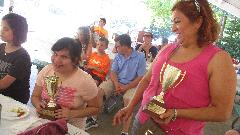 At end of rally there was a light feast, and a car show of sorts, with the navigators serving as judges. Trophies were to be awarded for Best Of Show, Best Finish, and Best Horn. I did feel obligated to give my car its annual bath and vacuum before entering this event. As my car was on the second lap around the course during the car show, it wasn't included in the judging. -- Heading a bit farther north late night.

Sunday-Monday, July 24-25, 2016:
Nice (even necessary) to have a couple of discretionary days occasionally. Time to catch up with some tech questions and revisions to tech pages, and have a real laundry day. Most of the available time was spent working on the new North American "Shops" list (may now be 60% done since first of the year). Sitting in Gettysburg, PA. Good thing we are not tourists, as it would be easy to spend a month here visiting history.

Tuesday, July 26, 2016:
This evening we were off to visit our "friends in the alley" in York, Pennsylvania, the guys who come to tinker with the cars every Tuesday evening. Last time we were here was two years ago.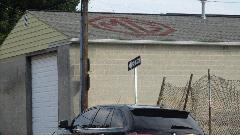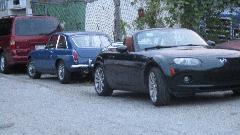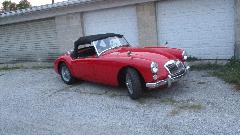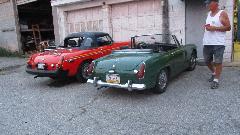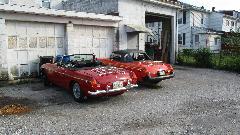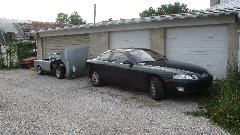 In those lower garages we have some new residents since last visit, a Mini, a TC, and an MGB. Also an AH 3000 with low mileage and no rust? Really! Last registered in 1982.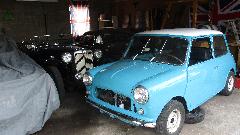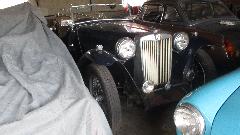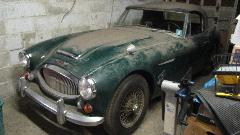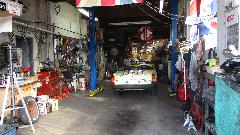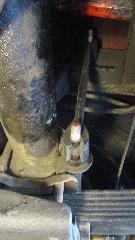 We had an ulterior motive this time, with opportunity to use the lift to change those pesky rebound straps again. For many years now Moss Motors has not been getting the message. These are not supposed to be rubber straps (that stretch), or rubber with a little fiber reinforcement (that break). They are supposed to be thick web straps (that do not stretch or break), and the rubber coating for environmental protection is optional.


This time some friends in New Zeland who make their own have sent me a pair of synthetic web straps. The eye ends are lined with truck air brake hose for the heavy bushings. They are indeed quite substantial, and look like they will handle the job nicely. It was a quick change, and while I was at it, also changed oil in the gearbox and differential.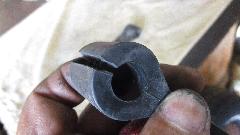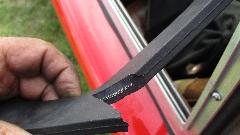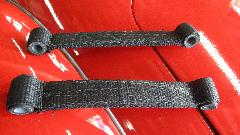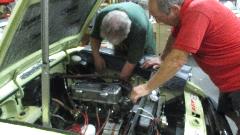 Then we got to tinker with an MGB with troublesome HIF carburetors. With the carbs on the bench, then were disassembled and were checked for clear passages and free motion of the moving parts. Reassembled and roughly adjusted, back on the car, they dumped fuel like a sieve. Off the car again, install new fuel jets, double check float adjustment, back on the car again, and they still dumped fuel. Fuel pressure check shows 4-psi maximum static pressure, so that's not a problem. Very frustrating. Time to call it a night, plan to get new Grose-Jets tomorrow, and maybe try it again tomorrow night.

Wednesday, July 27, 2016: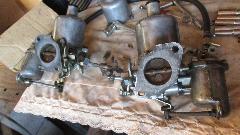 Okay, we have Grose-Jets, real ones from a local supplier with New Old Stock, manufactured by D&G Valve Mfg. Co. in Stoneham, Massachusetts, USA (when they were still making the things). So set the HS-4 carburetors aside and get back into the HIF-4 carbs. But it didn't take long to run into an insoluble problem. There is a significant difference in the crown diameter of the float valves, with the Grose-Jet being larger diameter at the actuator end. In assembly the heel of the float arm touches the crown on the valve body before the actuator arm will touch the shut-off ball. Bummer. I casually suggested grinding a smidge off of the jet housing to avoid contact with the arm, but the owner graciously declined, wanting to save the new parts for use in the HS-4 carbs. Maybe tomorrow try again to see if they can find slightly smaller Grose-Jets that may work here.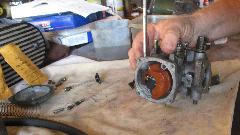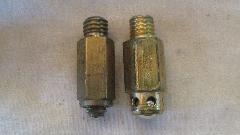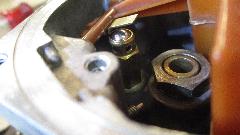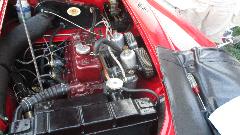 Meanwhile, across the alley there was an MGA running roughly needing attention. That was easy, just a standard carburetor adjustment to get it smoothed out. Then pull out the set-back timing light and advance ignition timing to 32d BTDC at high engine speed and all is well with the world.

While the guys were fiddling with a P/U truck in the work lane, the sun went down, and I took the opportunity to realign the headlights on my MGA (whacky since reassembly after the repaint a few months earlier). Then we pulled it into the work bay to top up hydraulic oil in the front shocks, and bounce it a bit to get the air out. Then sent host and friend out for a test drive in my MGA, which resulted in a couple of big grins on return. Not startling fast, but fun.

Looks like we may return again tomorrow for another shot at the HIF carburetors. Given some time to spare, maybe see if I can delete a small rattle in my clutch release arm, caulk up a few leaks in the heater shelf, rebuild my side curtains, install new bumper overriders? The last couple things are not particularly urgent, but when done would free up a bit of space in the trailer where we have been carrying the parts around for quite some time.

Thursday, July 28, 2016: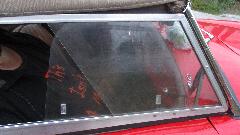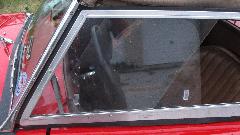 Before and after. Look Ma, no scratches.


Another day working on the Shops list, coming along well. Another evening in the alley workshop, two hours tops fitting new perspex panels in the side curtains. Not a big thing, but now I can see out of the car again, and it freed up some space in the trailer. Think about the rubber seals later.


Correct Grose-Jets for the HIF-4 carbs not available, now on order, maybe next week before follow up on that issue. Rest of the evening BS-ing about MGs, time well spent when the priorities are right.

Friday, July 29, 2016: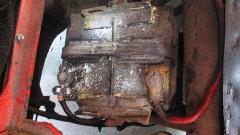 The day started off with a small hitch. In the morning the car cranked well for about three seconds, and then went electrically dead. This turned out to be a badly corroded connector terminal on the main power battery cable. I clamped a small Vice-Grip on it to make a good temporary connection between the cable and end terminal to get us going. Later in the day I installed a new cable terminal. No big deal. Battery water level is okay, but I need to wash the battery with some baking soda to clean it up .

Later in the day (while waiting for less sun and heat) I took the opportunity to open the speedometer for a little minor surgery. For a long time the speed needle has been wavering up/down in a range of several MPH,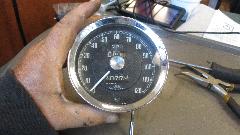 about one cycle per second at road speed. The cure for this involves the tiny single strand of copper wire under my finger. The idea is to wrap this once around the input shaft as a shim to eliminate end float of the input shaft that carries the single pitch worm gear for primary reduction of the odometer drive gearing. That end float causes fluctuation of the magnetic field that drives the speed needle. Elimination end float should eliminate the magnetic fluctuation to prevent the wavering of the speed needle. We will find out in a few hours, next time we hit the road.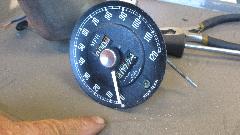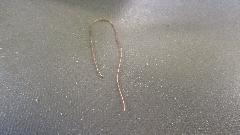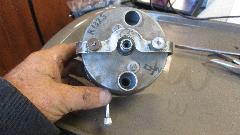 Looking for a printer to print out a paper copy of my new car insurance ID card. Need a short trip to Walmart for minor supplies. Will be heading southwest into western Maryland sometime tonight.

Saturday, July 30, 2016:
This evening we attended a "picnic" with Clustered Spires British Car Club, at the home of Ed Moss in rural Jefferson, MD. And it was periodically raining heavily. During a call ahead to verify the arrangements, we were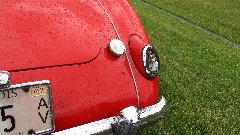 told to turn into the driveway when we see the "MG Parking" sign. We did that, but ended up in what appeared to be the neighbor's driveway. Trying to turn around, we got stuck momentarily in the wet grass, had to unhitch the trailer and get a bit of a push to get out. That made a couple of ruts in the grass, and left some mud on the car tires. Navigator got a bit overzealous pushing and managed to smash a tail light lens and dent the light base. We put that back together with tape a little later, will need to order some new parts, no big deal.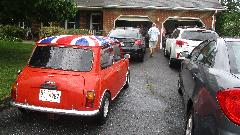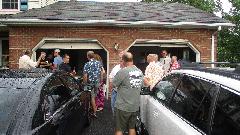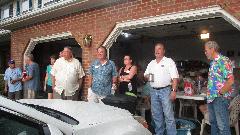 After a brief respite the rain kicked up again, so the picnic moved inside the garage. Then the wind picked up with "horizontal rain", and the garage doors were closed for a while. It was a jolly good group (maybe 30 people), good car chat, good food, plenty of beverages (including some home brewed beer).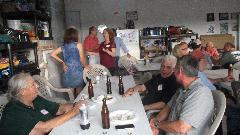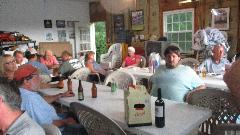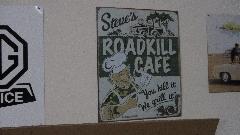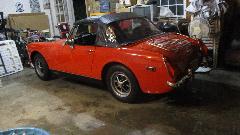 Sometime after dark the party was breaking up, and the resident Midget got his garage space back. We hung out for more chat, bailing out about 10-pm I think. Then heading east, mostly on I-70, zipping around the north side of Baltimore, landing near Bel Air, MD for the night.

Sunday, July 31, 2016:
By mid afternoon we stopped for a visit with Steve Williams in Abingdon, Maryland. He has a nice MGA 1600 with the engine out for spiffying up the engine bay. Now that it is mostly clean and painted with some new parts in hand, it needs to be reassembled, but there are a few mysteries and irregularities here. In the engine bay we were checking routing of fluid pipes and wiring harness, looking for suitable P-clips to secure things.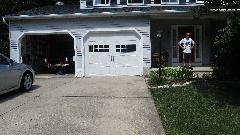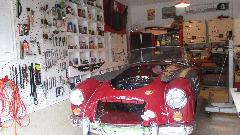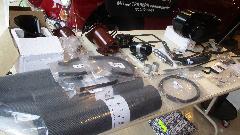 On the engine stand we were checking out the engine, painted with several parts reinstalled, turn the fan blade right way around, tighten some bolts install correct hardware for valve cover bolts, install engine mounts and grounding strap, collect some fasteners for ignition coil mounting. Order correct studs for exhaust manifold, consider correct installation for the distributor. I spotted a problem with a spin-on oil filter adapter, something I had personally encountered nearly 30 years earlier. Taking some measurements from the adapter parts determined that the thick rubber O-rings were never going to seal the center of the adapter (a design error). This spin-on adapter is destined for the dust bin. There is also a metal plate missing from the original oil filter mount, so reassembling the original canister filter is a no-go. So order up a different spin-on adapter. I hate delivering bad news, but better to know now than after the oil filter might fail in operation.