The MGA With An Attitude


MGA Guru Is GOING MOBILE - (August 1 - August 15, 2016)


Monday, August 1, 2016: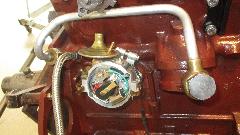 Back after Steve's MGA again today. Easy stuff first, we realigned the distributor drive gear to get the distributor body and rotor properly oriented. Then to properly route wiper motor and dipper switch cables under the master cylinder, we dismounted and disconnected the dipper switch bracket and switch to disconnect and re-route the wires. Installing a rubber grommet and running wires under the wiper motor was a nightmare. Reconnected and reinstalled the dipper switch, rewired the wiper motor. Connecting wires around the fuse block, flasher unit, and control box was easy. Add a couple of P-clips to the harness and some plugs and grommets in the bulkhead. Trip to store for screws.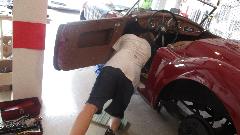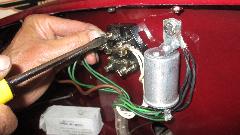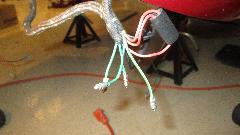 Investigating an extra wire running from turn signal switch to left rear of car (eventually deleted), we got into re-routing the rear harness, replacing a few bullet connectors, rewiring the license plate lamp. Man, fixing DPO bodges is slow work.

Tuesday, August 2, 2016: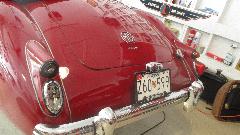 A bit late start in the morning, but a decent amount of work by late afternoon. Lots of plugs and grommets and P-clips in the heater shelf and firewall, reinstalling the control box a couple more times in the process. Plugging together the wire harness, pulling apart and re-soldering a few more bullet connectors, man I hate crimp-on bullets. I think it's time to suggest that anyone buying a new harness with crimp-on bullets should solder all of the bullets before installation. Re-routing a few control cables, the oil pressure signal pipe and the temperature sensor pipe. Toss out the shiny new turn signal flasher unit that didn't work, and reinstall the old one. By late afternoon we had all of the lights and turn signals working, along with final attachment of most of the pipes and cables. The place was cleaning up well.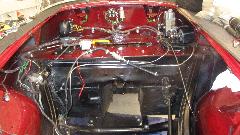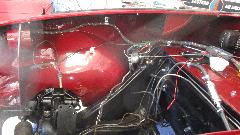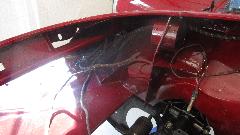 In the evening we were off to a dinner meeting with MGs of Baltimore, about 30 people at Johnny Dee's Lounge. The MGA Guru was guest speaker, doing a bit of dialog about history and evolution, what we have been doing the past two years. This was followed by a casual tech session on reliability of MGs and how to make them fun to drive, followed by an open Q&A tech question session to "stump the guru". All jolly good fun.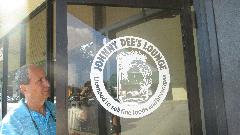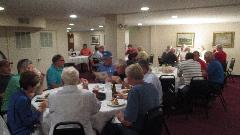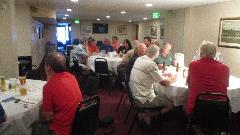 Then back to Steve's MGA late night. Dig, dig, dig to get the old oil filter adapter seal ring out of the gland in the the engine block before installing a new seal ring.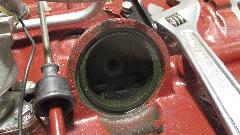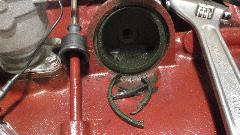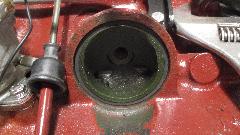 Then we were pleasantly surprised to find the Moss Motors has corrected the long standing problem with their spin-on oil filter adapter, having reduced thickness of the hex fitting so it will not jam on the filter to prevent removal. Installation then was quick and easy.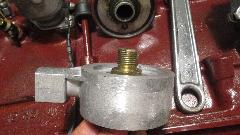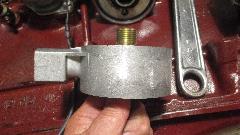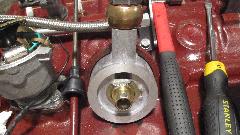 Then we installed new studs in the bottom of the exhaust manifold, installed ignition coil in the inner fender (for easier service), put a P-clip on the front cross-over wiring harness, surveyed the last few holes in the firewall. Putting the repainted fan back on the engine, we were momentarily overcome with fancy. Would it be possible to put the gearbox and engine back in the car and make it run, like tomorrow? This is the sort of thought that can get your motivation cranked up.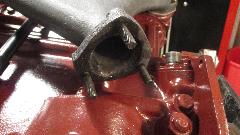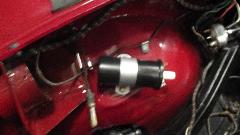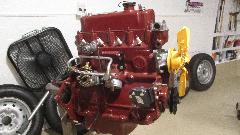 Wednesday, August 3, 2016: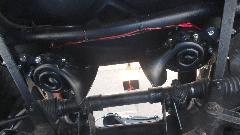 Start with some fun today, install the new Windtone dual horns, and man do they sound nice. Then a trip to the store to get a 1/2" x 3-1/4" bolt to replace the one that had the head cut off for removal, so we could install the gearbox. One mounting bolt, four bolts in the propshaft flange, connect the speedometer cable, and install the shift lever, lickety-split.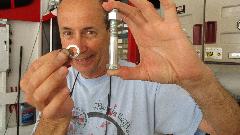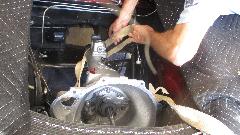 The clutch slave cylinder was pretty crusty looking, but we took a shot at rebuild as a matter of expediency. Brush off the external corrosion, wipe out the internal corrosion and it didn't look too bad. So another trip to the store to pick up a brake cylinder hone, and about 10 minutes on we had a rebuilt clutch slave cylinder.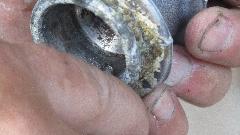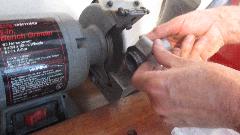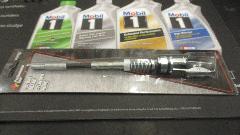 Install the slave cylinder and hose, hook up a new speedometer cable, install a bunch more P-clips, and the engine bay was beginning to dress out nicely. Of course nothing is quite as easy as it sounds.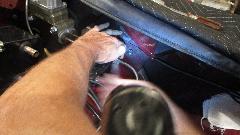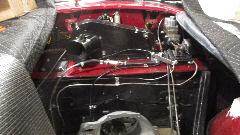 Got the engine off the engine stand onto a table, and it was time to change the spigot bushing. No special bushing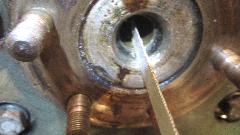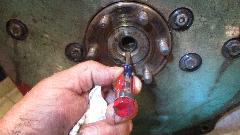 puller handy, no 5/8 inch punch for hydraulic removal, and no pipe tap either. The next best expedient method is to cut through one side of the bushing with a hack saw blade, tap a sharp point blade into the joint to bend the bushing inward, and pull out the shards with long nose pliers.


The prescribed 24-hour oil soak for the new porous bronze bushing can be done in 30 seconds. Set the bushing on your upturned thumb, fill it with oil, place your other thumb on top, and squeeze. When oil "sweats" out the sides, it's done. Using a wrench socket that just fits into the bore on the crankshaft, tap the bushing into place, gently so as not to mushroom over the edge of the soft bronze bushing. If you do mushroom the bushing the clutch alignment tool will not fit. Then use a rat tail file to remove the burr on the exposed inner edge of the bushing, and when the alignment tool fits it's ready to go. Bolt up the clutch disc and pressure plate.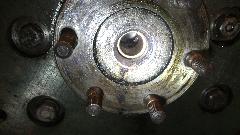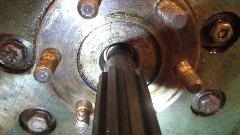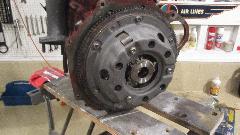 All excited about dropping the engine in, but we quickly rediscovered that the exhaust manifold won't go past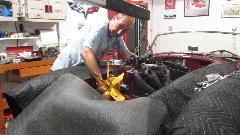 the steering pinion shaft. So off came the manifolds, and down went the engine, just a few minutes to get it aligned and mated to the gearbox. While installing bellhousing bolts we also rediscovered that for the high starter gearbox one of the bellhousing bolts cannot be installed without removing the slave cylinder. Again, nothing is as easy as it sounds, but in short order the deed is done, engine close coupled and bolted to the mounts. How did it get to be 4-am?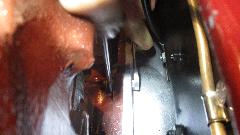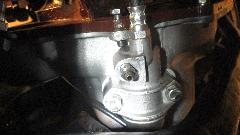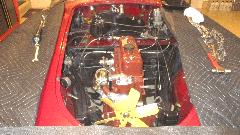 Thursday, August 4, 2016: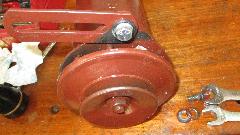 After the long day, night, and morning before, today was a bit of a blur, working from mid day to dark plus. We had high hopes, but it was slow going again. The generator had some strange unidentifiable bolt. Aside from being cross threaded, it was coarse threaded with a hex head larger than 1/2 inch or 13-mm, smaller than 9/16 or 14-mm, likely some Whitworth fitting I suppose, so that had to go. Easy enough to drill out the threads and install a Heli-Coil to accept a 5/16-24-UNF bolt.


Next up was to install intake and exhaust manifolds, and hang the new Moss Motors Tourist Trophy stainless steel exhaust system, fairly straight forward. Then on to a few hours of fiddling to bleed the brakes, needing to re-plumb, reorient, the rear banjo fittings, replace one copper seal washer and one bleed nipple. Soft pedal needed diagnostics. Brake shoes were properly adjusted. Clamping off the rear brake hose revealed excellent operation of the front disc brakes. More bleeding of the rear brakes did not help much. Conclusion is that there must be air trapped in the rear slave cylinders, but running out of time, so that issue will have to wait for another day. By comparison the clutch was very easy to bleed on the first try, as we were reverse bleeding the system with a trigger pump oil can.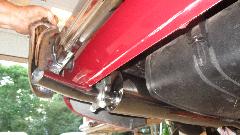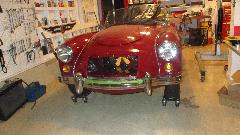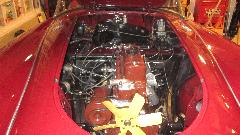 Final task for the day was to install and realign the bonnet. This time the screws were easy to find and easy to install. Following was 15 minutes of gentle push and shove, bending the hinges slightly to get very good fitting lines all the way around. We would have installed the bonnet latch, but were missing some pieces and out of time simultaneously. Tomorrow we will all be off to other endeavours, so the carbs, radiator, bonnet latch, and a few other minor parts are still wanting. We were reminded that we have been working on this thing for five days, but wow, what a change of perspective! Gone from never ending ulcers to light at the end of the tunnel with great enthusiasm. Seems to be tired smiles all around.

Friday, August 5, 2016:
Day off (means I have to work instead of play). Catching up WiFi work, about 14 hours worth and hardly a dent in the backlog.

Saturday, August 6, 2016:
Pennypacker Mills British Car Day in Schwenksville, PA, presented by Delaware Valley Classic MG Chapter. Lots of MGs here, about 50 British cars in total.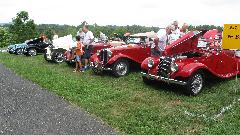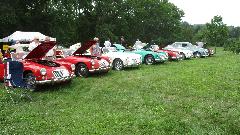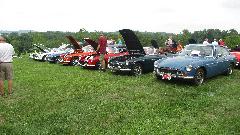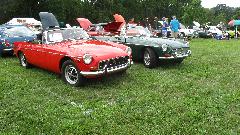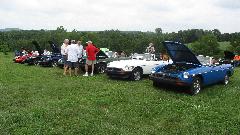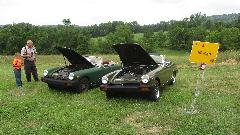 Kit cars and reproductions are usually not worth mention, but this one is a (1978 reproduction of a) 1936-1940 S.S. Jaguar 100, very nicely done, with the V8 engine. Only 198 original cars built, the replicas are commonly built on more modern XJ6 donor chassis. In the Misc. British class there were a Morris 1100 MK-II (1967-1971), a 1958 Berkeley Sports SE328, and an Alpine Tiger. Around the corner an Austin Healey 100 and AH 3000.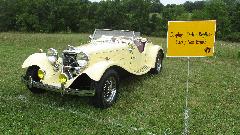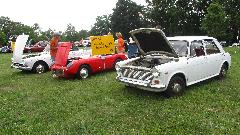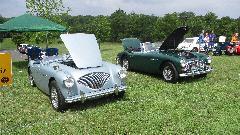 One older Rolls Royce and four "Modern" Jaguars, no XK's or E-types. One Morgan Plus-4. One MGA in my favorite color, Tyrolite Green (the color my current MGA was when new).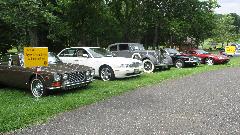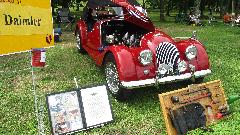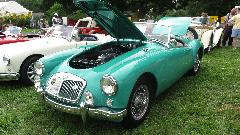 Just one early MGB pull-handle car, complete with the commonly pervasive "crack of doom". I love these cars, being unibody construction 100 pounds lighter than the MGA. I could never understand why they had to ruin a perfectly good roadster by adding roll-up windows. I recon they gave in to market demand.to build the Tourer rather than the prior street legal race cars.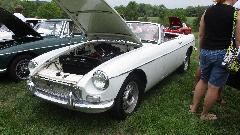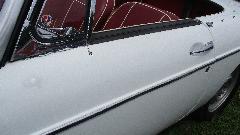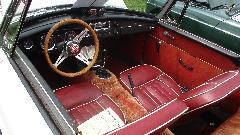 The show had a late start and early judging, and I kept getting derailed by people wanting to chat, so I nearly missed turning in the ballots as they were picking up the boxes. I missed getting pictures of a couple rows of Triumphs. There were some nice TR6, TR3, and Spitfires.

After trophy awards we were off to a picnic with Delaware Valley Classic MG Chapter at a club member's home in Perkiomenville, PA. MGs all over the place (and a Jag and a Mini). Also a Smart car out front with a number of modern sport-utes.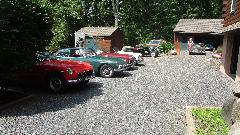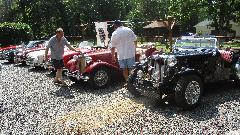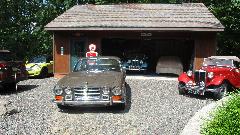 In the stable at end of the drive, a number of faithful steeds. In the workshop behind the house, a dreamy little South Bend lathe and a drill press (among other things). I never had enough space in my shop for such things.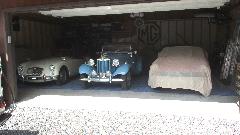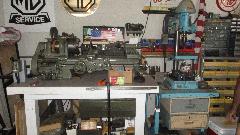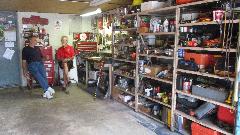 There was a visiting MG TD with a small problem we could fix. MGA guru's magic trailer contributed a cork seal for the fuel filler cap to stop fuel from sloshing out when the tank was near full.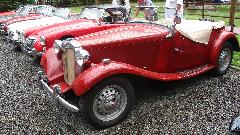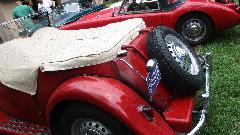 In the yard there was a party going on. Intermittent rain and hot sun made us grateful for the canopies and shade trees. After outdoor snacks the party moved indoors for the main course, then back outdoors for more chat. The party ran late, sometime past 9-pm before we were off to find another WiFi spot.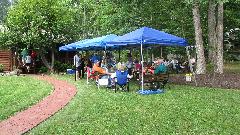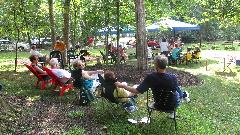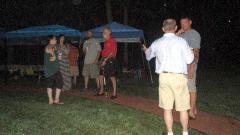 Sunday-Monday, August 7-8, 2016:
Taking advantage of some "time off", avoiding more appointments for a while, catching up WiFi work. Good progress on the Shops list. And we stumbled across this place. It was the name that first caught my attention (Barney's Auto Center). On investigation, they do repairs and restoration work on classic cars, and have towing service. Wouldn't be the first time they worked on MGs. This will be an addition to the Shops list.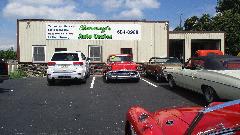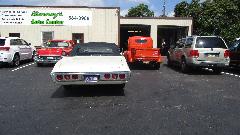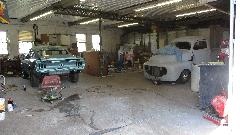 Tuesday, August 9, 2016:
Tuesday evening was rolling around again, and we had no fixed appointments for a while, and York, PA was "right over there", so it might be useful to pay another visit to the guys tinkering in the alley. Just two weeks since last visit, but different things were happening here.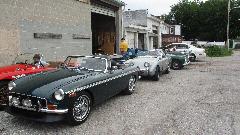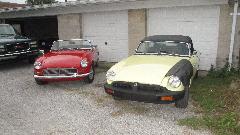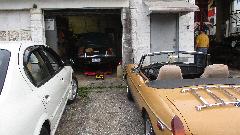 The new arrival big Healey was getting some attention. Fresh fuel, recharged battery, make the fuel pump run, file the points, and crank it over with a healthy shot of ether, but no go. Power to the coil, and points were doing their thing (flash, flash), but no spark. Swap in a couple different coils, but still no spark. Back to the original coil, clean the points again and fiddle with wire connections, and then there was spark. Another shot of ether, crank some more, get a few pops, but cranking slow. Connect the BIG battery charger for a while, then crank with more ether, and finally it perked up and ran. Yahoo! Not driven for 30 years, still needing work on brakes, but maybe later.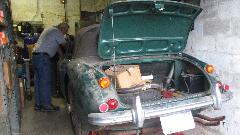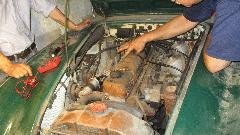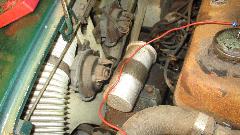 The "new" Mini was on the rack, just so they could climb the ladder for service? Installing new speedometer cable, didn't take long, and it was out the door and snuggled back in the barn. I was checking out the suspension. This one has tube shocks and rubber cone springs. A bit of research later revealed that the Minis only had Hydrolastic suspension from 1964 to 1968, when it went back to rubber cones as a cost reduction.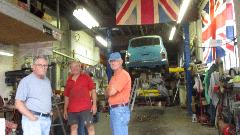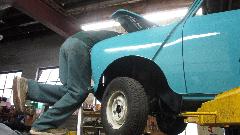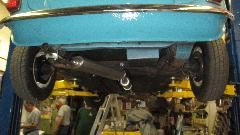 Then we were back to some old business from two weeks earlier, reassembling the HIF carburetors for the MGB. The search for Grose-Jets was a bust, apparently not available for this carburetor. Decision now was to reassemble them with the pin valves, and then install a pressure regulator to be set to 2-1/2 psi just before the carbs. Meanwhile in the next bay another MGB was getting some attention. One day soon this one wants to run again. All jolly good fun, but time for late dinner.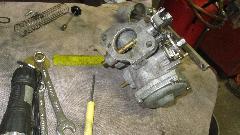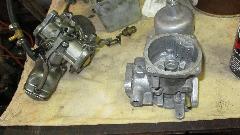 Wednesday, August 10, 2016:
Kind of short night in the alley tonight. There was a nice red MGB just finishing up a bit of service work and leaving. Then we were checking out an MGB GT with a good start on restoration. Truck with a flatbed trailer left to "pick up some parts". Then there was a phone call from the red MGB that had quit running and needed roadside assistance (rather embarrassing not eve get home). So we set off with our tools and a spare ignition coil, following that Japanese thing. After a bit of cool down the MGB restarted and apparently made it home, so we returned to the alley.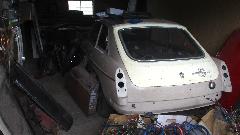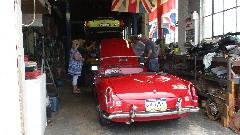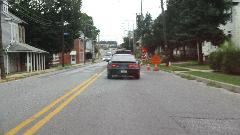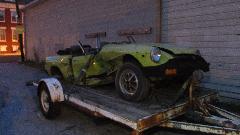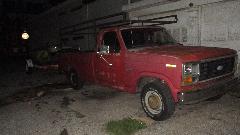 The truck and trailer soon returned with "the parts", which was a wrecked MGB with no rear axle, but maybe a good engine, gearbox, propshaft, front suspension, etc. This must be next Tuesday's project for the gang to disassemble it.

Thursday, August 11, 2016:
We had two projects tonight. First was to get the big Healey running to evaluate the engine. With a bit of fiddling it did indeed run. The engine held its fluids and retained 40 psi oil pressure at idle after warm up. To test the cooling system we blocked the radiator for a few minutes to drive the coolant temperature up tp 220dF. Once the radiator was unlocked the temperature dropped back around 190dF while it was idling inside of a close garage space. Nice. It will be needing hydraulic work, another day.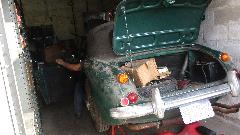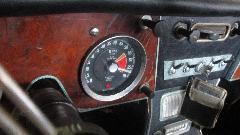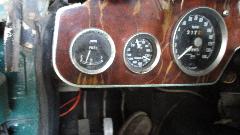 Then we were back to the HIF "carburetors from hell" that are supposed to go back into the yellow MGB.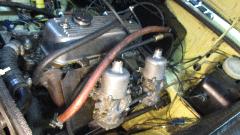 No Grose-Jets available, so we had installed new rubber tipped float valves from a fresh rebuild kit, but the carbs were still gushing fuel overflow. By this time we were getting intimately familiar with the bottom end of HIF carburetors. Installing a fuel pressure regulator set to 2-psi didn't help. Pulling it apart again, we found an aluminum sealing washer for the fuel valve lying in the float chamber (grrrr). Reinstalling that didn't help either. The float valve would shut off fuel flow when hand held and lifting the float gently, but fully reassembled back in the car it would still flood. At one time we pulled the spark plugs to clean and dry them.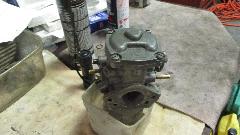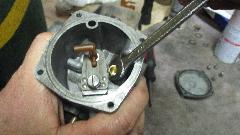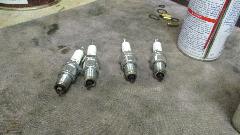 For more test we disconnected all of the hoses for PCV vacuum and float chamber venting, and then it settled down and ran without flooding. Really? Guess what? The vent hose from float chambers to anti-run-on valve was on the wrong port of the ARO valve, so it was plugged rather then vented when running. Go figure. I always said, once you figure out what's wrong it always turns out to be something simple.

Friday, August 12, 2016:
WiFi catch up day. Hot. Good time to be sitting in air conditioning. We drove over to south New Jersey late night.

Saturday, August 13, 2016:
Today we popped into NJ for a tour run with British Motor Club of Southern New Jersey. We had about 10 LBCs out on a very hot day. Star of the shoe was the MG Y-type. Starting at Peter's Diner in Williamstown, NJ, running side roads for 50+ miles to Royal Crown Dive-In in Hammonton, NJ. The ice cream there was VERY good on a hot day.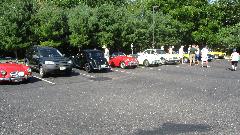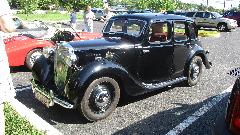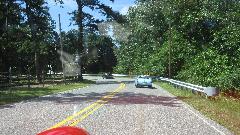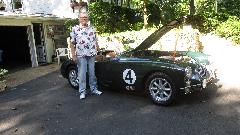 After an hour cool down in AC with WiFi we headed an hour farther north to visit Bob and Judie Coles in Millstone Township, NJ. Bob has a very nice MGA that was resurrected from a skeleton of a parts car and pieced together with an 1800 engine, Weber side draft carburetor, strong cam, free flow exhaust, MGB gearbox, Sebring style bumperless look with cut-down windscreen, metal half tonneau, Minilite style wheels, 185-65-15 tires, Raydot bullet mirrors.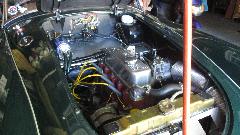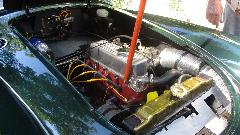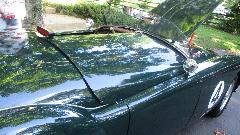 Bob also has an MGA 1500 Coupe that is very close to concours original, right down to the door pulls and map pockets. What more need be said when we have the pictures?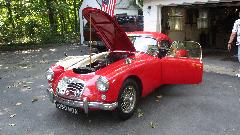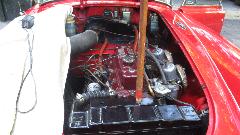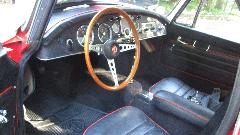 He also has a nice functional workshop, with quite a lot of memorabilia hanging around.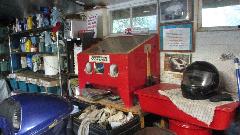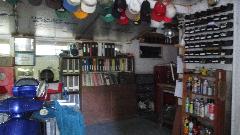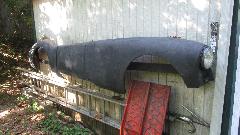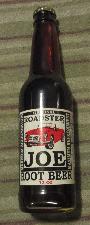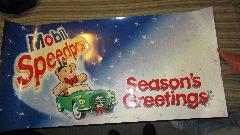 He also brought out a couple of bits of "modern" product and advertising featuring the MGA. Mobile Speedpass is likely from the 1990's (still current and valid). I have yet to find the production dates for Roadster Joe Root Beer, Distributed by Joe Tea, Montclair, NJ, www.joetea.com, but I don't think it is current issue.

Sunday, August 14, 2016:
This morning we were off for another tour with Positive Earth Drivers Club, starting in Farmingdale, NJ. Star of the show here was an MG TD, fairly well tricked out for casual cruising, beginning with a supercharger. How many more toys can you spot here? On close inspection, the extra steering rack rubber boot was protecting a cable for the O-2 sensor on the exhaust pipe.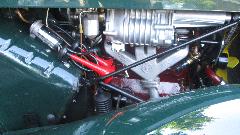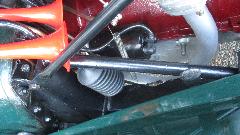 I spy a Wind-blocker, headrests that may be adjustable, some radio speakers (maybe), luggage rack being put to good use, wind wings, sun visors (which may serve better as wind deflectors), rudimentary A/C (which works when moving), GPS unit, cell phone, Lambda readout for the O2 sensor. This thing had no trouble keeping up with the convoy.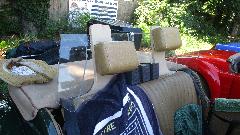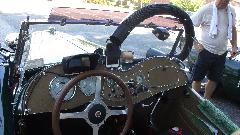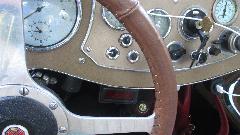 On the other end of the time scale was a spanking new Jaguar with all of the modern creature comforts. On such a hot day I suppose most of the gang would like to crawl into the back seat (and they might even fit).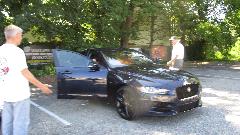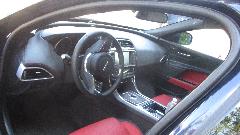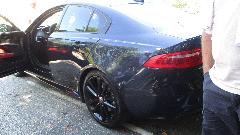 Then we were off for an hour cruise via some nice side roads en route to Laurita Winery in New Egypt, NJ good for wine tasting (and/or purchase), lunch for some, and offering of a wagon ride to pick your own fruit (which I think everyone declined on such a hot day).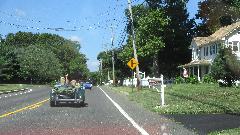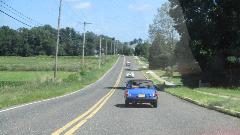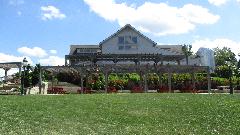 There were some additional LBC waiting to meet us at the winery, most lined up nicely for the photo op, while I found a shade tree (notice my trailer in the midst of the crowd of people). Only mad dogs and Englishmen go out in the mid day sun.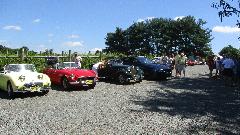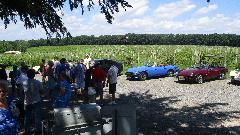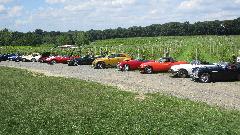 The show stopper here was a new McLaren. Gaze for a while, and then make up your own captions. It is interesting how small this car is, considering how freekin' fast it is. This is the first time I have seen disc brakes large enough to take full advantage of the space inside of the large diameter wheels.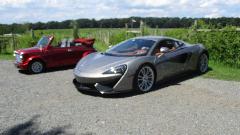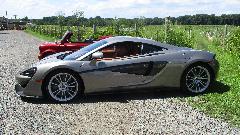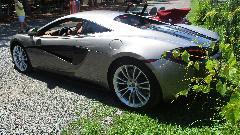 Monday, August 15, 2016: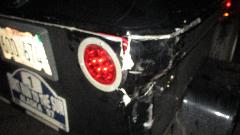 Day off, I think (or maybe I just can't remember what I did a couple of days later). Well, someone whacked the RR corner of the trailer in the car park causing some fracture damage to the fiberglass box. After plugging the connector back in, the tail light still works, but one side marker is now dark. Something to eat up a few hours for repairs another time (whenever I feel like getting around to it).