The MGA With An Attitude


MGA Guru Is GOING MOBILE - (November 16 - November 30, 2016)


Wednesday, November 16, 2016:
Hanging out in Thomasville, Georgia. We had a tentative contact here, but no response to email or voice messages. Took the opportunity to cath up with the grunt work, photos and notes, email tech questions, and couple of web page updates, the stuff we sometimes don't always have time for when we get busy. Late night run an hour north to Albany for next day's appointment.

Thursday November 17, 2016: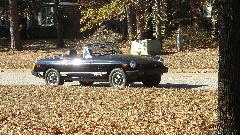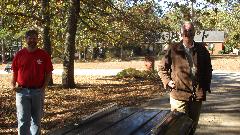 This has been brewing for a couple of weeks, a return to visit to Bill Waller in Albany, Georgia. And we had a few more friends drop by to say hello during the day.
We last left Bill with his 69 MGB with fuel feed and spark from the coil, but no spark to the plugs (needing all new HT wires). Also no way to bleed the brakes (clogged flex hoses). Today he had the parts, and new spark wires installed, but still no fire. Pulling new points and condenser out of the magic trailer we got stronger spark, and with a shot of ether it was running (for the first time in at least 12 years). Lots of water circulation during warm up indicates no thermostat, so the trailer produced a good thermostat and new gasket.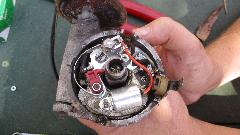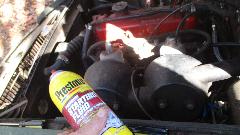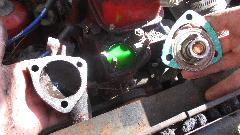 Then we were installing new brake hoses, one rear and two front, all of the old ones being clogged to pass no fluid at all. After bleeding the system we then had brakes all around.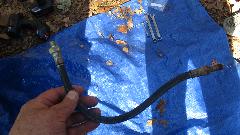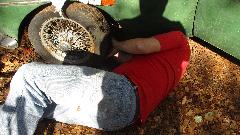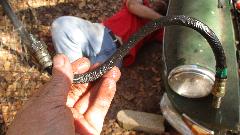 Sneaking up on getting it out for a test run, had to finish mounting the fuel pump and shorten one hose a bit.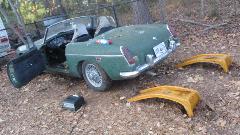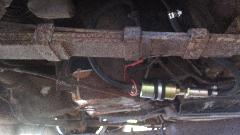 Engine runs, brakes work, but clutch does not release (even with good hydraulics and sufficient slave travel). With a little struggle, 1st gear and starter cranking finally got it off the ramps. Move the ramps, push the car back, point it in the right direction, 1st gear, crank on starter (and push a bit) gets it running and chugging up the drive.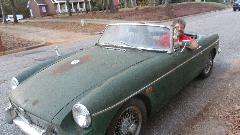 Clutch held down heavy on throttle, off throttle, on throttle, and repeat. No traffic in the street so down the block, clutch down, gas on, gas off, gas it, off, squeak, squawk, squeak, squawk, suspension bouncing tires chirping. Amusing sight for a few minutes, but the clutch still refused to let loose. Hate to admit defeat at the last minute, but we were out of time today. At least it was moving under its own power for the first time in at least 12 years. Needs more head scratching before pulling the engine.


Before leaving we had a quick look at the '79. I thought the engine was out, but apparently only carbs and manifold were out for service. The one-piece intake/exhaust manifold was being cut down to remove the exhaust parts but retain the intake tract. This would then hold a single 1-3/4-inch SU carburetor in place of the original Zenith-Stromberg carb, and to be used in conjunction with an earlier exhaust manifold. Bill has a pro mechanic working on this. Will have to check back later. The last image is a photo of a cell phone picture, just to get the idea where it's going.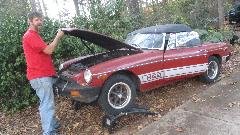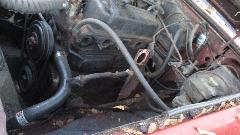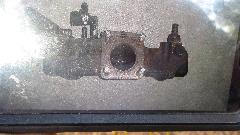 Off for some WiFi work, and a late night run up to Columbus.

Friday November 18, 2016:
First stop today was Benning Auto Parts and Machine Shop in Columbus, GA. Not really an auto parts store, more like an old time speed shop. Friendly folks when you walk in the door, ready to discuss your needs, and the entire right side of the building full depth is machine shop. They have full service engine machining here, including crankshaft grinding and balancing, and they service everything from vintage tractors to modern hot rods. Real parts books on the counter, so they are not lost if the info you need is not in the computer. Great place to get your vintage British engine work done, in service since our cars were new.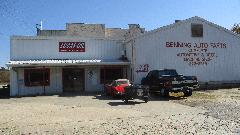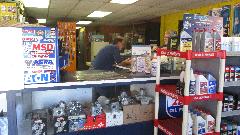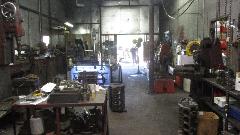 On a tip from Benning, our next stop was about 30 miles north to visit Euro Car Care in LaGrange, GA. The place was locked up, but there were some vintage European cars around, including an MGB tucked away in the back. A phone call found the owner out to lunch and not to be returning today, but he does work on vintage cars.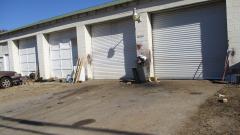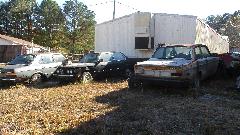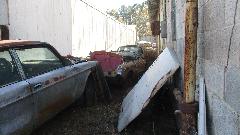 Saturday November 19, 2016:
Play day. Today we took a little cruise with Brits In The Valley, heading 30 miles south out of Columbus to visit Richland Distillery in Richland, Georgia.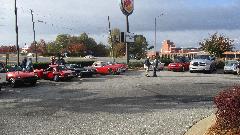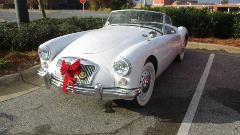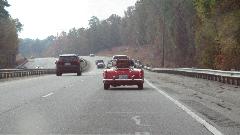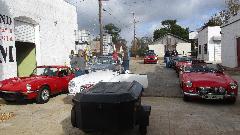 Arriving in Richland we were awarded prize parking as the rum distillery was open immediately for our guided tour. We soon received some great lessons on how rum is made being the product of distilling the sugars of sugar cane. Crush the cane to extract the juice. If the juice is not treated immediately it will begin to self-ferment within eight hours, which spoils the product. So it is off to be oiled down immediately to reduce it to a thick syrup with 80% sugar content (which can be stored).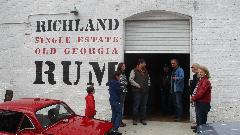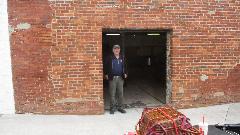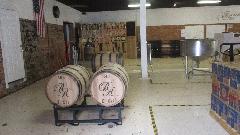 The syrup can later be mixed with water to be fermented and distilled to a high alcohol content (about 100 proof +/- 20%). The resulting clear rum can be used as a mixer. Or after a few years aging in charred barrels it makes dark run which (reduced to about 80 proof) is quite palatable neat or on the rocks. Molasses is a byproduct of making sugar cane syrup, and may be considered to be the "tailings" of the process. Rum made from molasses might likewise be considered to be an inferior product (even though it is very common).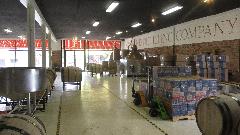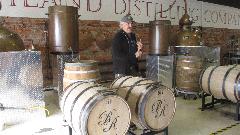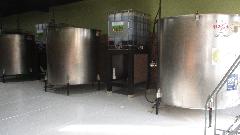 Then we were off to visit the cane fields, several miles out of town and nearly a mile off road (grass on sandy soil being fairly solid). The landing site was on the side of a small lake (or very large pond) near a coral containing some wild horses (figure that out for yourself). After a nice picnic lunch (and a photo op for the cars), most of us piled into a few sport-utes for a short trip through a slightly more difficult off-road route.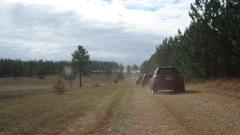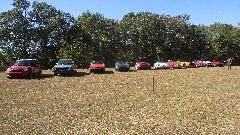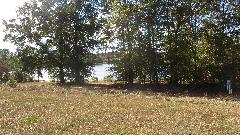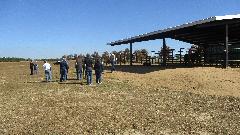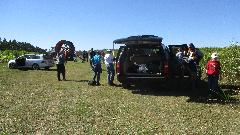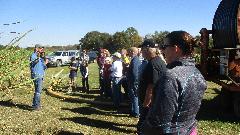 Here we got a crash course in growing sugar cane, while the kids got to chew on some cane stalks. One major cost in the endeavor is the quantity of diesel fuel to run the irrigation pump. While we were there we also got to play with a bit of blossoming cotton on the stalk. Much of the gang then returned to Richland to procure a bottle of rum before returning home. The day that began cool in the morning turned out to be a very nice day in the sun.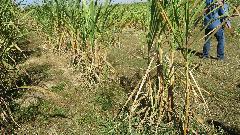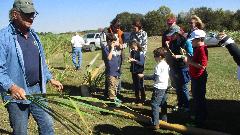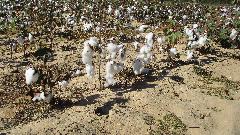 Sunday November 20, 2016:
Maintenance day for the MGA. These days are required occasionally when we drive a lot of miles. Today we lean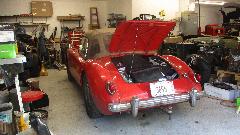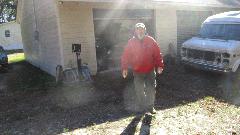 on a friend Phillip Clark in Columbus, GA for the use of his shop space. Phil is nice enough to hang around and help all day as well, not necessary but maybe he was learning a few things in the process.

The car got a new master cylinder 18 months earlier, and all was right with the world. But a month ago the car began losing a bit of brake fluid, and a couple weeks ago it began pulling to the left when braking, so it was time to fix it. Sure enough, we found brake fluid in the LF drum and also a little bit in the RF drum. Having 350,000 miles on these slave cylinders (with a couple of interim repacks), I wanted to install four new slave cylinders. However, Moss currently does not supply original type parts, and the replacement slaves they do sell do not have repack kits available, so I opted to install repack kits one more time. The brake shoes had 56,000 miles in 19 months, only half worn but now wet, so they're getting replaced as well. I would normally clean up the wet shoes, but this time I had purchased new ones before I looked (and I don't want to carry a set of brake shoes around in the trailed for another two years).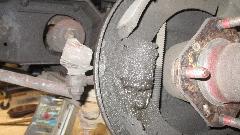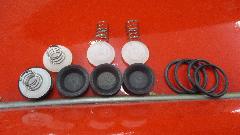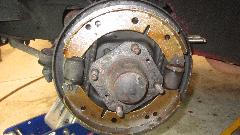 In the process, I found the outer RF wheel bearing outboard bearing outer race to be a bit loose in the rotating hub. This hub was a replacement used part in April 2015 (57,000 miles back). I caught this one early enough, so a good cleaning and set with Loctite 620 bearing set adhesive should hold it without changing the hub (we hope). That didn't take too long.



Next up was replacement of the parking brake equalizer assembly. As I recall (from a long time ago), I think I had replaced the bronze bushing (and maybe the pivot stud) during original restoration work, but another 350,000 miles on (500K total) it was very badly worn all over, including faces of the thrust washers. Parts were on hand, so that little chore didn't take long.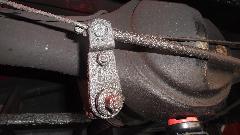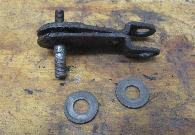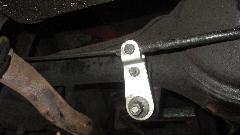 I spent a half hour tightening up all the bolts in the rear suspension, as a follow-up to installing new leaf springs (with all new rubber bits) back in June. I put another two turns on all the U-bolts (since the new rubber pads have set in), and (surprisingly) a full turn or more on the front bolt spring to frame at the Silentblok bushings (no idea why those may have been loose). Hopefully this will banish some irritating knuckle cracking sounds with every start and stop cycle.



Then a few minutes to take pictures of the rebound straps that were installed after replacing rear springs. Here the floor jack is supporting the rear axle with full weight of the car (and one 240 pound passenger and boot full of luggage).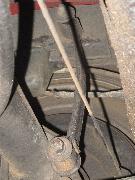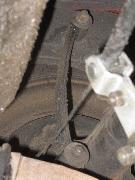 We don't get much more heavily loaded. Notice the rebound straps have are nearly straight, close to end of travel if the axle was to drop lower. These are the good rebound straps (from New Zeland), the ones that do not stretch (as it should be). The problem here is the replacement leaf springs being arched too high, causing the body to ride too high by an inch or so. This causes nasty and possibly dangerous handling characteristics. When body roll occurs during a fast turn (like a freeway exit ramp), one rebound strap can go taught and lift the inside rear tire off the ground. Half the weight of the car on one rear tire causes the overloaded tire to lose grip efficiency, resulting in rear end slide out or oversteer. If you lift off the throttle or apply brakes at that moment the oversteer gets worse and the car can go sideways or spin out. The too-tall springs have been an ongoing issue for at least 20 years.

Then I had these new bumper overriders (front and rear) and chrome bolts we have been carrying around since lack of time last April during the body repaint. A couple of the bolts were a bit fiddly, but persistence pays. We found a double threaded stud in one of the front positions, which made it considerably easier to install. That may have been done during original restoration 30 years earlier when the replacement bumper was incorrect shape and standard bolts were not long enough to accommodate the problem. Then another unexpected issue.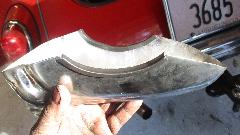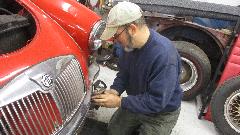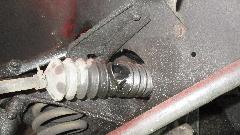 We found a split boot on the steering rack. It is thin stiff plastic with only 11 convolutions, destined for early failure. This piece of crap part was replaced 20 months and 62,000 miles back. The inferior part came from my garage inventory at beginning of trip 2-1/2 years ago, no record of how long it was in stock before that. While it is (was) a problem part in the past from Moss Motors, it is not the same as current sales parts. The one I am installing was purchased in April 2015 (immediately after the crap part was installed, in anticipation of its failure). The new part is almost at thin but has 14 convolutions and is much more pliable material. The inboard clamp groove is too narrow so the original clamp will not fit, so it had to be secured with a nylon tie-wrap (but save the original clamp for future use). It may be a bit too soft with a bit of an issue when installed.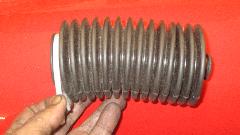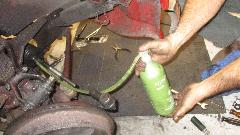 We installed the oil by pumping 6 to 8 ounces into the boot before securing the outboard clamp. (That is a liquid hand soap pump bottle which worked very well). Then move the rack slowly while squeezing the boot to push the oil into the main housing of the rack. The boot was stretching quite a lot like a soft balloon. Once the oil was in the rack, and mostly air in the boot, then it would gurgle properly when moving lock to lock. But the material is soft enough to cause significant deformation of the boot near end of travel in both directions. It works for now, but will have to keep an eye on this one to see how well it holds up in service.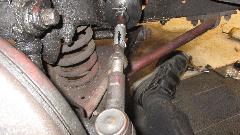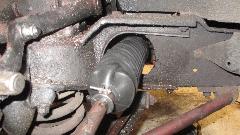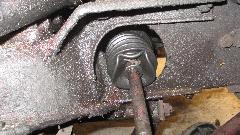 Monday November 21, 2016:
Mostly catching up with email and BBS, while taking a rest from yesterday's mechanical work. Having problems recently starting the car with slow cranking, having to use the jumper box to get it going sometimes. Last night after it was running for a bit left the parking lights on for 15 minutes and it was pretty well discharged. Rather disappointed that the last two batteries only lasted a little over 3 years. I recon the battery manufacturers have it down to a science how to make a battery as cheap as possible while still making it through the warranty period. Also not happy with out-gassing of the battery causing rapid corrosion of the cable to post connectors, and deterioration of the wire to connector joint. Will get a new battery first then tend to the cable connector end.

Tuesday November 22, 2016: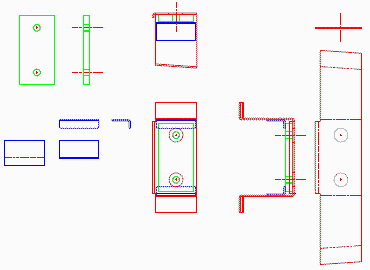 This is a follow-up on my 2008 body sill replacement project. Someone was asking questions about reconstructing the B-pillar internal brace that holds the tapping plate for the door striker. So I spent much of the day making a CAD drawing of the parts. So far just a cartoon not to scale, but hoping to put the correct dimensions on it later.

Also time to stop procrastinating and order some supplies from McMaster-Carr (electric staple gun and some minor mechanical parts). They are "just up the road" near Atlanta, GA. Been looking for an excuse to visit them, but still have better things to do with four hours, so have the stuff shipped to a friend's place in Columbus, GA.

Wanting a sealed battery for the car, searching the net, settled on the desire for an Odyssey PC1200-A. This is an AGM (absorbed glass mat) battery which can be mounted in any orientation (not upside down). This is big group-26 size, because I had long since extended the passenger side battery carrier for a standard size 12-volt battery. Unfortunately you can't buy these things at your local big box or auto parts store. The Odyssey battery web site identified several dealers within 100 miles of our location, but most of them had no stock and quoted 5 to 8 days for procurement. Still looking.

Wednesday November 23, 2016: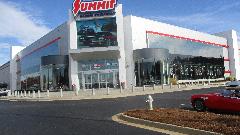 If we do nothing else today, we WILL get the new battery for the car. More web searching and a few more phone calls, and we have a winner. Summit Racing Equipment in McDonough, Georgia (near Atlanta), has them in stock. Starting in Opelika, Alabama (don't ask how we got here) only 115 miles, supposedly less than 2 hours, so off we went. Traffic problems around Atlanta extended it to 2-1/2 hours, no big deal.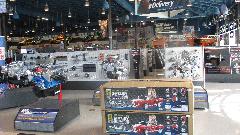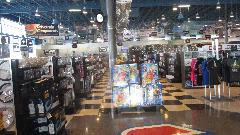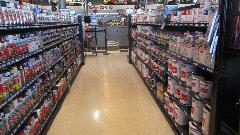 This place is huge. After the large show room, the warehouse space behind is even larger. This is a large mail-order business with three locations in the USA. I have purchased stuff for my MGA from Summit before. This place is definitely going on my Shops list.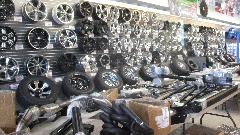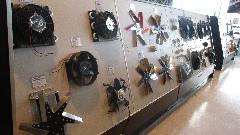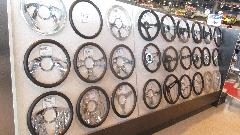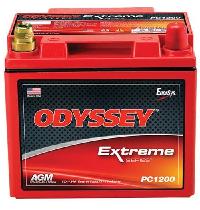 Summit claims the PC1200-A battery is superseded by PC1200 plus a top post screw-in kit. Otherwise they also have a PC1200MJT which has top posts and a steel outer shell all around. This is a "Jeep" battery for off road use, very rugged. Looks like a good idea to me, considering that the MGA battery resides about six inches from the road, exposed near the rear wheel and always very dirty. I'm sold.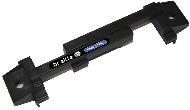 This is to be joined by a Braille BRL-6188 hold-down clamp. I really like this one made form FRP (Fiber Reinforced Plastic), corrosion proof, adjustable for battery width, and very strong. I had one of these on my Mazda RX7 for more than 10 years and it holds up well.

Out with the old, and in with the new. Very happy to get rid of the corroded hold-down clamp. Also notice corrosion on the cable connector which was replaced on July 20, 2016, just four months earlier. This was so bad that the screw tips were completely corroded away, and electrical connection between the wire and terminal was so bad as to prevent cranking the starter motor (even though it was so tight you couldn't pull it out with a mule). The close-up picture was after wire brushing. I expect this new sealed battery will be a huge improvement. Also found a broken connector on the ground cable (to be replaced later), temporarily secured with large Vice-Grip.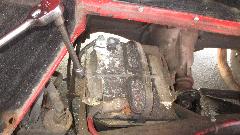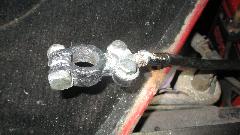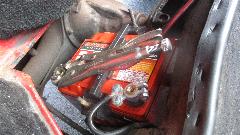 Thursday November 24, 2016:
Hoping everyone is enjoying Thanksgiving day while I'm catching up photos and notes for the past few days. WiFi hot spots closing early all over. Stopped momentarily at a big box store to pick up a battery ground cable and a few minor supplies. Time to leave the Chattahoochee Valley area, spun the bottle and headed west following I-85, tentatively toward Montgomery, most likely to find friendly facilities on the main corridor. Currently stopped in Auburn, AL taking advantage of WiFi available to late night on Thanksgiving day.

Friday & Saturday November 25-26, 2016:
Shuffling back and forth between Auburn and Tuskegee, AL, mostly killing time on the holiday week end. Nice to have a bit of leisure time for a change.

Sunday November 27, 2016:
Changed the battery ground cable, and put the big Vice-Grip back in the tool box. Making a "shopping list" in preparation for going shop hopping in Georgia for the next few days. Stay tuned.

Monday November 28, 2016:
Today went well, visiting ten shops as planned with lots of pictures. Unfortunately, as I was posting the photos and notes next morning I accidentally deleted about a dozen pictures, so you will be shorted some here.

We started the day looking for Pittman's Paint & Airbrush, Montgomery, AL. Closed building, but a phone call revealed the new location. We will catch this one later.

Then we stumbled into Import Cars & Parts in Montgomery, AL, by accident. Parts store and related services and repairs. You may have to call if the gate is locked.

Pierce Automotive in Pike Road, AL, was just down the street. In spite of the MGB out front, and 48 manufacturers' logos on his business card, this one is mostly VW service and tends to avoid British cars.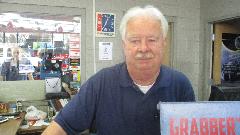 Wes Cook's Tire And Auto, Montgomery, AL. Yes they do wire wheels and inner tubes. Also a Tire Rack certified installer. Say hello to Melvin Howlett.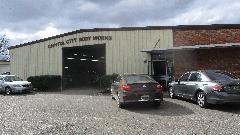 Capitol City Body Works, Montgomery, AL. No body and paint work on vintge cars, but their upholstery shop does do fabric work an pretty much anything that rolls.

Autometrics, Montgomery, AL. Mechanical and electrical work for vintage cars. No body or paint work. Say hello to Shawn Denis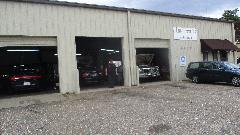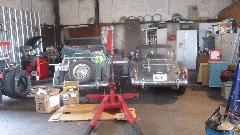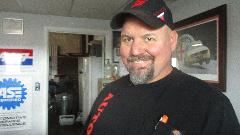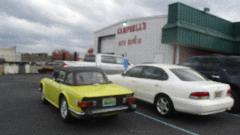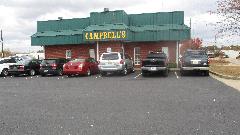 Campbell's Auto Sales and Service. They have a specialist for vintage British cars, mechanical and electrical service. Ask for Steve.

Montgomery Import Car Center, Montgomery, AL. Mechanical and electrical work for vintage British cars (no body or paint work). Say hello to Jerry Robinson.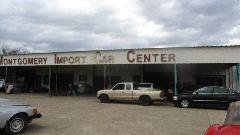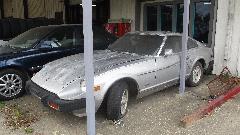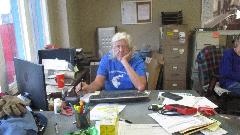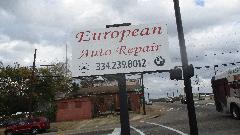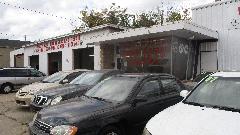 Import Center Auto Repair and Service, Montgomery, AL. Mechanical and Electrical work for Vintage British cars.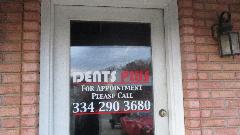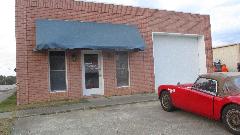 Dents Plus, Millbrook, AL. Paintless dent removal. They can travel to a job site, maybe even to your place. Call first as they may be out on a job.





Grandview Auto Repair, Millbrook,AL. In spite of having an ad in the local British car club newsletter, sorry, but no service for vintage British cars here.


Tuesday November 29, 2016:
Had some technical problems with web site data loss and recovery which sucked up half the day. Not a big problem as we had a short day planned. Then off on a short excursion just a bit out of Montgomery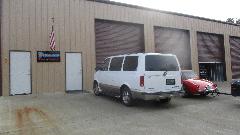 to visit Pittman's Paint & Airbrush in Elmore, AL. We were chasing this one since early day before, because the shop had moved. Now here, meet Bo Pittman, who happens to be the creative and artistic type. The shop has a nice paint booth, and used to do auto restoration work, not so much anymore. These days he would like you to do your own prep work, take your car to Maaco to be painted, and then bring it here to be air brushed. Not sure how many MG owners want an air brush job, but there it is.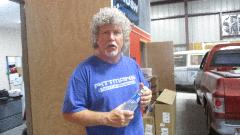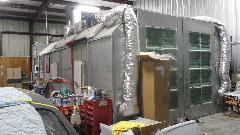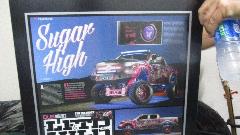 Then we had a hot sprint up the interstate to visit Matthew's Foreign Parts in Birmingham, AL. Used, new, rebuilt, and some New Old Stock stuff. British, Italian, Swedish? Jaguar, Saab, Volvo, MG, Triumph, Fiat, Alfa, so it says on the door. The business card puts MG, Triumph, Jaguar first, with Land Rover tagged on the end. I suspect that may be just about in order of priority.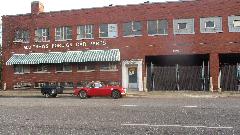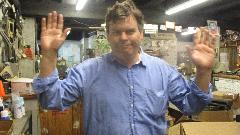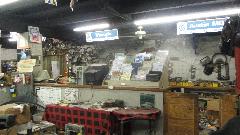 This is a family run business with Father and two sons; meet David Matthew, one of the brothers. It is a rather large building, three levels, 45,000 square feet chalk full of car parts. Also about 45 cars on site, more elsewhere, mostly for parts but some occasionally sold off for restoration projects.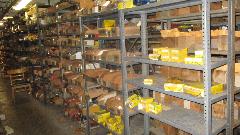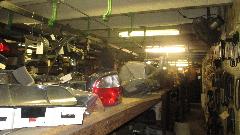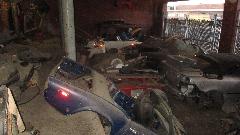 Closing time, heading farther north in the evening rush hour, we will be haunting (or hunting) the Huntsville area for more shops tomorrow.

Wednesday November 30, 2016: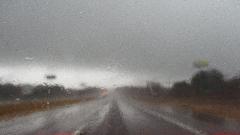 This was off to a shaky start. Late night tornado warnings, 9-pm to 3-am, sirens going off regularly, intermittent heavy rain interspersed with steady drizzle and moderate winds. And then great fun driving in the morning. But we were off again heading into the Huntsville, AL area. By mid day, report was three people killed in a tornado near Huntsville.

Our first stop today was at Southern Cylinder Head in Huntsville AL. Nice machine shop dedicated to cylinder heads, and happy to do parts for vintage British cars.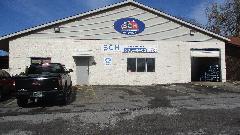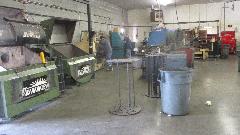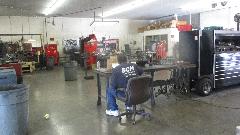 Just around the block in Huntsville was Tom Sharp Tire Service. Meet Jim Sharp, the manager. Nice shop, but they do not have the special outer cone required to fixture wire wheels for spin balancing. Bolt-on wheels and inner tubes okay, but if you want to have wire wheels balanced here bring your own outer cone fixture.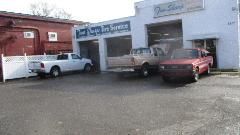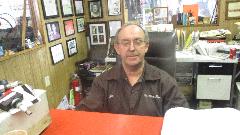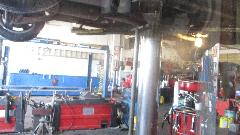 Within a couple miles still in Huntsville we found Wheel Fix It. They do a nice job of repairing damaged wheels, although they may not be able to do much for a badly damaged wire wheel. Inner tubes and wire wheel balancing is regularly done here. Meanwhile, rain quit, the sun was out, and it was pushing 60dF, very nice.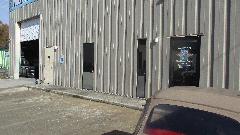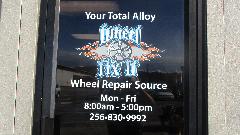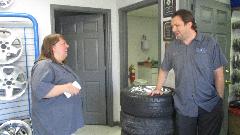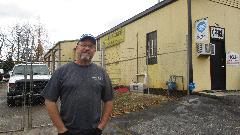 We dropped in to check out Checker Auto Body Repair in Huntsville, AL. Nice shop and nice owner, but they hardly work in cars at all, apparently doing a lot of business on trucks and various government vehicles. This one would be a no-go for vintage British cars.

We had to work a little harder for the next one. Being a few gallons of gas for a round trip, we thought it a good idea to call first. A machine message said, "Due to the work load we are in the shop and can't get to the phone, so leave a message". That sounded good, as the place was at least still in business, so we ventured on. The GPS ran us 36 miles west to the county line, which was the wrong place and nearly 15 miles too far. A phone call got the instructions to bring us back to the right place to visit Lucky's Restorations in Athens, AL. Sign on the door says, "Business by appointment only", so call first. This is a high end restoration shop, capable of the best concours restoration work (so bring a fat checkbook if that's what you want).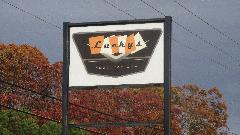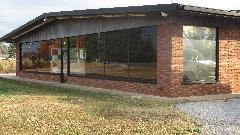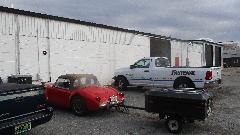 Rest of the day was catching up some WiFi work, with temperature dropping along with the sun. By late night we were 50 miles back south, but not far enough to help much with the weather, getting colder by the hour.